6 Most Popular Kitchen Countertops
August 21, 2022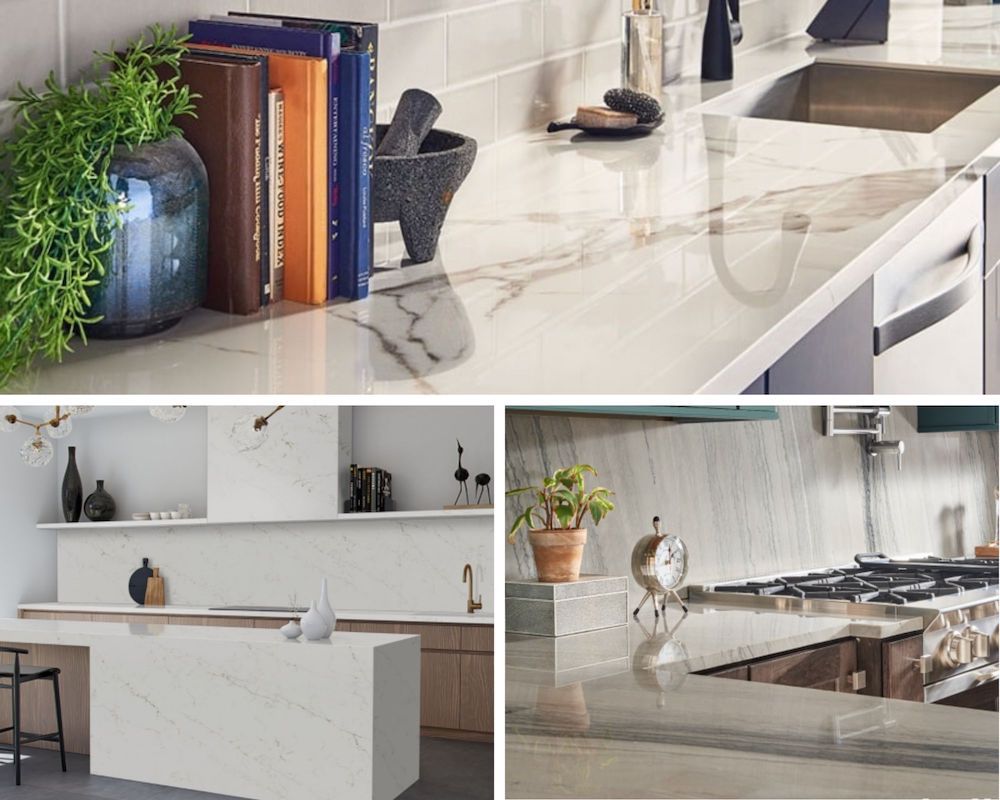 It's incredible what the perfect kitchen countertop can do for a kitchen. Not only is the right premium surface aesthetically pleasing, but it's also practical. With so many choices, selecting the right countertop for your design needs is a huge decision. That's why we've compiled this guide introducing you to the six most popular kitchen countertops, with examples from each category. You'll know when you find the ideal countertop because its beauty will speak to you, and it'll make your kitchen easier to use, maintain, and make every design element in your kitchen come alive.
QUARTZ
Among the most popular engineered stones available today are quartz countertops. Making up quartz countertops is pulverized rock and resin used for binding and hardness. This premium surface gains popularity by the year. Let's take a look at why.
First, the manufacturing and technology process has become so advanced that it is often difficult to tell nature-inspired products from the authentic stone or other natural surfaces they imitate. Beyond the accurate feel of these countertops, randomized patterns, flecks, swirls, and more make quartz countertops appear incredibly realistic.
Quartz countertops incorporate real quartz crystals and other natural minerals to add to their beauty. The countertops are available in a wide variety of styles and colors and are highly durable, leading to less scratching than a more solid surface. Finally, these enticing countertops are in demand which could increase the resale value of your home.

Our Calacatta Delios Quartz countertops pictured above brings a sleek and luxurious look to any kitchen. Using a warm, white background with bronze and gold veins running throughout and a captivating high gloss finish makes this quartz countertop both timeless and modern.
GRANITE SLABS
We don't need to tell you how popular granite countertops are today. Granite's ability to add a splash of undeniable luxury to a kitchen is tough to beat. The most popular choice for premium kitchen countertops is granite slabs. Before reaching their final destination in your lovely kitchen, these countertops start as natural stone quarried slabs. The slab is then fabricated to the exact specifications of your space before a professional crew arrives for installation.

One of the best things about granite slabs is how no two pieces are alike. This means the granite slab in your kitchen is one of a kind. There has never been, and never will be, another like it. The slabs are highly durable and, more often than not, increase the value of your home.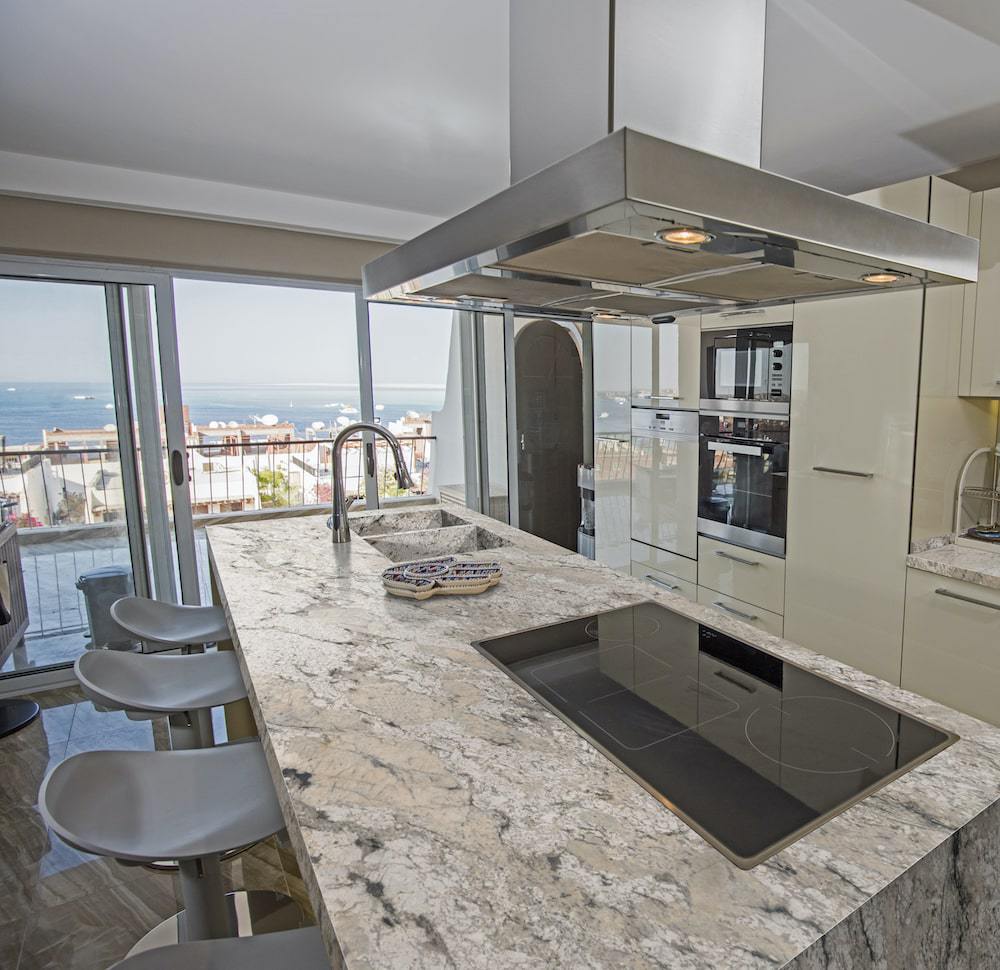 Lay your eyes on this mesmerizing Sunset Canyon granite slab above. Sunset Canyon features a beige background with white, blush, taupe, and gold accents. Straight from India, this natural stone is available in polished and brushed finishes. A countertop like this will elevate any kitchen to the point where you'll spend time simply observing the alluring patterns.

Once you've selected your kitchen countertop, try our countertop visualizer. You can use this visualizer tool to decide the look of your countertop's edge. With the tool, you can preview 12 of our most popular countertop edges and choose which best suits your design needs.
MARBLE
After thousands of years of use, it's safe to say that marble is a strongly coveted natural stone. This popularity is due in part to marble's singular appearance and veined patterns throughout. Many consider this luxurious premium surface the most beautiful of all natural stones. With marble countertops, like granite, there are no two alike.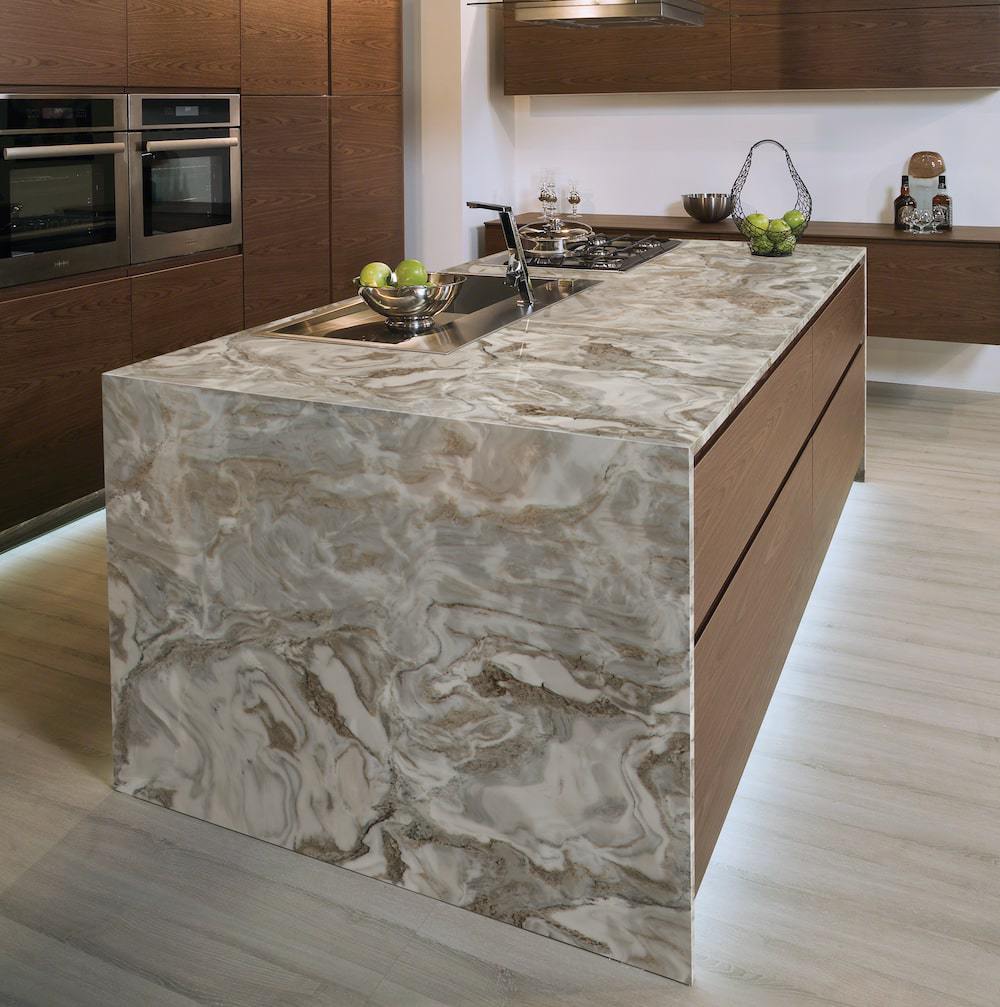 If marble sounds like the surface for you, take a look at our Avalanche White marble slabs. These dynamic, dramatic slabs from Brazil employ grays, whites, and golds seamlessly in this high-movement countertop. All it takes is one look at this marble waterfall kitchen island to know it's a showstopper like no other.
SOAPSTONE
Like granite, soapstone is a quarried stone used as a premium surface for many years. Soapstone countertops are durable and nonporous, requiring little to no maintenance. They don't stain and clean easily with water and soap. Not as common in kitchens as they once were, soapstone countertops are now a fantastic conversation piece.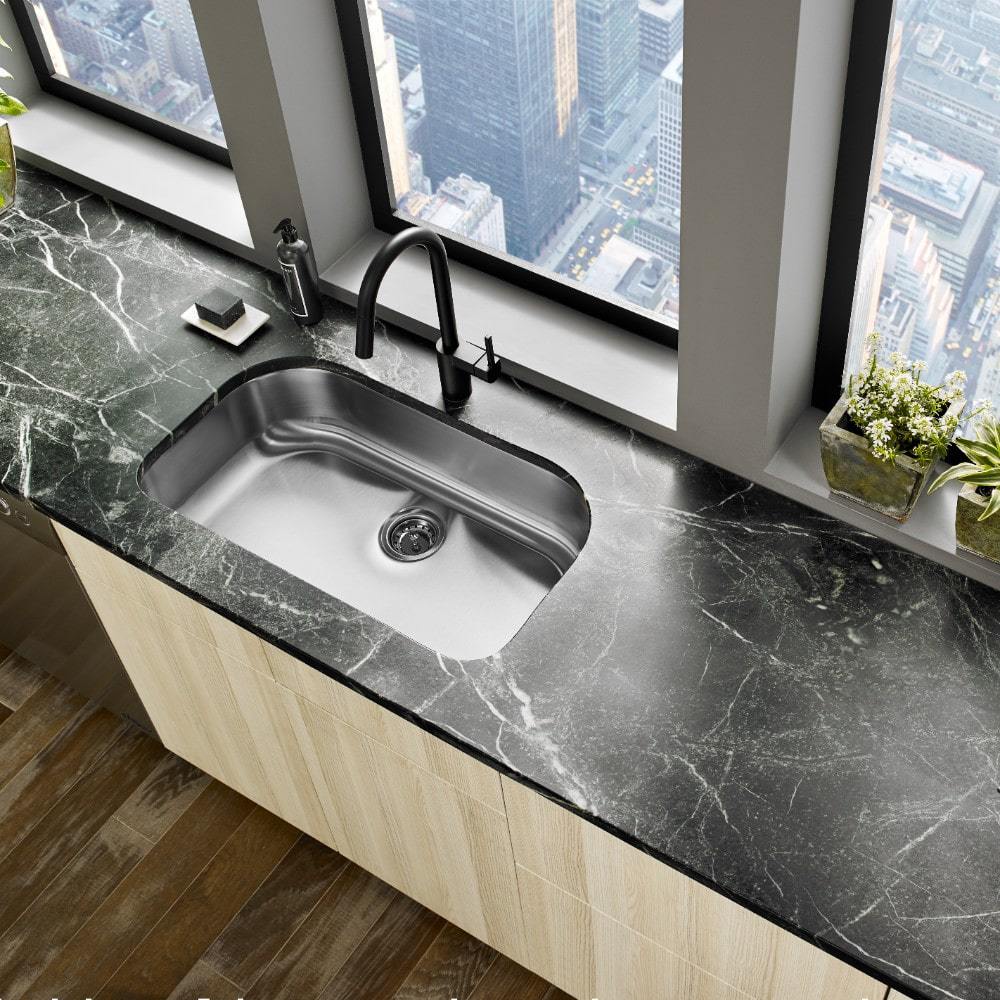 Our irresistible Black Soapstone countertops are sure to start more than a few conversations. Notice how the Black Soapstone countertop picture here adds mystery and elegance to the scene, making it absolutely unforgettable.
QUARTZITE
Quartzite is a solid metamorphic rock with sandstone origins. After a process of pressurization and high heat, the sandstone becomes extremely durable quartzite. This durability, overall strength, and sparkling beauty make quartzite countertops a first-rate choice for your design needs.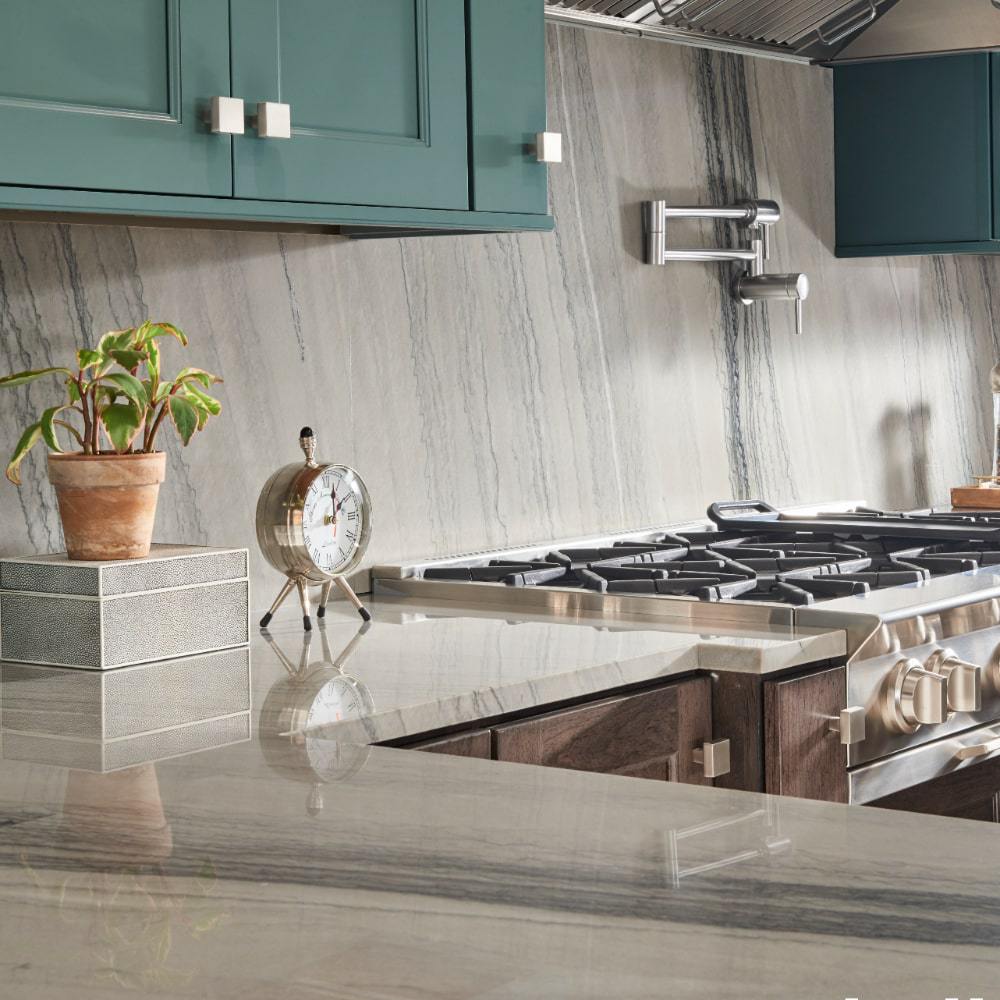 Another MSI product from Brazil, our Audacia Quartzite, is a beautiful mix of greens and beiges with touches of black and charcoal. Notice how this dreamy stone reflects this room's light, creating a scene of surreal beauty. We have a wide range of quartzite colors and styles, so make sure to check those out.
PORCELAIN SLABS
Last but surely not least, we have porcelain slabs. Our Stile® Porcelain slabs are durable, lightweight, and nonporous. They're also stain, etch, and heat resistant, making them ideal for kitchen countertops. With these porcelain slabs, you get the continuous look of natural stone for a much lower price than the real thing.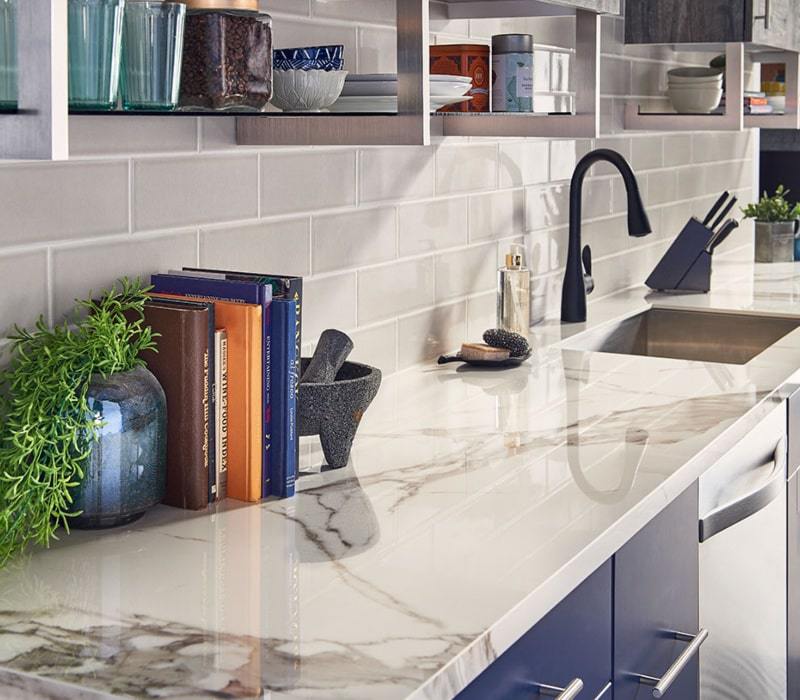 If you're interested in these premium slabs, look to our Statuario Bari Stile® Porcelain. Thoughtfully crafted to resemble authentic natural stone, the slabs bring to mind the most luxurious marble surfaces on the planet.
If you'd like to see how these or other premium countertops look in a kitchen setting, head straight to our kitchen design tool. You can mix and match and virtually design your kitchen to give you a better idea regarding which countertops are right for you.
If you have any questions about these countertops or our other products, please contact us by phone, online, or by visiting one of our showrooms. Our experts are ready to assist you in selecting products to bring your lovely upgrades to life.
Also, you can contact us in real-time using our MSI website chat feature. Through this feature, we can answer any questions and provide additional information about our products. Locating the chat feature is simple—look to the bottom right of your screen on any page on the MSI website. Then, click the circle, and a chat box will pop up with a friendly agent ready to assist you.