Current Obsessions: Our 9 Favorite Stacked Stone Installs
October 26, 2016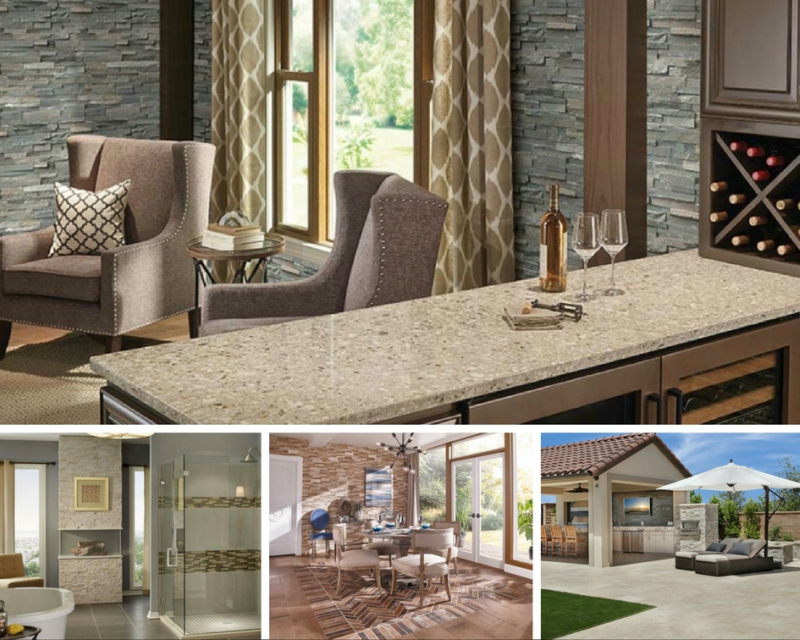 If you want to design a space with textural details and visual interest, consider using stacked stone. This natural material adds a tactile and stylish element that can't be created with any other product. Stacked stone comes in a wide variety of shapes, sizes, and colors, so you'll be sure to find something that best suits your style. For an even more powerful impression, you can combine it with other materials, such as metal, glass, and wood.
MSI's collection of stacked stone panels covers a wide range of projects, from rustic retreats to modern rooms. So, to inspire your next project, we've rounded up our nine favorite stacked stone installs.
#1 A Fabulous Bathroom Fireplace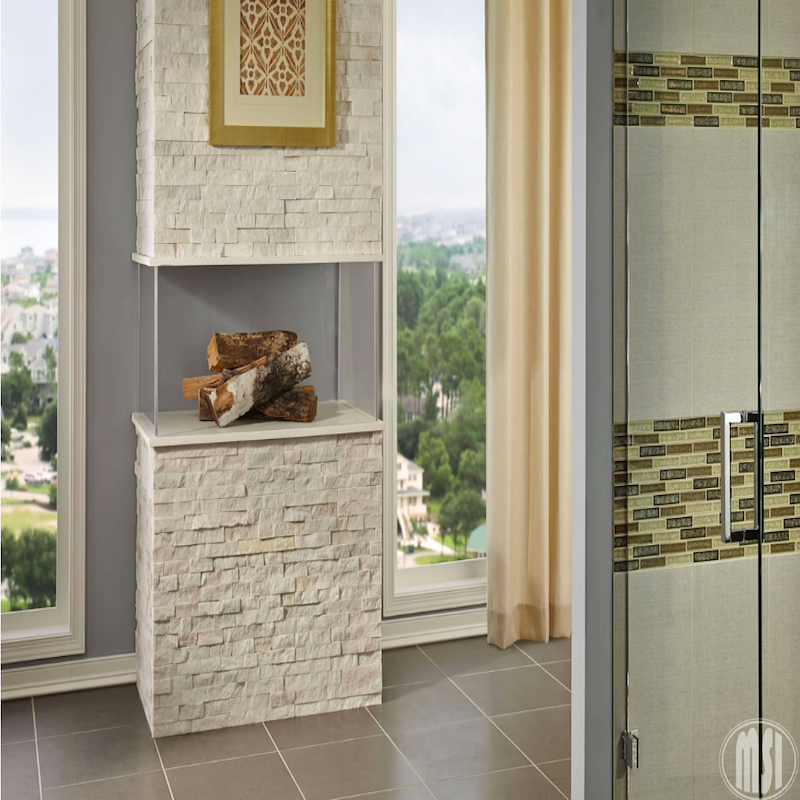 Featured: Arctic White Marble Stacked Stone
What's more spa-like than soaking in the tub while enjoying the ambiance of a fire? This contemporary master bathroom takes luxury to a higher level with the addition of a stunning fireplace clad in Arctic White Marble Stacked Stone panels. The snowy white stone adds a natural element to this large space.
#2 Amazing Accent Shelving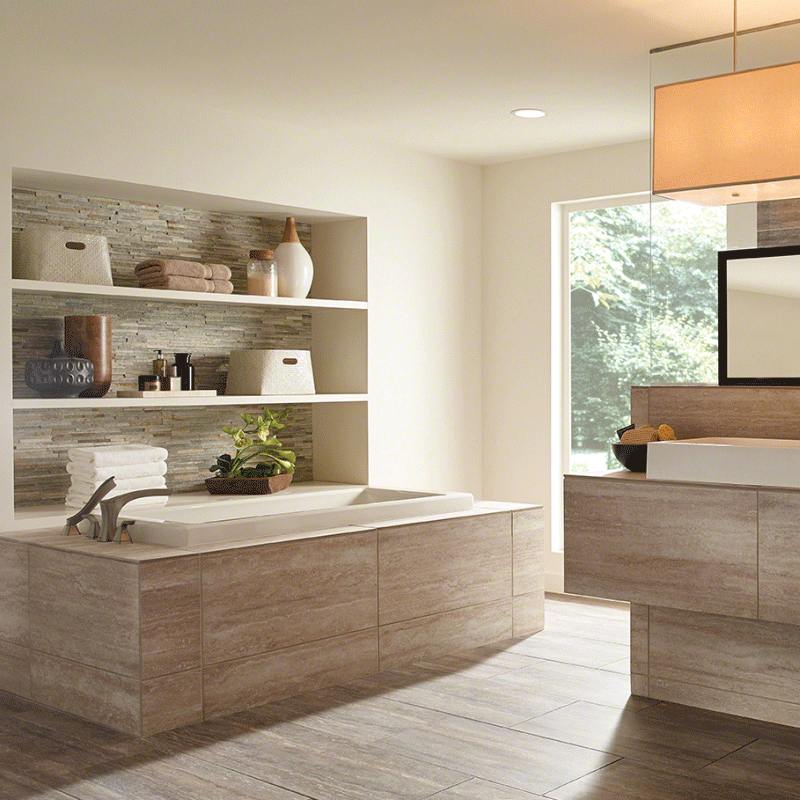 Featured: Golden Honey Pencil Stacked Stone
A modern bathroom that's both functional and pretty can make you want to pamper yourself for even longer. Rather than a small storage niche, opt for a beautiful built-in next to the bathtub, and back it with a gorgeous material like Golden Honey Pencil Stacked Stone panels. Use it to keep crisp white towels and a jar of bath salts nearby and also display other delightful items such baskets and vases. But be careful not to overfill your shelves, or you may block these stunning strips of gold and gray quartzite.
#3 Incredible Indoor-Outdoor Living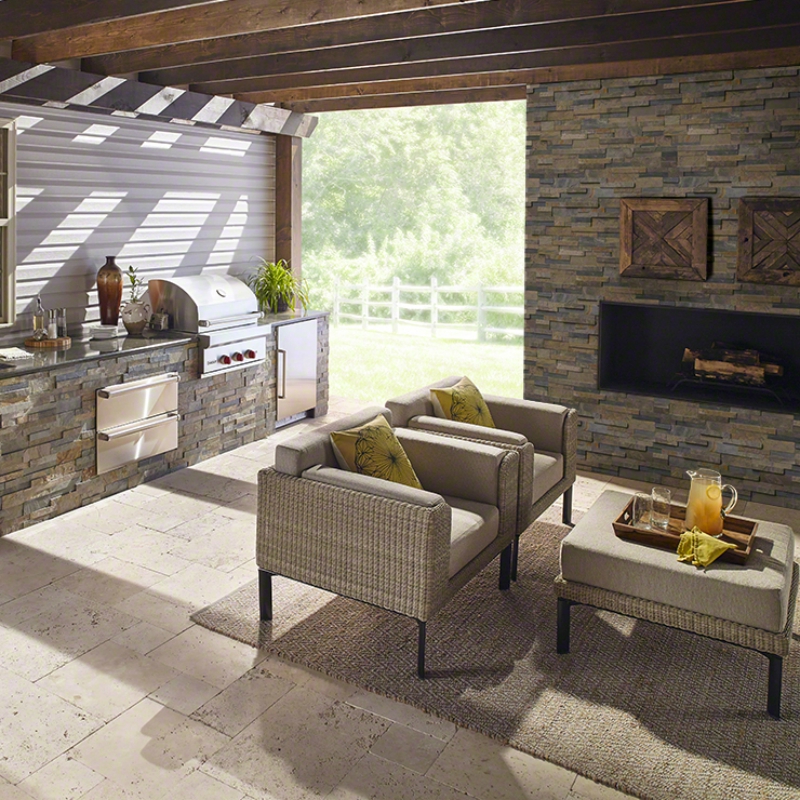 Featured: Rustic Gold Stacked Stone
If you love to entertain, then why not bring the fun outdoors? This incredible indoor-outdoor living room is bursting with rustic charm. A mix of metals, wood, stone, and textiles create a cozy, homey feel. The fireplace and outdoor kitchen are textured with Rustic Gold Stacked Stone panels. With its earthy tones of grays, golds, greens, rusts, and blues, this slate stone adds a dash of color to the otherwise monochromatic space.
#4 Subtle Outdoor Accents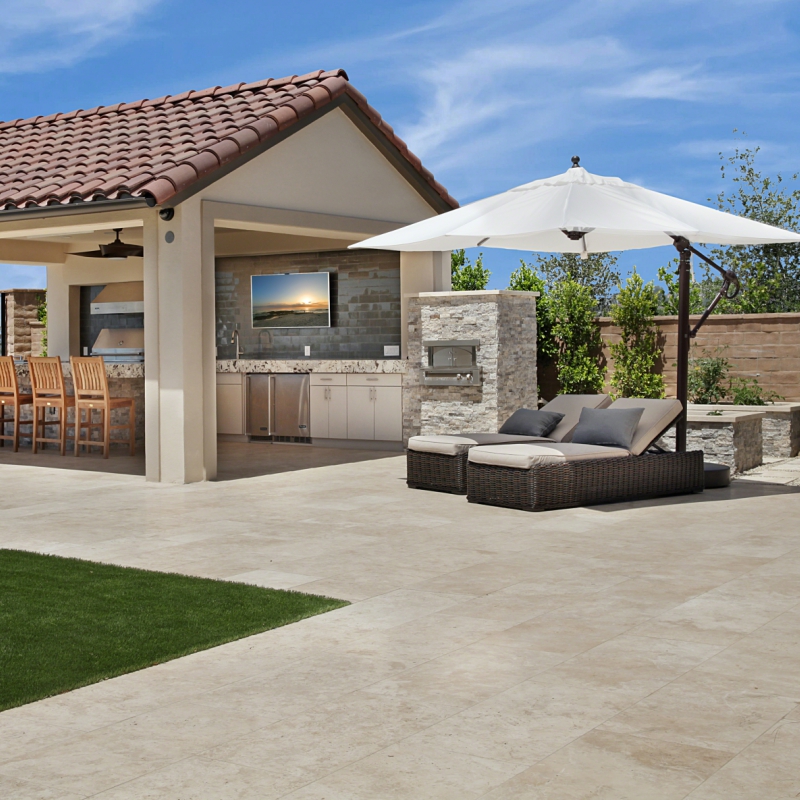 Featured: Silver Travertine Stacked Stone
A well-designed backyard features a few different surfaces, like in this outdoor entertaining haven. Silver Travertine Stacked Stone panels are carried from the built-in pizza oven to the retaining wall planters. The soft, warm gray tones blend in beautifully with the rest of the materials, while the natural split face finish provides a refined rustic nature to this contemporary outdoor area.
#5 A Striking Kitchen Feature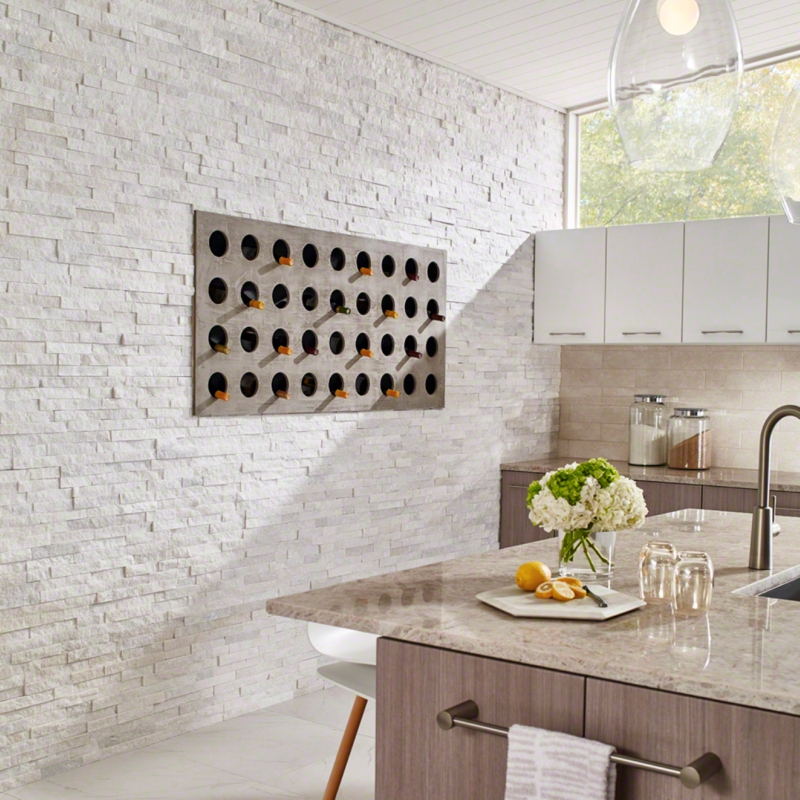 Featured: Arctic White Marble Stacked Stone
Turn a boring, white wall into a stunning feature that will wow everyone. This sleek kitchen includes a large wall filled with Arctic White Marble Stacked Stone panels, surrounding a convenient built-in wine rack. This dynamic white stone comes with a split-face finish and adds sophisticated drama without being overdone.
#6 An Interesting Wall Treatment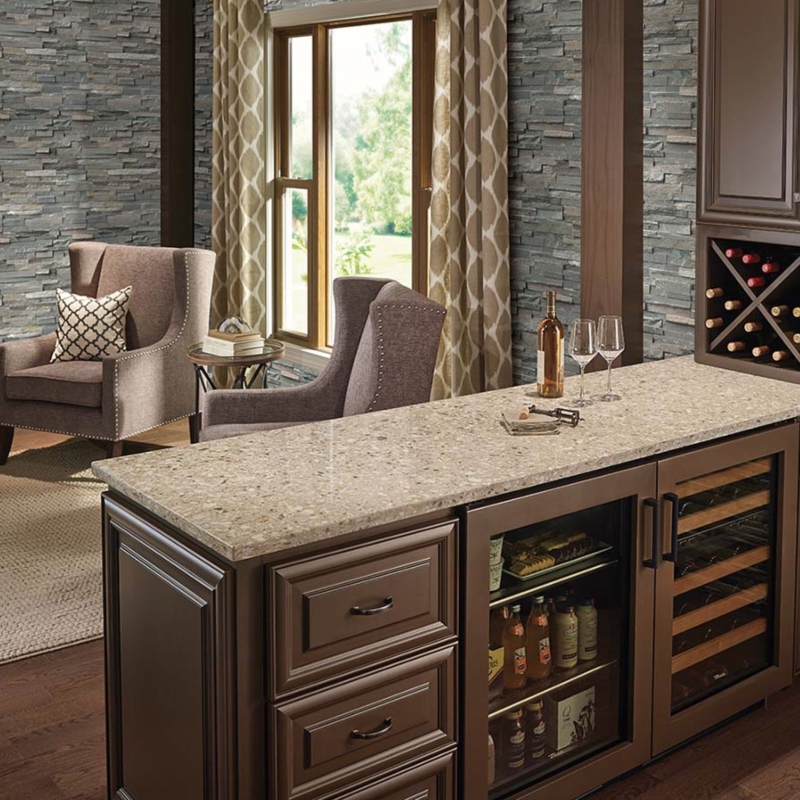 Featured: Sierra Blue Stacked Stone
Instead of wallpapering your room, take texture and style one step further with stone. This traditional seating area off the kitchen includes the rustic beauty of Sierra Blue Stacked Stone panels. The cool blues and grays of the stone contrast the warm woods and furnishings, while hints of white and dashes of rust tie the look together.
#7 A Floor-to-Ceiling Fireplace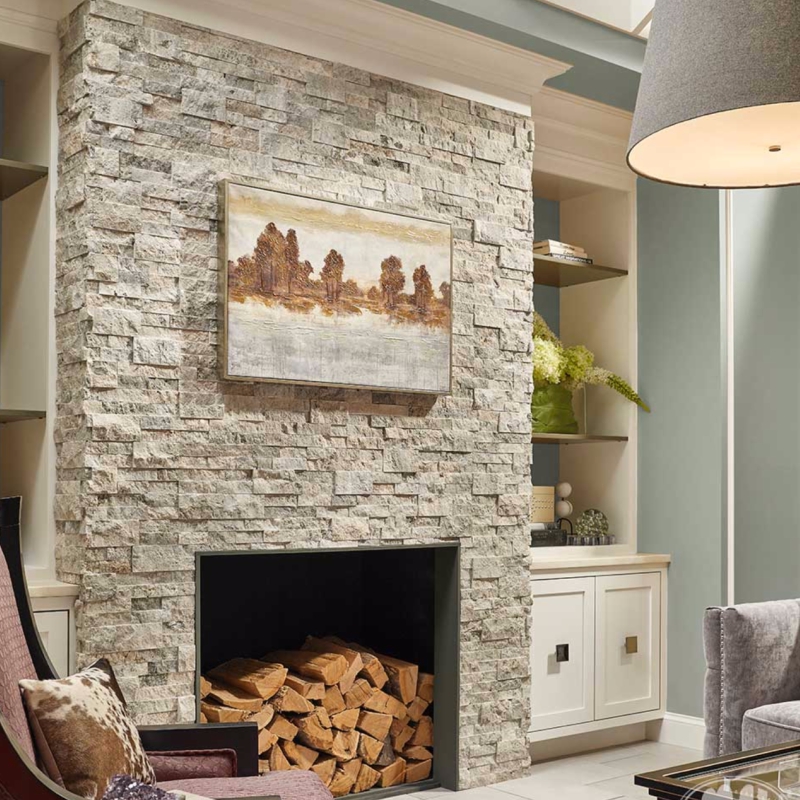 Featured: Silver Travertine Stacked Stone
Transform a fireplace into the ultimate focal point by cladding it in stone from floor to ceiling. This transitional living room blends many styles. The natural split face finish of the featured Silver Travertine Stacked Stone panels have a rustic element to this put together space. But overall, the room is given a more contemporary twist by ditching the traditional mantel.
#8 A Detailed Dining Room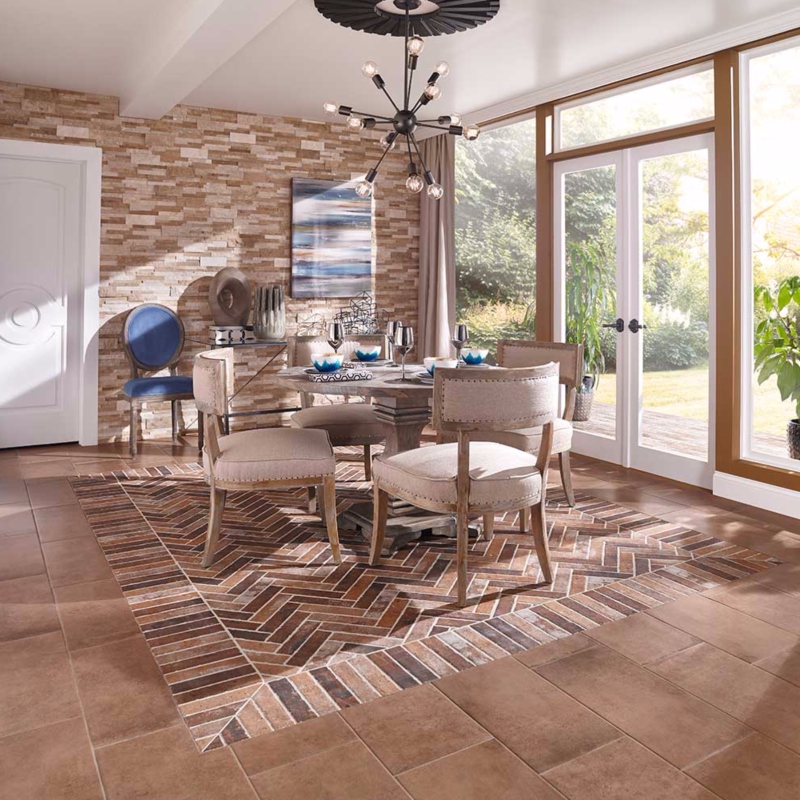 Featured: Casa Blend 3D Multi Finish Stacked Stone
This delicious dining room is full of dynamic texture, from the warm woods and stone to the hard metals and soft fabrics. The floor tile cleverly serves as a rug beneath the dining set and draws the eye upward to the wall tile of soft creams and warm beige tones. The Casa Blend 3D Multi Finish Stacked Stone panels infuse character with its staggered mixture of split face and honed finishes.
#9 A Backdrop for Furniture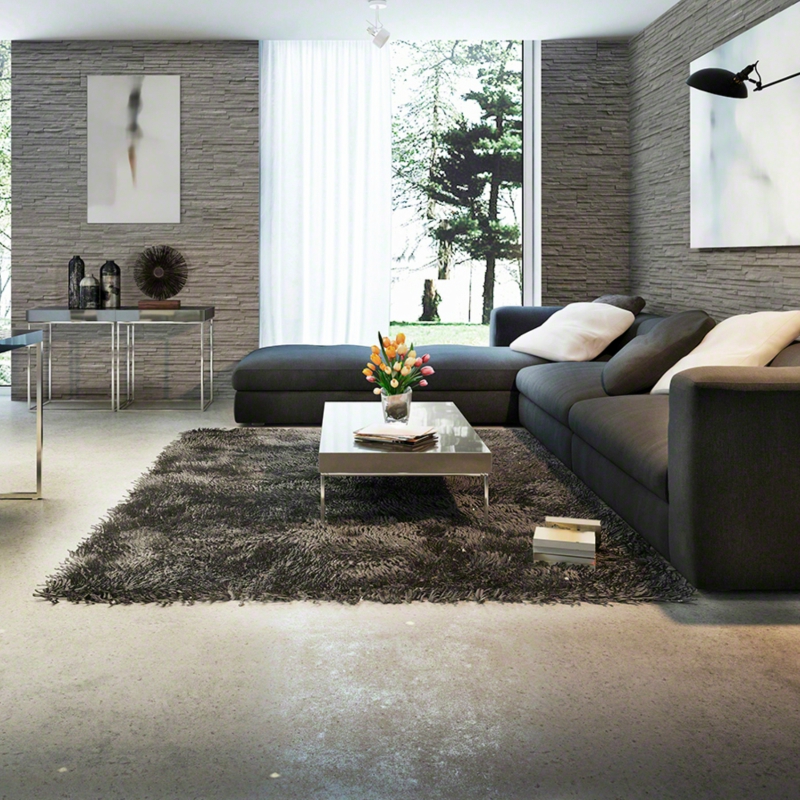 Featured: Charcoal Pencil Stacked Stone
Just because you're a minimalist or lover of modern design doesn't mean your living space has to be cold or sterile. This sleek space features clean lines that are warmed by the Charcoal Pencil Stacked Stone panels. Because the walls are covered with thin strips of slate, they become the perfect backdrop for contemporary sofas and side tables, as well as your choice of artwork.
With stone veneer, the combinations are endless. Whether you include stacked stone as an accent feature, a focal wall, or an exterior element, you'll create an interesting design full of texture. For even more ideas, check out MSI's Stacked Stone Visualizer to look at the more than 40 stone styles and to see how you can create your dream space.