Popular
The Renno Family'S Day-Dreamy Kitchen
April 17, 2019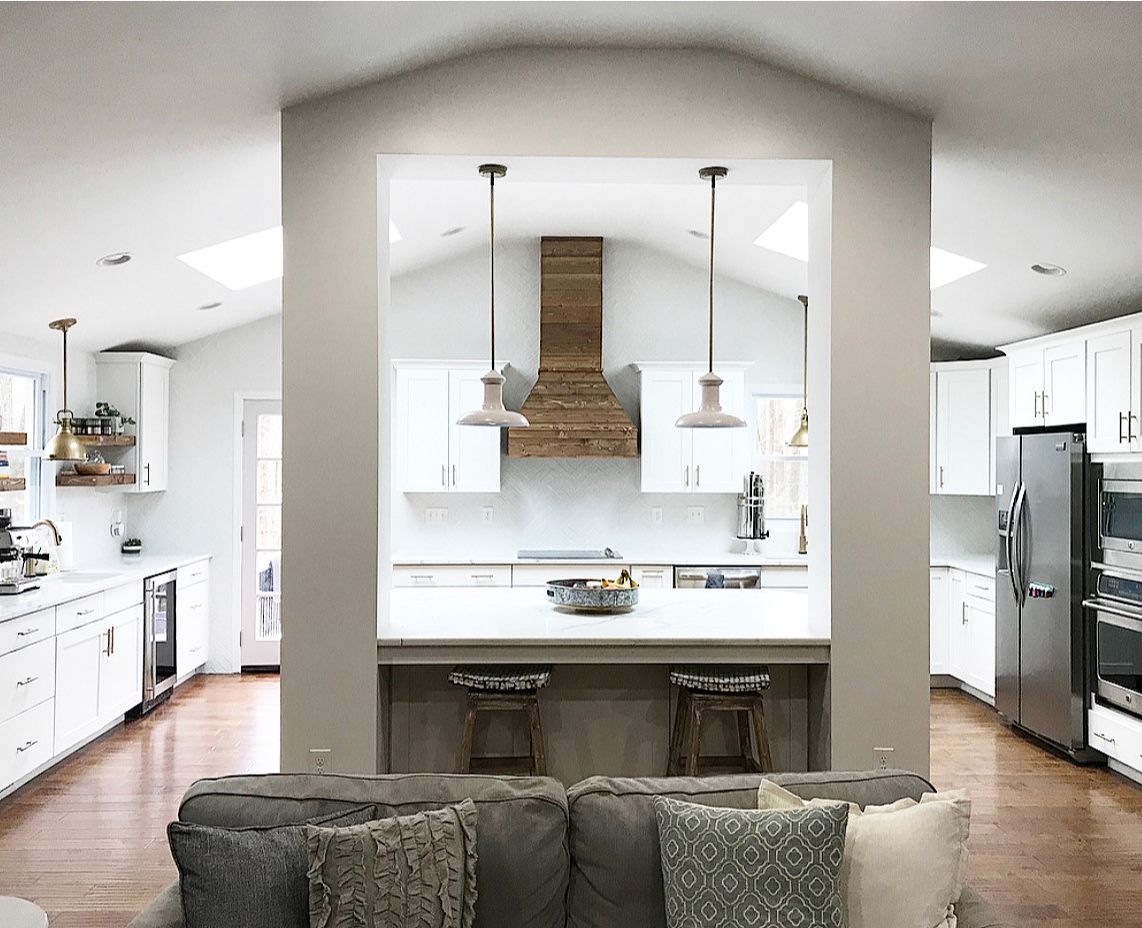 No two dream kitchens are alike, but they all begin with a spark of inspiration. One creative idea is all it takes to set a project in motion. For Melissa Renno, the Maryland mom/entrepreneur we featured a few months ago, the inspiration for her kitchen remodel showed up in an unlikely place: Target. A blush and white bowl with a textured wood accent caught her eye – an aesthetic she quickly captured in a mood board. Armed with eye candy from a social media roundup, she was off shopping for materials in no time.
During a recent Q & A, Melissa took us through her design process, sharing tips and snapshots along the way. (We also talked about her essential oils biz. White Angelica, anyone?) A force of nature, this mother of two dished about her favorite design elements and the style she was aiming for— the perfect balance between cozy and modern. One look at her chic kitchen, and it is clear: mission accomplished!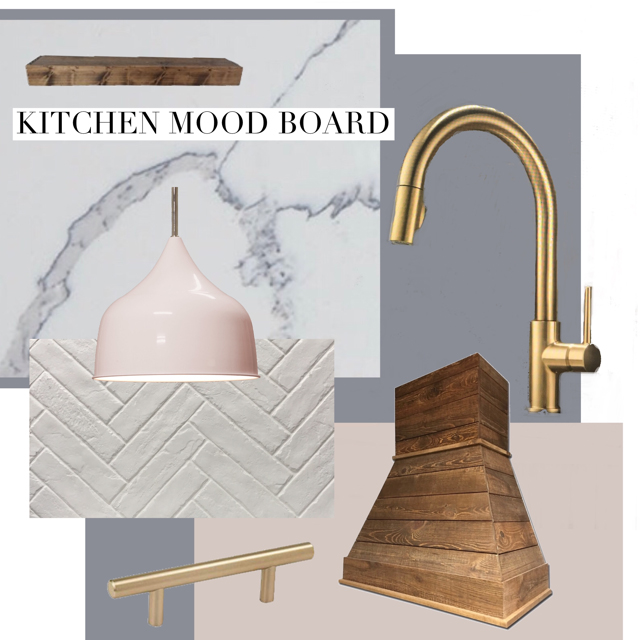 First things first: Melissa collected her favorite elements on a mood board.
Q: The last time we spoke to you, your kitchen was still in progress. Now that it's done, is it everything you'd hope it would be?
A: Yes, and then some! We love it. It's the kitchen I had hoped for when we were house hunting last year. It's always been light and airy, but now it feels more like our home. As the focal point of our open floor plan, I wanted that wow-factor. Between the room's scale and high ceilings, the design finally matches the drama of the architecture. It's also the space we hang out in the most as a family, and when we're entertaining, so everyone's enjoying it.
Q: How did the mood board help with the design process?
One of the things I like about the concept is that when you collect all these random design elements, you get a pretty good idea of how each will work as part of the whole look. Narrowing down my favorites also kept my project on track. Staring at a wall with hundreds of tile options and wandering through a warehouse full of quartz slabs isn't the best use of my time. Plus, I don't check in with my husband Ryan on every design decision, so sharing the mood board with him and the kids was a fun part of the process.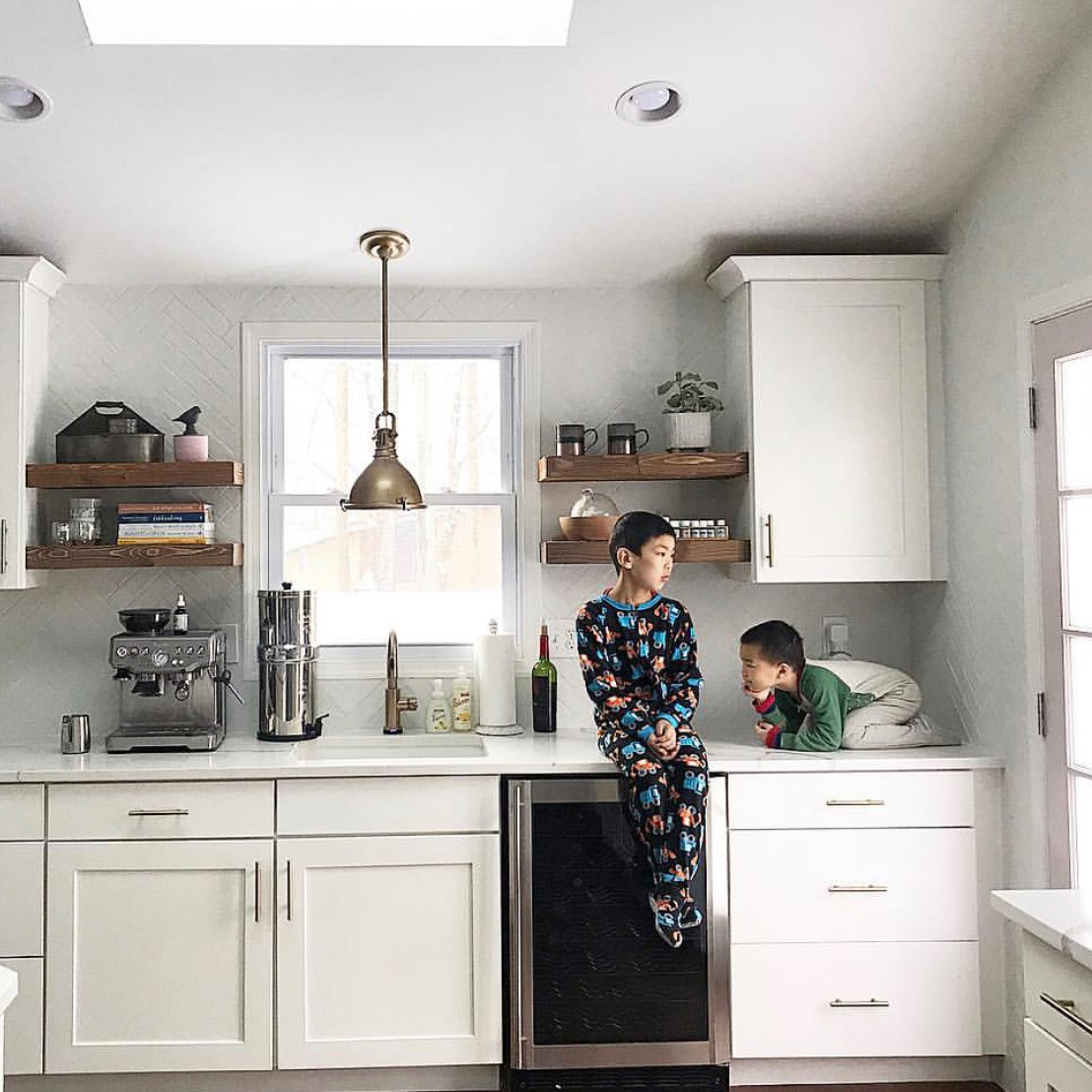 The Renno boys, Gideon (age 7 ½) and Bishop (age 6 ½), enjoy the best views in the house.
Q: What's it like to bring your vision to life?
A: Making a house your own is really satisfying. Since day one, I couldn't wait to replace the builder-grade finishes that made our house look cookie cutter. It feels good to have a space that reflects my design personality and makes sense for our lifestyle, too. I'm also connected to the space in a new way now. When I walk into the kitchen or another room we've renovated, I think, "We did that!" My son Bishop has an excellent eye for design, so he helped me pick out the Statuary Classique Quartz countertops. It's a fun bond we share.
Q: How did you (and Bishop) narrow down your countertop options?
A: I love white countertops - marble looks in particular. I had my eye on another one at first, a white with subtle veins, but I'm so glad we went with this one. The dark blue and gray veins jump out against the pale background – it really draws your eye. We were also on the lookout for a countertop with undertones that matched our white cabinets – nothing too stark. With two boys under nine, quartz was the most practical and family-friendly option for us. (My husband Ryan and I work full-time, so the more low-maintenance and invincible the surface, the better it is.) We also like entertaining. Nothing in our home is too precious, so guests feel at ease.
Q: What was the process like without a designer?
A: As you can see from my mood board, I had a very definite look in mind for the space. I don't think the process would have been as straightforward or fun if my vision wasn't clear from the start. Or if I began shopping while I was in decision-making mode. Also, we weren't ripping up plumbing or moving walls. The kitchen – like the rest of the house—has great bones. My sister, Gina, is a designer, so it was helpful knowing she was there if I needed her.

Installing a backsplash to the ceiling is a must in 2019.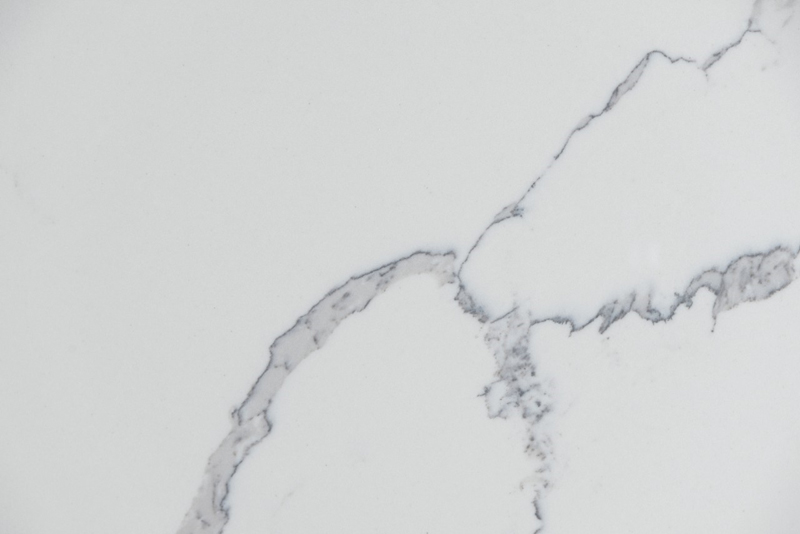 Up-close and personal: Statuary Classique from Q Premium Natural Quartz
Q: Did seeing the slab in person make a difference?
A: Totally. I went to the Jessup showroom twice to see it. When you view an entire slab, you know what you're getting. A 4 x 4 sample can only do so much. If you don't like surprises, I recommend taking a drive to the showroom.
Q: Did you learn anything about yourself during the process?
A: Small details matter as much to me as the bigger design elements. Everything works together, so in my mind, it's all important. The hardware is tiny compared to the 130 square feet of quartz, but it's all part of the design story. I'm also a project gal, and I'm happiest when I've got something in the works. The process of seeing the potential and putting your mark on a home is not a one-and-done thing. It's highly addictive. We're adding a great room off of our kitchen; next, I can't wait!
Q: Did you stick to your budget?
A: We did. Part of the reason I like MSI products is that nothing comes close to their prices. Saving on materials left room in the budget for those custom elements that matter to me. For example, herringbone is one of my favorites, so for the backsplash, we spent extra installing Brickstone Porcelain tile in that pattern. We went with the white - they look exactly like real brick—especially with matching grout. (We also used Brickstone in taupe for the floor in our family room. We love it there as well.) The champagne bronze faucet and hardware were also a splurge, but those finishing touches are worth every penny!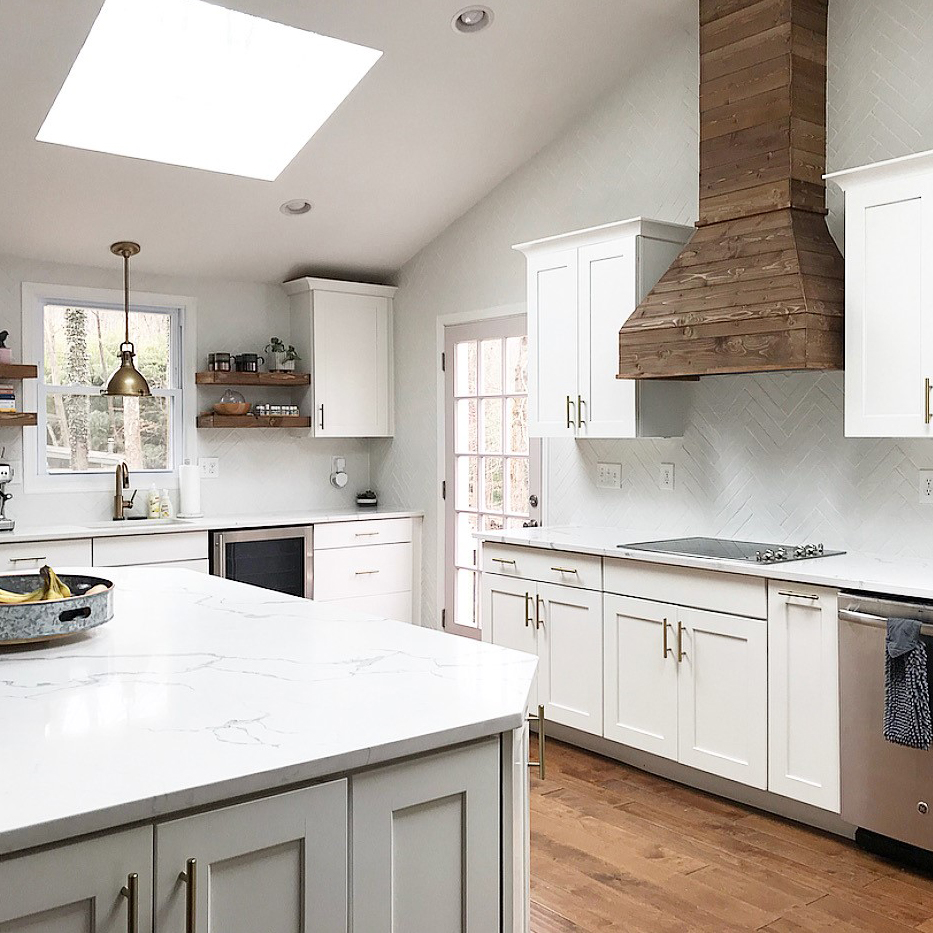 Wood accents in an all-white kitchen is a trendsetting way to ground a room.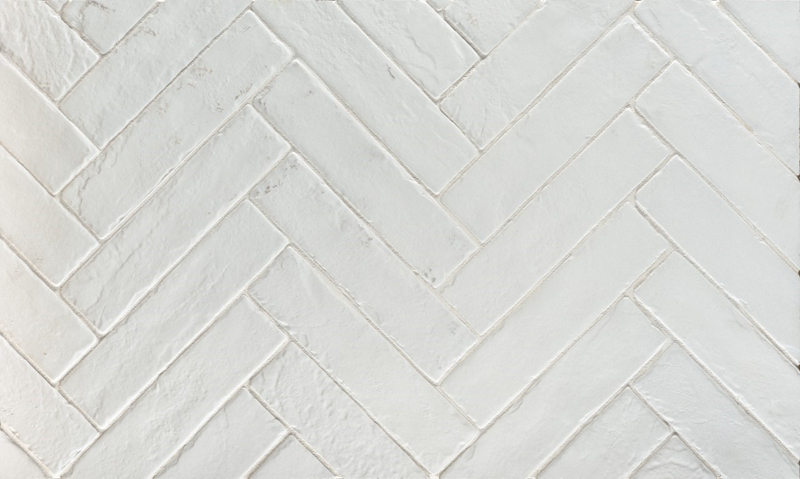 Brickstone Porcelain dazzles in white herringbone.
Q: The wood oven hood is a showstopper. How did that come about?
A: I came across it on Houzz and wanted it for my kitchen instantly. It was out of stock, so we built a hood just like it. We carried the rustic wood look to the open shelving as well. I love white, but I didn't want a one-note monochromatic kitchen. The wood accents and pops of blush break it up nicely.
Q: Did anything unexpected happen during the remodeling process?
A: Few things went exactly as I planned them. For example, the tile contractor started on the backsplash three hours later than scheduled, and when the kid's bedtime rolled around, he was still working. Asking him to quit for the day wasn't a big deal. But a delay in one project means pushing back other elements like the open shelving and the oven hood. The snowball effect can be frustrating. On the product end, I was surprised that I couldn't find blush pendants to go over the kitchen island. I spray-painted the ones we had, and they came out perfect. In the end, if you love the results hiccups along the way don't matter.
Q: Any tips for homeowners planning a kitchen remodel?
A: Bring home samples. Comparing different styles at home made the decision-making process a lot easier – especially since we have skylights in our kitchen and colors look different throughout the day. Also, if you don't want to spend time on upkeep, low-maintenance, family-friendly materials are a no-brainer. In MSI's showroom, I had my choice of top-trending quartz and porcelain styles, so it's the best of both worlds. And lastly, choose things that you love and enjoy the process.