Find The Perfect Granite Countertop With Our Material Selector And Inventory Slab Tool
March 20, 2020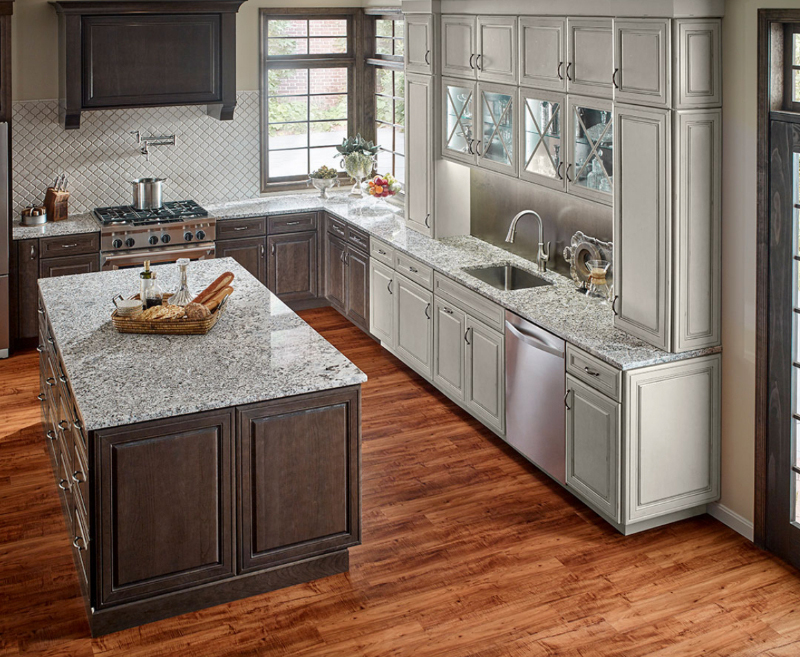 When it comes to a kitchen remodel, there are so many choices to be made, and hunting for the perfect granite countertop can become overwhelming. You may look for inspiration for your new cooking space on blog posts, Pinterest, or even pages of your favorite home décor magazine, but that doesn't necessarily mean you'll be able to replicate the same look. That's because Mother Nature uniquely creates each natural stone slab.
With MSI's slab inventory tool, you can find the perfect piece of stone and it's availability in just a few clicks in real time. Read on to learn how viewing the granite colors, thicknesses, and finishes can help you narrow your search down to a location near you.
Select Your Location
MSI offers more than 20 state-of-the-art distribution centers in the U.S. and Canada and features more than 125 million square feet of inventory. Our inventory tracker helps you find what's at your closest location, so even though this selection comes at the end of the material selector and inventory slab tool page, it's important to check that you have a distribution center near you. That's because slabs cannot be transferred between locations, so ensure that you're only viewing the granite slabs that are within driving distance.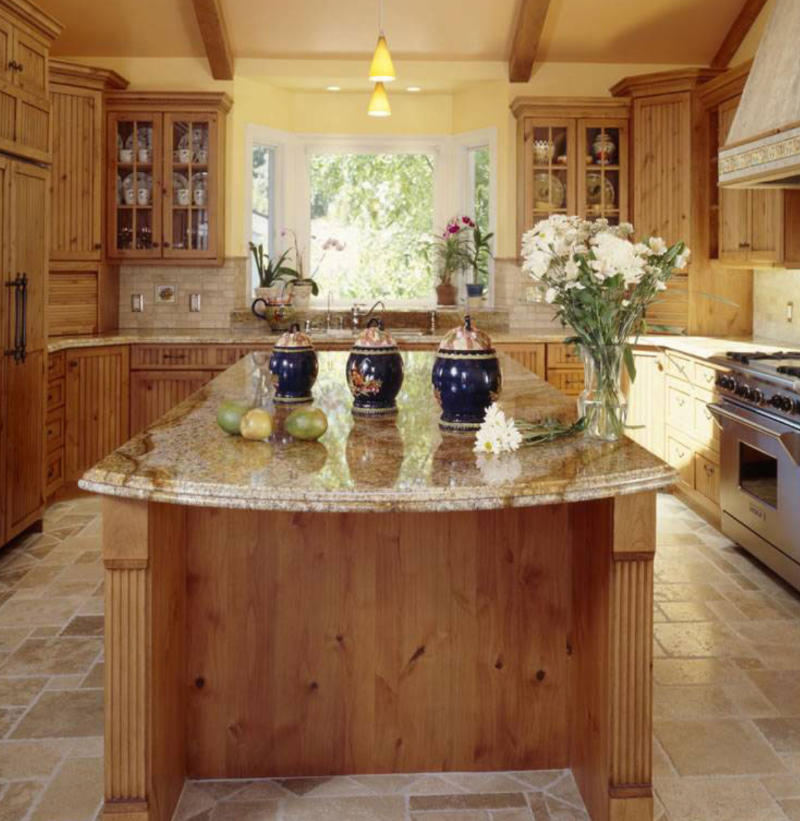 Select Your Granite Color
Natural granite stone comes in a wide range of beautiful colors that are often mixed, swirled, or speckled together to create stunning slabs. With MSI's granite material selector tool, you can view colors like white granite, off-white, ivory, cream, beige, taupe, brown, yellow, gold, gray, green, blue, red, salmon, black granite, or multicolored. Click on one or more colors to see the range of products available in your area.
Some granite colors may be more similar in tone while others will offer an immense range of hues. For instance, if you select gold as your color of choice, then you'll quickly notice a difference in pattern and coloring. Caravelas Gold is a stunning Brazilian granite with a polished finish and high-movement swirls of soft creams, warm browns, and cool grays. Juparana Persia is an exquisite medium-variation Brazilian granite that features rich golds, whites, beiges, and grays. Desert Dream is a super dramatic gold and black granite from Brazil with subtle streaks and speckles of creams and grays in a high-variation pattern. One color selection can give you soft and subtle to dark and bold.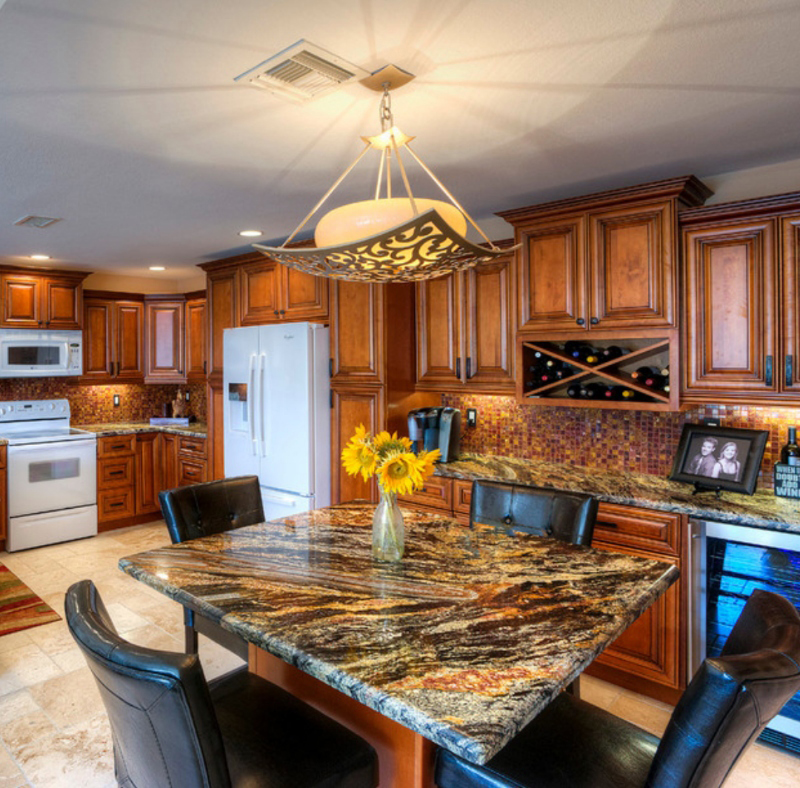 Select Your Granite Size
With the option for the standard 2cm and 3cm thicknesses, choosing the right granite slab size is key because it affects the weight of the slab, edge profile, and the cost. However, one isn't necessarily better than the other.
Granite is a very strong and durable natural stone, with some comparing quartz vs. granite. Although any weakness comes from the veins and dry seams of the material, a slab is stronger when thicker. With the strength comes weight, so a 3cm countertop will likely require additional support not only from the cabinetry but also from the home's foundation. This is something to carefully consider as 3cm stone becomes more popular with some products exclusively offered in the 3cm thickness, while other areas like California primarily use 2cm granite. However, a 2cm slab will always be installed with a plywood substrate underneath for added strength and flexibility. In the end, 2cm and 3cm granite countertops are equitably sturdy, even though the 2cm slab weighs less.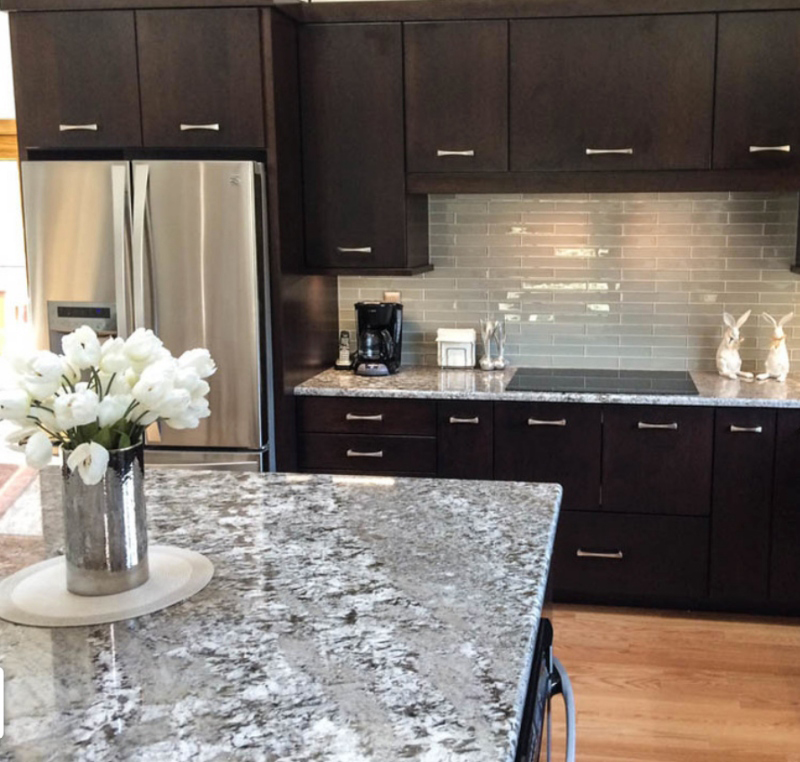 Photo Credit: Houzz
There are many edge details to choose from, including beveled edge, bullnose edge, and ogee edge, just to name a few, and how thick your countertop top is may determine what type of edge you can pick and how it's applied. A thicker 3cm slab can be given a popular edge detailing quickly, while a 2cm counter can also achieve the same detailing but with lamination. This technique creates a double-thick edge by taking a 4cm-wide granite piece and gluing it along the edge of the countertop in order to make it look thicker.
Pricing for the two thicknesses are surprisingly similar. A 3cm countertop costs more because of its heavy weight but less when it comes to fabricating a non-laminated edge since it's easier and faster. A 2cm granite slab costs approximately 25% less because of its lighter weight but more for time and labor when fabricating a laminated edge. Also, higher-grade stones will also add to the cost.
Select Your Granite Finish
Picking the perfect finish is another way to change up the appearance of your new countertop, and our MSI material selector tool offers a wide range, including polished, brushed, honed, gauged, flamed, matte, and concrete. Remember that not all granite colors will be available in every finish, so if a specific look is what you really want, then know that the hues may be more limited. And, since the finish alters the final look, it's best to see slabs in person before making a final decision.
Finishes really are a personal preference, but here are some of the more popular choices to consider. Polished is the most common finish with its glossy, mirror-like surface that brings out more vibrant colors and textures in the natural stone. A honed or matte finish features a smooth surface without any reflection as a result of stopping the finishing process before the stone is buffed. A brushed finish offers a leathered look that's more sophisticated than a honed finish and keeps the color of the granite. A flamed finish is more rare and created by placing the stone under extreme heat to where the grains burst and roughs up the surface that changes to a more muted color.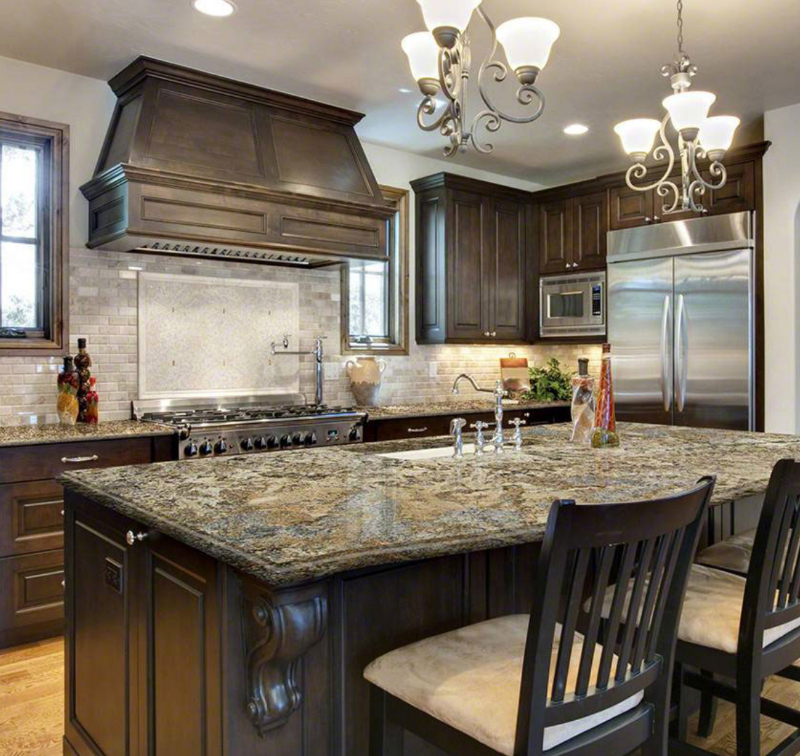 Find Your Perfect Granite Today
With a vast granite selection, endless color choices, slab size, finishing options, and location availability, it's easy for shoppers to get started using MSI's material selector and inventory search tool. Now, you can search for the perfect slab that's available near you all without leaving home. You can also see what it looks like i a real room setting with our Granite Visualizer Tool. Just a few clicks will provide you with the inspiration you need to get the ball rolling on your next kitchen remodel.
Read More about Granite Countertops
Achieve Professional Results on Your Granite Countertop Install
All Your Questions About Granite Countertops Answered...Right Here!
You Can't Go Wrong With These Granite Countertop Designs
Our virtual tools are here for you - help with granite slabs and more!
READ MORE ABOUT GRANITE COUNTERTOPS
Easy to Install Prefabricated Granite Countertops
Elegant White Bathrooms Featuring White Granite
Find the Perfect Granite Slab with Our New Countertop Visualizer