7 New Marble Look Quartz Countertops From MSI
December 13, 2021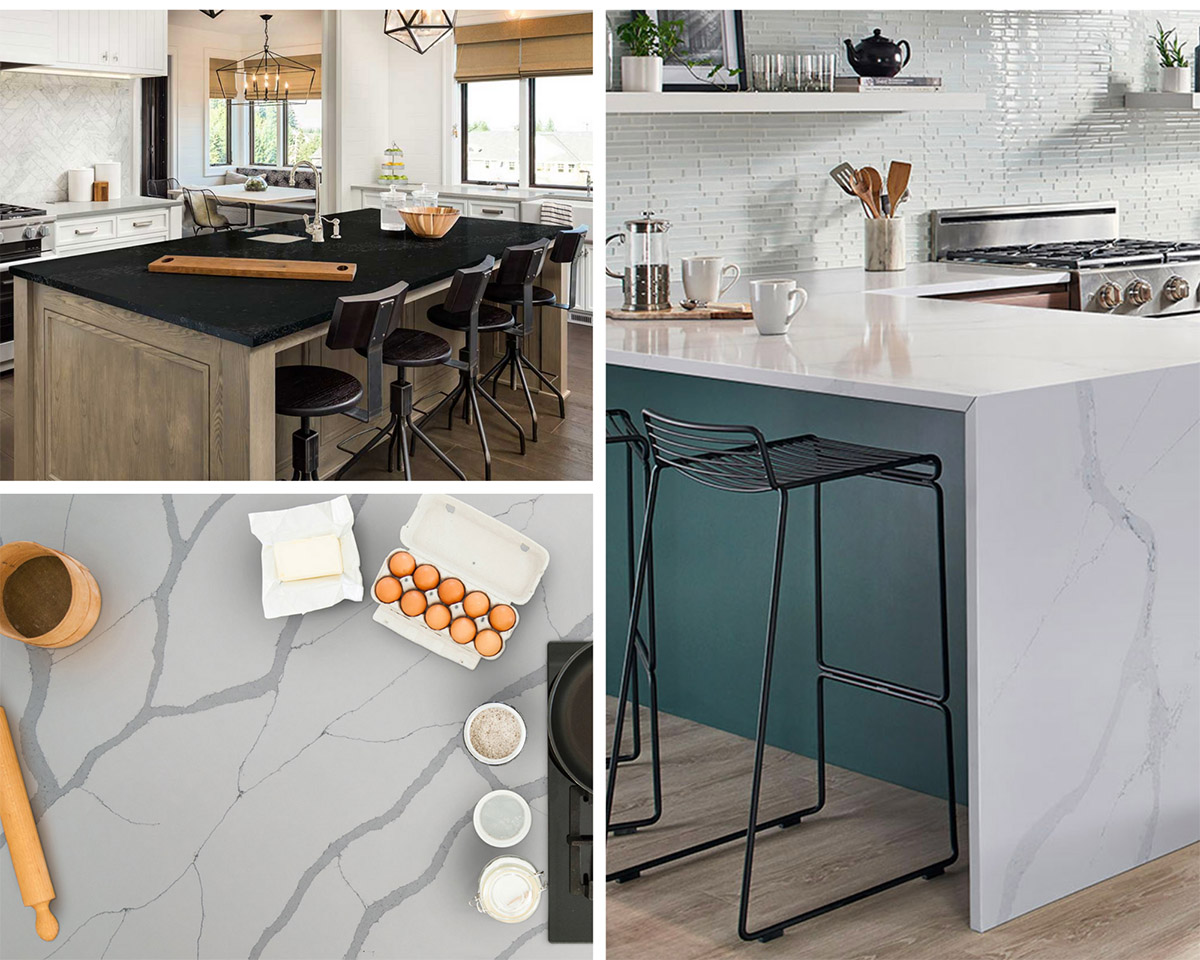 Over time, design trends change, and while the right colors, materials, and finishes will last for years, eventually, you'll find it's time for a bathroom or kitchen remodel to make your home look fresh and modern. When it comes to counter materials, you have plenty of appealing options to consider, but if you want the perfect blend of beauty and utility, marble look quartz is an option you should definitely explore.
Why would you choose quartz over marble? Which new quartz designs offer the best opportunities to modernize your home? Here are a few options to consider if you're ready to update your countertops.
Why Choose Quartz?
Engineered quartz is an incredibly appealing countertop material for a variety of reasons. When it comes to design, function will always be the top priority. While natural stone is strong and durable, quartz is not only resilient, but also safe.
This robust material is incredibly hard, made from over 90% natural quartz, which is bound by resins and polymers to create a surface resistant to scratching, staining, and other common kinds of damage. It's also non-porous (unlike natural stone), which makes it a non-toxic, food-safe surface that's perfect for the kitchen setting.
If you're worried about quartz countertop care and maintenance, you don't have to be. Cleaning can be accomplished with warm water and mild detergent. Best of all, you never have to worry about resealing or polishing, which natural stone counters require.
Finally, you have an incredible array of choices when it comes to your preferred color palette. MSI offers dozens of colors and patterns that add unique and eye-catching appeal to any kitchen, bathroom, or other areas of the home. There are even several new designs to consider.
Calacatta Miraggio Gold
These days, there's no need to rehash the marble vs. quartz vs. granite debate. Quartz offers everything modern homeowners seek, including the look of their favorite natural stone.
Polished finish Calacatta is among the most popular marble varieties, and you can find a range of similar options in quartz. Calacatta Miraggio Gold offers the elegance you love with a hint of inviting warmth.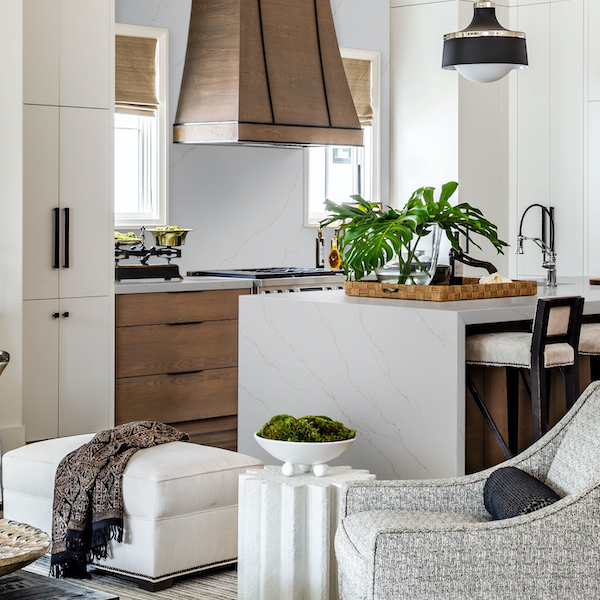 While the white background displays the luminosity Calacatta stone is known for, thanks to MSI's exclusive Lumaluxe formulation, the veining is golden brown, instead of cool gray, to subtly warm the palette.
Calacatta Prado
Kitchen design is all about striking a balance. If you use the same color, pattern, texture, and level of shine throughout, a space might start to look like a hospital or an Apple store.
Calacatta Prado offers all of the sophistication of classic Calacatta marble, featuring a bright white background and thin, gray veining. It provides the opportunity to enhance just about any room, regardless of the design.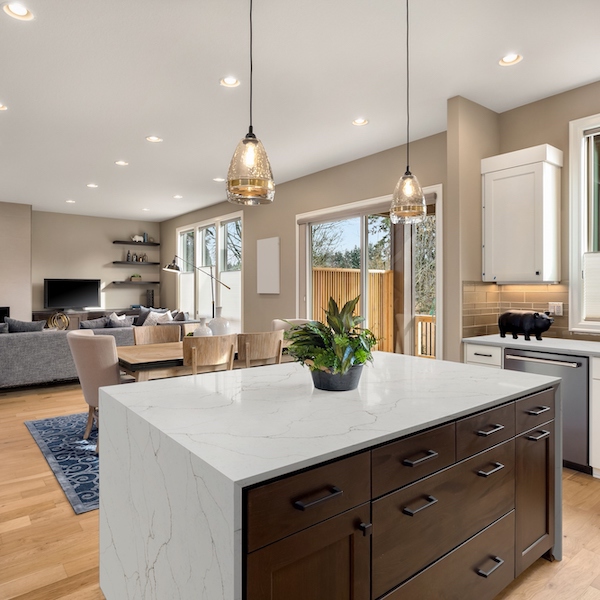 In a white kitchen, the gray veining adds a pattern that differentiates the counter surface from white cabinetry and backsplash tile, all without detracting from the tone-on-tone aesthetic. This neutral also pairs beautifully with wood cabinets. You can even dial up the contrast with black or dark gray cabinetry.
Calacatta Sierra
If you love the creamy appeal of marble, but you're looking for kitchen countertops that offer a hefty dose of visual interest, you're sure to appreciate this stunning Calacatta variant, Calacatta Sierra, which features a white background punctuated by thick, dramatic veining in gray.
You'll still enjoy a neutral color palette that interior designers can work into any space, along with a bold pattern that serves as the centerpiece of your design.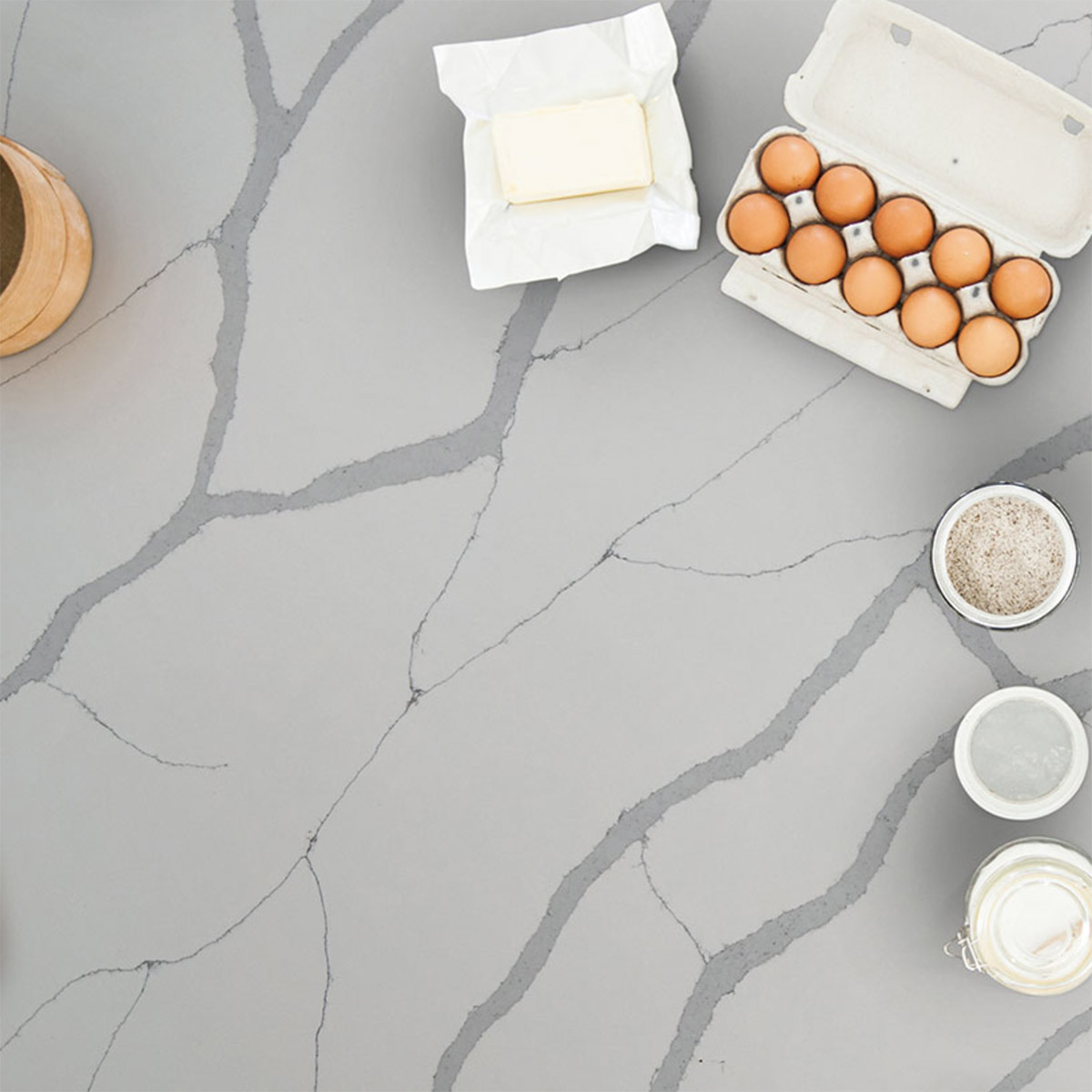 Midnight Corvo
White marble is a natural choice for breezy, inviting kitchen spaces, but if you're interested in a bolder look, a modern quartz alternative in darker tones might be right up your alley. Midnight Corvo is a great option for modern or masculine kitchen or bathroom spaces.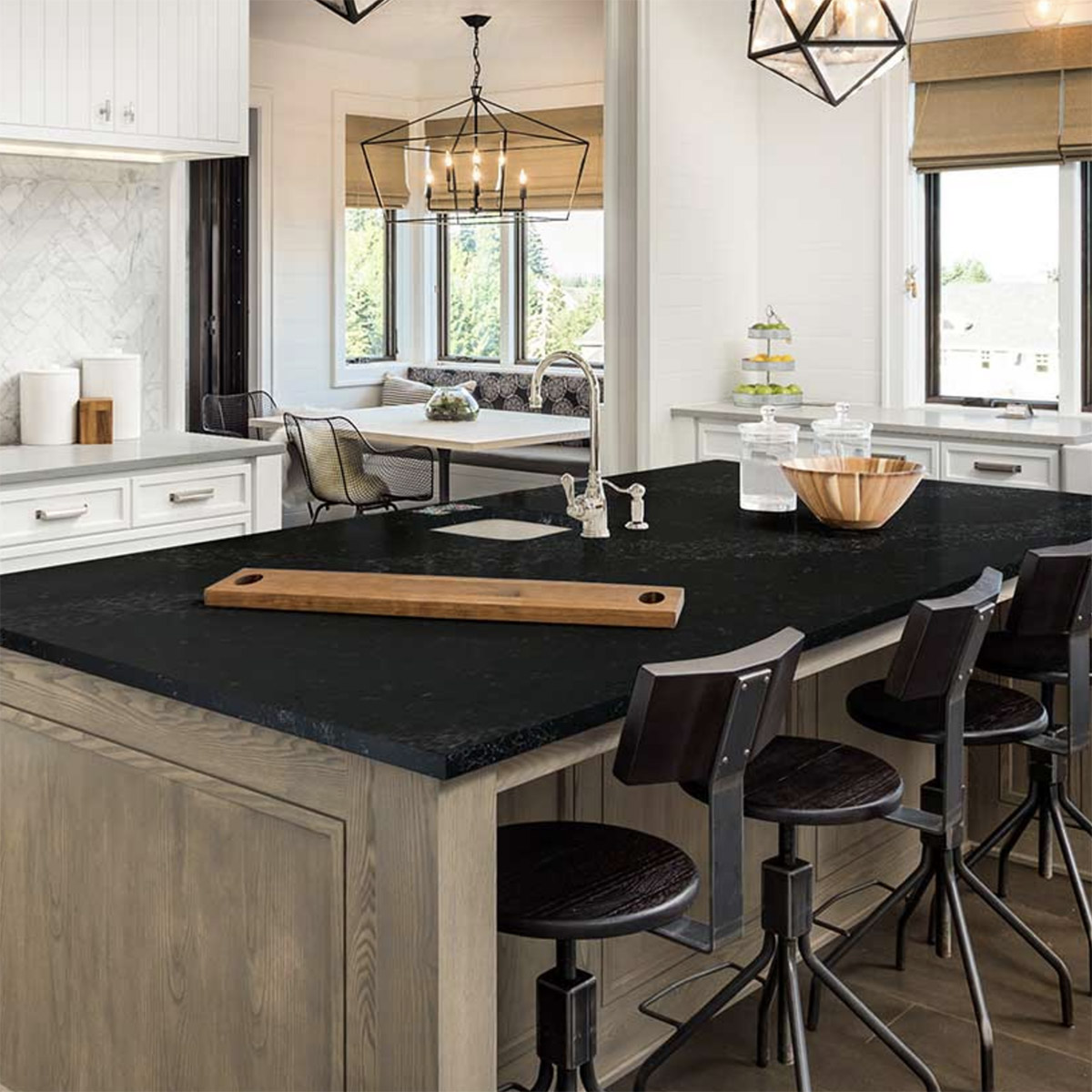 This premium surface features a rich, inky base, laced with delicate, cool, white veining in alternately sparse and dense patterns. It's similar to striking Marquina marble varieties, but with an understated veining that offers soothing appeal.
Pair it with dark wood cabinetry to make a large kitchen feel cozier or add it to white cabinets for bold contrast and a classic, sophisticated palette.
Galant Gray
When it comes to choosing quartz colors that mimic the look of marble, white and black are the options de rigueur. However, you can skip the extremes and create a beautiful, modern kitchen space by choosing gray tones instead.
Quartz countertops come in a wide range of colors and patterns, so you have nearly endless options to choose from. Galant Gray is an ideal variety for anyone seeking a refined, but livable look.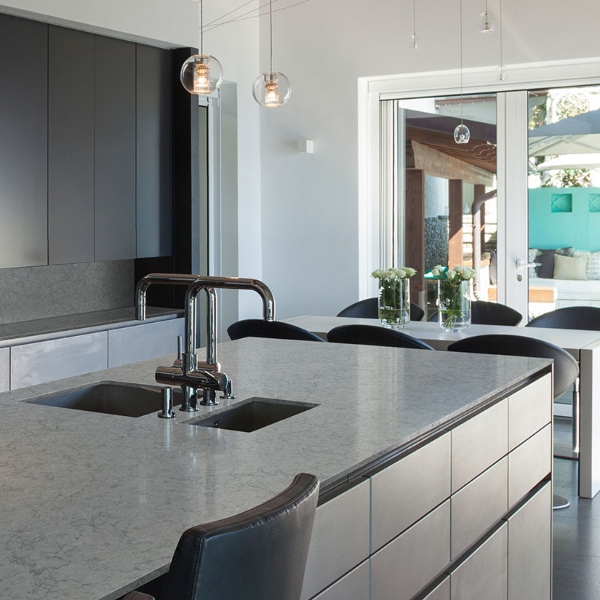 The swirl of gray tones, blending a mid-tone gray background with feathery strokes of white and light-to-dark grays, delivers an ambiance of neutral tranquility that is equally attractive with light or dark cabinetry.
Best of all, it will hide dust and water spots better than white or black, which is perfect for busy families that don't have time to constantly clean.
Calacatta Lavasa
There's nothing quite like the airy appeal of a crisp, clean, white kitchen. But plenty of homeowners prefer their social hub of the home to present a warm, inviting atmosphere. Calacatta Lavasa delivers exactly what you need with colors and patterns that work with both traditional and modern design choices.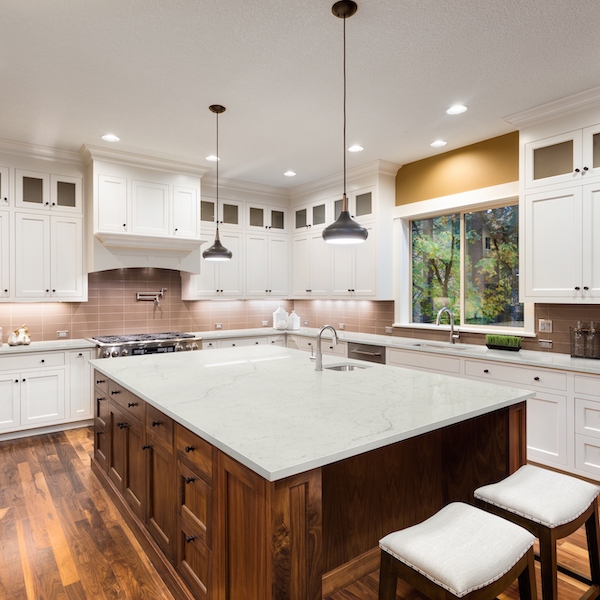 The white background leans warm, rather than cool, with a pale creaminess that's hard to spot, even against white cabinets. Wispy, barely-there veining in brown tones adds even more warmth, which will draw on any wood tones in your interior spaces.
Carrara Breve
Soft, sophisticated, and serene, Carrara varieties work well with nearly any kitchen design or color scheme. Carrara Breve quartz features a warmer white background, lightly stippled with brief strokes of golden brown, making it an ideal addition to both ashy and golden tone cabinetry.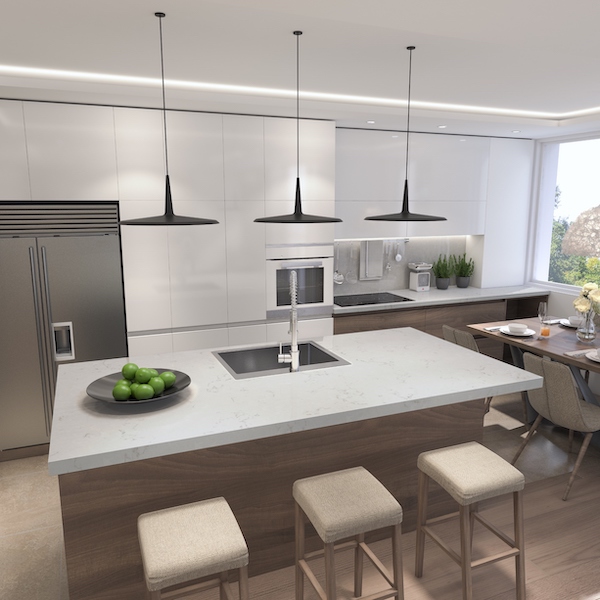 Choosing the right countertop material is by no means simple, but with marble-like quartz options from MSI, you'll get the best of both worlds. If you're looking for premium surfaces that are not only beautiful, but also durable and easy to care for, quartz countertops will exceed your expectations.
Discover More Marble-Look Quartz Countertops Here
Indulge In Luxurious Marble Looks with Natural Quartz Countertops
Our Top 10 Quartz Countertops That Look Like Marble
Which Marble Look Quartz Is Right for You?