Outdoor Oasis: Killer Countertops For Outdoor Kitchens
November 11, 2016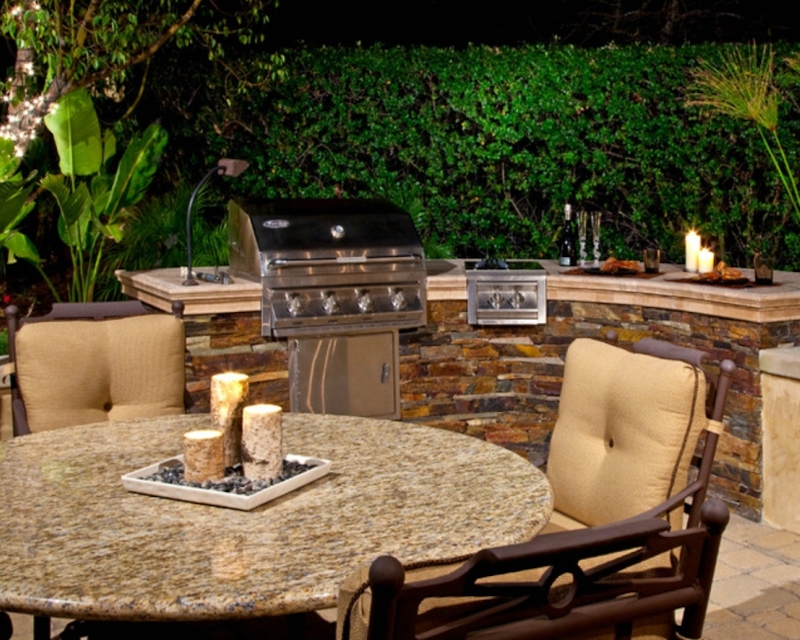 Thanks to the cooking genius of Julia Child, the kitchen has transformed from a merely functional place to cook and clean to a room to create and gather. Most recently, gorgeous outdoor kitchens have risen in popularity as a result of the many home design and cooking shows on TV.
Outdoor kitchens must be even more durable than indoor ones to withstand various weather elements, but they must also meet the needs of today's skilled home chefs. The ultimate outdoor cooking area will satisfy homeowners who want to prep, cook, serve, eat, and entertain—all in one area. If these specifications sound about right, then make sure you incorporate enough countertop space in your design.
Want some examples? We've got five perfect spaces to show you that will leave you hungry for your own killer kitchen design.
One-Wall Kitchen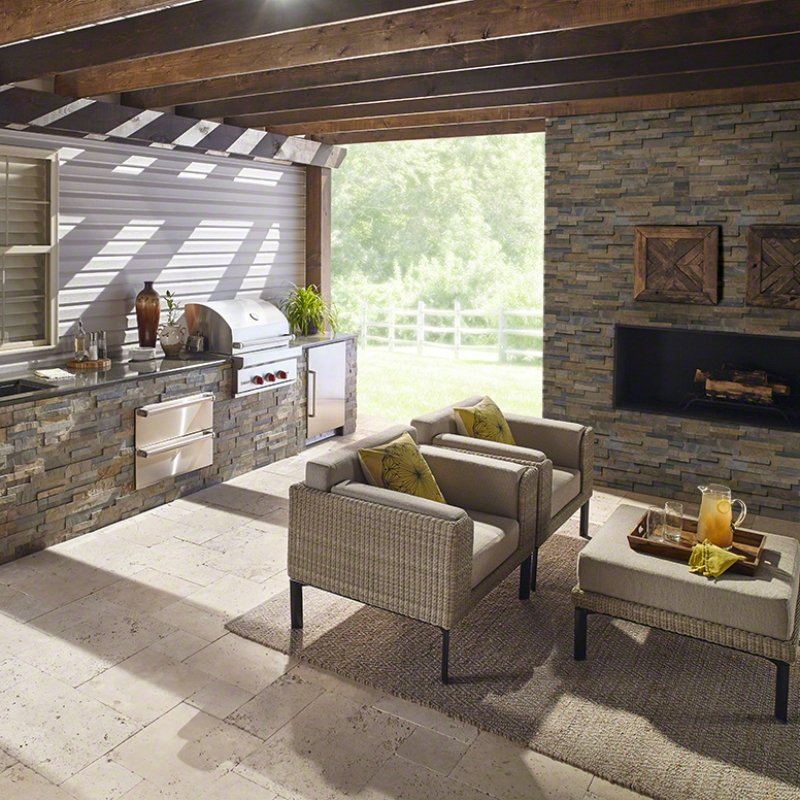 Featured: Babylon Gray Quartz
If you don't have room for a large outdoor island or a lavish L-shape design, consider a single-wall kitchen. For example, this cozy and rustic studio-like space is perfect for eating and lounging. It features comfortable seating, a stunning fireplace, and a wall with all the bells and whistles you could need in a compact kitchen space.
The Babylon Gray Quartz countertops are very durable and virtually maintenance-free, making them an ideal choice for counters semi-open to the elements. On top of their durability, the deep gray background with lighter grey veins will do wonders at hiding any dirt. Although the footprint is small, there's still plenty of counter space, and the built-in fridge, grill, and sink are all within close range.
Covered Cooking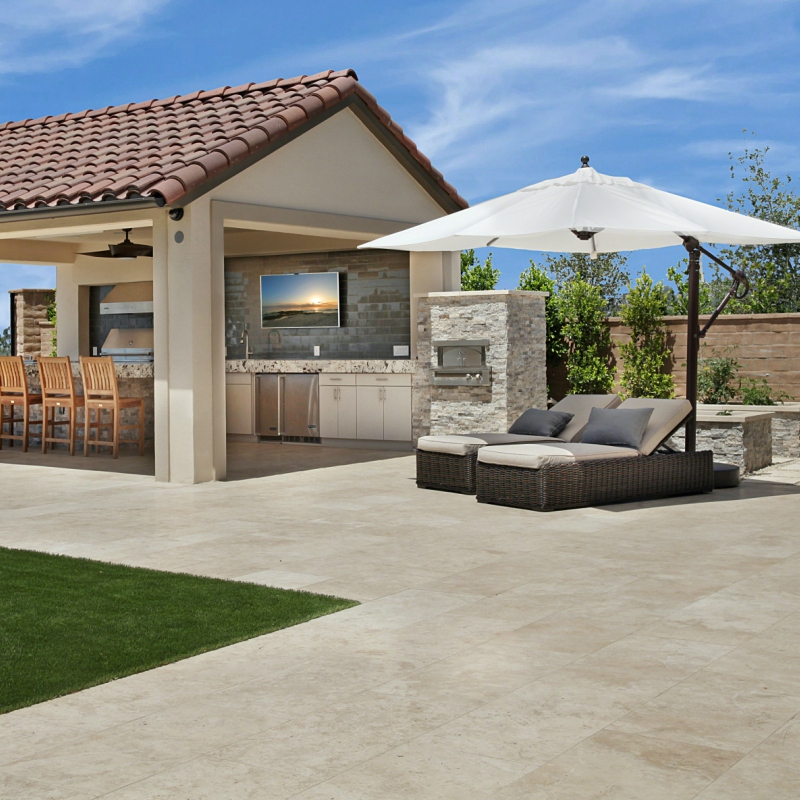 Featured: Copenhagen Granite
This luxurious outdoor kitchen looks almost as if you never even left the house. The covered cooking area, which is fully equipped with several neutrals in tasty tones, houses enough cooking space for several people to easily and conveniently create delicious fare.
With their soft white background, gray and gold veining, and hints of black and Bordeaux, these elegant Copenhagen Granite countertops beautifully blend in with the rest of the stacked stone and flooring. Even though the granite is mostly protected by the sturdy structure, it's a stain- and water-resistant material that's often preferred by homeowners who want to play it safe.
Outdoor Kitchen with Curves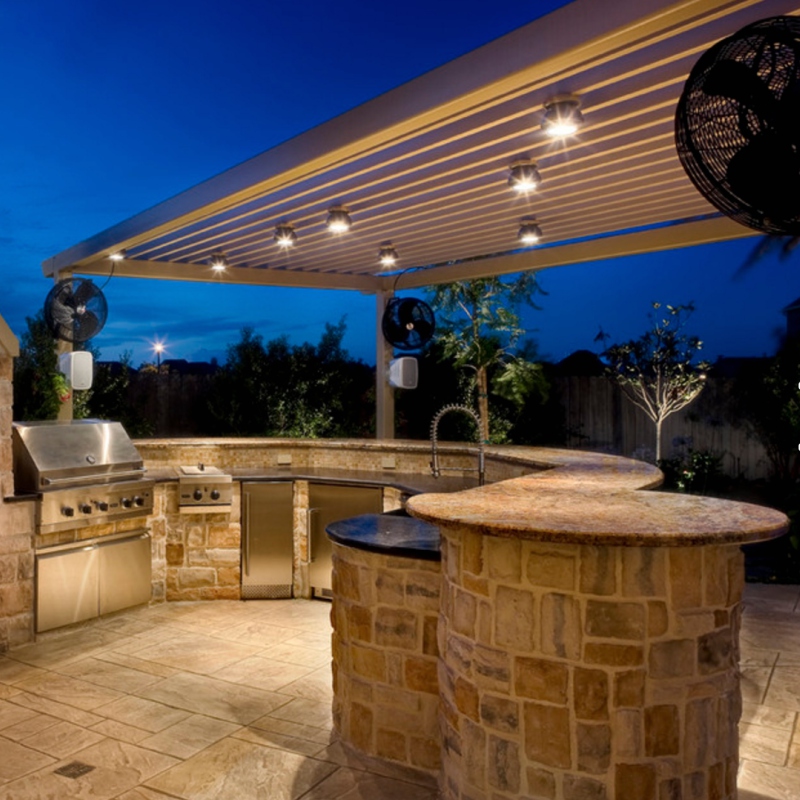 Featured: Golden Crystal Granite
A U-shaped kitchen typically provides the most efficient design when it comes to utilizing the coveted work triangle. It's also known as a C-shaped design, and this cooking space definitely comes with a lot of curves.
These brilliant, multilevel counters allow plenty of room for guests to sit, chat, and watch while you work your chef magic! The darker color of the granite countertop gives you all the prep space you need, and aesthetically ties in with the darker veins of the Golden Crystal Granite. This top counter layer combines gorgeous golds and grays that enhance the stunning stone-clad kitchen and travertine pavers.
Cooking with a View
Featured: Arctic White Quartz
With a view like this, who wouldn't want to be outside cooking every day? This modern L-shaped kitchen is a clean and serene space to enjoy all of life's tasty eats and treats.
Light bounces off of the patternless and veinless Arctic White Quartz countertops, brightening up the outdoor kitchen with its stark-white surface. And you won't have to worry about your germ-free slab getting spotted over time, because you won't have to seal it as you would granite. It plays well with the wood cabinets and offers enough overhang to fit four bar stools.
Chef's Corner
Whether you have one or two blank walls, you can cook up a design that'll delight the senses. This outdoor kitchen blends old-world style with contemporary touches. Any chef would be delighted to grill up a feast at this waterfront property.
The mix of exotic wood, stainless steel, stacked stone, and quartz counters creates a kitchen full of texture. The Pebble Rock Quartz perfectly matches the warm beige tones of the wall and grand columns, yet includes a hint of shine from the pebbled nature.
When it comes to creating the outdoor or indoor kitchen of your dreams, you have a lot of options to look at. MSI is here to help make those difficult decisions easier with the Virtual Kitchen Designer.
Test out these and other materials to see how your countertops, cabinets, and flooring work together to make a functional and fabulous kitchen.