MSI Introduces 4 New Bold, Exotic, And Timeless Quartzite Countertop Colors
November 16, 2023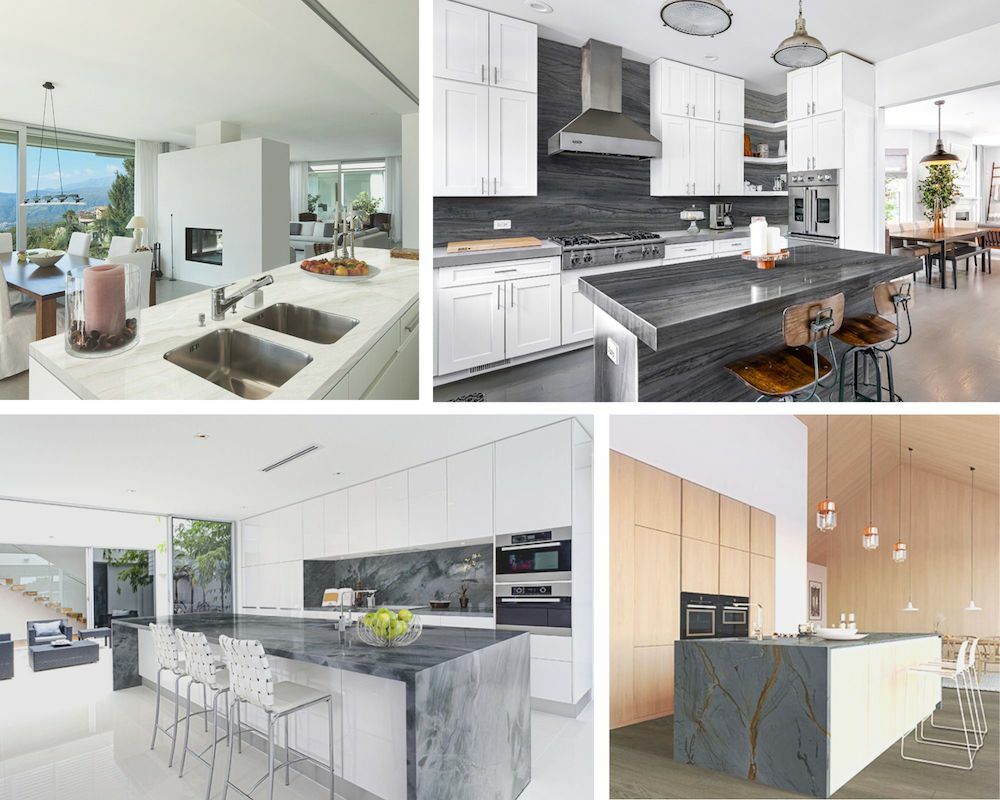 The heart of any kitchen or bathroom is undoubtedly the countertop. It's not just a functional surface; it's a design element that can transform the entire space. For countertop materials, quartzite is rapidly gaining popularity for its durability, beauty, and versatility. This year, MSI is excited to introduce four stunning new quartzite countertop colors set to make waves in interior design. Check out these bold, exotic, and timeless colors that will inspire your next home improvement project.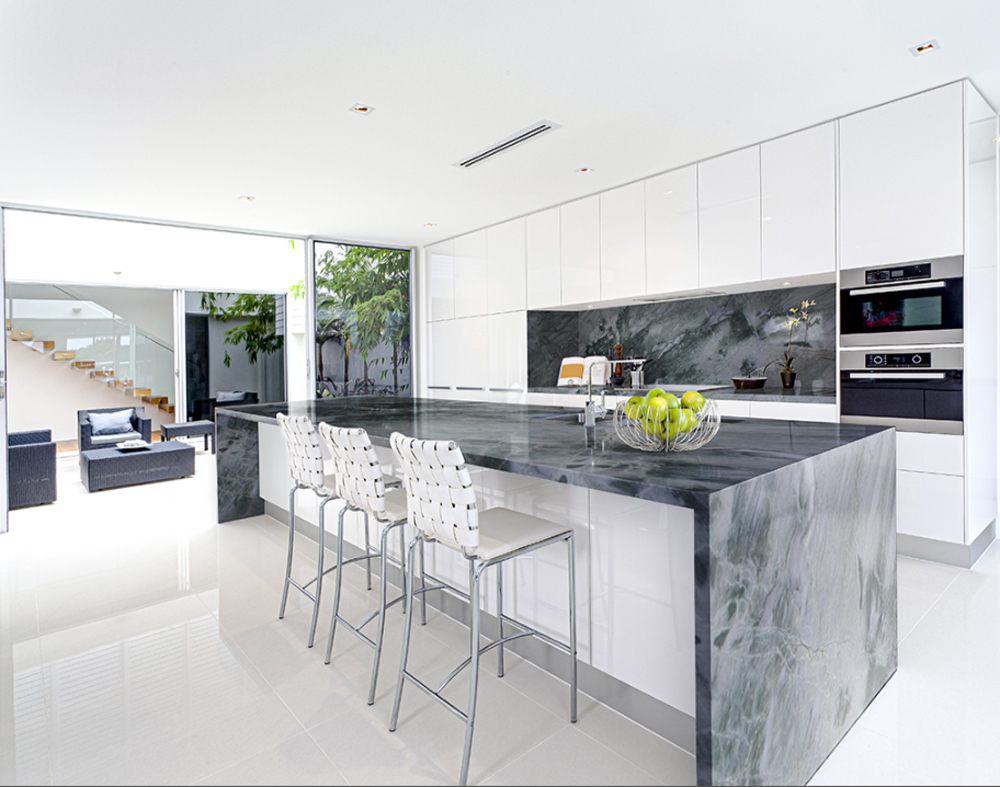 Picture a serene beach with clear blue waters gently washing up along the shore. Our new Acquatic quartzite countertop evokes that tranquility. With its soft, cool grays and subtle veining, Acquatic adds coastal charm to any space, while its durable composition ensures resilience in every area of the home. Whether you're designing a beach-themed kitchen or a spa-inspired bathroom, the soothing colors of this natural stone will transport you to relaxation.

Blue never goes out of style, and Blue Roma quartzite proves that. This striking kitchen island boasts a rich, deep blue background with intricate copper veining. It's a bold and dramatic choice that makes a statement in any room. Blue Roma is perfect for those looking to add a stunning and durable countertop to their bathroom or kitchen remodeling project. Pair it with gold or brass accents to complete the regal look.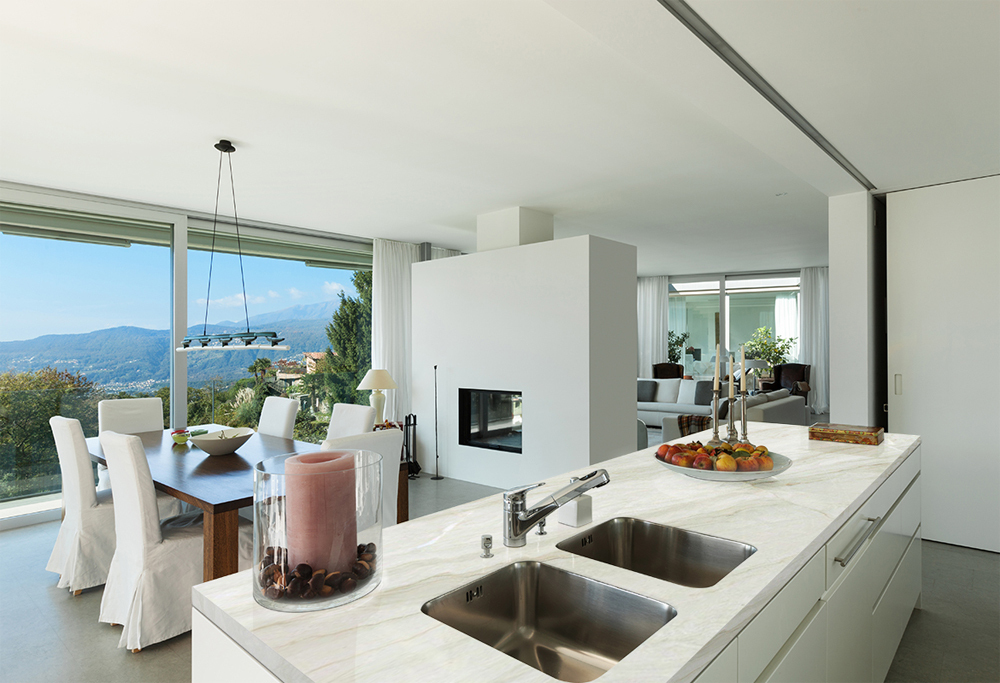 For those who appreciate the elegance of classic marble but desire the durability of quartzite, Milano is the perfect choice. This quartzite kitchen countertop features a creamy white background with delicate gray veining that mimics the timeless appeal of Carrara marble. Milano effortlessly complements numerous design styles, from traditional to modern. Whether you're creating a crisp, contemporary kitchen or a sophisticated bathroom, this quartzite's understated beauty will elevate your space.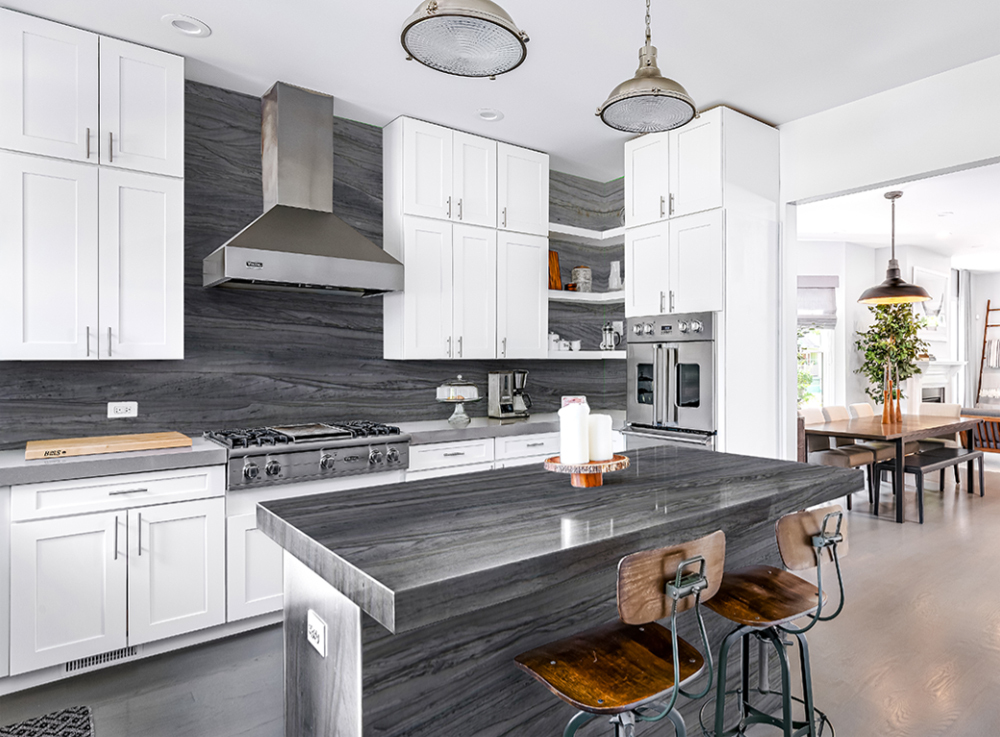 Sophistication meets modernity with our Platinum Gray quartzite countertop. This bold and versatile surface showcases cool grays and deep charcoals with subtle white and silver veining. Making a strong visual impact, this adaptable quartzite seamlessly moves between traditional and contemporary settings, effortlessly introducing dimension and depth to kitchens, bathrooms, walls, and floors. Its neutral palette allows endless possibilities for coordinating with cabinetry, backsplashes, and other accents.
Why Choose Quartzite?
Quartzite is rapidly becoming a favorite choice for countertops due to its numerous benefits, which enhance the functionality of your living spaces and elevate the overall aesthetic appeal of your home. Let's explore these benefits and why quartzite could be the perfect addition to your next project.
Exceptional Durability
Natural stone quartzite offers exceptional durability, making it highly resistant to scratches and heat, rendering it an ideal surface for the high-traffic areas of busy kitchens and bathrooms. This durability ensures your countertops last and reduces frequent replacements or repairs, saving you money.
Unique Beauty
Moreover, each slab of quartzite is unique, featuring natural patterns and colors, which adds exclusivity to your space. When you choose quartzite, you're not just getting a functional countertop; you're also investing in natural art that can become the centerpiece of your kitchen or bathroom design. The mesmerizing swirls, veins, and hues of quartzite can create a striking focal point that elevates the overall aesthetics of your space.
Low Maintenance and Practicality
Additionally, quartzite countertops are known for their low maintenance requirements, as they are easy to clean, making them a practical choice for everyday use. Unlike other countertop materials that require special cleaners or treatments, quartzite can be cleaned with simple soap and water, saving you time and effort in maintaining its pristine appearance. Its resistance to stains and spills also adds to its practicality, ensuring accidental spills won't leave a mark.
Versatile Design
Lastly, the versatility of quartzite shines with its many available colors and patterns, so it seamlessly integrates into any design aesthetic, traditional or contemporary. Whether you prefer a classic, timeless look or a modern and trendy style, you can find a quartzite slab that complements your vision. Its adaptability to various design schemes makes it an excellent choice for homeowners and designers looking for a countertop material that can adapt to evolving interior trends while maintaining timeless appeal.
Transform Your Spaces with Quartzite
At MSI, our dedication to delivering top-notch, cutting-edge countertop choices is an ongoing endeavor. With abundant quartzite selections available, there's a shade to complement every personal taste and design preference.
If you are ready to enhance your kitchen or bathroom's aesthetic with the enduring elegance of these exquisite countertops, chat with us online, visit an MSI showroom, or contact an authorized MSI retailer and transform your home into a design masterpiece!