Make A Stunning Statement With Savoy Marble-Look Porcelain Tile
August 25, 2021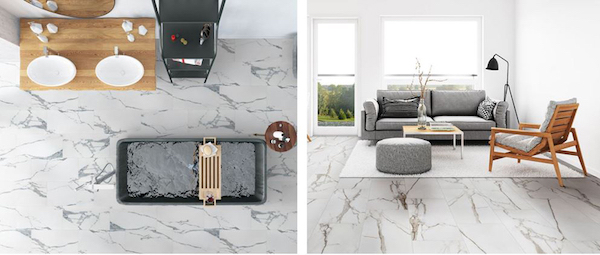 Natural Marble is a timeless and stunning stone option that will breathe life into any part of the home. However natural marble is not only costly but extremely high maintenance and often impractical in the home. If you swoon over a marble look, the good news is you can still achieve it, without breaking the bank in the process, with durable porcelain tile that looks exactly like marble.
Porcelain tile is one of the best options for a marble alternative. It comes in a wide range of styles and can be used to decorate counters, walls, floors, bathrooms, kitchens, staircases, and more. Keep reading to find out how you can achieve an authentic marble look in your home with all the durability and affordability of porcelain.
Marble Look Porcelain Tile
There is a large market for porcelain tile that looks like marble. The good news for you is that this large market has meant that significant time and effort has gone into ensuring that your porcelain tile floor or wall is going to look almost indistinguishable from the real thing. Porcelain imitating marble has been available for many years, and the appearance has only improved over time. Today's marble-look porcelain options are near indistinguishable from the real thing.
As with natural marble, porcelain tile comes in various types, and colors, with natural variation between tiles just like there is natural variation in the stone. Depending on the location of the tile and the impact you want to have, you will find a variety of colors and styles to match the look you want to achieve.
If you're after a warm-toned finish, the new Crema tile is a great option. The tile has a creamy white background with striking gold and brown veining to add warm sophistication to any room. Coming in a range of sizes and finishes, Crema can be used in a variety of ways, from backsplashes to flooring.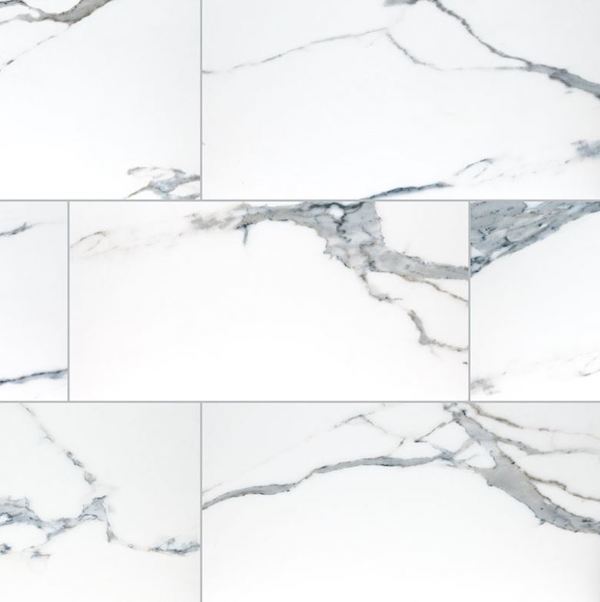 Alternatively, if you prefer a cool-toned look, look no further than the new Azula tile. These tiles feature a bright white background with bold gray veining throughout. Available in the same size and finish options as Crema, the Azula tiles will look great as backsplashes, accents walls, entryways, and flooring.
Comparing Porcelain To Other Options
Porcelain offers a modern tile option for your home, but what are the alternatives and how do they stack up? It's no secret that porcelain is cheaper than natural marble, however, what are the other differences, and how does it compare to other tile options on the market?
Tile and Stone
The difference between porcelain and natural marble is in the manufacturing process. Porcelain is a form of ceramic that is compact, hard, and non-porous. This makes it highly durable and stain-resistant, making it a great option for your home. Conversely, marble is a relatively soft natural stone. This makes it less ideal for flooring, as it is likely to scratch and chip. Staining is also common with natural marble, as it has a high porosity, meaning it needs to be regularly re-sealed and any spills, including water, should be quickly mopped up.
When comparing tile and stone, properly maintained natural marble can last, however it requires a high degree of care and maintenance. Porcelain tile is not only cheaper but stronger and has significantly lower maintenance.
Porcelain vs. Ceramic Tile
When comparing porcelain vs. ceramic tile, both tiles are similar in many ways and often difficult to distinguish at first glance. Both tiles are clay-based and kiln-fired, but porcelain is a more specialized form of ceramic.
The clays used to make porcelain are fired longer and at a higher temperature than ceramic, making them denser and more durable. The finish achieved with porcelain is smoother than that of ceramic, unfinished ceramic will feel coarse whereas the finer grain of unfinished porcelain will be smooth to touch.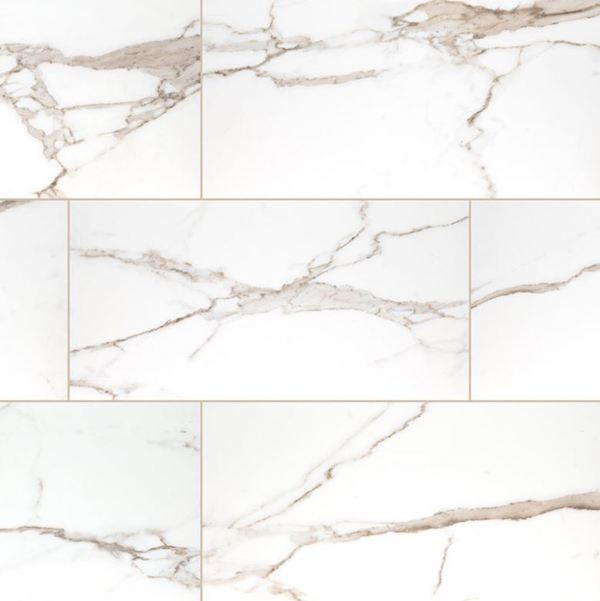 Porcelain tile is consistent throughout the material, a broken piece of porcelain will have a uniform color and thickness through the tile. In comparison, ceramic tile is often colored in the glaze, so chips may reveal a different color underneath. While chips are unlikely due it their high durability, should a chip occur, it will be far less noticeable in porcelain than in a ceramic tile.
For these reasons, porcelain tends to be the more popular choice over ceramic tile alternatives. While porcelain is initially more expensive than ceramic, this cost rise pays off over time with a more durable product that will far outlast its ceramic counterpart.
Benefits of Porcelain Tile
Non-porous
Great in colder weather conditions
Super dense and able to withstand heavy usage
Extremely durable and long-lasting
Easy to maintain
More hygienic
Fireproof
UV resistant
Can be slip-resistant
Mimics other types of materials
Ready To Get Started?
There is no question that marble-look porcelain tiles will provide long-lasting, sophisticated designs for your flooring options, backsplashes, walls, and more. Impervious to water and stains, scratch-resistant, and perfect for high traffic areas this easy to maintain option will elevate your home while taking the wear and tear of day-to-day life. If you're ready to install porcelain tiles in your home, get started with our room visualizer to see how they'll look in your space. Our new Savoy collection, with cool- and warm-toned options, a range of sizes, and finishes, is sure to help you achieve the look and feel you need. Come in and visit one of our many showrooms located across the U.S to see the brand new collection in person and get personalized assistance picking out the right tile for your home.