Hotel Flooring 101 — Stylish Commercial Flooring That'S Comfortable And Durable
September 15, 2020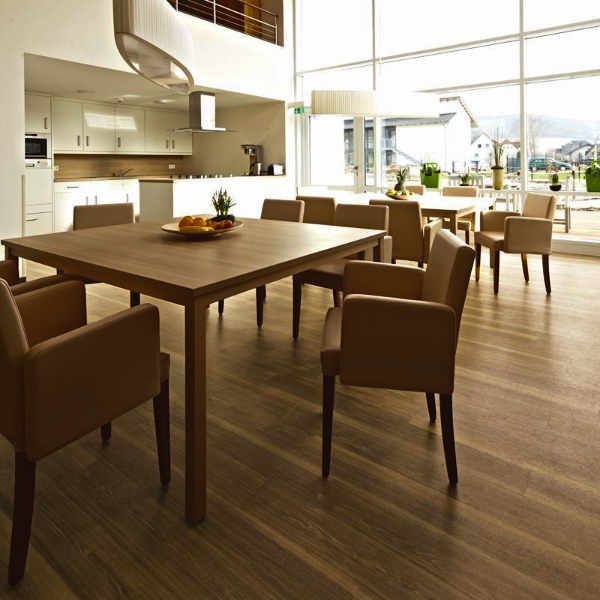 The hospitality industry has unique needs in flooring — now more than ever, as cleanliness in public spaces takes center stage. Hotel flooring must be durable, stylish, and easy to keep immaculately clean. Flooring options get bonus points for being eco-friendly, too. Carpet is on its way out, to be replaced by solid materials such as luxury vinyl tile (LVT) and porcelain tile.
Luxury Vinyl Flooring and porcelain plank tiles offer the hospitality industry an economically elegant flooring option that is as stylish as it is environmentally responsible and durable. After decades of successful partnerships with the country's finest hotels and resorts, MSI has developed standards that meet or exceed each organization's promise to its guests.
Nature-inspired materials, such as tile that looks like wood, continue to be the most in-demand flooring in the hospitality industry. Porcelain and LVT flooring have many advantages that make them the ideal solution for hotels — in guest rooms, lobbies, dining areas, and lounges. These floors are tough enough to stand up to heavy foot traffic. What's more, they're easy to repair by simply removing the damaged piece, instead of replacing the entire floor. Their non-porous nature makes them easy to sanitize, which is key to making guests feel comfortable. And, despite their authentic resemblance to real natural wood and stone, these products never need to be sealed. That simplifies your company's cleaning and maintenance routine while minimizing disruptions in company operations.
Today's discerning hospitality guests also rank eco-friendly, safe materials and operations high on their list of appealing features. MSI's LVT and porcelain tile products are Greenguard Gold certified, meaning that they meet or exceed the Greenguard Environmental Institute guidelines for indoor air quality. They are guaranteed to minimize the emission of volatile organic compounds (VOCs) which can trigger respiratory problems.
At the same time, hotels are steering away from extensive or costly renovations, which makes affordable porcelain tile and luxury vinyl planks especially attractive. But, sticking to a budget doesn't have to be boring. Endless color and pattern variations inspire creative applications and installations, which make it possible to complement the unique ambiance of each resort, welcoming and attracting more guests.
Here are a few examples of our products in a hospitality environment, so you can see how stylish and versatile LVT and porcelain flooring can be.
Quarzo Gray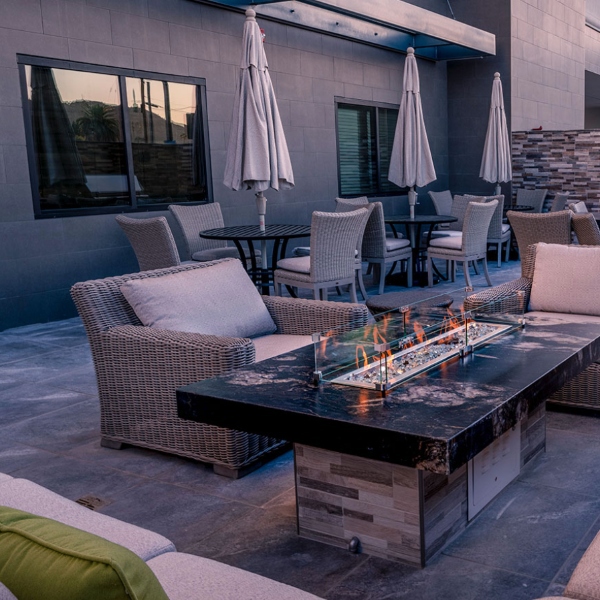 Most hotels offer outdoor areas for guests, from a few tables on a patio to an entire outdoor lounge or swimming pool. Quarzo Gray porcelain pavers are stylish enough for interior areas, and also tough enough to stand up to the elements outside — including pool decks. Offer your guests the luxurious look of natural stone without the worry and maintenance of the real thing. Using the same flooring both indoors and out can even make small spaces appear larger.
Metropolis Taupe
Giving guests a high-end experience in an affordable space is always an important goal — particularly in the bathroom. Metropolis Taupe porcelain tile offers the elegance of natural sandstone, a luxury material that can be tough to maintain. Porcelain tile, however, needs very little maintenance. Despite frequent use, high humidity, splashes of water, and more, it's an easy matter to keep this flooring hygienic and free of stains and damage.
Antoni Gris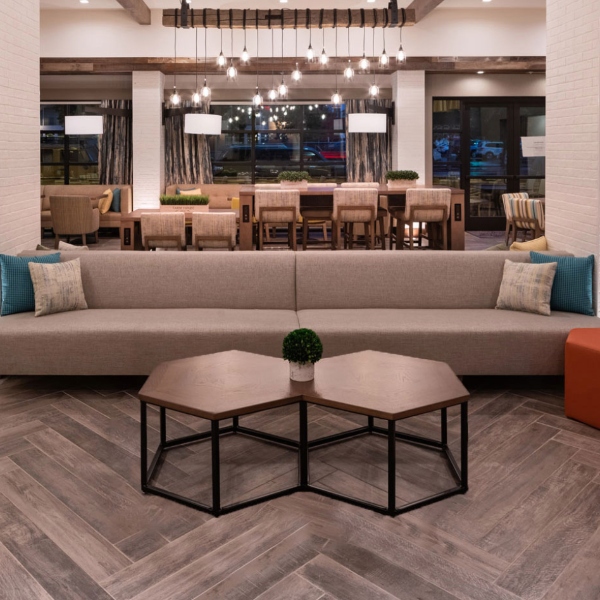 The realistic, weathered-wood look of Antoni Gris porcelain tile is right in step with current trends, but it's versatile enough to stand the test of time. It's also right at home in the most elegant, contemporary environments like this upscale hotel lobby. Speaking of versatile, there are many ways to tailor it to your company's brand and unique style, such as installing it in a different way such as the herringbone pattern demonstrated here. Create the look of a high-end designer style for an affordable price.
Pietra Orion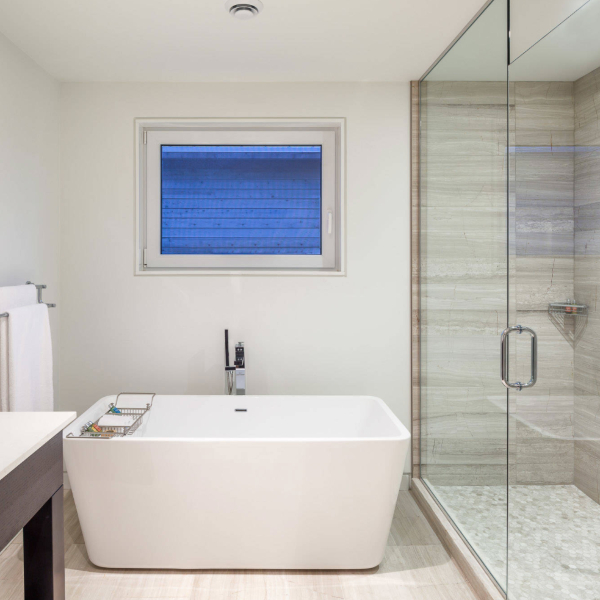 Photo Credit: Houzz
Amenities in hotels are becoming grander as time goes by, and the self-serve breakfast room is a shining example. It's also a space that's prone to spills, splatters, and other messes. Pietra Orion porcelain tile features a cheerful yet soothing shade of beige in a nature-inspired linear pattern. Despite its beauty, you'll appreciate that it's waterproof and easy to keep clean. This tile is available in a matte finish as well as polished, ensuring guests' safety in areas that might be wet.
Katella Ash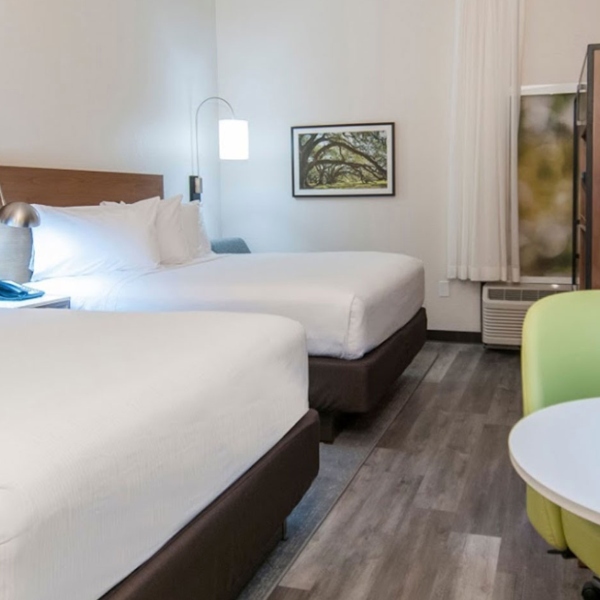 In hotel guest rooms, carpeting is being replaced by solid flooring — it wears better and is much easier to keep clean, a fact that most guests will appreciate. Although we love porcelain tile in most hospitality applications, luxury vinyl tile is ideal for guest rooms. It feels warmer and softer underfoot, and it absorbs sound better than porcelain, which is always a great benefit for hotel rooms. Like porcelain tile, LVT is completely waterproof. Katella Ash has the added benefit of the authentic look of natural hardwood, complete with knots and graining, in a mid-gray tone that complements any décor.
Today's hotel guests are more demanding than ever, and rank cleanliness at the top of their lists of what makes a hotel appealing. They are happy to sacrifice "cozy" for "clean," but with modern porcelain tile and luxury vinyl tile they won't have to. These new flooring options are the perfect mix of durability and comfortable, nature-inspired elegance. Browse the extensive collection on the MSI website to see which of our premium flooring options will elevate the guest experience in your organization.
More on Commercial Flooring
The Perfect Luxury Vinyl Tile for Commercial Applications
Top Reasons Porcelain Tile Is The Best For Commercial Use
The Commercial Side Of Porcelain Tile


READ MORE ABOUT HOTEL AND HOSPITALITY SURFACES:
Hotel Countertops: Reception Countertops And Hotel Bathroom Vanities
Hotel Luxe Bathrooms