How To Protect The Finish Of Your New Quartz Countertop
August 19, 2020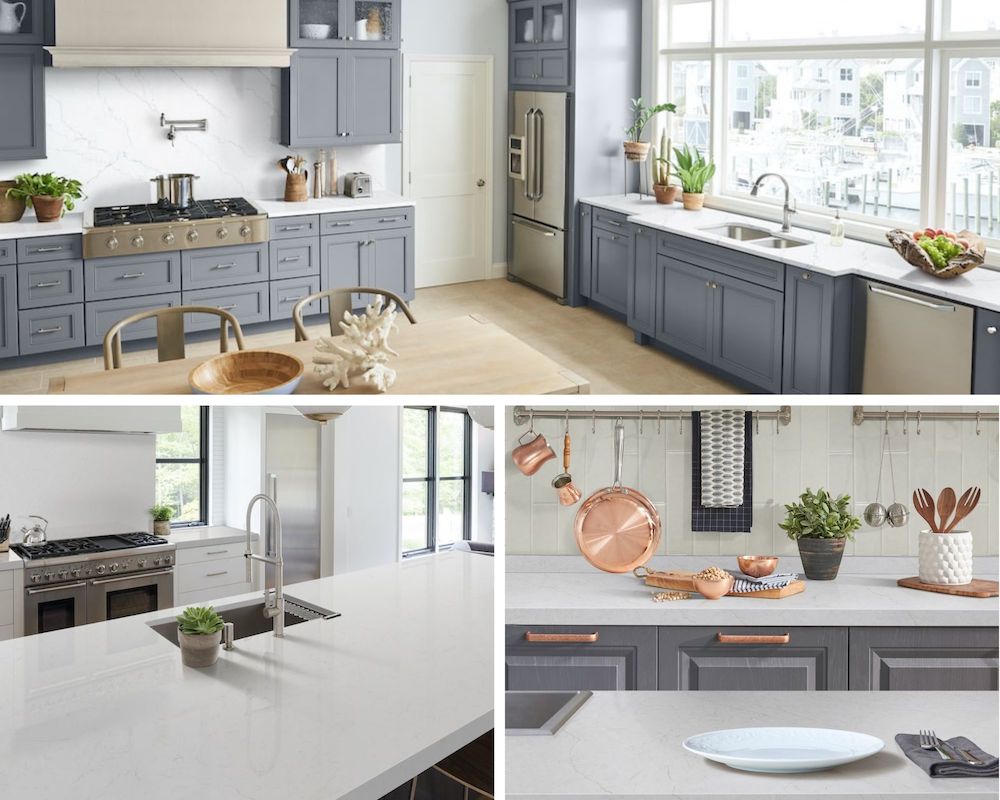 A decade ago, you had two basic options when it came to countertops in your bathroom or kitchen. One was an affordable, low-maintenance option, and the other was an elegant, high-end, expensive option. Not anymore. Welcome quartz countertops!
Today, quartz countertops offer style, function, easy maintenance, and affordability – it's the complete package. You will also find a range of colors, which means finding the perfect countertop is easier than ever before.
However, before choosing a quartz countertop, learning about the proper way to care for it is essential. After all, you want to ensure your surfaces look amazing and new for as long as possible, right?
If you are ready to learn more about cleaning your quartz countertop, keep reading. Here you can find everything you need to know.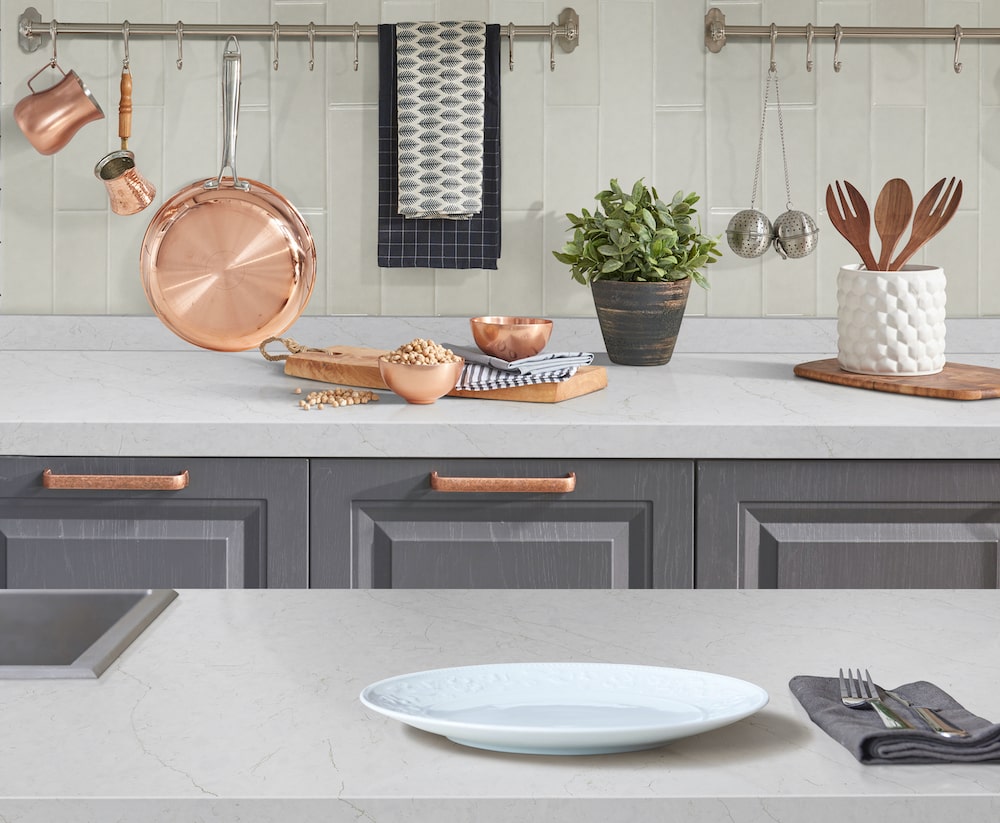 Calacatta Karmelo Quartz
Routine Daily Care
Quartz countertops are non-porous surfaces. This means stains and liquids won't penetrate the surface.
Keep in mind, though, that you should only use a mild dishwashing liquid along with a soft dishcloth or damp sponge for cleaning it. Once you are done wiping the surface down, rinse it thoroughly, so you don't develop a soap buildup.
It is not a good idea to use a harsh chemical cleaner on these surfaces. Some cleaners may react with the resins, which will etch the surface.
Special Cleaning Instructions
Even though quartz has a non-porous surface, some messes are too much for your day-to-day cleaning routine. The best cleaner for these larger messes is mild liquid dish soap. If you are dealing with a dried, caked-on mess, allow the soap and water to penetrate it by sitting for a few minutes. This will help you safely remove any dirt and grime.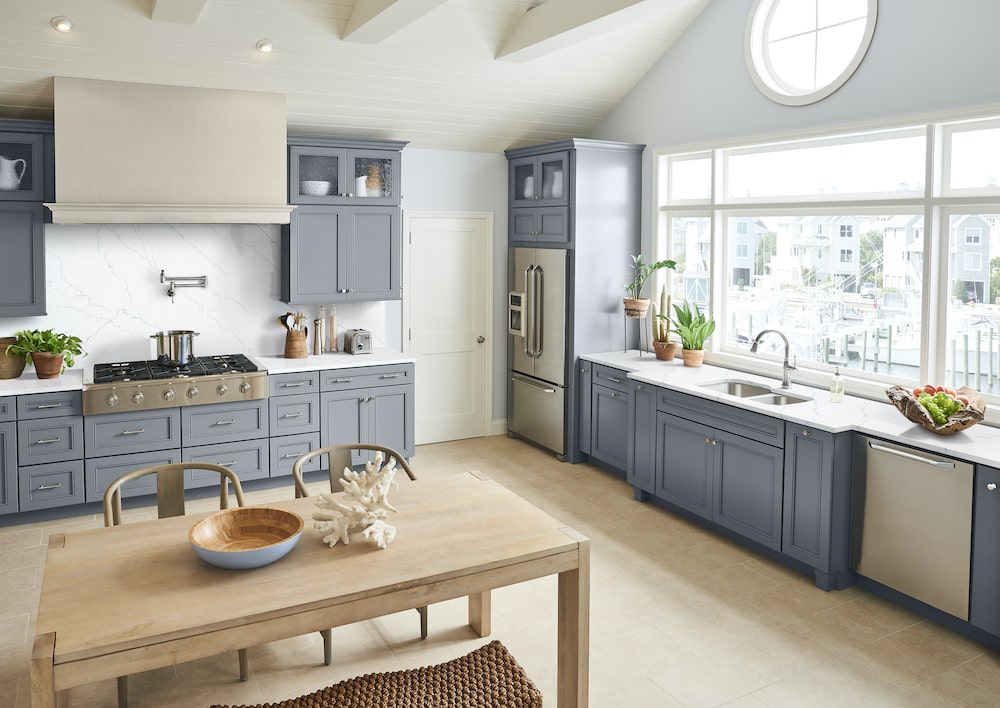 Calacatta Miraggio Cielo Quartz
How to Prevent Damage on Your Quartz Surfaces
While quartz is a tough and durable material, damage to your countertop can still occur. If you want to prevent damage to these surfaces, there are a few things to keep in mind.
Always Use a Cutting Board
Although modern quartz is known to be resistant to scratches, you should never chance it. Avoid any direct contact with sharp objects, such as knives. This will help prevent damage to your quartz surfaces and prevent your knives from becoming dull.
Use Trivets and Mats
If you put hot objects such as pots or pans on the counter, it may break the fabricated quartz's seal and lead to an array of other problems. Make sure you protect the work surfaces by using trivets and mats under any hot object. This applies to flat and curling irons in the bathroom, too.
Avoid Using Abrasive Pads
Since quartz is a sleek surface, using a soft cloth won't be enough to remove the spills. If you are dealing with dried buildup, you can remove it using a putty knife.
Avoid Dropping Heavy Objects on the Surface
Be careful when carrying heavy objects around your quartz surfaces. While quartz is a durable material, any sudden impact on the edges of the counters can cause chips or cracks.
Use a Degreasing Cleaner
Use a degreasing cleaner that does not contain any bleach to eliminate grease. All you have to do is spray your chosen cleaner on the spot and wipe it away with a damp cloth. You can follow this with the soap and water mixture mentioned above.
Dealing with Damage on Quartz Surfaces
If you notice a small pit or scratch on your quartz surfaces, you may wonder what you can do. Because of the resin component in this surface, fixing these issues isn't as difficult as it may seem.
Fill the pit or scratch with the specially formulated epoxy or resin and let it cure for 24 hours. Once cured, remove the excess of the material with a razor blade. To do this, hold the blade at a 45-degree angle and scrape the excess material.
Be gentle while doing this, or you may accidentally dislodge the entire filling.
While clear resin or epoxy will work for most surfaces, you can also choose colored epoxies if you want the repair to match the rest of your countertop perfectly.
If you are dealing with scratches, the best option is to hire the professionals for fixing the issue. This will ensure the issue does not become even more noticeable.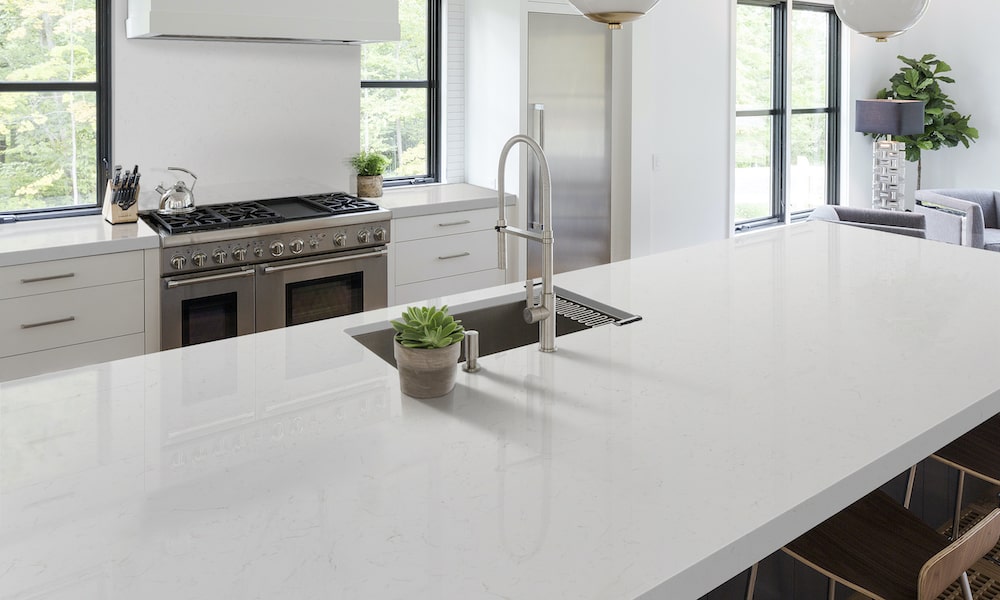 Carrara Miksa Quartz
Get to Know Your Warranty
While damage may appear on your quartz surfaces, be careful with DIY repairs. Some things may actually void your warranty.
Be sure to review the specifications in your warranty to see what you can handle on your own and what you should leave to the professionals. This will help ensure no serious issues arise and that your warranty won't be voided.
Common Misconceptions About Quartz Surfaces
There is an array of misconceptions about quartz surfaces. For example, it is often reported that quartz will easily discolor or warp; however, this is not the case. These premium surfaces will be virtually impermeable to this type of damage.
While this is true, damage can still occur. If you cut directly on the surface or place hot items on it, damage can occur. Understanding this will help you avoid causing serious damage to your new quartz surfaces.
Keeping Your Quartz Countertop Like New, Longer
As you can see, caring for and protecting your quartz countertop isn't hard, but it does require some thought and consideration. By following the tips and information here, you can feel confident your counters and surfaces will look amazing for years to come.
If you are searching for more information about caring for quartz countertops, be sure to check out this information on maintaining your quartz surfaces and watch this helpful video below to learn how MSI's quartz surfaces give you all the style you desire without compromising durability or cleanability.
We'd love to connect and offer personalized guidance for choosing the best quartz counter for your project. You can reach us through our online chatting feature, visiting an MSI showroom, or contacting an authorized MSI dealer near you.

More on Quartz Countertops
Experience Our New Exclusive Lumaluxe Quartz Countertop Collection
Which is Better for Your Kitchen — Marble or Quartz Countertops?