Create The Perfect Backdrop With Natural Stone Wall Tile
October 21, 2019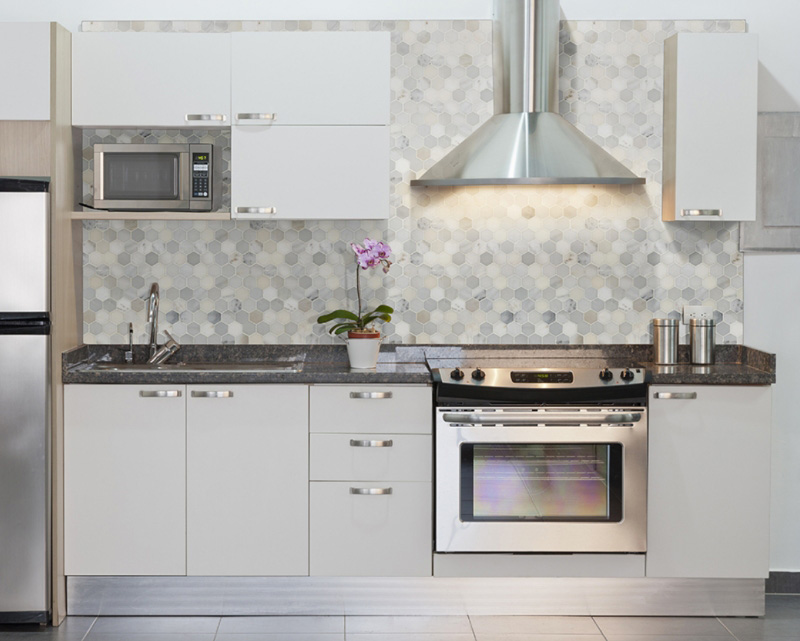 Giving your home a facelift can involve many directions, decisions and design choices. When doing so, many might turn to their wall first. Should you apply a fresh coat of paint? We believe wall tile is a smarter choice for various reasons and thankfully, there's a variety from which to choose!
Natural stone wall tile is stunning on any wall in nearly every room. Who can deny the stunning texture which gives impressions of everything from grains to veins and even fossils. Natural stone gives walls and rooms a warm feeling that can enhance inspiration and even creativity. In addition to increasing the value of your home, natural stone tile can also insulate your property from harsh weather with its inherent minerals that are ideal for battling extreme cold and warmth. These are sturdy, strong and elegantly stylish stones that come in a variety of shapes, sizes and colors to meet nearly any aesthetic. Let's explore some popular backsplash designs to get your inner interior designer excited about all the possibilities ahead!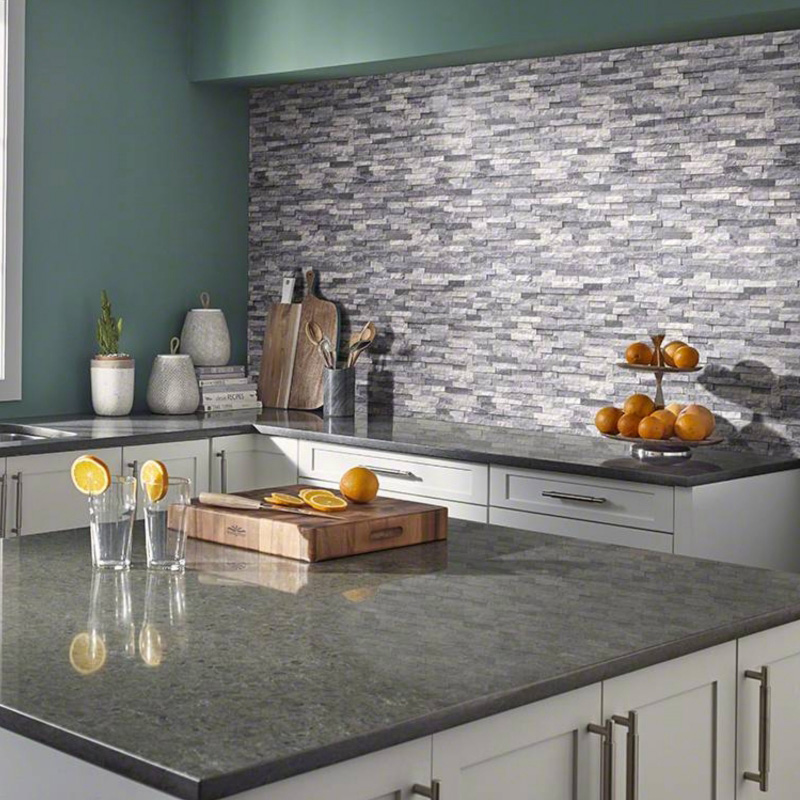 Alaskan Gray Splitface
Alaskan Gray Splitface Interlocking Pattern is a popular natural stone pick, as it harmonizes warm grays and whites in an entrancing and calming design pattern. Looking at it up close, you realize every stone is a different color with real nuance and variety. This tile would look ideal indoors and outdoors and its versatility of color make it suitable for a variety of aesthetics.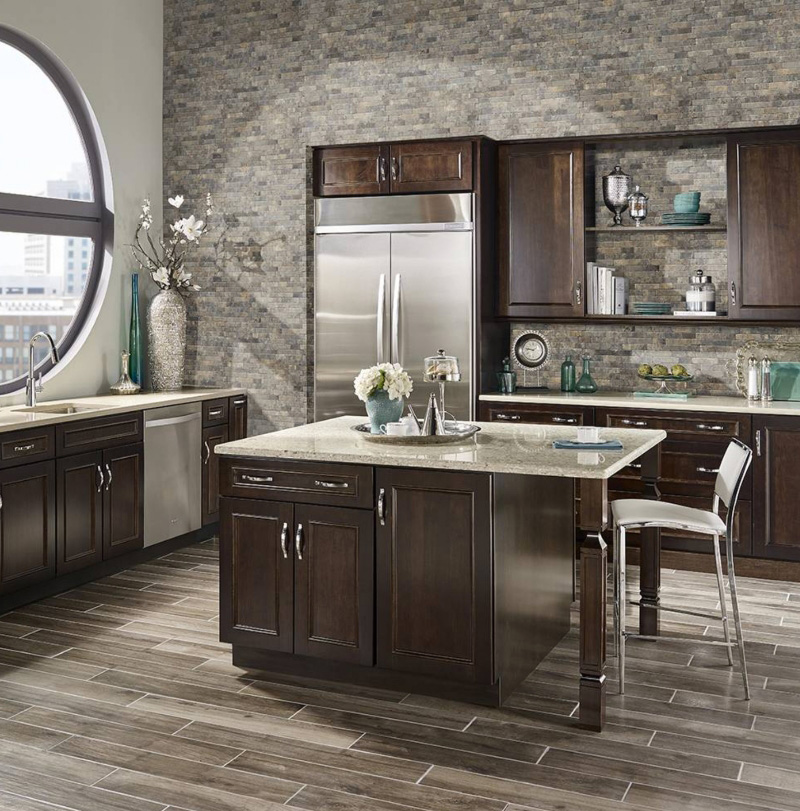 Silver Ash Tumbled Veneer
Silver Ash Tumbled Veneer harkens back to Old Warm charm with its rustic finish and combination of beige and warm browns. This particular natural stone would be an ideal kitchen backsplash tile as you can see it compliment kitchen cabinets and a large counter where people congregate and socialize.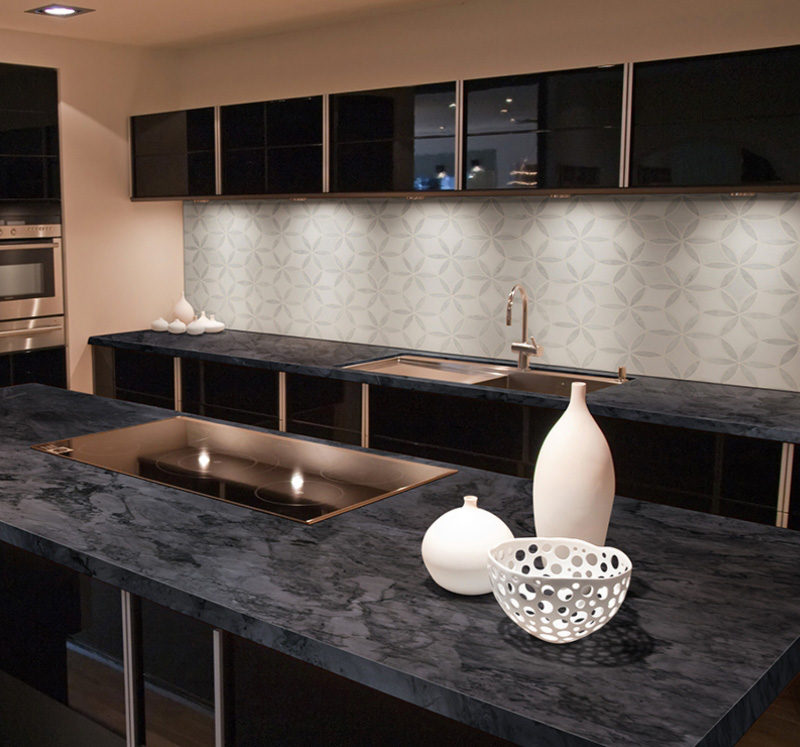 La Fleur
La Fleur is as unique as it is stunning to look at with a beautiful floral pattern set against gray and white marble. With its subdued hues and design, this design could go anywhere in your home—from your kitchen to outdoors to even your shower.

White Quarry Savona
White Quarry Savona is a unique tile design, laying a foundation of beige and brown in its background while impressing an elegant and almost Eastern gray circular design. Its natural colors could easily blend in and compliment nearby cabinet or kitchen décor while also being a great selection for outside!
As you can see from these gorgeous samples, natural stone, travertine, and marble are ideal selections for your home, offering a sense of luxuriousness to any room, whether it's your kitchen, dining room, patio or bathroom. These backsplash designs not only enhance the aesthetic quality of a space, but they offer a timeless elegance that can increase the overall value of your home. For many, they are considered a work of art, offering a one-of-a-kind appearance that provides a unique sincerity. At the end of the day, natural stone can transform a comfortable room to one that is truly high-end.
The rustic nature of these designs as well as their inherent benefits make them a top pick for anyone looking to renovate a home. Sure, a new coat of paint can alter a room for the best, but natural, travertine or marble stone can transform a space from good to absolutely stellar.