Get Vertical With Trendy Porcelain Wall Tile
February 13, 2022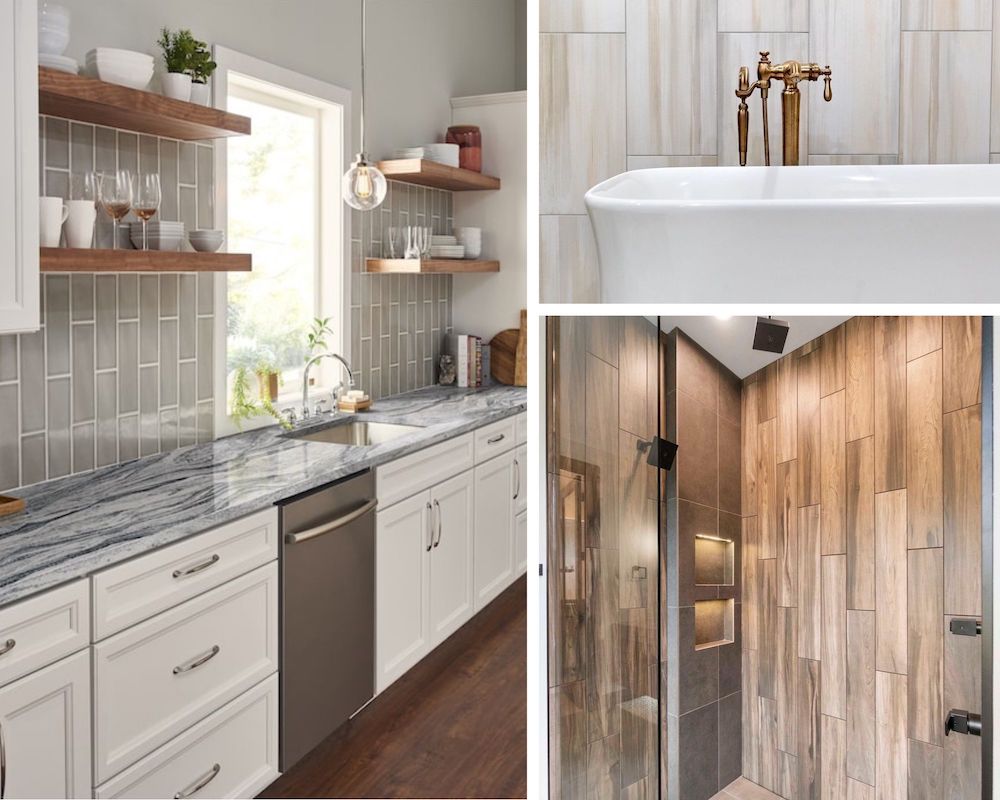 What is the wall tile trend that is happening across the nation in bathrooms and kitchens? You'll be amazed at how simple a change it is. Turning the tiles from horizontal to vertical!
Southern Living calls it, "The Surprising Subway Tile Trend Transforming Our Bathrooms." Designers are turning the tiles and creating beautiful designs throughout the kitchens and bathrooms of their homes.
Keep reading to find out how this simple change could bring the unique look you want to your room. Plus, you will get to keep the strength and durability of porcelain tile.
Why Vertical Wall Tile?
Is there a difference between vertical and horizontal wall tiles? No, they are both still tile and they bring the strength and beauty of tile to any home project you are building or renovating.
The reason vertical tiles are becoming more popular is their ability to add depth and character to any design. Horizontal tiles are popular and many homes have them.
Designers are discovering the unique tile patterns that can be used when switching tiles from horizontal to vertical. Plus, many homeowners want a room that is unique and not just like every other house in the neighborhood.
The Benefits of Vertical Wall Tile
Vertical wall tiles are more than a passing trend because there is a purpose behind them. They add something more than beauty to your room designs, they bring function to their placement.
Upward Focus
When you place tiles vertically, they bring your eyes upward. This really works well in a small space. It can make a small room feel taller which makes the whole room appear larger. It can also make a low ceiling room feel fuller.
If your living room has a low ceiling, you can place vertical tile around a fireplace and it will bring a new feel. The entire room will be affected by the placement of the vertical tiles.
These are things you can think of as you plan how you want to tile a room. The vertical element could add some new dimensions to a smaller space.
Vertical Tiles for Kitchens and Bathrooms
Vertical tiles can be used for your kitchen backsplash designs with some cautions. If your backsplash is the standard small area under the cabinets and above the countertops, vertical tiles won't help much.
However, if you have an open shelf area as part of your designs, vertical tiles will look incredible behind them. In this setting, they can help your kitchen feel taller.
Bathrooms are a space where vertical tiles can bring the most pop. Many bathrooms are not big rooms. Using vertical tiles inside a shower stall can expand the feel of that space.
You can also use vertical tile as a backsplash behind your sink area to help the room feel larger. The bathroom is one of the best rooms for you to put vertical tile in because they can handle the water and change the look.
Creative Vertical Tiles
With the popularity of tiles, manufacturers are creating a wide variety of different types and styles of tile. These different styles provide you with more creative looks for your vertical tile styling.
Creative Subway Tiles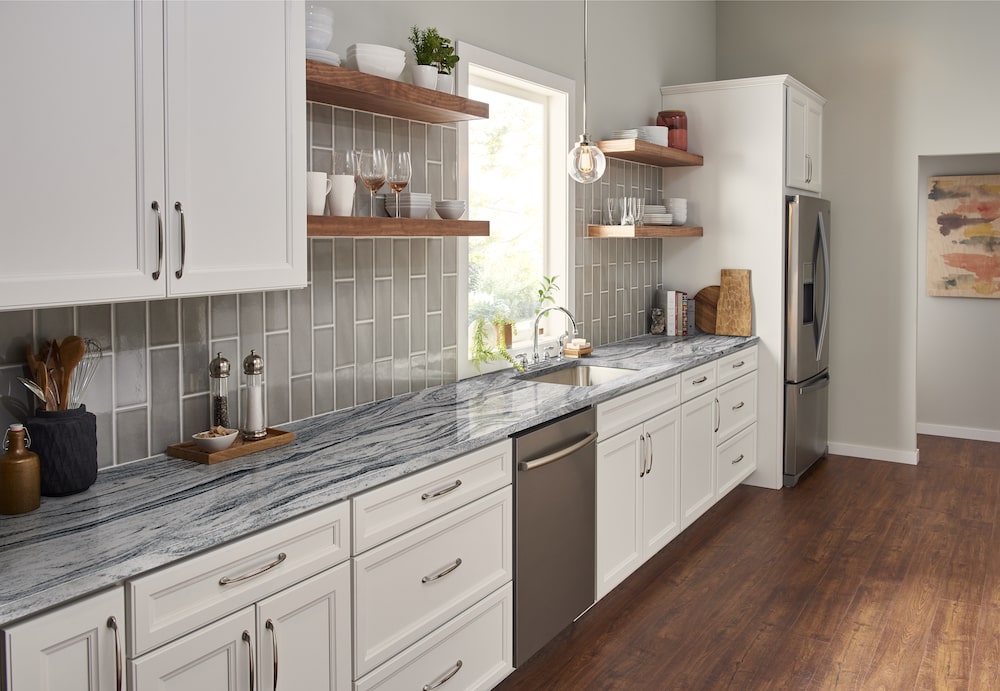 Morning Fog Subway Tile 4x12
When most people think of subway tiles, they think of the classic small white tiles. This is changing with the increasing selection of unique colors that manufacturers are offering for subway tiles.
MSI's Morning Fog Subway Tile is an example of the creative colors that are coming out. Placing this blue and light gray tile vertically in your shower adds a beautiful pop of color to your bathroom and makes the shower area feel larger.
Subway tiles are also growing in size which gives you new options for the vertical look. They are branching out from the classic 3 by 6-inch size. This adds more dimensions and possibilities for your designs.
Tiles of Creative Color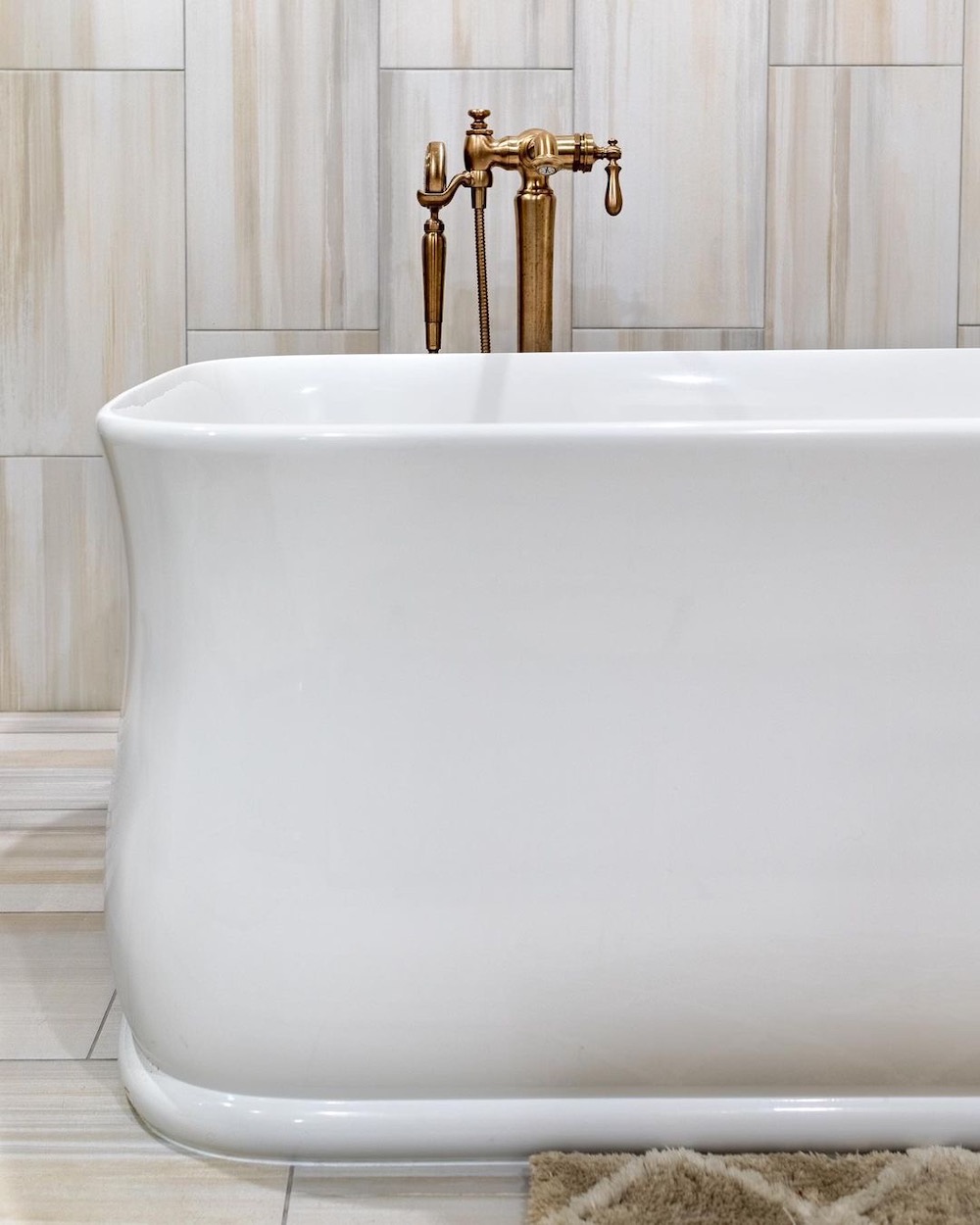 Photo Credit: @thecarpetshopinc on Instagram
New tiles are bringing a creative flair that adds bold looks to their durability. A kitchen backsplash with MSI's Watercolor Bianco Porcelain Tile brings the power of porcelain to your kitchen along with the beauty of a watercolor look.
Setting these tiles vertically will not only increase the height of your room, but the watercolor look will add depth as well.
Alternative Looks for Tile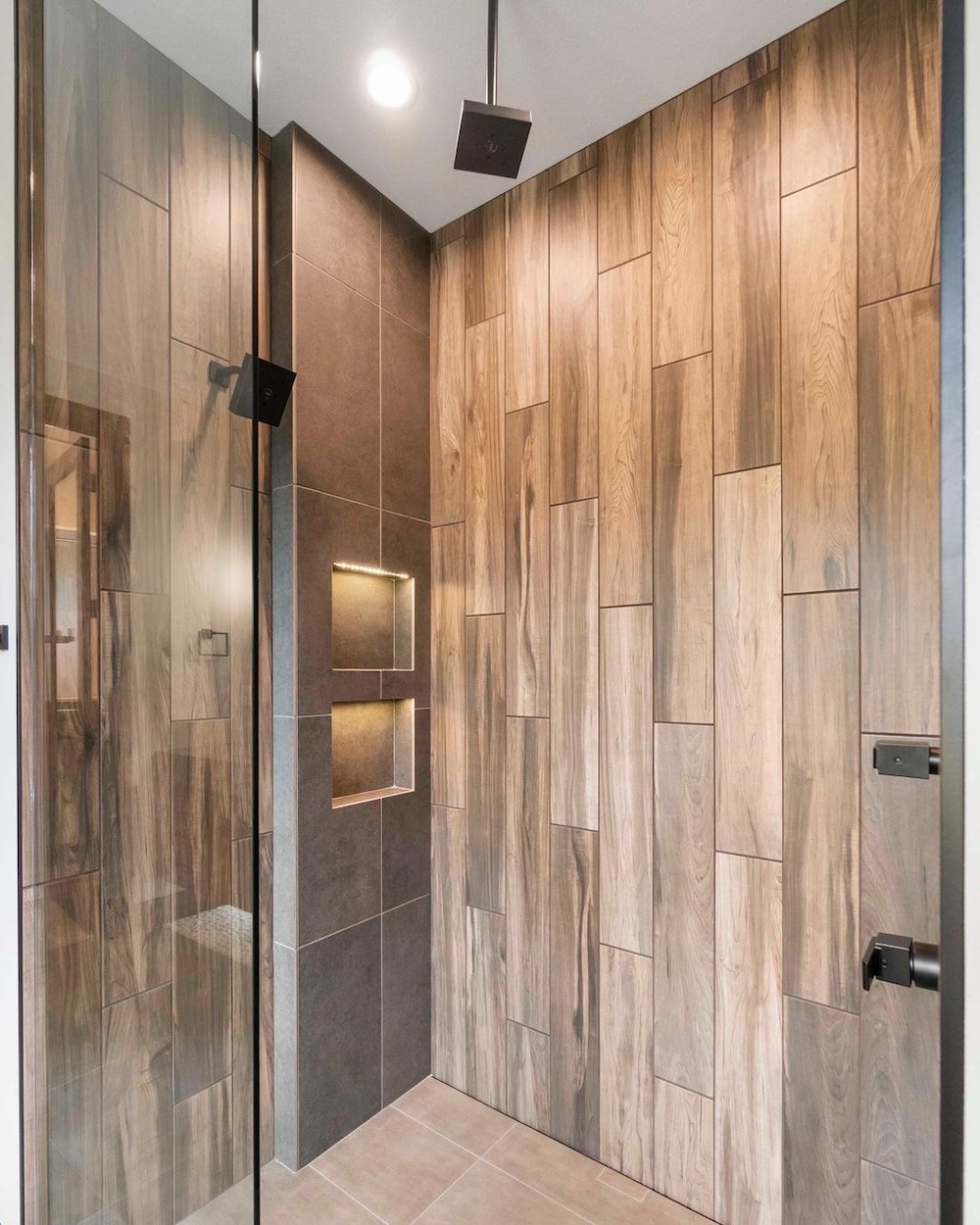 Photo Credit: @greatnwhomes on Instagram
Your design possibilities increase when you use tiles that look like another surface. MSI's Haven Wood Saddle Wood Tile gives you the option of having a wood look in a room that would be rough on real wood.
Real wood would not last in your bathroom because of the water. However, having a wood-look tile gives you the look of wood without the problems. This tile set up vertically would really stand out in your shower stall.
You will also notice that there are many tile options that are not glossy. Matte tiles are becoming more popular for many designers. Their ability to repel fingerprints and add a unique look has made them popular.
The Vertical Trend That Is Here to Stay
The strength of tile makes it one of the most popular products for the bathroom and kitchen. Your wall tiles help protect your walls from water and other liquids.
The best part of the new wall tile designs is it brings a fresh beauty to the strength of tiles. Turning them vertically adds another unique dimension of design to your room.
Now you have the option of reflecting your style and tastes through the use of vertical tiles. You can have a look that makes your room feel larger and look as creative as you want.
MSI has been providing unique tiles to homeowners for over forty-five years. Contact us, and discover our incredible array of beautiful tiles that can make your design vision happen. We're available via chat, visit one of our many MSI showrooms, or find your nearest authorized MSI retailer.
READ MORE ABOUT THE BENEFITS OF PORCELAIN TILE
Find Porcelain Tile Inspirations with Our Backsplash Tile Guide
How to Clean Porcelain Floor Tiles
Improve Any Room with These Easy Porcelain Floor Tile Patterns