Current Obsessions: Think Beige Is Boring? Think Again!
August 11, 2016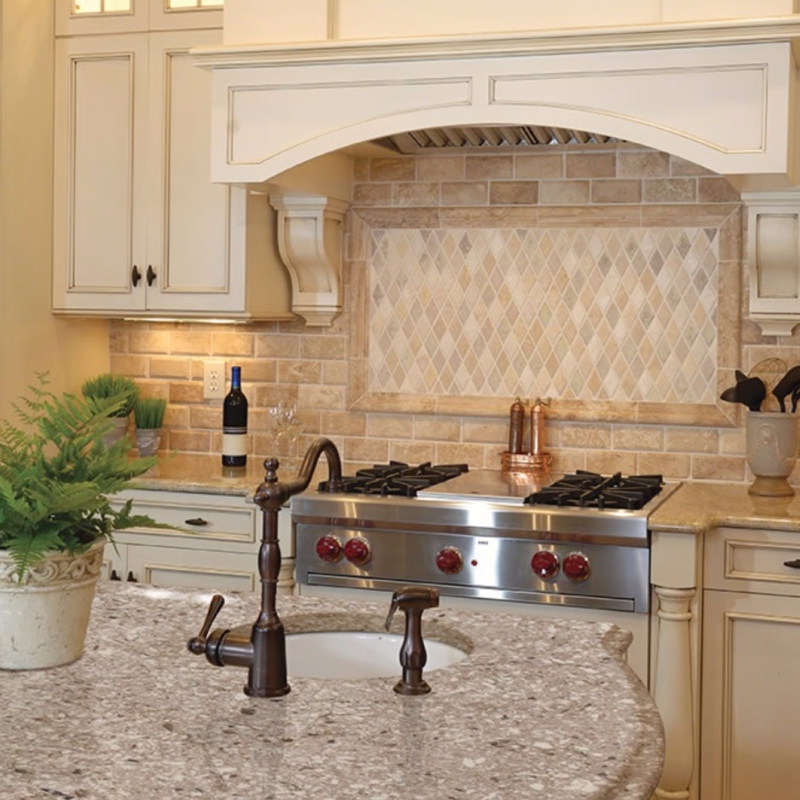 Some folks think beige is a boring throwback to 1990s décor when designers used the light brown hue as their go-to neutral color. But with the recent "grey" revolution dying down, beige is once again picking up steam in the design world, especially for quartz countertops. Why? Because beige warms white rooms, marries well with earthy palettes and plays nice with nearly any other accent color.
Even though beige is a light brown, its base is commonly yellow or pink, and the underlying hues are endless. If you're looking for an airy, bright feel, select a beige with off-white and cream undertones. If you want more punch, try a beige cousin—taupe, khaki, or wheat. Whatever your style sensibility, here are 5 reasons to re-think your preconceptions about "boring" beige:
Beige is a Traditional Choice
Traditional may sound old-fashioned, but in fact, when done right, traditional can be sophisticated and always in fashion. Beige is a classic neutral for walls and furniture that never goes out of style. And if you're looking for countertops that work well with traditional décor, try Coronado Quartz, which contains rust, merlot, gold, and ocher blended with taupe to create a calm sense of intrigue.
Gently Warms White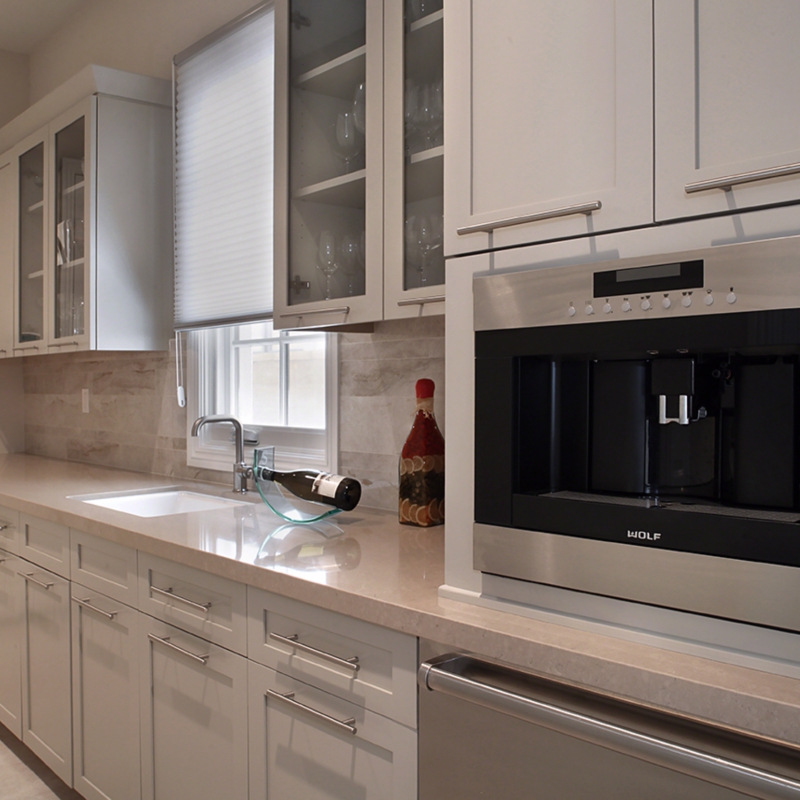 Featured: Boletus Quartz
White by itself can feel somewhat antiseptic and cold. But paired with beige, a white room transforms from glacial to toasty. You can go for a big contrast, combining bluish whites with warm beiges. Or you could opt to pair creamy whites with lighter beiges that flow subtly throughout the room. Boletus Quartz, for instance, is a dark mushroom and speckled taupe that both accents and warms white kitchens, always a homeowner favorite.
Looks Great With Earth Tones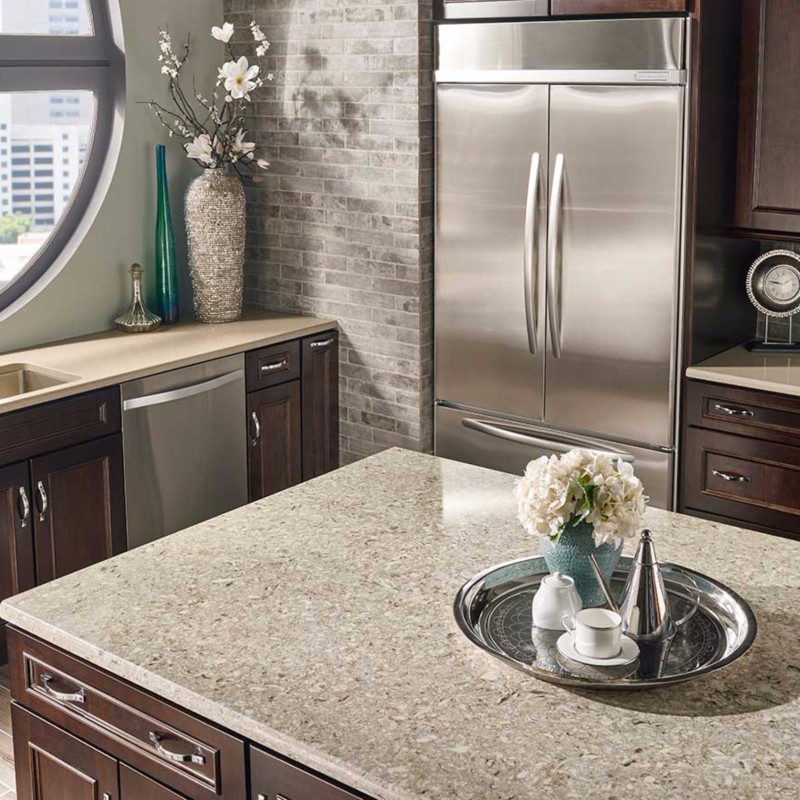 Featured: Chakra Beige
Earth tones are calming, timeless and natural. Beige is one of the lighter members of the earth palette, which ranges from the browns of soil to the yellows and golds of autumn leaves. When planning your kitchen, stick to three earth tones, and then add a fourth accent to give the room some pop. Chakra Beige Quartz, with warm rust tones accenting rich grays and creams, combines warm and cool tones for durable and maintenance-free quartz countertops and flooring.
Gives Contemporary Some Cozy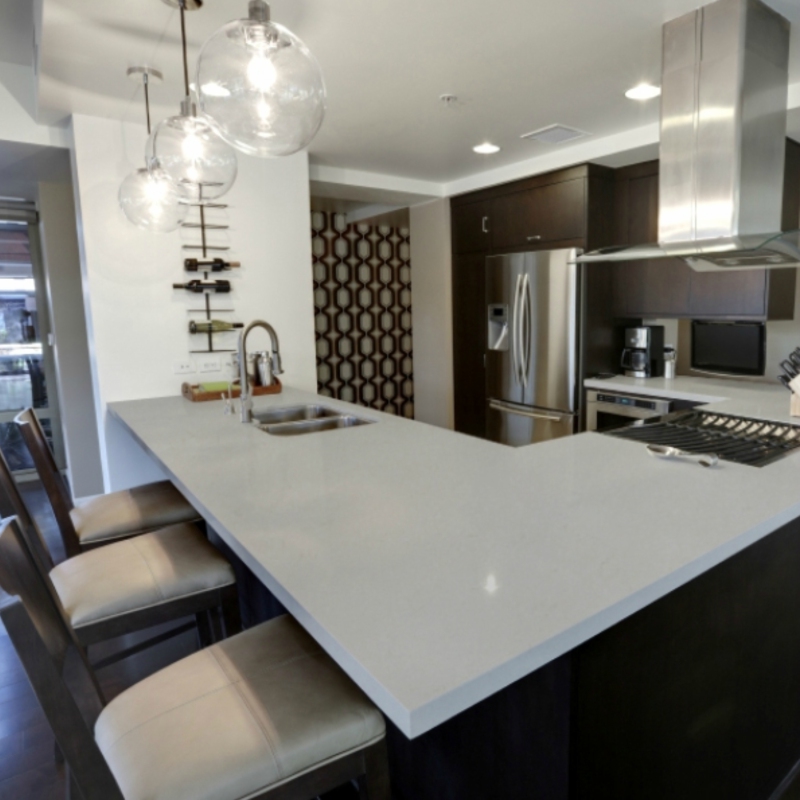 Featured: Sahara Beige
Modern and contemporary styles, with their no-muss, no-fuss aesthetic, can feel a bit sterile and forbidding. But beige tones can make minimalist rooms feel more warm and inviting. Beige also invites splashes of bright reds, inky blues, and even murky turquoise. Sahara Beige Quartz, for example, is a pale, parchment-hued stone peppered with amber and brick specks. This beige product is contemporary, yet still warm and cozy, and is great for kitchen and bathrooms.
Mixes Well With Other Materials
Don't be afraid to combine different beige hues, which can create a dramatic, richly textured look. For instance, you can combine caramel leathers with gold metallics and creamy paint. Lagos Azul Quartz is an earthy brown product that gets along famously with earth-toned ceramic or metallic tile backsplashes, traditional hardwood or even contemporary glazed concrete floors.
All in all, beige is a classic neutral that gives whites life, adds a punch of light to dark rooms, and blends easily with earth tones. Beige is at once traditional and contemporary, calming and exciting. There's one thing beige is not—boring!