Marble Countertops 101 - Everything You Need To Know
December 13, 2022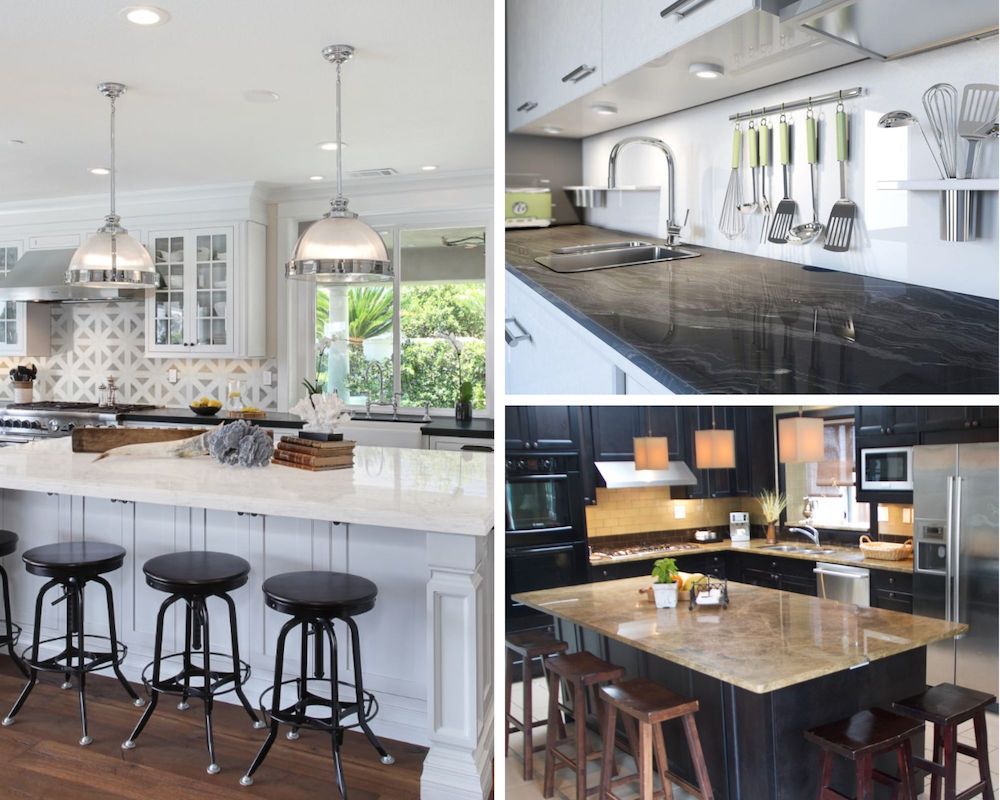 There's a reason marble countertops are such a popular addition to kitchens, bathrooms, and other home upgrade projects.
This natural stone delivers the strength and durability every household needs. You also can't underestimate the beauty, luxury, and value of marble counters, flooring, fireplace surrounds, shower enclosures, and other design elements in your living spaces.
Before choosing marble for your upcoming home improvement project, however, you should know a few things. What sets it apart from other popular stone types? How can you choose the right variety for your home and personal style? What can you do to make sure your gorgeous marble lasts a lifetime?
Here's a rundown of why marble is such a great choice and how you can make the most of it in your home.
Marble Characteristics
Unlike granite, an igneous stone born of crystallized magma, marble is a metamorphic stone.
While granite has a rating of 6-7 on the Mohs hardness scale, marble comes in at about 3-5. This is because marble forms when pre-existing limestone or dolomite is subjected to intense heat and pressure, causing calcite and carbonate crystals to reform.
Although marble is still a solid and durable choice for kitchen countertops, it is softer than granite or quartzite, which simply means you have to be a bit more careful about cleaning, maintenance, and the substances you expose it to (acidic substances, staining agents, etc.).
When you choose a Carrara or Calacatta marble, you'll enjoy exceptional beauty, versatility, and incomparable luxury appeal.
Choosing the Right Marble Colors and Patterns
While marble comes in various colors, depending on the impurities present when it's formed, the most sought-after varieties of countertop materials tend to be white and black. This could be because many homeowners prefer the safety of neutrals, or it could have to do with the striking beauty of these stark shades.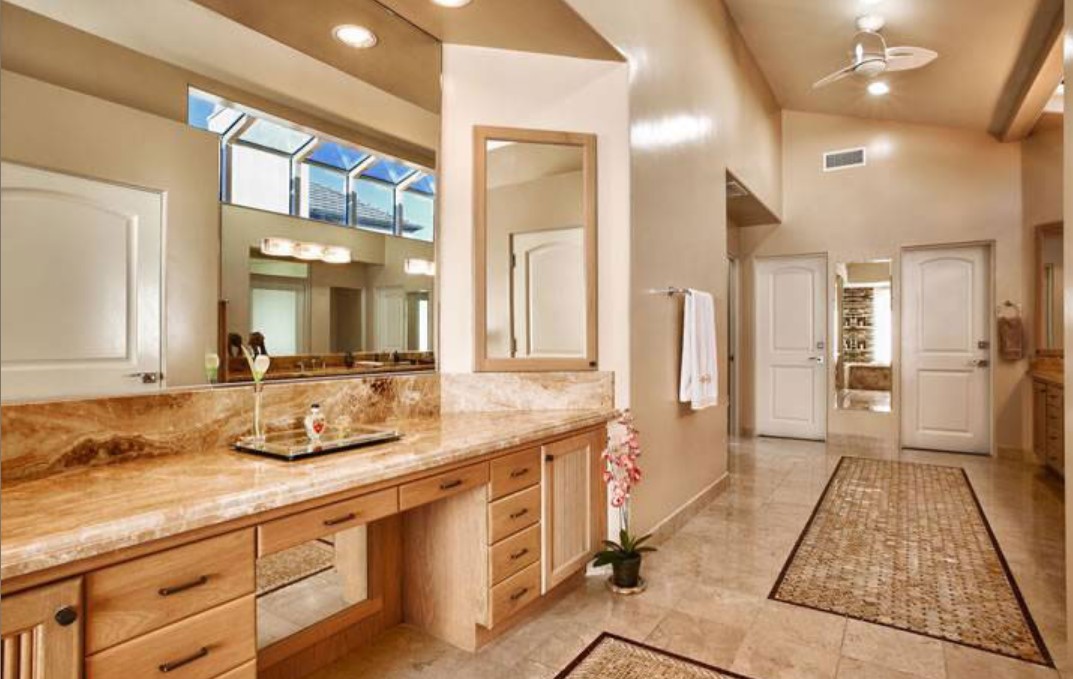 Varieties like Crema Marfil Classic marble offer a counterpoint in swirling creams, golds, and beiges, bringing a hefty dose of warmth to your space and pairing perfectly with lighter wood-tone cabinets.
If you're looking for something more classic and eye-catching, you can't go wrong with white or black.
White Marble
There are a couple of reasons why white marble varieties are prized by kitchen designers and homeowners alike. For one thing, they're incredibly versatile, contributing to a breezy, tonal white kitchen design or adding glorious contrast to black or dark wood cabinets.
Perhaps more importantly, white marble is renowned for its unique, luminescent quality that elevates any design.
Among the most popular varieties are Calacatta and Carrara marble. The variety you prefer will depend on whether you want to infuse your space with total tranquility or add a dash of drama.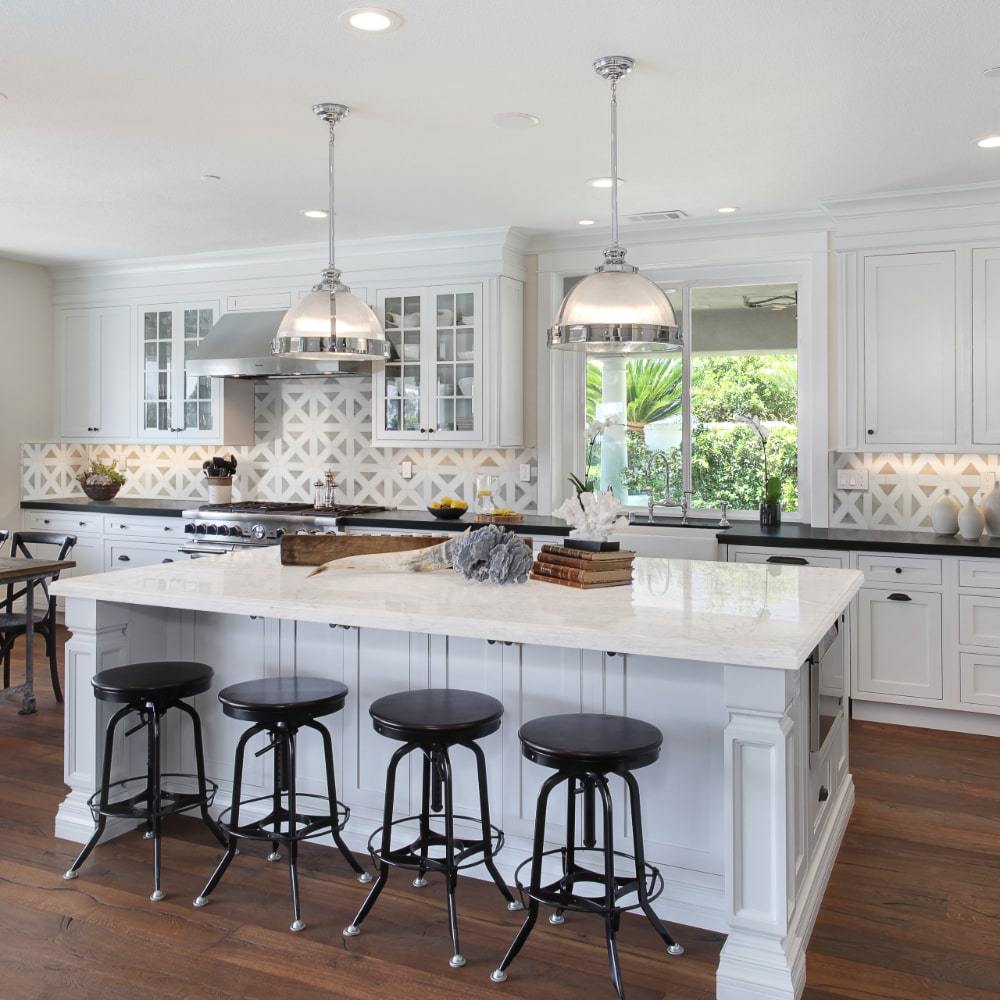 While Calacatta varieties tend to feature a bright white background marked by sharp veining in gray, White Carrara is softer, with wispy streaks of pale gray dotting the surface.
These attractive varieties are iconic examples of stunning white Italian marble, and one will surely suit your home and your personal taste. Of course, you'll have to take care to avoid prolonged contact with common etching and staining agents.
Black Marble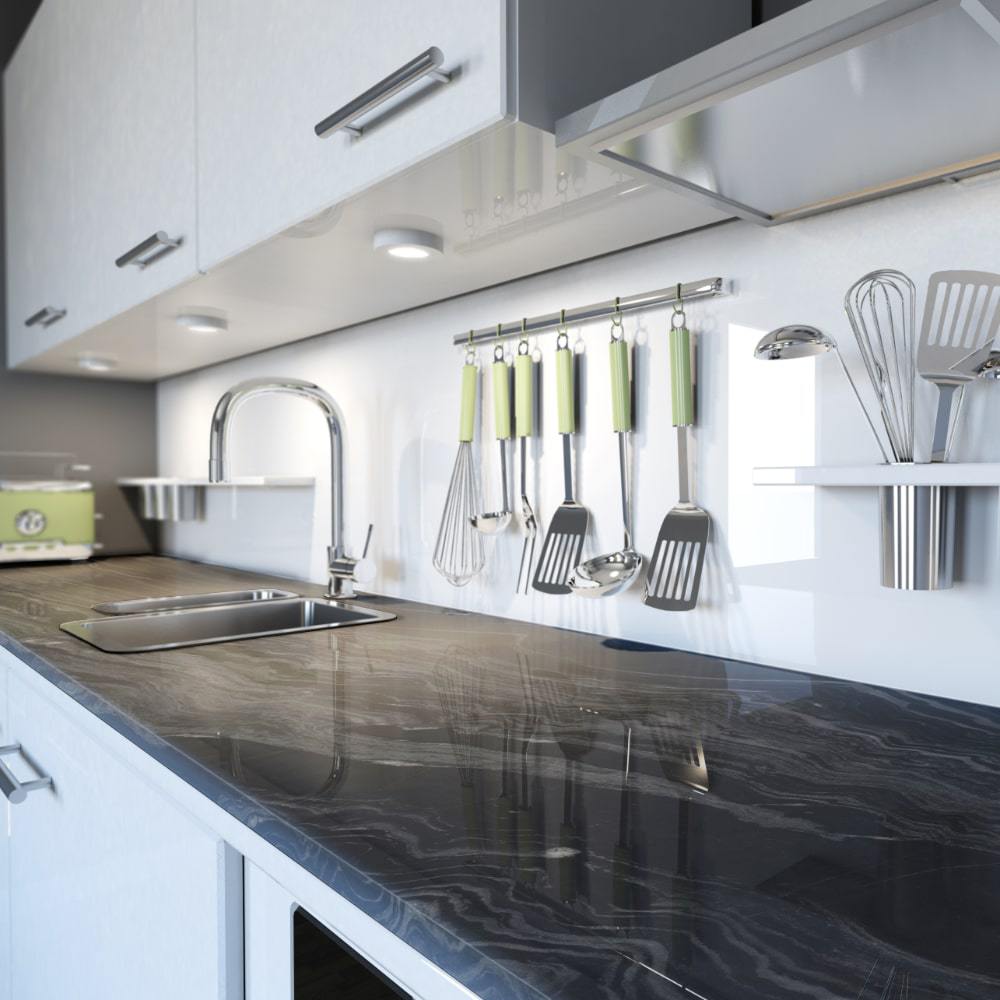 Whether you want to offset white or pale wood cabinets or try to make a spacious kitchen feel cozier with dark wood and countertops, varieties like Marquina and Fantasy Black marble are just right. The latter is particularly stunning, thanks to linear striations in obsidian and graphite, with wisps of white throughout.
From a practical standpoint, you'll love that darker marble varieties are better at hiding stains and scratches. Aesthetically speaking, dark hues recede, but with exceptional patterning, you'll still enjoy a dynamic addition to kitchen and bathroom spaces.
Variation
Plenty of marble varieties deliver the soothing appeal of low-variation patterns. Carrara, arguably the most common Italian marble, falls into this category. However, higher-variation patterns are ideal if you want your countertop selection to add statement style to your design.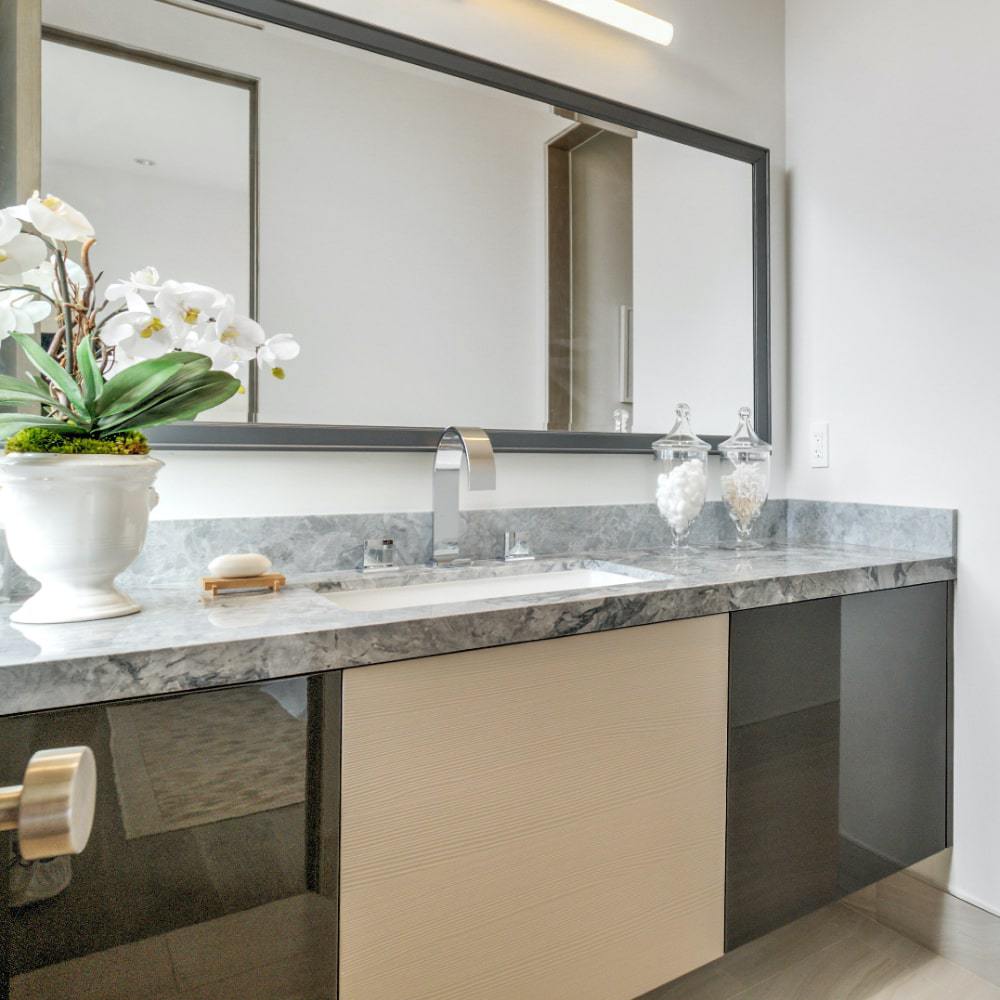 Take Super White marble, for example. This Brazilian variety is white and gray, like Calacatta and Carrara, but the dense, dramatic gray veins spread over a white surface create a dynamic sense of movement that draws the eye. Such elegant and lively patterns are the keys to taking kitchen remodeling to the next level.
Finishes and Edge Treatments
Once you've picked the perfect stone countertop, you'll want to consider the finishing touches, and a couple of major decisions must be made. First, you'll need to choose the finish.
Polished surfaces deliver a traditional, glossy shine popular with white and colored marble varieties. However, modern, matte, honed finishes that offer a more casual vibe are gaining traction among darker stone surfaces.
On a practical note, scratches are less noticeable with a honed surface, but because of increased porosity, there's greater potential for staining. The solution is to reseal regularly to ensure your countertops are protected against stains.
As for countertop edges, you have many options to consider, from the minimalist straight edge, quarter round, and bullnose designs, to increasingly complex beveled, ogee, and waterfall cuts.
If you've chosen a soft-hued, low-variation marble, you could keep it simple and streamlined or spice it up with a fancy edge. However, consider carefully before choosing a bold marble and an attention-grabbing edge, as it could look overdone.
Cleaning and Maintenance
Although marble countertop cost is comparable to other natural stone options like granite, it's not without expense, so you want to protect your investment. Luckily, keeping your marble looking fantastic with the proper care is not hard.
Daily cleaning can be done with a damp, microfiber cloth, while tougher grime should be treated with warm water and gentle dish soap. Avoid acidic and abrasive substances that could etch the surface, eroding the seal, and make sure to reseal regularly to prevent staining.
MSI has just what you're looking for if you love the look of marble and are ready to choose the perfect varieties to enhance your interior design. Contact us via convenient live chat with questions, or find an authorized dealer near you.