Outdoor Oasis: Outdoor Tile Perfection
January 12, 2017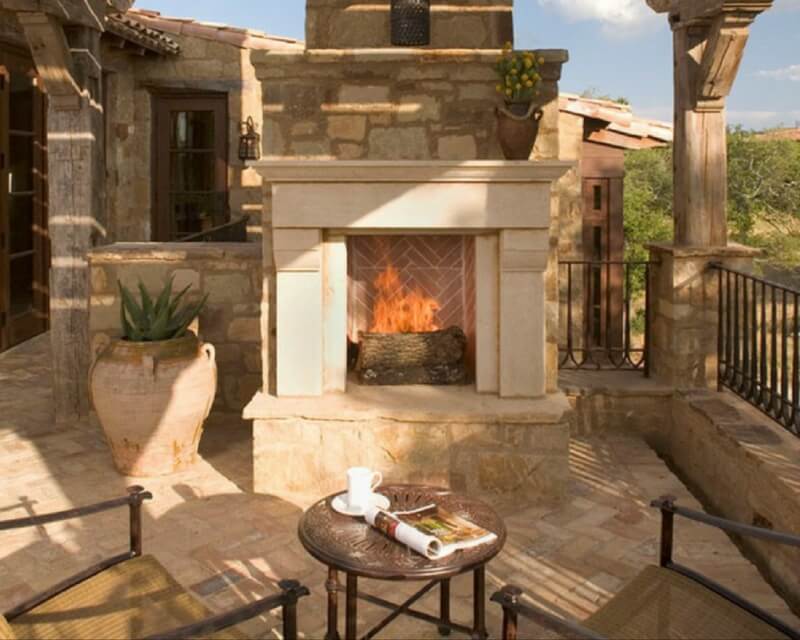 Using outdoor tile in your backyard not only makes maintenance easier, but it also creates more functional space. Whether you're a grill master looking to create some amazing eats, a family that enjoys dining outdoors, or a couple who likes to cozy up next to a fire pit, you can plan your perfect outdoor design with the addition of natural pavers or porcelain tile.
MSI offers a wide range of outdoor tile options to suit everyone's tastes. To get started, these favorite outdoor spaces will inspire you to rethink your design possibilities!
A Contemporary Twist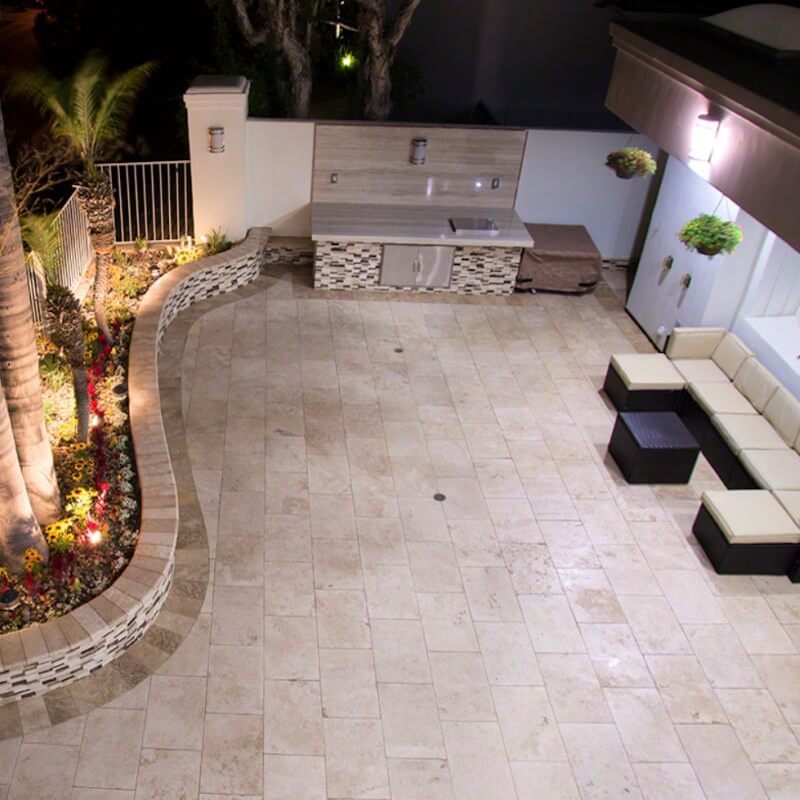 Featured: Tuscany Chocolade Travertine Pavers
You might assume that tumbled and rustic tiles might not create such a modern space, but think again! Tuscany Chocolade Travertine Pavers come in a variety of shapes and sizes, but what really gives this backyard a sophisticated, modern design is the use of a larger-format size tile and the brickwork pattern installation.
The dark brown earth tones provide the perfect neutral backdrop for the contemporary tiles on the retaining wall and built-in kitchen to stand out!
Traditional Travertine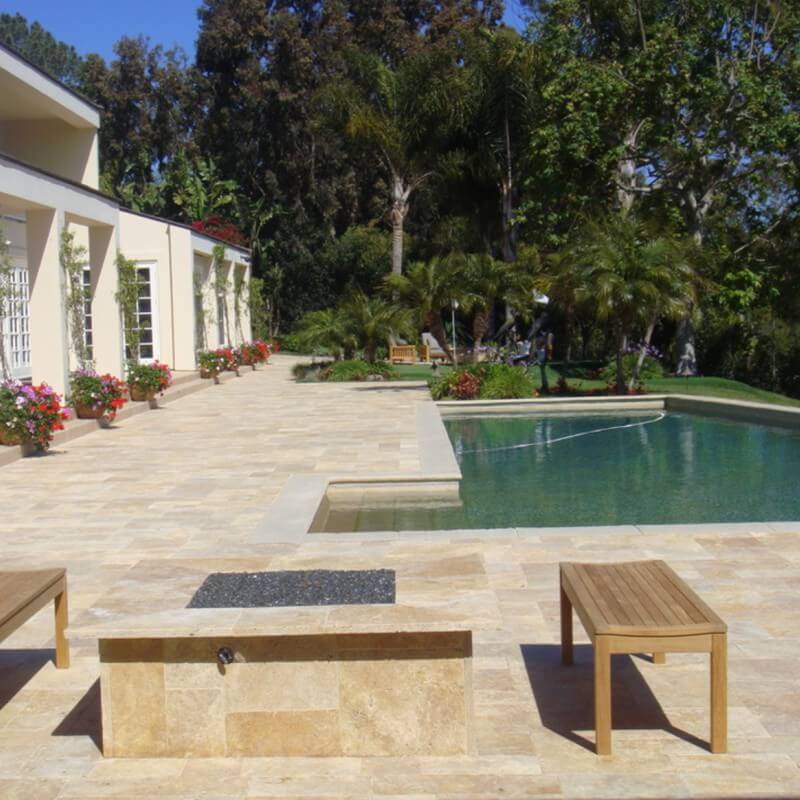 Featured: Tuscany Storm Travertine
These homeowners considered the exterior style and color of their home in order to achieve a smooth transition from indoors to outdoors. Tuscany Storm Travertine comes in warm, soft beiges, with tonal specks similar to the stucco exterior's coloring.
These travertine tile kits include all of the sizes needed to install this classic pattern, and the slim grout lines make it look as though this tile seamlessly fits together like the perfect puzzle.
Earthen Elements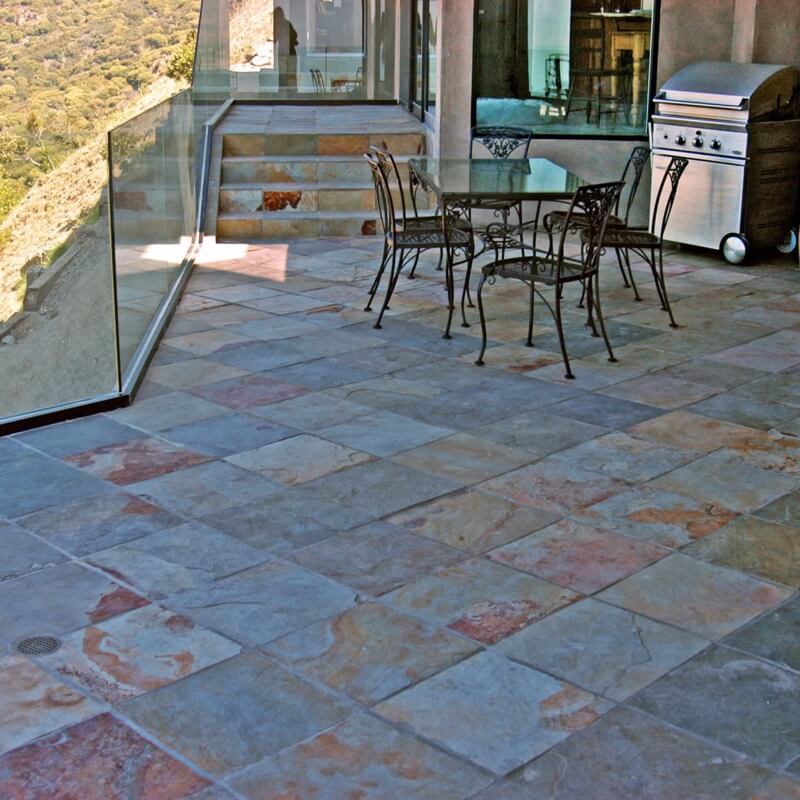 Featured: Earth Slate Tile
If you love old-world charm with earthy touches, then consider exquisite slates. The rusts, grays, and greens of Earth Slate Tile gives unmistakable character to this patio. Looking like it came from a European café, the bistro-inspired table set is the perfect spot to start your morning with an espresso, or end the day with a leisurely glass of wine.
A Modern Mix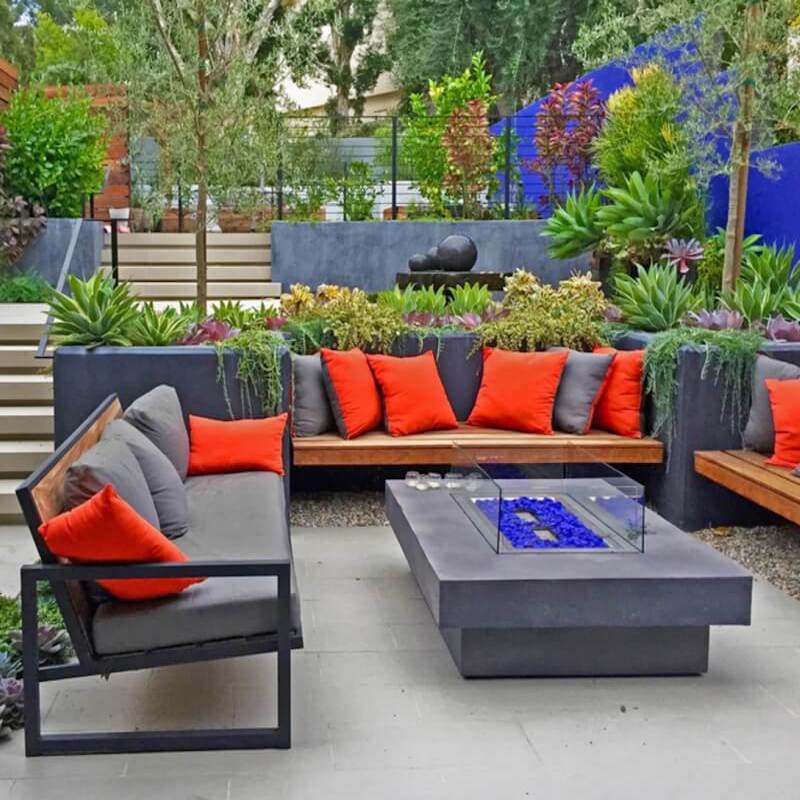 Featured: Palmwood Gris Porcelain Pavers
If you're not committed to a single color, but prefer to add in playful pops, then consider anchoring your design with neutrals. This allows you to change out your color accents for the seasons, or simply when you get tired of your chosen hues. Palmwood Gris Porcelain Pavers, a soft gray porcelain paver, grounds this modern seating space.
While it is a super smooth tile, it offers interest with the printed details of the lines and knots found in real hardwood. It comes in 24x24 squares, but here is installed in a brickwork pattern using 13x24 tiles. The result is a super cool space, yet with a concrete fireplace to keep you warm.
Paving the Way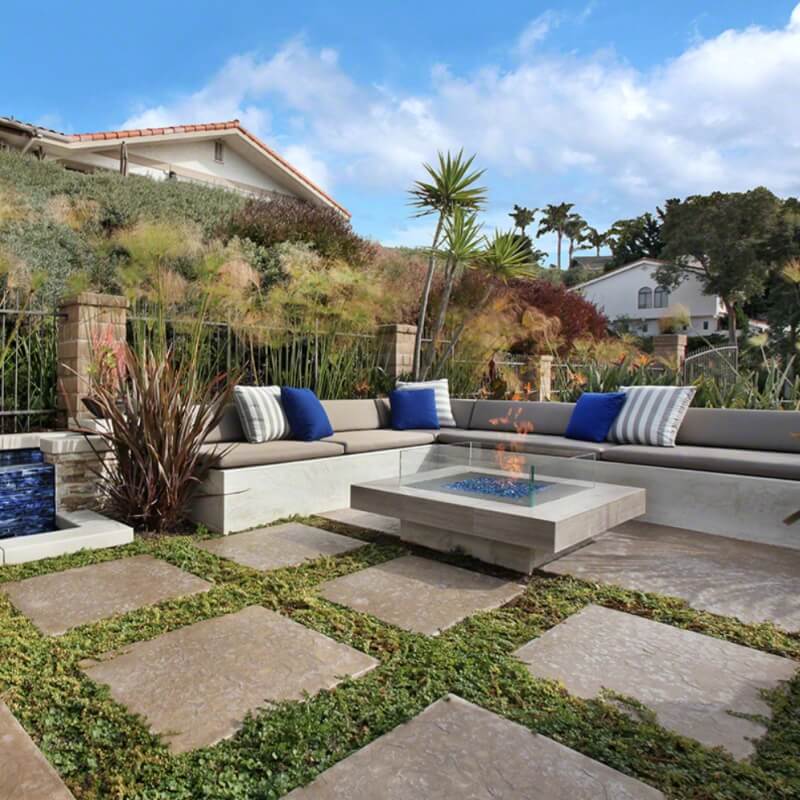 Featured: Tuscany Walnut Tumbled Travertine Pavers
Sometimes it's best to let your surroundings inspire you. With so much greenery around this outdoor space, it makes perfect sense that these tiles paved the way for this design. The large Tuscany Walnut Tumbled Travertine Pavers are installed to make the softscaping an integral part of the landscape. The dynamic shades of taupes, tans, creams, and browns match the cushion seats, striped pillows, and fireplace base. It's a chill spot that gives off good vibes!
If you're ready to dream about what your outdoor oasis could look like, then head on over to MSI's Floor Pattern Tool. From diagonal brick to Versailles porcelain, this helpful tool will assist you with your project by providing pattern inspiration, tile size options, and calculations for how much product you need.