5 Distinctive, One-Of-A-Kind Backsplash Tiles
December 14, 2015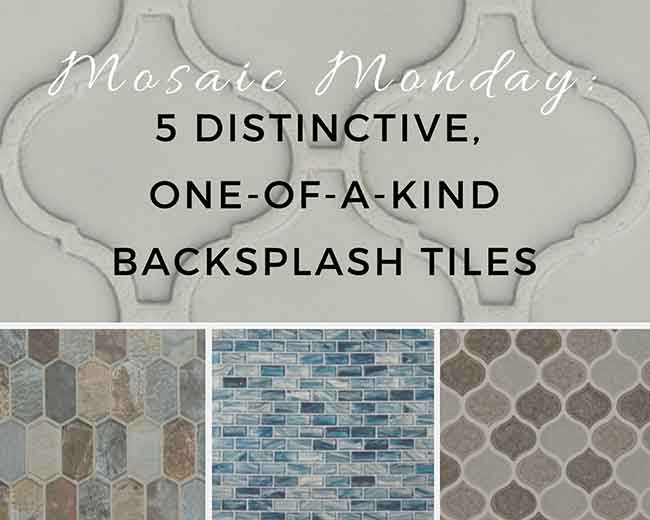 Whether your tastes are modestly understated or decadently opulent, nothing can liven up spaces quite like a beautiful backsplash can. From Moroccan-influenced patterns to elegant marble to crystallized and crackled glass, there's a delighful backsplash tile from MSI to satisfy your desire for distinctiveness.
1. Bianco Arabesque
Featured: Bianco Arabesque Mosaic Tile
Bianco Arabesque tiles are a gracefully patterned ceramic tile that is resonant of ancient Moroccan styling and is distinctly elegant, chic, and charming. Available in 6mm slabs, this neutral and subtly sophisticated tile easily coordinates with cabinetry and other design elements, making it an ideal choice for backsplashes in kitchens and bathrooms alike. Stylish and durable ceramic tiles are right at home above sinks, stoves, and ranges. Whether you crave a complementary or monochromatic look, these tiles are equally gorgeous draped across shower and tub surrounds or swept across kitchen backsplashes.
2. Crema Arched Basketweave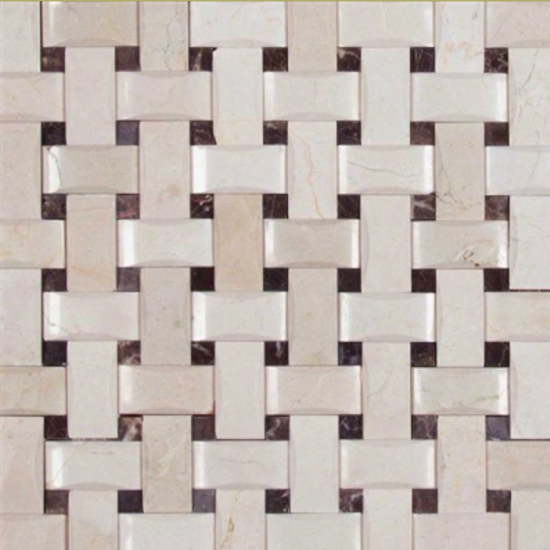 Featured: Crema Arched Basketweave Mosaic Tile
An attractive option for both modern and classic tastes, marble, is a natural stone with distinctive veining and a graceful, white backdrop. Originating from the Greek verb "marmairo," which means to flash, sparkle, and gleam, marble is a material that's popular for centuries. Basketweave flooring was even a mainstay in Victorian times. Ideal for kitchen backsplashes, tile borders, or shower floors and surrounds, Crema Arched Basketweave mosaic tile opens up a world of artistic design in your home. With dominant hues of beige and cream interlaced through patterned latticework, you'll enhance any installation with these carefully polished, finely weaved tiles.
3. Taos Picket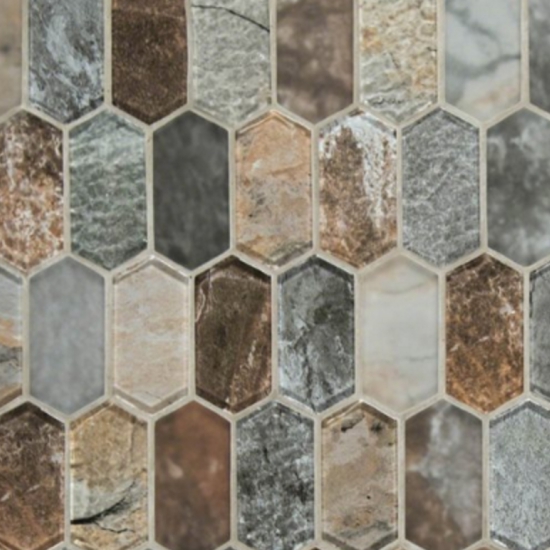 Featured: Taos Picket Mosaic Tile
Like the handcrafted mosaics of ancient Roman times, Taos Picket tiles are effortlessly timeless and breathtaking. This particular wall tile features vibrant shades of copper, gray, tan, and brown weaved throughout the entire design. Beautiful mosaics made in this crystallized glass blend will take center stage in your kitchen or bathroom. Whether you desire a daring or understated look, this crystalized-glass tile is truly versatile. For a complementary look, play on shades of blue-gray with an orange-brown backdrop, or create a monochromatic look with metallic, white, and gray design features. Admire the view while you luxuriate in the tub or indulge in cappuccinos in your kitchen.
4. Taza Blend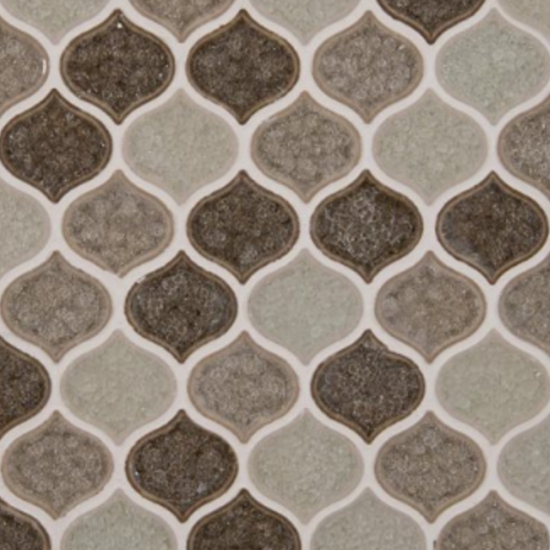 Featured: Taza Blend Lantern Mosaic Tile
Characterized by intricate patterns and rich, vibrant colors, Moroccan interior design is altogether energetic and lively. Taza Blend tiles, echoing Moroccan styling with a Western twist, add an air of mysterious charm to any space. With a distinctive pattern in multicolor tones of brown and tan, these unique, crackled-glass tiles are eminently elegant in kitchens and bathrooms. For a Moroccan-influenced ambiance, layer these striking tiles above your kitchen stovetop and sinks, or in your shower or tub. If you elect to go bold, add ornate light fixtures and layer rich hues of burnt orange or red on feature walls, with accents of white and tan for balance and visual variety. Or, if you prefer a more modest aesthetic, let these tiles shine against a gray, brown, or white backdrop.
5. Blue Cotton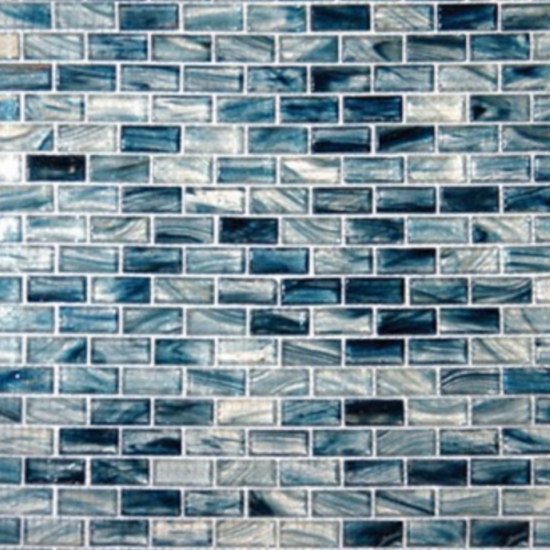 Featured: Blue Cotton Ice Glass Mosaic Tile
Blue Cotton is an exquisite, glass mosaic tile with shades of blue and highlights of ivory. Like a placid lake on a frosty winter morning, this gorgeous, mesh-backed tile evokes feelings of peace, tranquility, and calm. Truly blue and uniquely you, it's easy to create an icy-cool look on kitchen backsplashes, shower and tub surrounds, and other wall projects with these dazzling glass tiles.
In all their divine splendor in hues of blue and swirls of cream, these lovely glass wall tiles add high style in kitchens and bathrooms alike. Whether you adore bold blues, creams, or soft tans, there's a beautiful backsplash tile from MSI to suit a range of tastes and aesthetics. Breathe life, depth, and visual variety into any space with an elegantly placed backsplash tile from MSI.
READ MORE ABOUT MSI BACKSPLASH TILE
5 Unconventional and Distinctive Backsplash Tile Choices
5 Unique Backsplash Tile Patterns That Stand Out from The Crowd