Current Obsessions: Stacked Stone Feature Walls (Beyond The Fireplace!)
June 07, 2017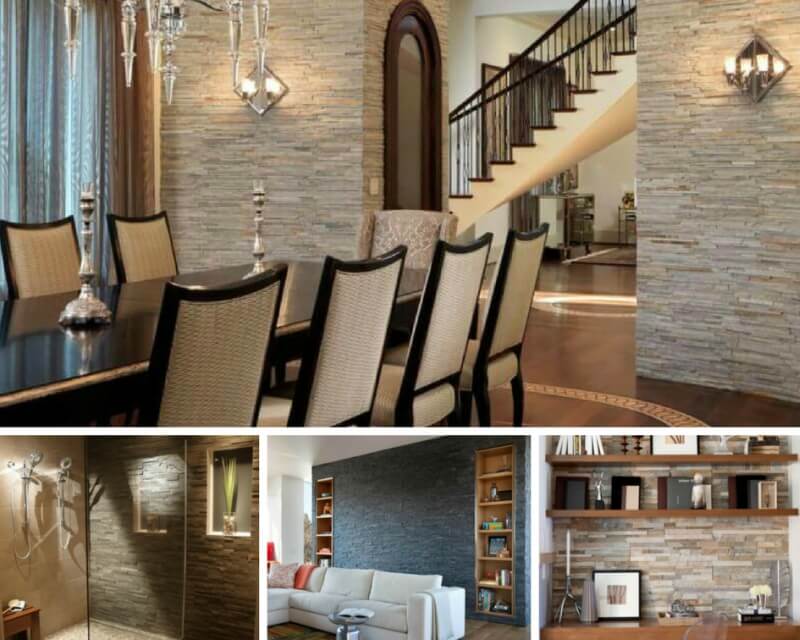 Featuring stacked stone in your home is a great way to add drama and texture to any room, and it also brings a little bit of the outdoors in. While traditionally used to frame a fireplace hearth, ledger panels work wonders to transform a bland wall into a fabulous focal point!
Plus, these three-dimensional beauties are easily installed, so even the DIY-er can get the feature wall they've always wanted. So check out these amazing spaces, and we're confident you'll be dreaming about which wall of your home could use a natural stone panel facelift.
A Dazzling Dining Room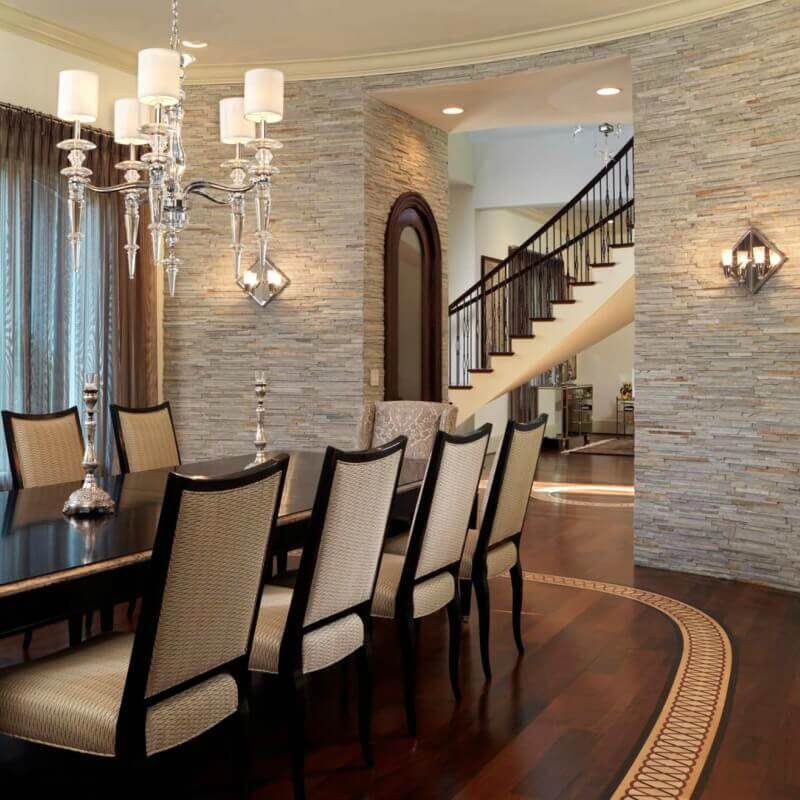 Recreate this look with MSI's Arctic Golden Panel Stacked Stone (Photo Credit: Houzz)
This elegant dining room includes traditional elements like the dining set, dark hardwood floors, and crown molding. However, Arctic Golden Panel Stacked Stone adds natural warmth to this otherwise formal space with a beautiful blend of cool whites and warm creams. The thin lines of this split-face quartzite panels give it a contemporary edge that works well with the gorgeous wall sconces and chandelier!
A Sensational Shower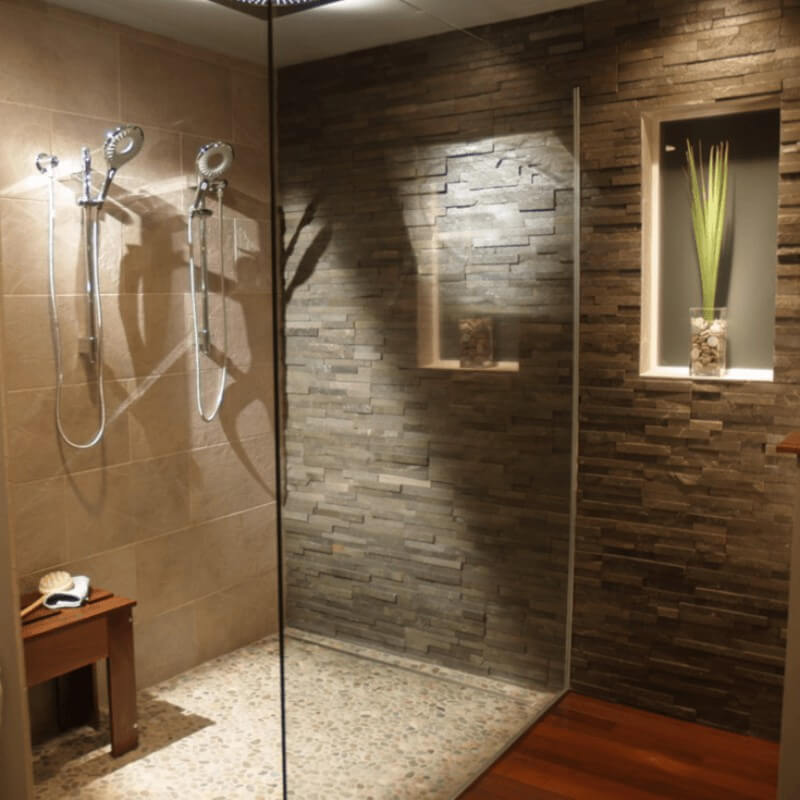 Get this look with MSI's Sage Green Stacked Stone (Photo Credit: Houzz)
Turn a shower into a sensational retreat with ledger panels! You'll feel like you're at the spa in this bathroom, especially with the perfect blend of different materials, not to mention the double showerheads! Sage Green Stacked Stone is a contemporary, earth-tone stone with hints of mica. The stone panels and pebble stone flooring create a calming, Zen-like feeling.
A Luxurious Lounge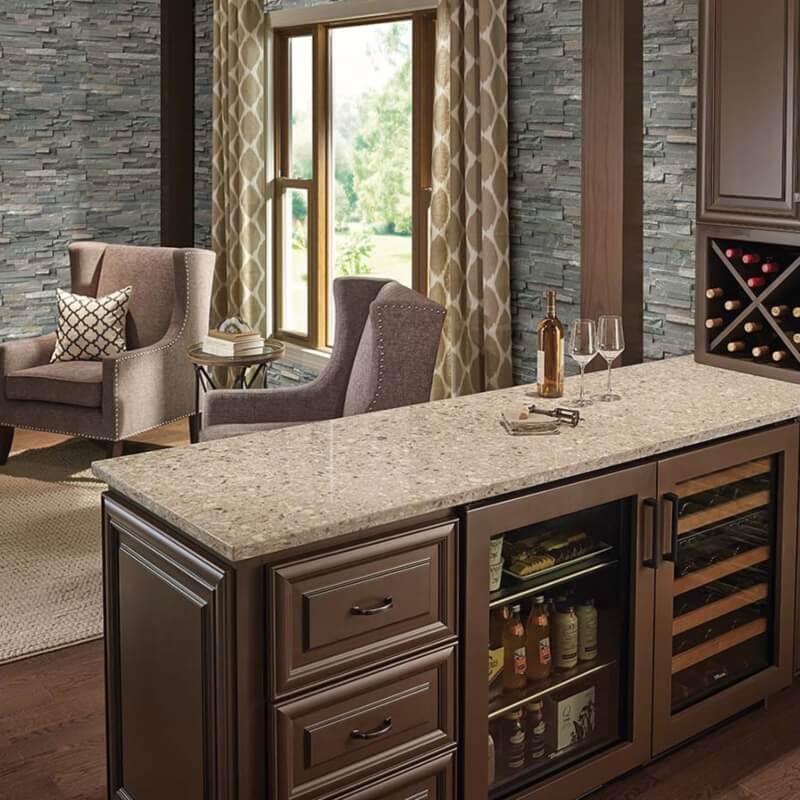 Featured: Sierra Blue Stacked Stone
Why paint or wallpaper your room when you can take it to the next level with three-dimensional stone! This luxe lounge area features rustic beauty thanks to the detailed wood cabinetry and Sierra Blue Stacked Stone – made of quartzite. The misty grays and blues with hints of whites and rust are a nice contrast to the warm tones throughout the room.
A Wonderful Workspace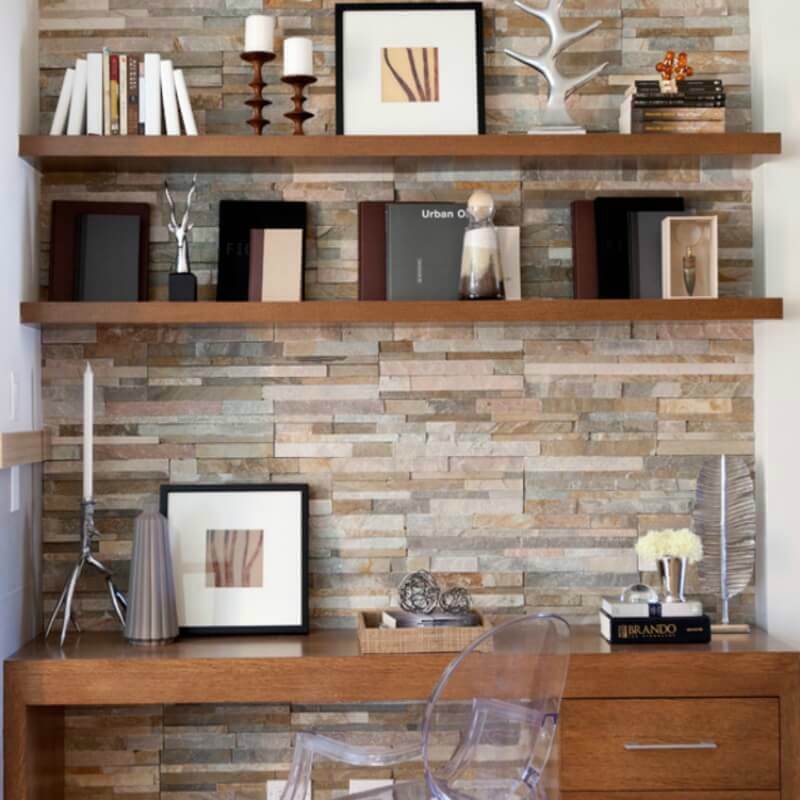 Create this look with MSI's Fossil Rustic Stacked Stone (Photo Credit: Houzz)
Many homeowners are turning small spaces into functional work stations. Although this built-in desk and shelving are in a rather compact space, the addition of ledger panels makes for a big design impact. Fossil Rustic Stacked Stone composed of sandstone imported from India. The natural stone features calming creams with soothing grays, and the accents of light rust bring out the warmth of the surrounding wood.
A Beautiful Backdrop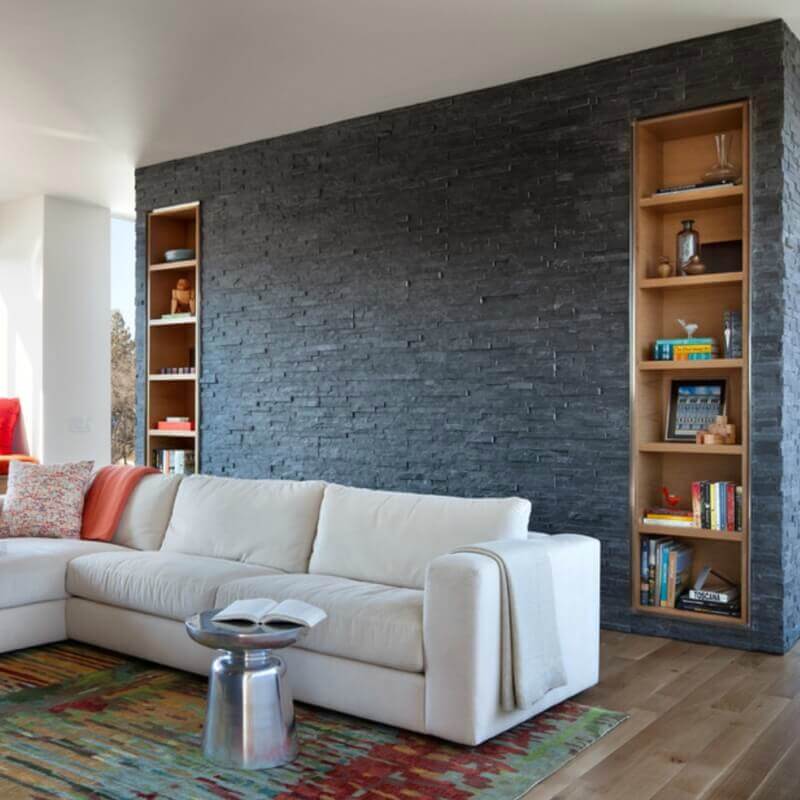 Recreate this look with MSI's Coal Canyon Stacked Stone (Photo Credit: Houzz)
You may be envisioning a couch or sectional facing a stacked stone feature wall or clad fireplace, but that's only one option. You could also create a dramatic effect by making stacked stone the backdrop of your living room.
Installed in this space is Coal Canyon Stacked Stone, a dark charcoal grey ledger panel composed of natural quartzite. Its distinguished look is another element that contributes to the overall contemporary feel and makes a powerful statement in the room!
You may have noticed that these rooms typically have a less is more approach when it comes to decorating a Let the stone speak for itself to avoid a cluttered look.
If we've got you dreaming about quartzite or sandstone panels, check out MSI's stacked stone visualizer, which offers even more colors and finishes for you to explore!