Paving The Way With Arterra Porcelain Tile Pavers
May 23, 2022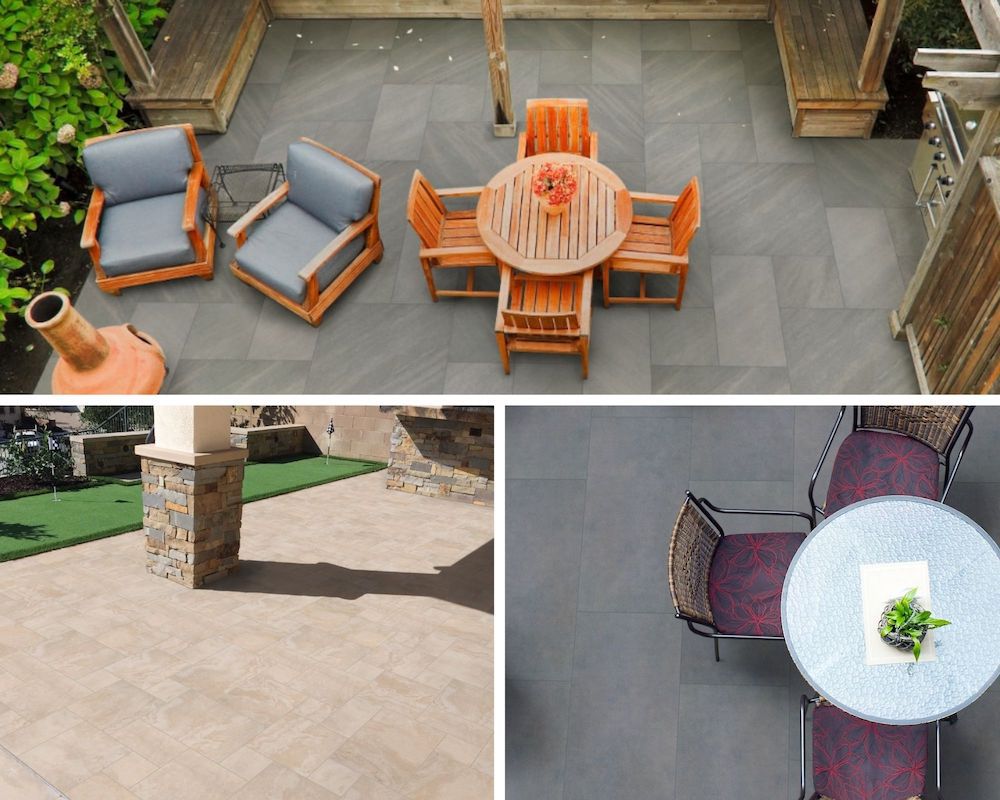 It's no coincidence that Arterra Porcelain Tile Pavers are all the rage with designers and homeowners alike. MSI engineers these elegant, natural stone look pavers to last. Pounding UV rays, freezing temps, mildew, and other threats don't stand a chance against these durable porcelain tile pavers.

Equipped with slip resistance, the pavers are ideal for surrounding pools, covering patios, and lining pathways. With Arterra Porcelain Pavers, you can bring the sought-after look of authentic stone outdoors in a more durable porcelain package that requires less maintenance than the real thing. HD-glazed, inkjet patterns make these premium surfaces nearly, if not impossible, to differentiate from the real thing. This technology has led to a wide variety of styles, several of which we cover below.
IRRESISTIBLE BLUESTONE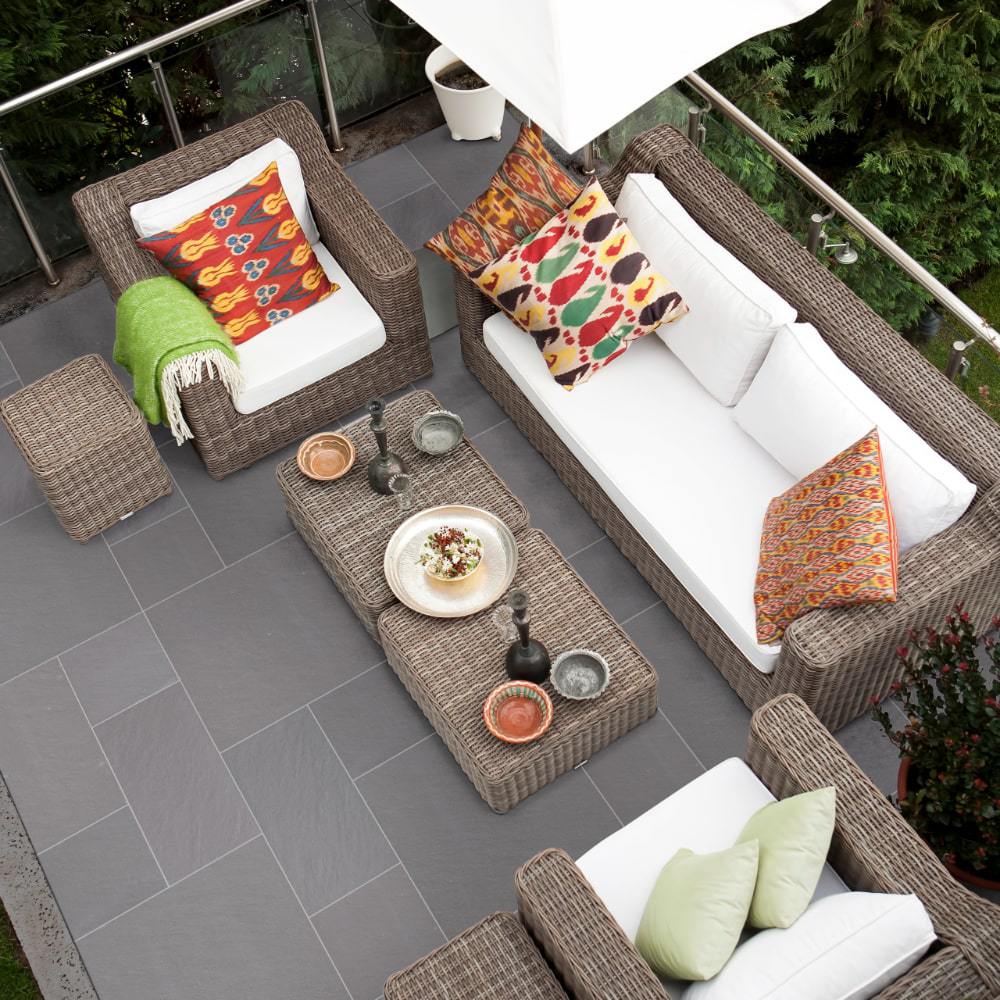 It's hard to beat bluestone to create that moody, mysterious blue-gray feel. Let's take a look at the captivating porcelain Bluestone Arterra Pavers first. These porcelain pavers offer a pleasing matte finish and a palette of dark blue-gray. They effortlessly capture the look and feel of natural bluestone. But what they don't capture is the required sealing and resealing of the real thing. Add in higher durability, slip resistance, and a more affordable price, and the choice is easy.

Offered in a chic large format 24x24 tile and a pattern, Bluestone Arterra Pavers will elevate your outdoor kitchen, pathway, patio, pool surround, and more. Take a look at how these pavers elevate this already stylish patio. The color and format of the tiles lend the patio the feel of a smooth, rocky terrain, making this outdoor getaway all the more authentic.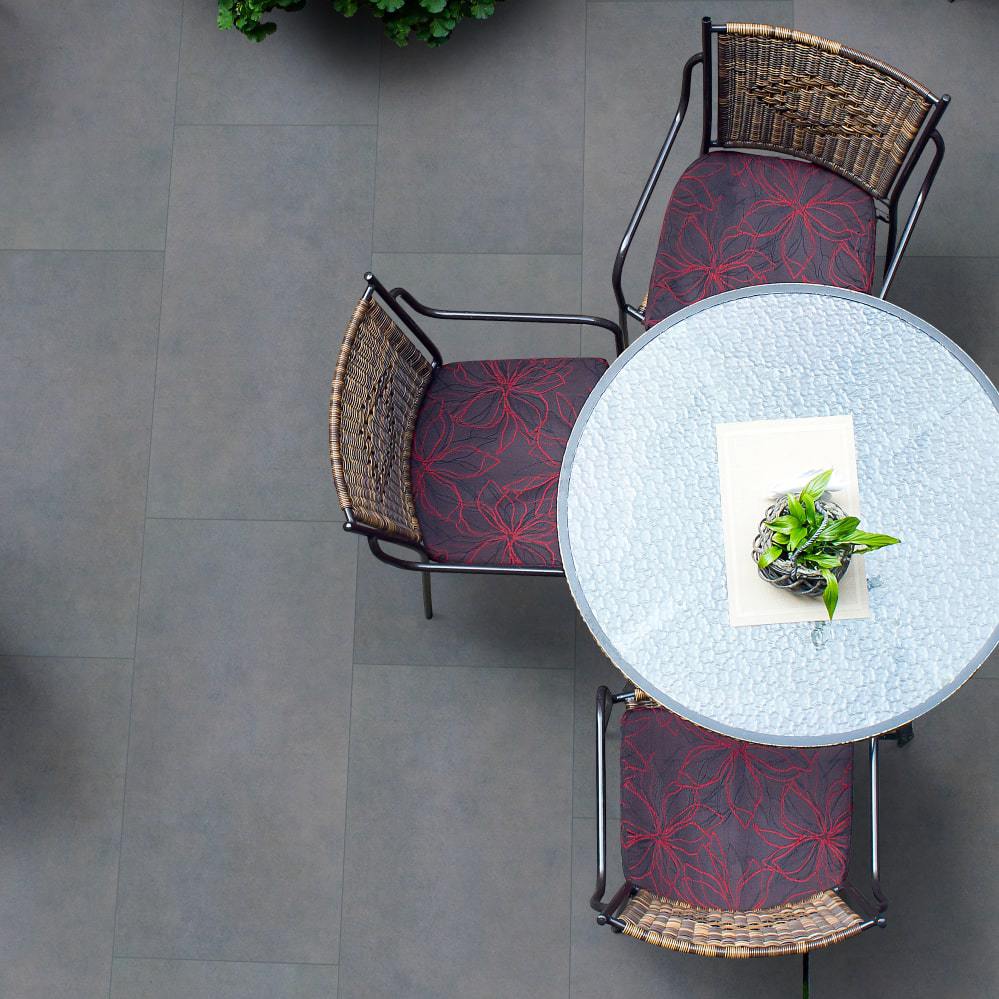 Another first-rate choice is True Bluestone Arterra Pavers. These large format beauties feature a memorable, dramatic blue-gray shade and an unassuming grace. Available in 24"x24", 24"x48", and a jumbo pattern, you'll have no problem making a lasting impression with your guests.
Imagine dining on this minimalist patio featuring large format True Bluestone Arterra Pavers. The understated colors bring out the best of the patio's furniture, creating a delightful scene for engaging conversation and an enjoyable meal.
SILVER TRAVERTINE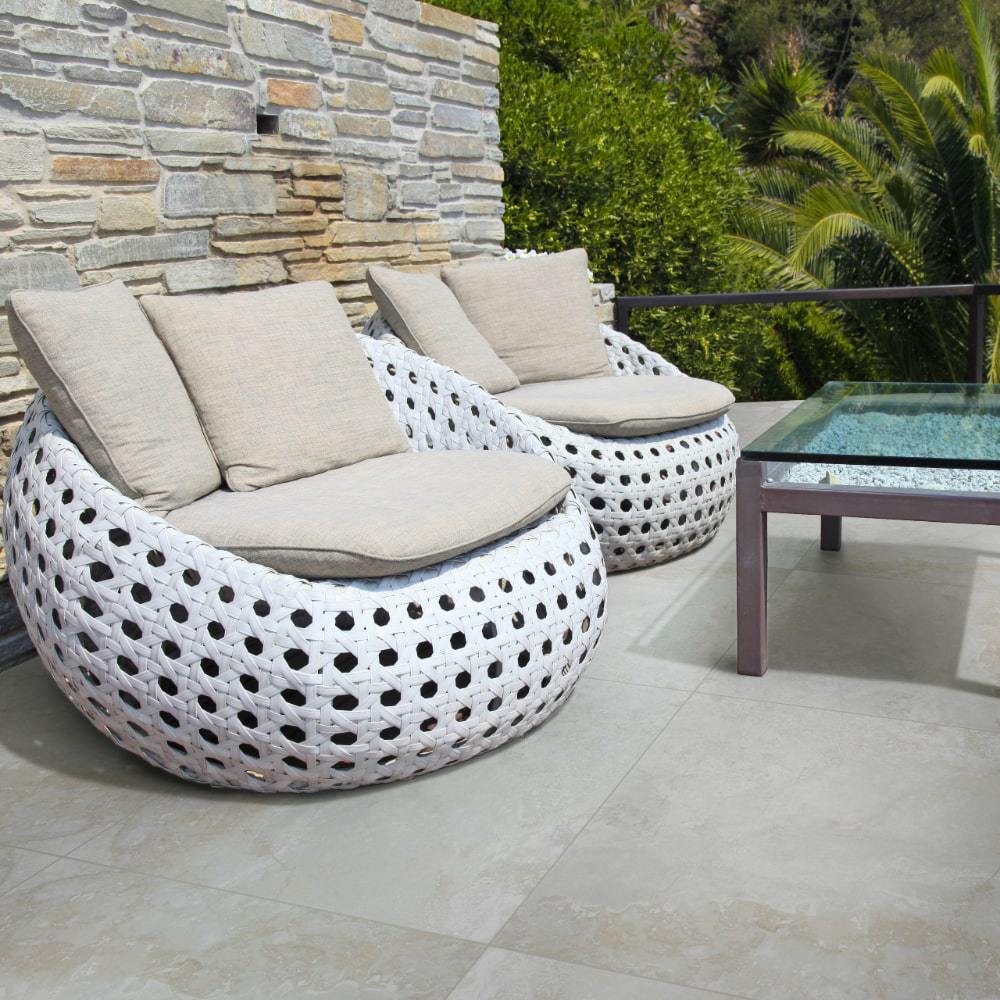 Few outdoor porcelain tile collections speak to luxury like our Silver Travertine tiles. A case in point is the Argento Travertino Arterra Pavers. These breathtaking pavers use light grays, creams, taupes, and whites to create a harmonious pattern unlike any other. Note how warm and welcoming these pavers are as they breathe life into this patio scene.
Another outstanding option, Lunar Silver Arterra Pavers, use easy whites and light grays to create a sophisticated, modern appearance. Here you get the coveted look of authentic travertine in a frost-resistant, easy to maintain, durable floor tile ideal for indoor or outdoor use. Pictured here, you can see how seamlessly these pavers transition from inside to outside. Transitions like these make the indoor living space feel more extensive. It's almost as if the airy indoor space is a natural part of the great outdoors.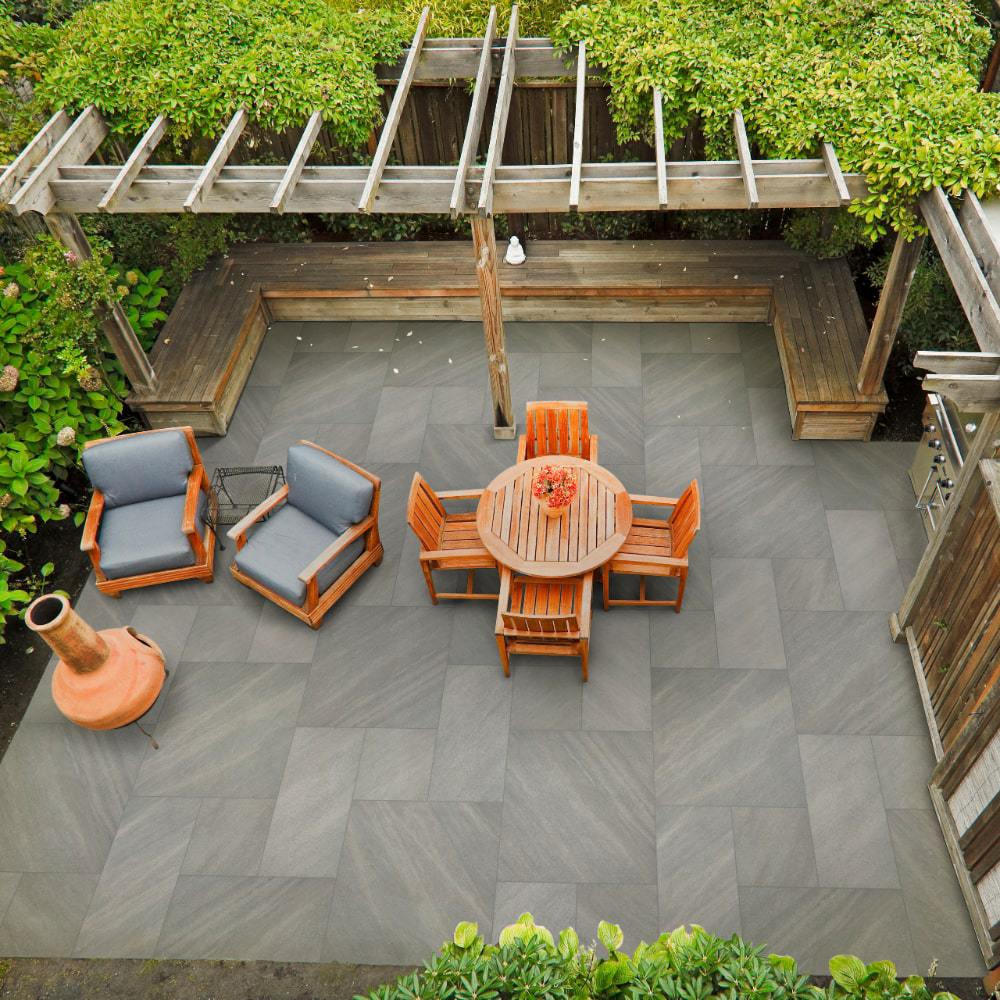 Fossil Snow Arterra® Pavers utilize a refined tile pattern with a warm white tone. Add a matte finish and these pavers are ready for the spotlight. They come precut to install an elegant design easily. Perfect for indoor and outdoor settings, Fossil Snow Arterra Pavers work well for patios, accent walls, flooring, and so much more. And like all the products featured in this article, these pavers require none of the dull, regularly scheduled sealing or other upkeep required of natural stone. They are highly durable and frost, slip, UV, stain, and slip-resistant.
Check out how well these pavers work on this Zen-like patio. The use of wood and stone look porcelain brings two design styles together that have complemented each other for thousands of years. Some looks are timeless for a reason. Finally, note how the orange furniture and chiminea stand out while still being pulled into the minor orange shades of the wood. The design possibilities with these pavers are truly endless.
CREAMY TRAVERTINE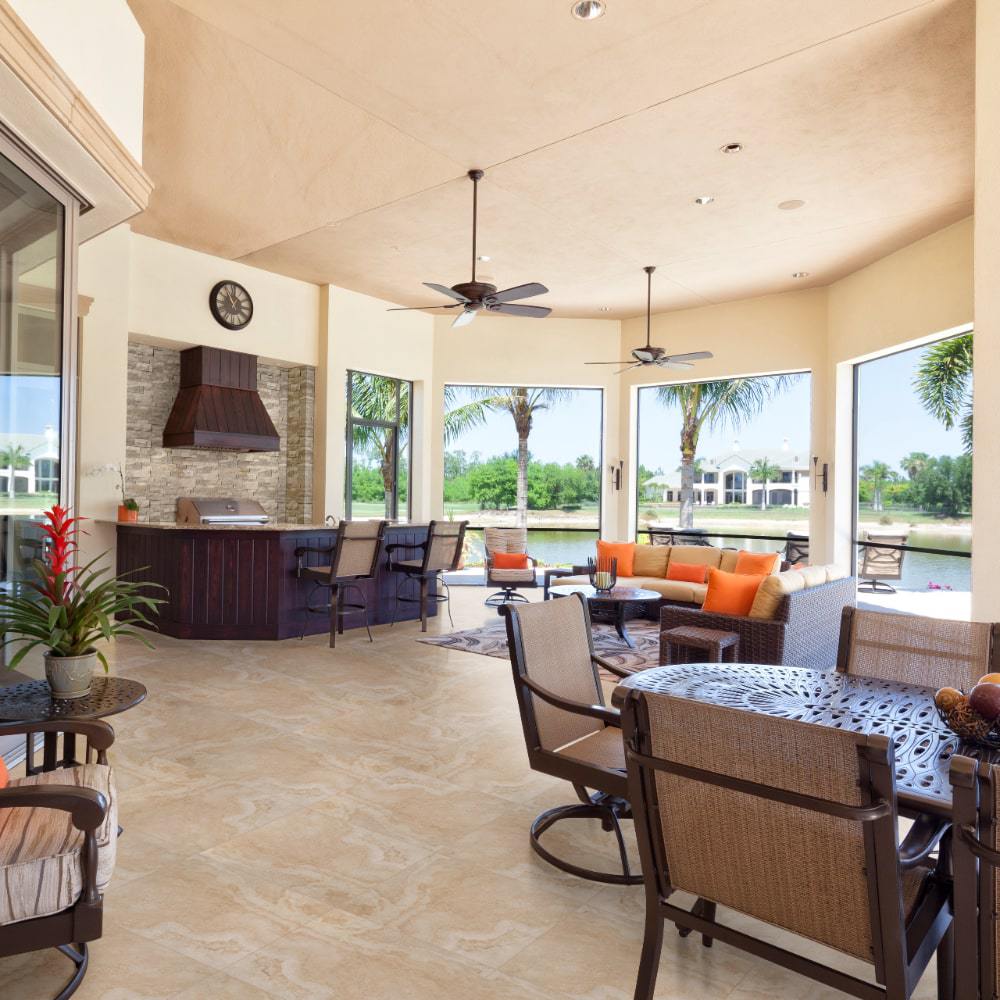 Our Travertine porcelain pavers bring the palatial like no other. The regal Tierra Beige Arterra Pavers do this effortlessly. Tierra Beige features deep swirls of beige and cream to create a paver that mimics authentic stone down to the smallest detail. Well, every detail save that one about sealing and resealing natural stone on an ongoing basis.
Tierra Beige Attera Pavers also stand up to wear and tear much better and work as well outdoors as they do indoors. Use these matte pavers for entryways and bathrooms, high-traffic kitchens, and other areas. The large format makes them perfect for outdoor kitchens, patios, pools, and attractive pathways.
Tierra Beige was the ideal choice for the sun-drenched room pictured here. Everything in this effortless room works together to create the perfect scene for blue skies and palm trees. Even the tile patterns lend the durable flooring a beach-like feel. This is the kind of room that you'll seldom want to leave.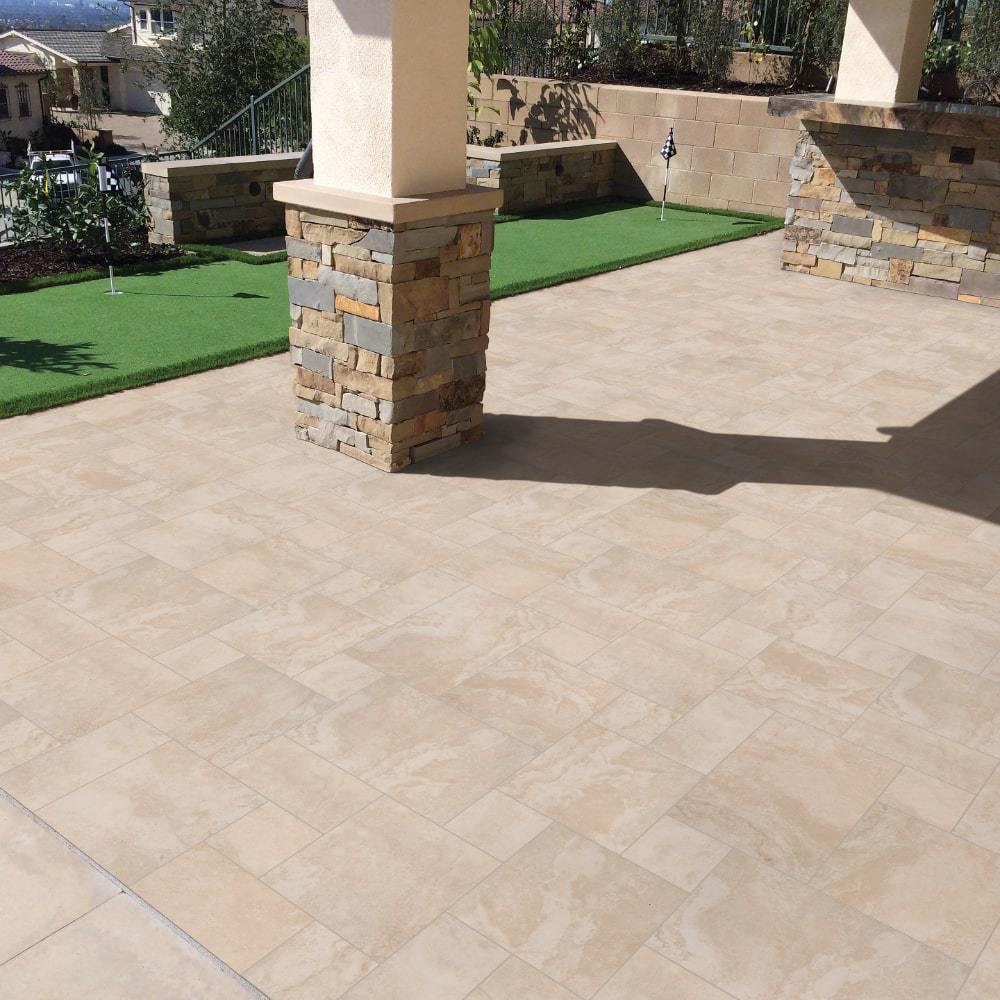 Another showstopping porcelain paver that mimics Travertine is Tierra Ivory Arterra Pavers. Using understated cream and white tones, Tierra Ivory Arterra Pavers create the ideal luxury backdrop for your indoor or outdoor design projects. The pavers work wonders when creating a continuous indoor to outdoor flooring, opening up both spaces for a luxurious and sprawling look.
Tierra Ivory pavers deliver every time, whether you're after a modern or traditional look. What's more is they're more affordable than natural stone, more durable, and don't come with the maintenance headache required from the real thing. Why spend more on a less durable tile when you'll also need to work and spend more of your hard-earned money to keep it looking great? As with the rest of the premium pavers in this article, porcelain wins the day.

If your current home upgrades call for natural stone, looking into the less expensive, more durable, and easy to care for Arterra Porcelain Tile Pavers is a great idea. With so many styles to choose from, it can feel overwhelming. That's where we enter the picture. Never hesitate to contact us online or by phone. Our experts are standing by to help turn your design dreams into your new, everyday reality.