The Benefits Of Installing Natural Stone For Your Hotel Bathroom Countertops
April 20, 2021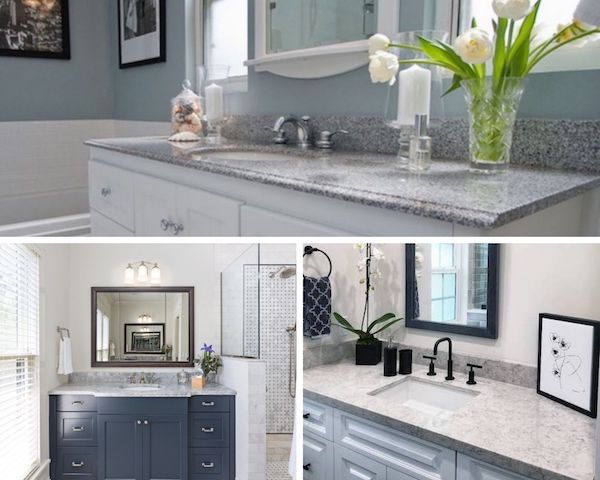 When it comes to the hospitality industry regarding renovations or new builds, creating a sense of luxury is key, and what's more luxurious than implementing natural materials like marble or quartzite? The guest bathroom is one place where a more opulent home-away-from-home experience can be created, and installing natural stone hotel bathroom countertops adds tons of sophistication and beauty.
Starting with your counters is a good place to start since it can also be an item that takes up a good portion of the budget. But, be wise with what centerpiece you choose since countless guests will utilize your surfaces for years on end. Read on to learn more about which natural stone countertops will benefit your hotel best.
Marble Countertops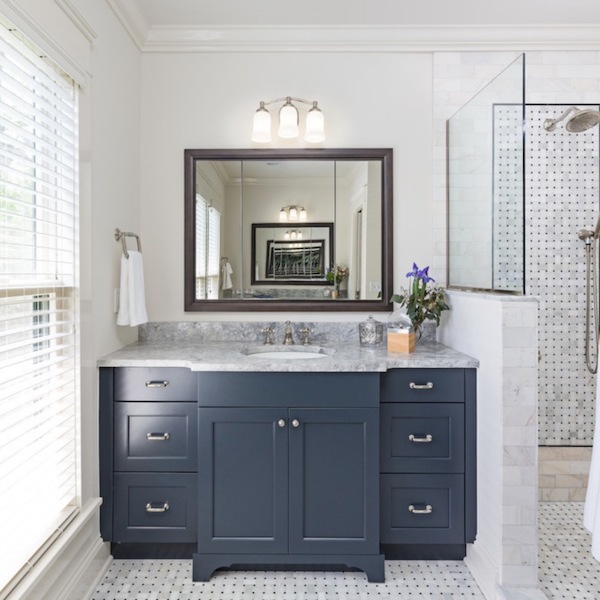 Signifying the ultimate in luxury and pampering, marble countertops are the top pick for high-end hotels. Marble is made up of re-crystallized calcite or dolomite minerals, and its crystalline, sparkling stone is an eye-catching choice for hospitality properties. The soothing neutral backdrops with one-of-a-kind veining elevate any design style. But, its glorious beauty does require higher maintenance. Because marble is a more porous natural stone, it will show water spots and stains more easily. Be sure to follow instructions regarding sealing and resealing your stone, and do it often, to help keep it looking good for longer, but know that marble countertops can show more markings over time.
Marble will always be a showstopper in a bathroom, and you don't have to stop at the counters. This elegant bathroom features marble tiles on the floor to the shower surround for a cohesive look that's showered in luxury.
Quartzite Countertops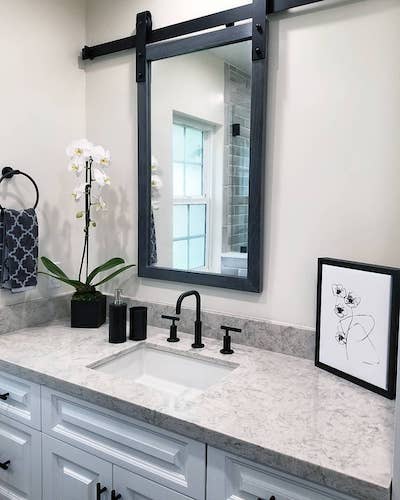 With its strength and elegant beauty, quartzite is a natural stone that can resemble marble or come in other brilliant colors. The metamorphic rock originated from quartz-rich sandstone, and as a result of high heat and pressurization, the stone is transformed into the extremely strong quartzite. Its neutral hues range from whites, creams, and beiges to grays, browns, and blacks, but other pretty colors are available like orange, red, blue, and green due to other minerals present. The stunning stone looks like marble, requires less maintenance than marble, but is harder than granite. It also resists heat and stains, making it an excellent countertop pick that's made to last.
Quartzite is a sophisticated material that can easily work with more traditional styles or contemporary designs. This guest bathroom features lovely veining that creates pretty patterns for a centerpiece guests will love to use.
Travertine Countertops
Another chic countertop choice with striking luxurious looks like marble is travertine. Used since Roman times, this sophisticated surface is a sedimentary rock from the limestone family. Known for its iconic pitted holes and troughs, the natural stone features soft hues that range from white, cream, beige, and tan to silver, coral, rust, walnut, and other shades of brown. A travertine countertop is very durable and will last for many years, but of course, like many natural stone options, its porous structure means you'll need to seal it on a regular basis to help prevent stains from spills.
Granite Countertops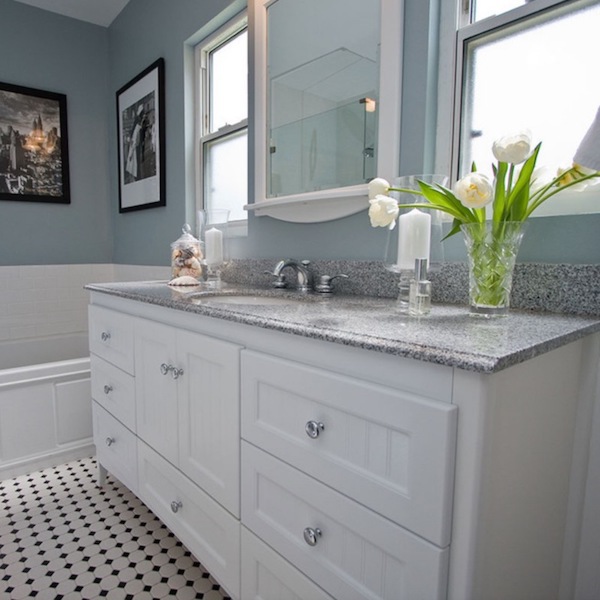 One of the most popular high-end materials for its beauty and durability is granite. The igneous rock, with its mixture of quartz and feldspar, comes in different colors and textures based on the various mineral content. Everything from white and black to pink and red to gold and brown to blue and green granite countertops are available. It holds up well to heavy traffic use and is heat-resistant, which makes it an excellent material for hotel use. With its strength, though, comes at a price, as it's one of the more costly natural stone surfaces. However, the investment may be worth it for longevity.
Granite is a great surface material since it can work with so many design styles. Its speckles and sparkles make it the perfect selection for a bathroom with a beach vibe or classic retro look. Its mixture of colors allows you to pull from the countertop palette to tie the design together.
Soapstone Countertops
A more eco-sensitive countertop option is soapstone. This smooth and beautiful surface material is a metamorphic rock mostly made of the magnesium-rich mineral talc. It's available in a multitude of gray, green, and black colors, and because it darkens over time, soapstone develops a distinctive patina. Because of its soft mineral makeup, with it being similar in hardness to marble yet much softer than quartz, it can easily get scratched or chipped with heavy use. However, it doesn't need to be sealed because the surface is impenetrable, meaning bacteria likely won't grow on your countertops, and is one of the top contenders when it comes to heat-resistance. Both characteristics from the low-maintenance stone are ideal for hotel bathroom use.
Limestone Countertops
A beautiful but more budget-friendly option is limestone. This sedimentary rock mostly made up of calcium carbonate costs less than both marble and granite and also involves a less expensive installation. Its various soft colors range from white, cream, beige, and yellow to blue and gray depending on the stone's deposits in the seabed. The natural stone lends more toward a rustic aesthetic, but it could be featured in other styles as well. Keep in mind that limestone is a highly porous stone, so you'll need to regularly seal it in order to help protect against stains. It can also stain or scratch easily and be damaged by acids, so remember to use the proper cleaning supplies and countertop products.
Which Natural Stone Suits Your Hotel Best?
It's important to give your guests a clean, luxurious space they can enjoy, and natural stone will definitely add to the elegant or cosmopolitan vibe. Since you'll be selecting stone materials for dozens to thousands of guest bathrooms, choose wisely since any mistakes may be magnified with larger purchases and many installations.
You can even continue the natural stone through a matching or coordinating backsplash, hotel flooring, or even accessories. Having beautiful online photos of your guest rooms, including the all-important bathroom with your newly selected counters, will help entice guests to book a room, and their one-night or extended-stay experience will determine if they keep coming back for more.
READ MORE ABOUT HOTEL AND HOSPITALITY SURFACES:
5 Ways to Upgrade Your Hotel Vanity
The Hottest Hotel Shower Surrounds For Any Style
How to Choose Hotel Flooring For Lobby Areas