Can You Use Quartz As Backsplash Tile?
April 09, 2018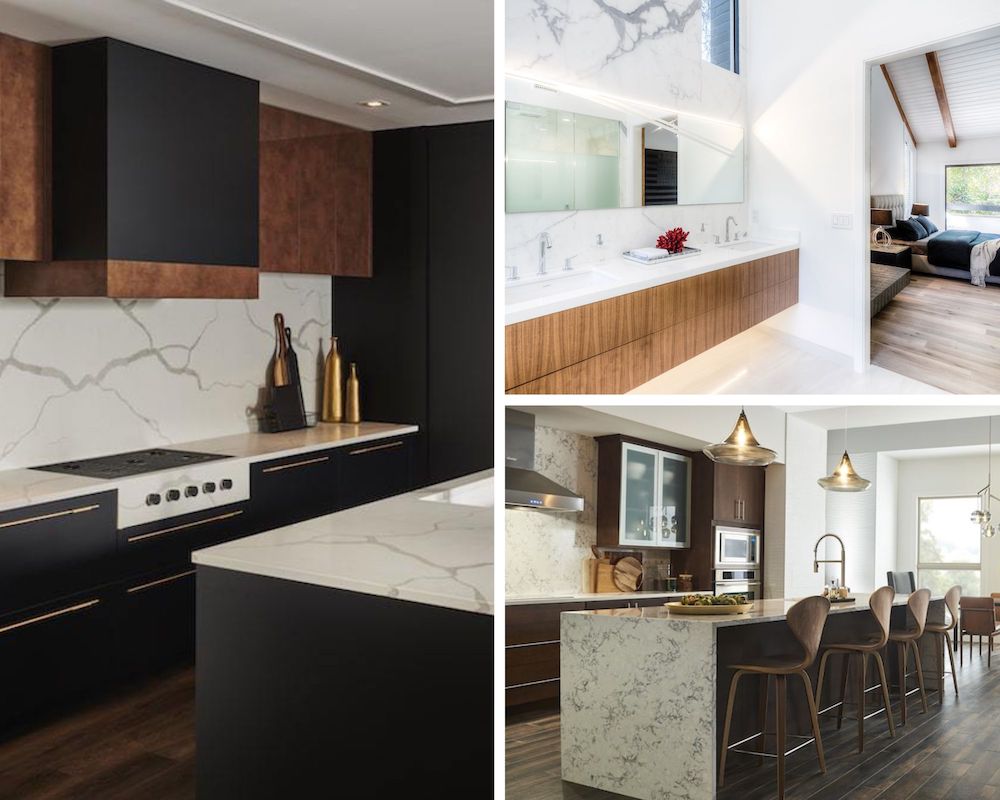 Quartz is a beautiful, durable surface that can be installed just about anywhere. While it's typically used for countertops and tub surrounds, it can also be utilized as a kitchen or bathroom backsplash. And, quartz is the perfect material for one of the latest trends seen in kitchens and bathrooms. Instead of mosaic tile, the sheet backsplash features a large, continuous slab for a sleek, modern look and has fewer breaks than tile.
Quartz offers a number of benefits that are ideal for backsplashes. Not only does the larger piece do a better job at protecting the wall from moisture, but this man-made, non-porous material also is stain resistant, doesn't require sealing, and cleans easily.
Also, if the slab look isn't in your budget or part of your design aesthetic, then keep in mind that prefab quartz counters come with a short 3-inch backsplash along one edge. Let's take a look at some of our favorite backsplashes made of modern quartz.
Calacatta Verona Quartz
Calacatta Verona Quartz
Calacatta Verona Quartz is a stunning quartz with large veining for a classic white marble look. It features subtle taupe veining throughout the warm white background. This ultra-modern bathroom exudes luxury thanks to the large slabs of quartz that looks like marble. Not only is it protecting the walls, but it also draws the eye up toward to beautiful wood beams installed on the angled ceiling.
Calacatta Laza Quartz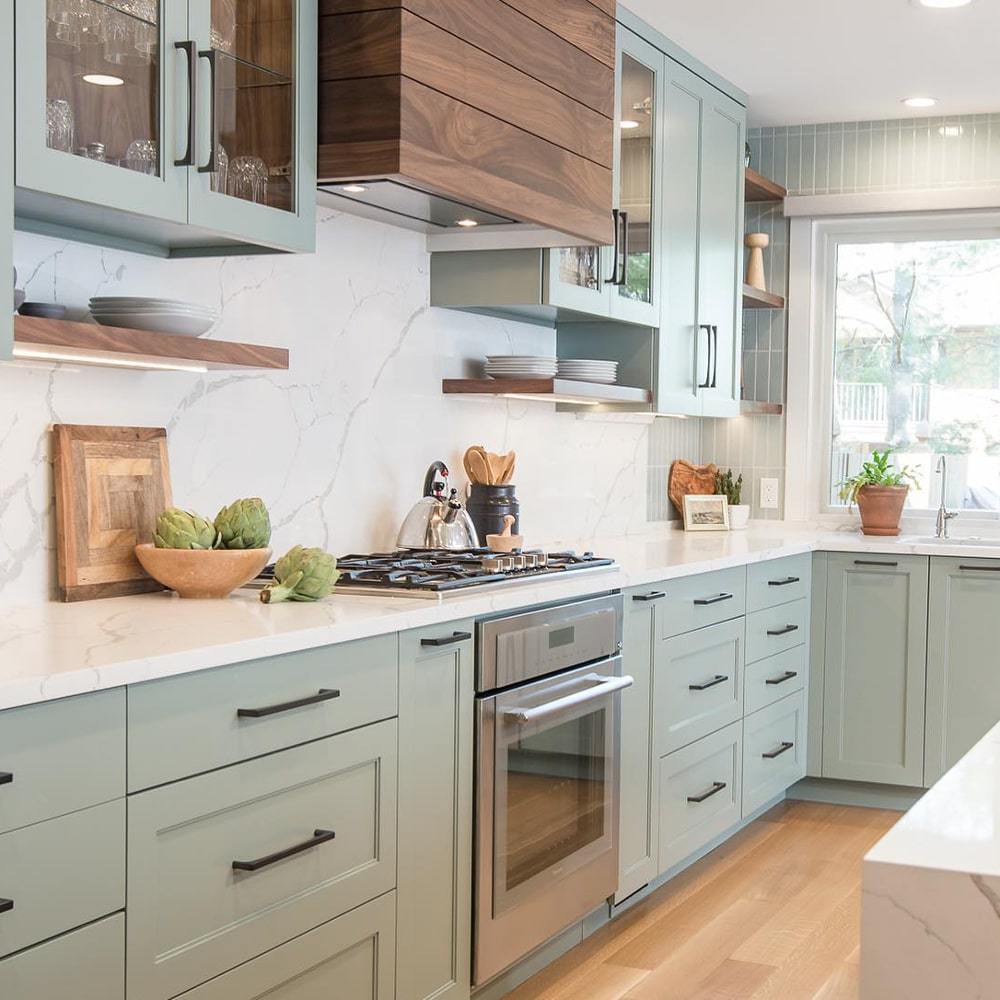 Calacatta Laza Quartz
Calacatta Laza Quartz is another marble-like quartz. It's an eye-catching backsplash because of its dramatic veining and milky white background. The clean lines and elegant pattern complement this rustic contemporary kitchen. The gray veins match the stainless steel appliances, open shelving, and avocado cabinetry, while the white surface contrasts beautifully with the wooden island and accents.
Blanca Arabescato Quartz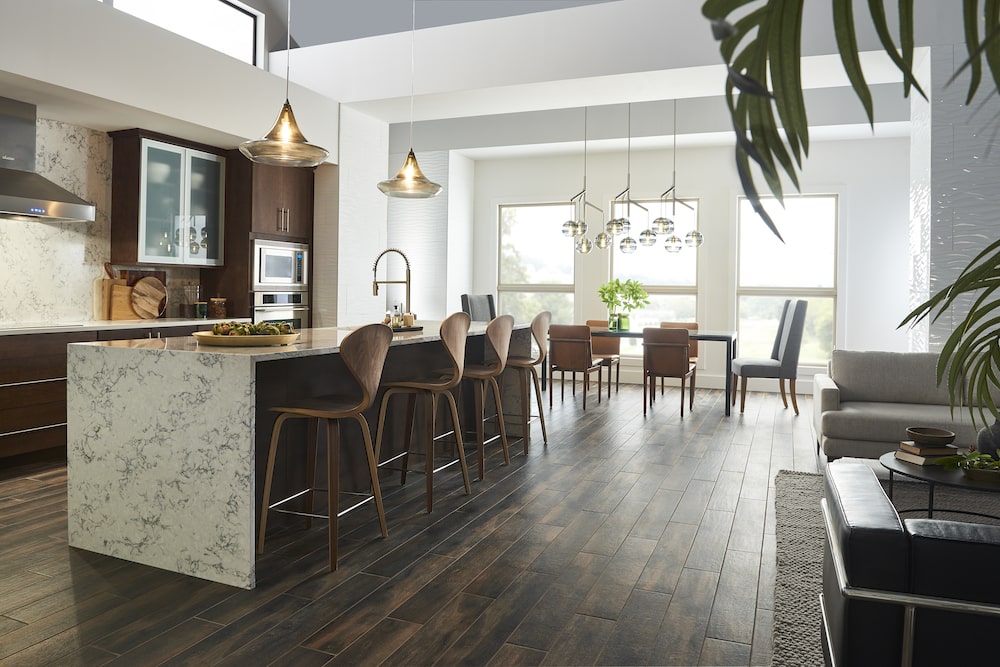 Blanca Arabescato
Blanca Arabescato Quartz is a designer favorite because of its timeless sensibility. The natural marble look of this quartz features deep brown veining and a pale gray background. The long veins create a stunning pattern in this modern kitchen and add softness to the super sleek gray cabinetry. The quartz is carried from the countertop to the backsplash tile where the under cabinet LED lighting highlight its beauty even further.
Calacatta Classique Quartz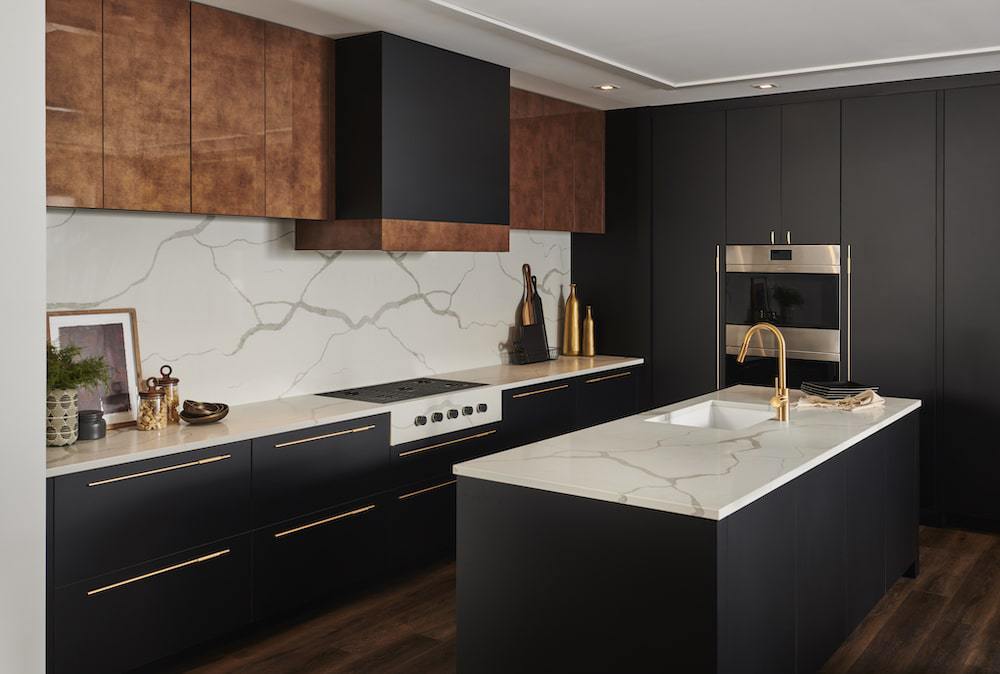 Calatta Classique
Calacatta Classique Quartz includes big, bold veining for an upscale marble look. The clean white background and large gray veining make this material unique. This modern kitchen features a minimal aesthetic, so installing a quartz slab behind the stovetop is ideal since it will have a smooth appearance and also protect the wall from oil splashes. Since the backsplash follows the same lines as the kitchen island, it also looks like it's an extension of the countertop.
Mystic Gray Quartz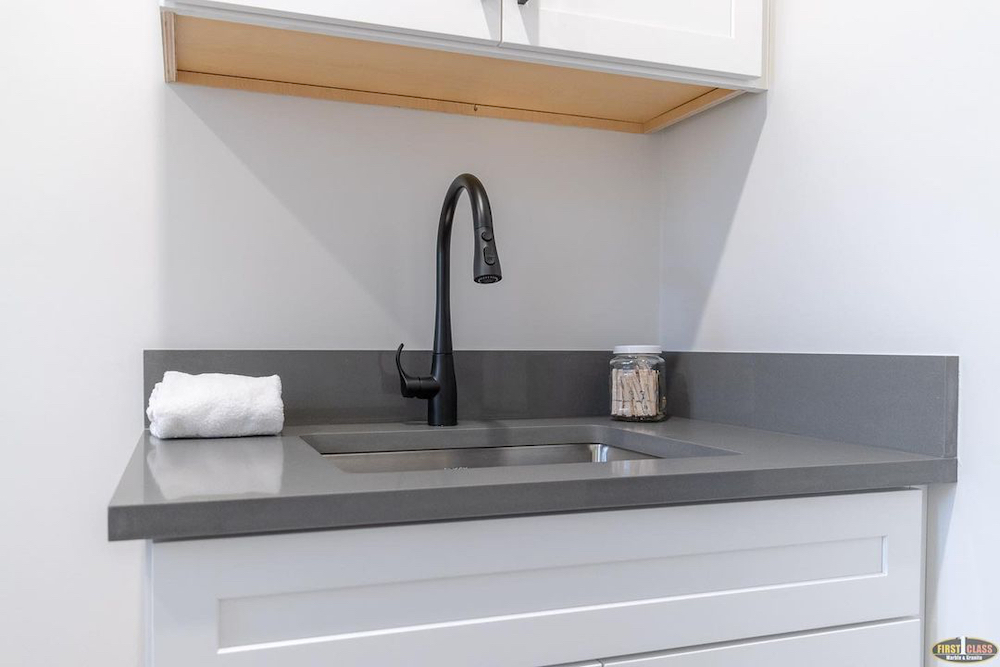 Mystic Gray Quartz - Photo Source: @firstclassmarble on Instagram
Mystic Gray Quartz is a mostly solid color quartz with added dimension. The mid-tone gray coloring and subtle dark specks make it a perfect choice for modern and contemporary spaces. The quartz countertops are seamlessly carried through to the backsplash, which will protect the wall from cooking splatters from the stovetop and water splashes from the pot filler faucet. The gray color and warm wood-look tile give some contrast to this mostly bright white kitchen.
The low maintenance and cleaning ease of quartz makes it ideal for countertops, and now many homeowners are installing it as their beautiful backsplash as well. MSI offers a wide range of quartz colors to choose from, so you'll be able to find one that suits your personal style. For more kitchen inspiration, check out these easy care countertop ideas from HGTV!
Have you fallen in love with the look of quartz backsplashes? We don't blame you! We'd love to help choose your ideal color. Please chat with us online, visit an MSI showroom near you, or contact an authorized MSI dealer.
READ MORE ABOUT MSI BACKSPLASH TILE
Best Kept Secrets - Design Tools For Backsplash Tile
Can You Use Backsplash Tile On The Floor?
Run Your Slab Up Your Backsplash