Mosaic Monday: Bring The Outdoors In With Pebble Mosaics
January 11, 2016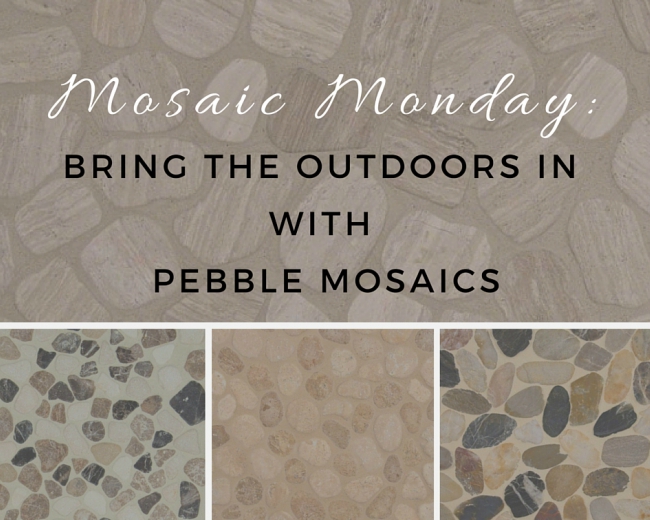 You don't have to be a serious outdoor adventurer to enjoy being in and around nature. Even if your tastes are more "glamping" (or four-star hotels) than camping, bringing a bit of the outdoors into your home can promote relaxation, create dramatic interior "landscapes" – and it's one of 2016's home décor trends to watch. Using pebble mosaics is one of the easiest and most versatile ways to incorporate nature into your interior design.
Mix Marble Pebbles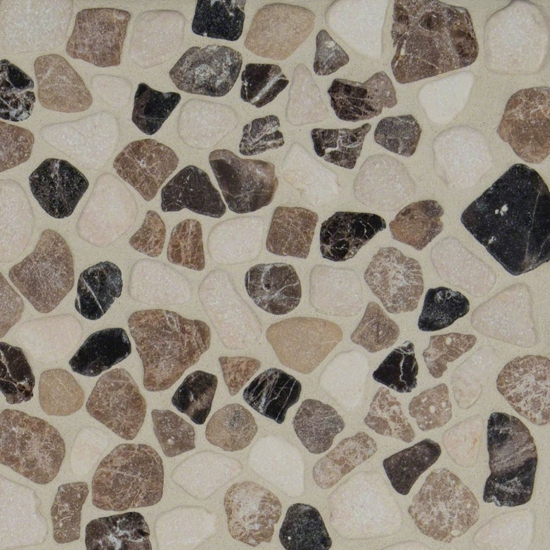 Featured: Mix Marble Pebbles
Mix Marble Pebbles offers a natural stone mosaic with a variety of earthy hues, from pale white to nearly black, with shades of gray and brown in between. It has a tumbled finish, with smooth edges in random sizes and shapes that are perfect for various of applications including flooring, countertops, walls, or backsplashes. This pebble mosaic an option for taking the classic elegance of marble and using it in a creative, informal way.
Mix River Pebbles
Featured: Mix River Pebbles
Another dramatic mosaic option is MSI's Mix River Pebbles. This collection combines smooth, tumbled river rocks in shades from grayish-buff to striated black, with natural variegation and random shapes. Create drama in your home with the casual backdrop of natural stone from the creek bed. Use this natural design for stone backsplashes, walls, flooring or countertops. You can create your private woodland retreat, or give it a contemporary twist alongside chrome or smooth glazed porcelain tile.
Travertine Blend Pebbles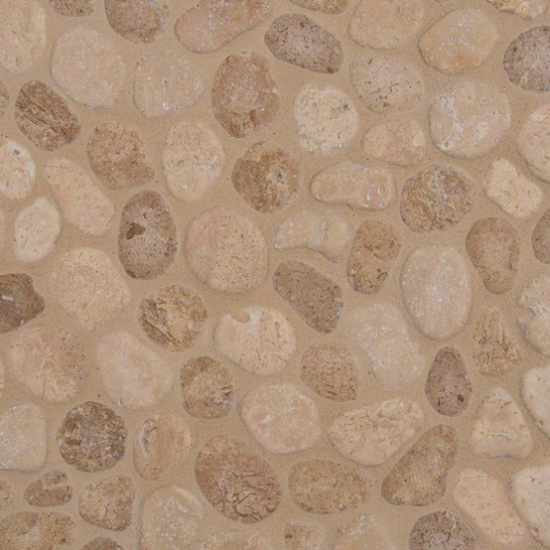 Featured: Travertine Blend Pebbles
Bringing you the subtle gray/beige coloration of natural limestone, Travertine Blend Pebbles Mosaic fits nicely with most design schemes from the rustic to contemporary. It features randomly shaped and sized pebbles with flat, tumbled surfaces with beautiful veining and variegation. Use this mosaic anywhere you would put travertine tiles – your kitchen countertop, your backsplash, your hearth enclosure, your bath – it's as versatile as it is stylish.
White Oak Pebbles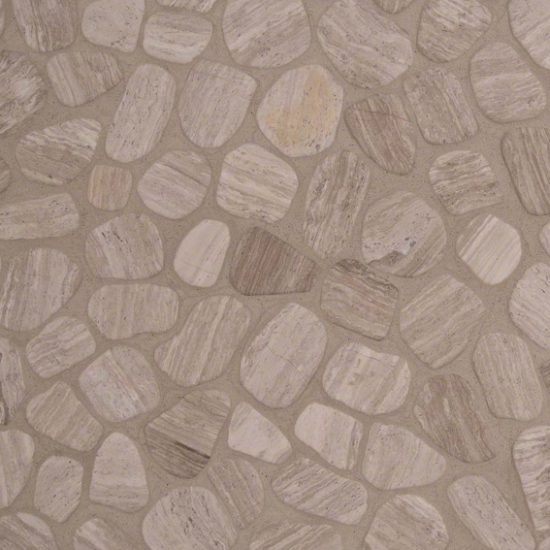 Featured: White Oak Pebbles
White Oak Pebbles are striated and variegated in a way that resembles wood grain, although it is all entirely natural marble stone. This unique characteristic allows for exciting design possibilities, such as transitioning or incorporating with real wood surfaces and other materials. The striations in these pebbles are not facing the same direction, but rather are random, which eliminates any need for matching or aligning with other design features.
White Marble Pebbles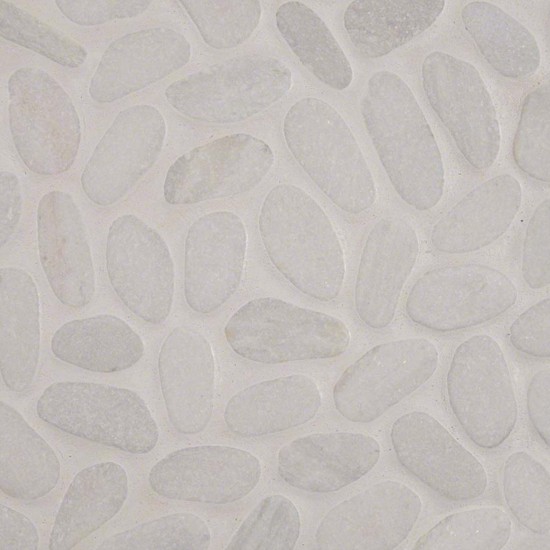 Featured: White Marble Pebbles
Rounding out the list of pebble mosaics is White Marble Pebbles, which is just the thing to add drama, dimension, and texture to your light-colored room design – or an amazing contrast to everything else. Varying in color from palest snow-white to a pastel gray, the tumbled-edge, rounded pebbles are somewhat uniform in size but random in direction and arrangement. This mosaic tile is perfect for backsplashes and countertops, or anywhere else you want to add the beauty of natural stone in its palest, gentlest form.
All of the pebble mosaics mentioned in this list are pre-meshed for easy, inexpensive installation. They are to care for, requiring similar maintenance to any natural stone or marble tiles – a good sealer before grouting helps them resist water and stains. Pebble mosaics create extra drama and eye-catching dimension to interior designs because they bring together various shades and patterns. Just as nature itself is never uniform or predictable, these mosaics echo this natural variability and remind us that life in every household is often random and slightly uncontrolled… and that's okay.