6 Unbelievably Realistic Wood-Look Tile Installs
May 25, 2017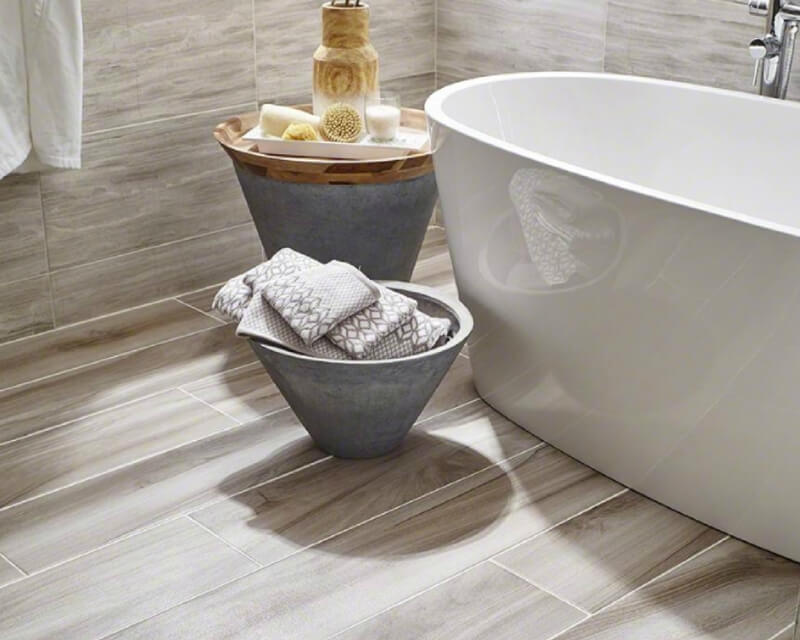 Hardwood flooring adds warmth and character to any room in the home. In fact, when surveyed, most real estate agents say that homes with wood floors often sell for higher prices, and sell more quickly. However, there are many drawbacks to real hardwood flooring that could actually hurt your resale value – and would definitely make it harder for your family to live with. The solution is simple: realistic wood look tile from MSI.
Today's technology has created an inkjet printing process that produces incredibly realistic hardwood patterns on durable, easy-care porcelain tile. Many of these tiles are even textured for an even more authentic effect. When they are installed properly, the look is natural and random, with all the variation you'd expect in hardwood planks. Since the tiles are rectified – meaning, they are perfectly straight and even – they allow for a thinner grout line (as thin as 1/16", vs. the standard 1/8" in most tile installations), which further contributes to the true, natural wood effect.
Color and pattern choices are nearly unlimited, too. Shades range from pale to nearly-black, replicating woods such as classic maple, mahogany, or pine. Porcelain wood look tile can also resemble reclaimed barn wood, complete with saw marks or weathered white paint. The finished looks you can create with wood-look tiles are nothing short of amazing. Here are a few examples to inspire you! You can also visit our floor visualizer tool to see even more wood-look tile varieties and try them with other decorative elements.
Botanica Cashew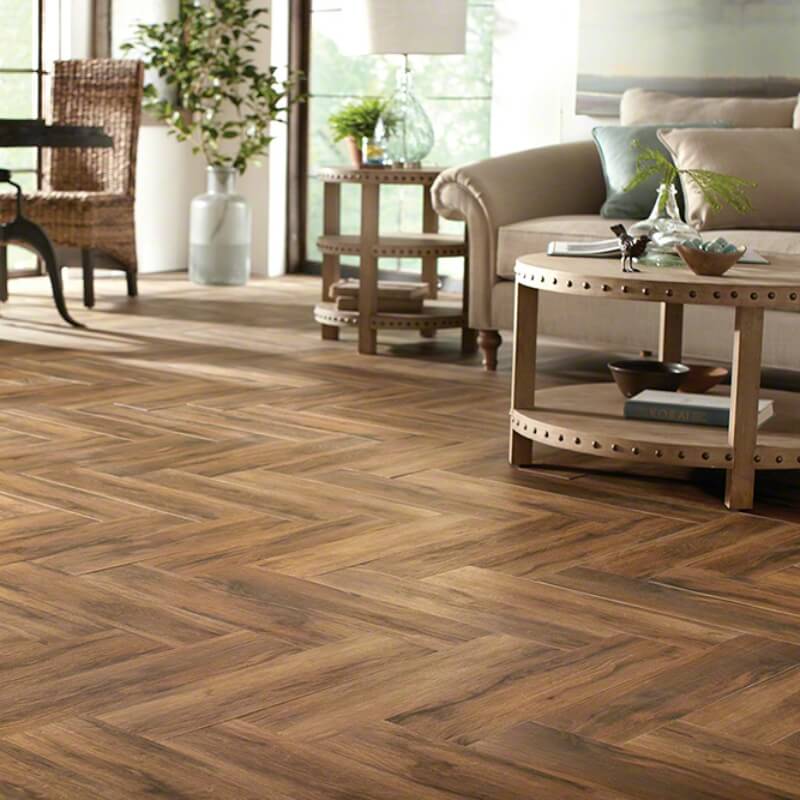 Featured: Botanica Cashew Wood Look Tile
Just like real hardwood, wood-look tile lends itself well to parquet-style patterns such as herringbone. Botanica Cashew Wood Look Tile is a rich brown wood-grain tile, available in 6" x 24" or 6" x 36" planks. These tiles can be cut to size, allowing for creative installations. Once it's installed, you can forget about it, and just enjoy your beautiful room.
Country River Stone Wood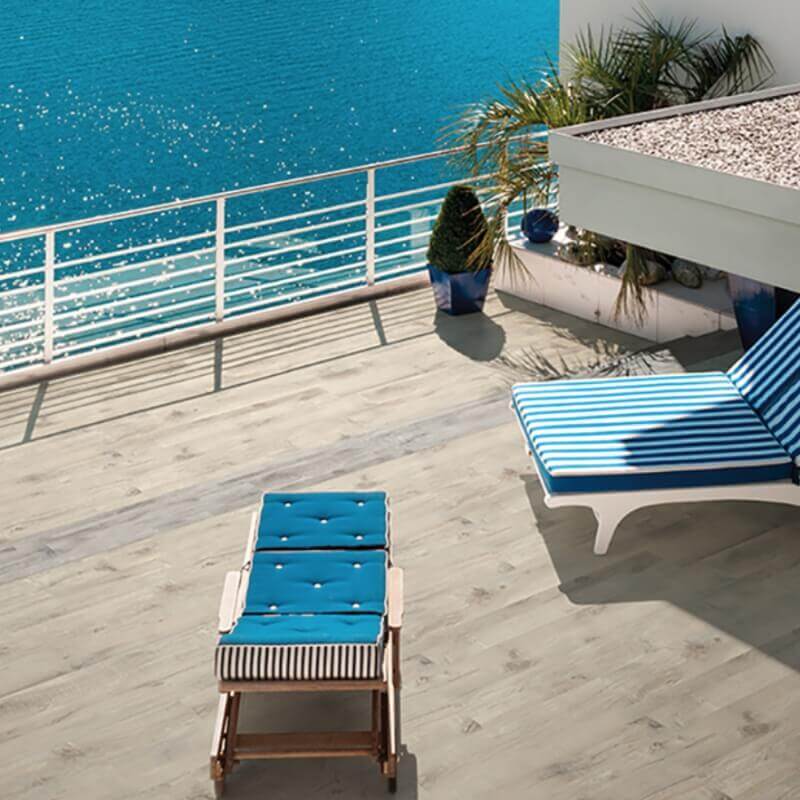 Featured: Country River Stone Wood Look Tile
One of the most popular ways to use wood-look tile is outdoors, on a patio, where it offers the casual elegance of a wood deck without the hassles – no need to stain every year, and no worry about splinters on bare feet. Country River Stone Wood Look Tile is a warm shade of gray, offering the authentic look of weathered wood planks.
Arctic Aspenwood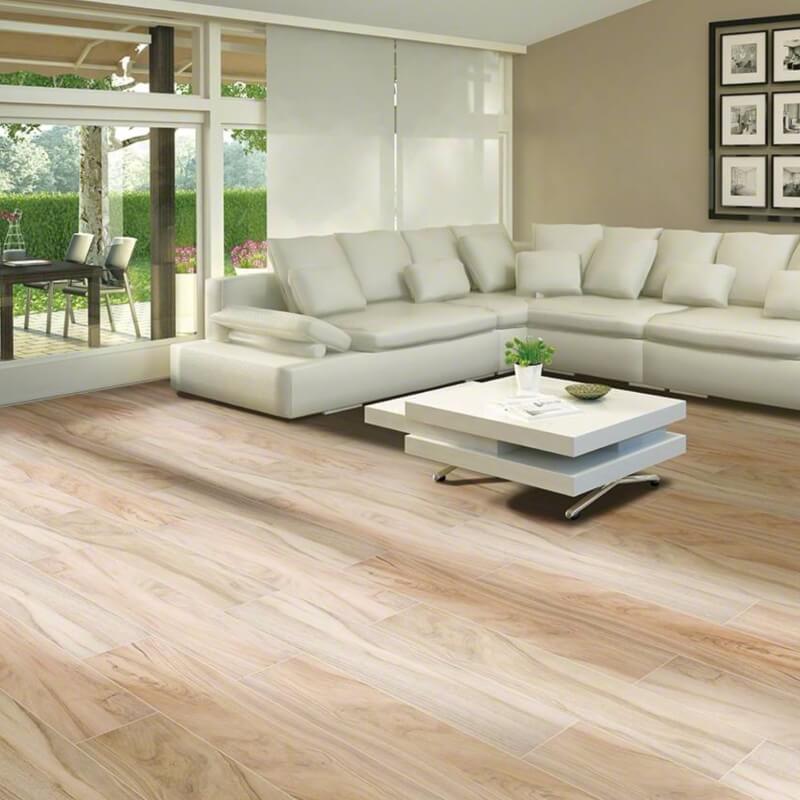 Featured: Aspenwood Artic Wood Look Tile
Displaying realistic wood grain in high variation, Aspenwood Artic Wood Look Tile features tones of beige and cream. When installed in a recommended 33% offset pattern, the swirls, knots, and streaks work together to replicate the look of natural wood floors. Perfect for the family room, wood look tile is so durable you need not worry about damage by pets or rowdy kids.
Vintage Leather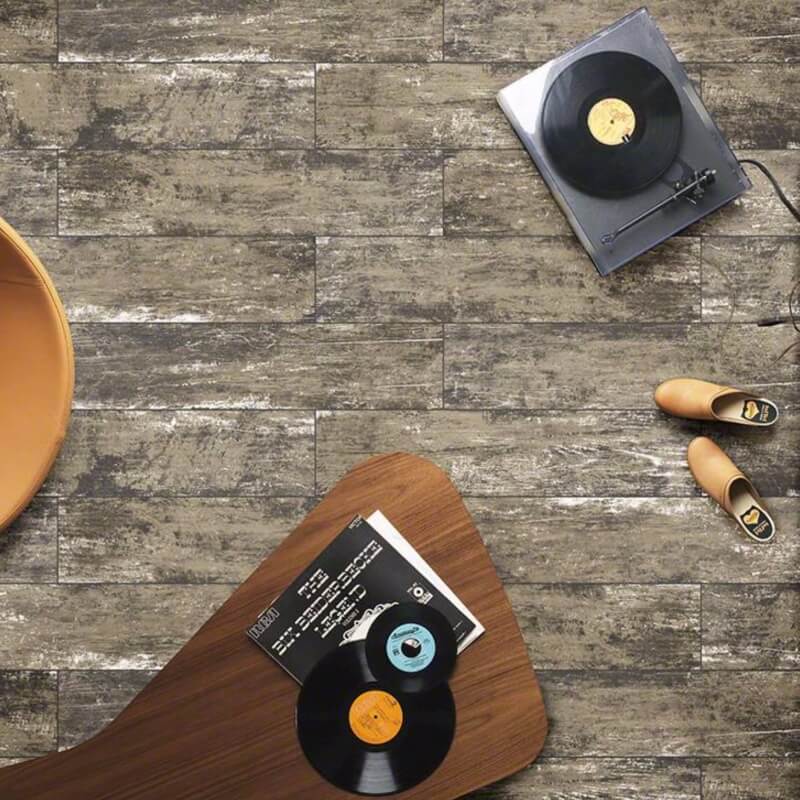 Featured: Vintage Leather Wood Look Tile
Whether your style choices run toward shabby chic, cottage or contemporary, there's a place for flooring that displays the look of weathered, reclaimed barn wood. Vintage Leather Wood Look Tile is full of rustic charm, ideal for family rooms or even kitchens. It's easy to keep clean, and holds up to many years of foot traffic, muddy paws, and spilled drinks.
Palmetto Fog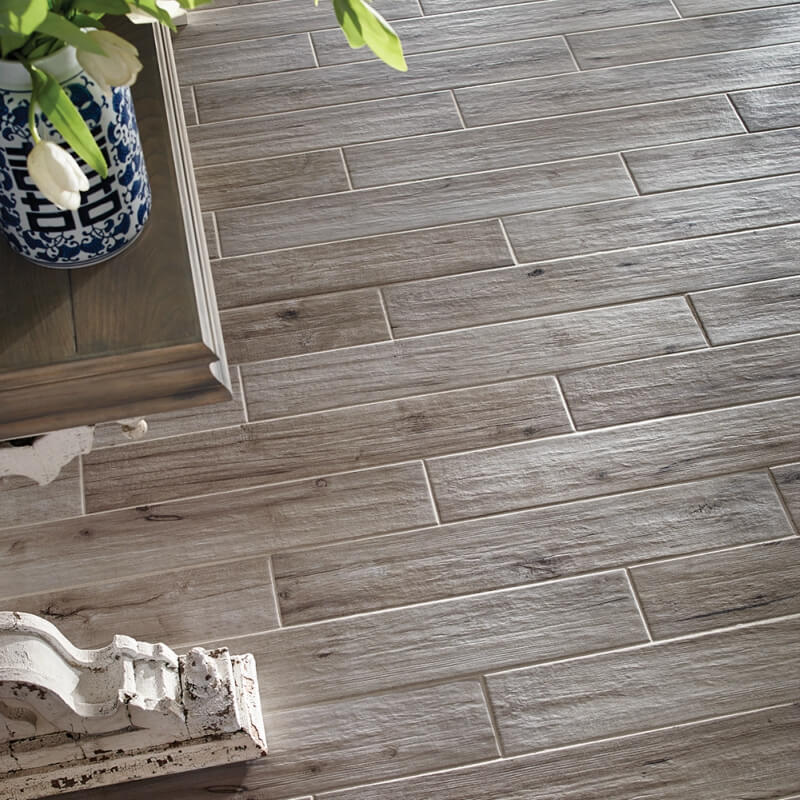 Featured: Palmetto Fog Wood Look Tile
Hardwood flooring is widely used in home entryways, but it comes with a price – constant worry about muddy, wet feet, puddles from snow shoes, and other messes. With wood look tile you can put away the rugs and mats and relax. Palmetto Fog Wood Look Tile, shown here, features soft gray wood graining including dark knots, with a glazed matte finish.
Birch Helena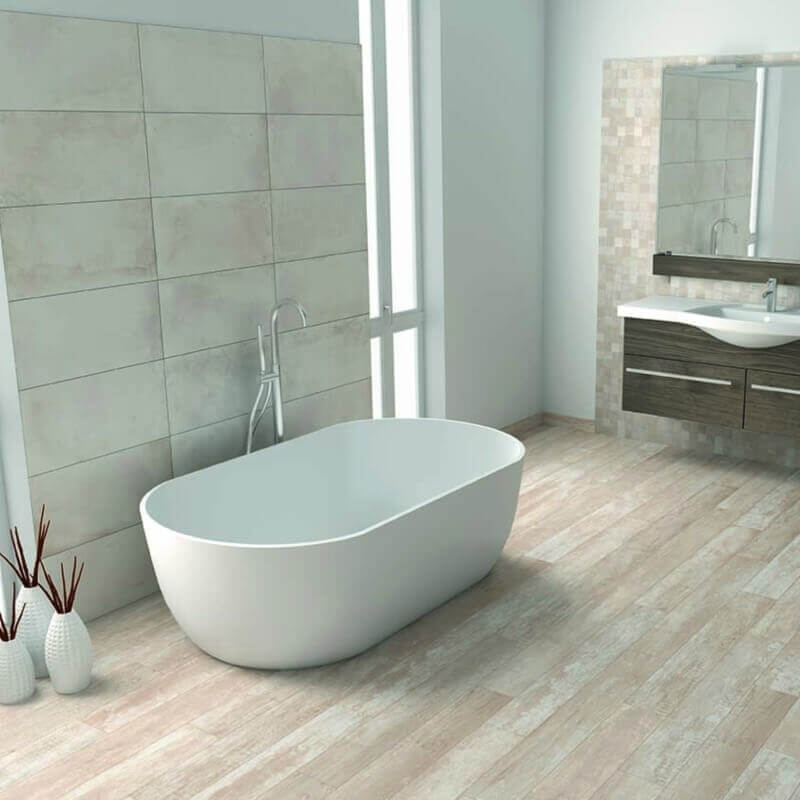 Featured: Helena Birch Wood Look Tile
Who would install a wood floor in their bathroom? You can, if it's porcelain wood tile. Helena Birch Wood Look Tile fills this spa-like bathroom with a soothing, natural character. Sink into a luxurious bubble bath and relax, because a few splashes won't hurt it at all. Porcelain tile flooring is also mildew-resistant, a feature you'll adore.
If you're not already sold on the idea of wood look tile, visit MSI's floor visualizer to play with these varieties and many more. Try them out in various rooms, with your choice of cabinetry, countertops, and other furnishings. We're sure you'll agree — this tile offers the charisma and natural glow of wood flooring without the hassle.
READ MORE ABOUT WOOD LOOK TILE:
Lived-In Wood Look Tile Flooring
Fall Trends Favor Wood Look Tile
How to Nail the Wood Tile Look In the Bathroom
How to Get Perfect Grout Lines For Wood-Look Tile Flooring