How To Install Luxury Vinyl Planks Over Hardwood Floors
January 06, 2021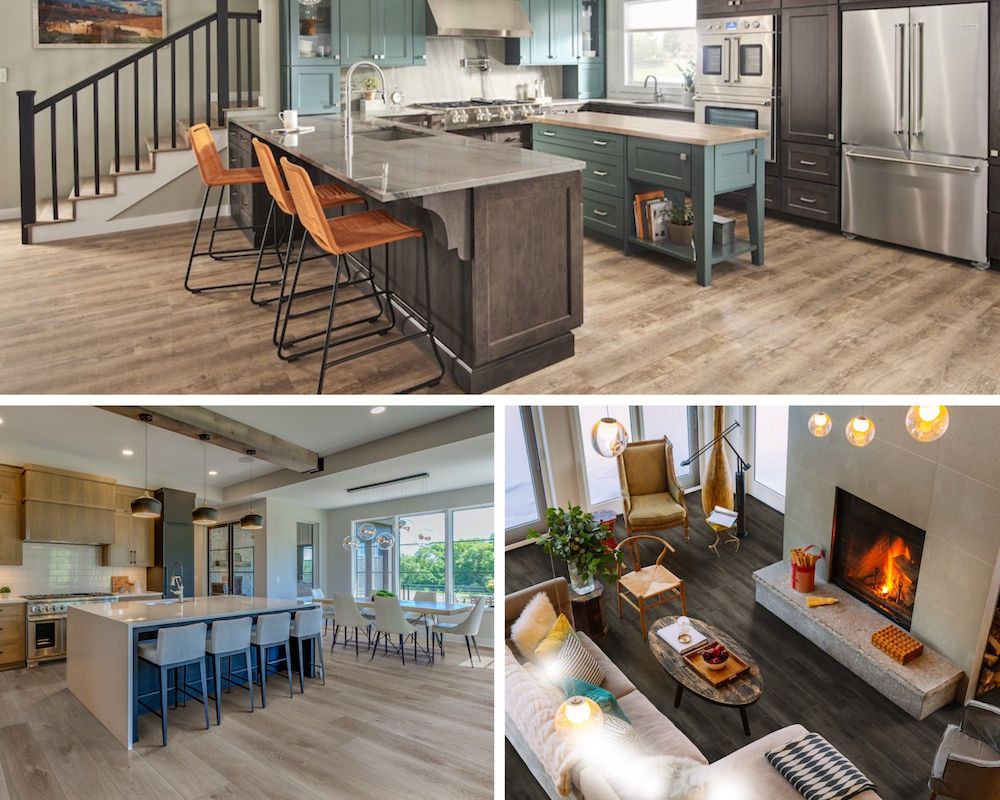 Can your new flooring be easy to install, durable, and gorgeous, or do you have to choose? Not when you install luxury vinyl flooring. LVP is so versatile that it can be installed over nearly every kind of flooring — including hardwood flooring.
Hardwood floors have been famously coveted for many years. It's a classic flooring material, imparting warmth, elegance, and character with its natural beauty. However, hardwood floors have their drawbacks, too. Most problematic is the maintenance they require and their fragile nature. No matter how well-maintained, hardwood flooring will need refinishing to restore it occasionally.
In a historic home, the extra work needed to keep hardwood floors looking their best — and protect them from damage from moisture, termites, and other issues — is worth the trouble. That is, it's worthwhile if you want to carefully stick to the authenticity of its building materials and decor.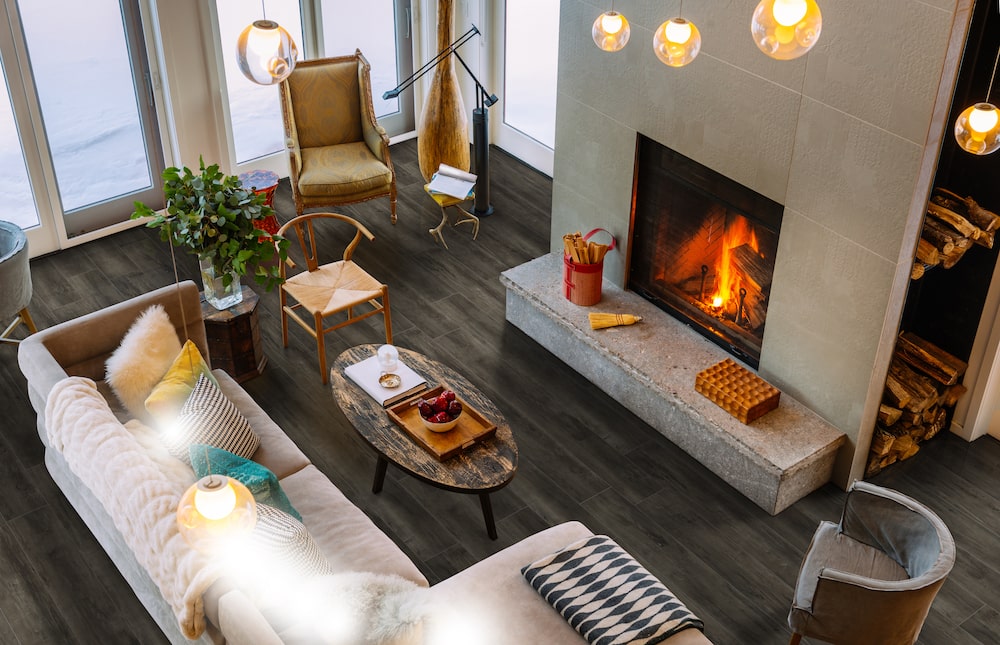 Billingham Luxury Vinyl Planks
In most American homes, however, it's a lot of extra fuss and expense as well, which is completely unnecessary. Why? Luxury vinyl planks have an incredibly realistic wood look, and vinyl flooring care and maintenance is a breeze.
Here's something even better. If you've been graced with authentic hardwood flooring, it isn't even necessary for you to remove it before installing LVP! With some simple preparation and the correct supplies for the job, homeowners can install a new luxury vinyl plank flooring as a DIY project in about a day, depending on the size of the installation area.
Here's how --along with some tips to make the installation go smoothly with a professional finish
First off, let's discuss the difference between glue-down and floating planks. Some vinyl planks come with an adhesive already applied; just peel and stick them in place. Floating planks, on the other hand, do not require any adhesive at all. They have ridges on either side of the bank that click into place beside one another.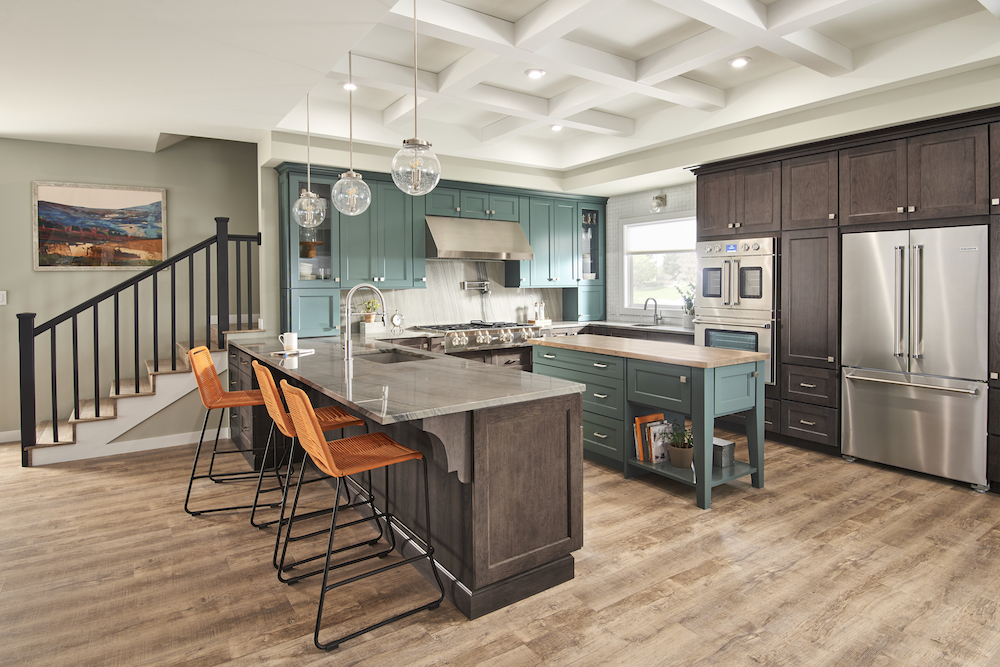 Ryder Luxury Vinyl Planks
While the self-adhesive planks sound like an easy choice, keep in mind that the adhesive won't stick well if the floor underneath is uneven, dusty, or crumbling. Some poorly maintained hardwood floors might fit this description, so you might prefer glue-down LVP with an adhesive you apply with a trowel.
There are numerous floating luxury vinyl flooring benefits. For example, you can add an underlayment if desired; you cannot do that with glue-down planks. The underlayment can provide some insulation, absorb sound, and give the vinyl a softer feel underfoot. It can also provide a moisture barrier, which can be a plus if you are installing flooring in a bathroom, kitchen, or laundry room. Floating vinyl plank flooring can also be installed over an under-floor heating system, which glue-down LVT cannot. Another advantage is that floating LVP does not damage the hardwood floor beneath, so if a future homeowner wishes to restore the natural hardwood, they can.
While floating LVP flooring can be a more comfortable, elegant choice, it is not recommended for large expanses, or for commercial or high-traffic residential areas. The glue-down flooring has extra holding power and is also recommended for homes with wheelchairs.
No matter which type of LVP you choose, before you install it, you must carefully inspect the hardwood flooring to check its integrity. Make sure it has no damage from termites, mold, splitting, lifting, warping, or other issues, and if so, repair it. After all, covering up the problem does not make it go away, and if the floor underneath is in poor condition, a beautiful new LVP floor will be a poor investment.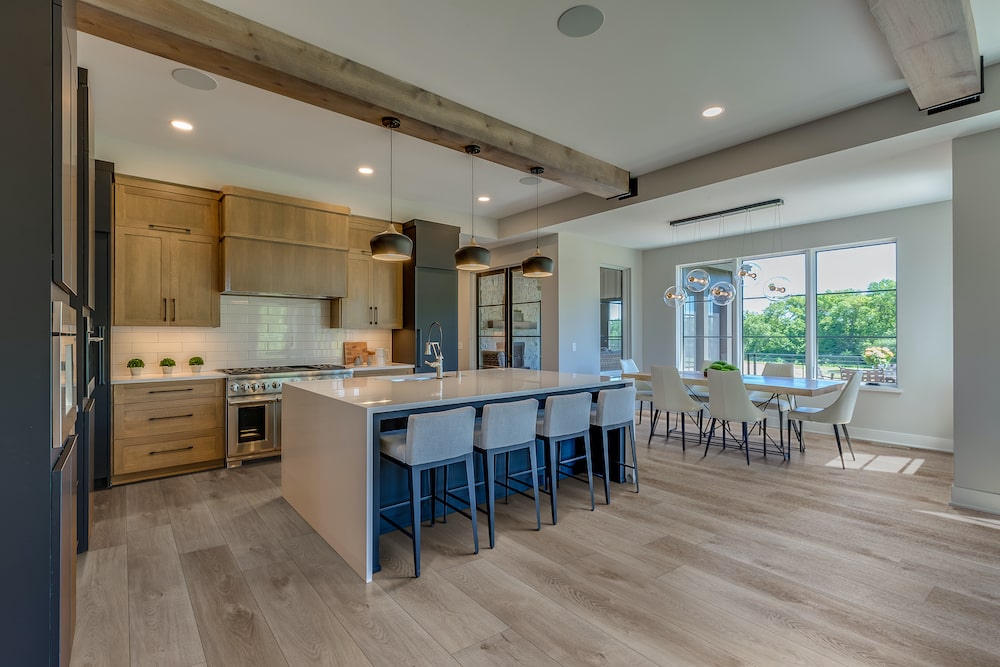 Whitfield Gray Luxury Vinyl Planks
Also, before you install either type of LVP flooring, give it at least 24 hours inside the home to let its temperature acclimate to the room. This is just as important in hot weather as in cold. If you skip this step, you risk cracks or separation as the LVP warms or cools.
Here are the basic steps for luxury vinyl flooring installation.
Materials needed:
Carpenter's square
Level
Tape measure
Rubber mallet, for click-lock flooring
Circular saw
Pry bar
Knee pads
Adhesive, for glue-down LVP that is not self-stick
Prepare the flooring by removing any dirt or debris; check to make sure the floor is level.
Measure the space to determine how much LVP you will need for the job. Some of the planks will need to be trimmed to size.
Remove any molding where the wall meets the floor, so the vinyl planks will lay close enough to the wall and be covered when the molding is replaced.
Using the carpenter's square, mark straight lines where each plank will need to be cut, and use the circular saw to cut each piece to fit. Planks should be installed with staggered ends, typically 1/3 of the plank length. Install randomly, and avoid repeating patterns.
Place underlayment on the floor, if desired.
If installing floating plank flooring, begin installation on the left side of the room, as this makes it easier to lock each plank into place. Use the rubber mallet to gently tap each plank into place.
If installing glue-down flooring, follow the manufacturer's directions for mixing and applying adhesive. If any adhesive gets on the top side of the planks, wipe off immediately. Use a kneeling board to avoid kneeling directly on freshly installed planks. Finish by using a 100-pound, three-section floor roller to ensure planks are evenly bonded.
Reinstall edge molding.
No matter which type of LVP you choose to install over your hardwood floor, as long as the hardwood is in good shape it's a simple process that you can do yourself if desired. Take into consideration the pros and cons of each type, as well as the wide variety of colors and patterns available. As long as you prepare the hardwood before installing and follow the other necessary tips and procedures, you will be blessed with an easy-care floor that will enhance your home's beauty for many years.
What's not to love about low-maintenance vinyl flooring? As lovely as they are, they won't clean themselves. To keep your Luxury Vinyl Planks looking their best through the years, follow these handy luxury vinyl care and maintenance tips.


Are you interested in luxury vinyl flooring for your home? Chat with us online, visit an MSI showroom, or an MSI authorized dealer near you.
More About Luxury Vinyl Tile
How To Install Vinyl Plank Flooring On Top of Tile
The History of Luxury Vinyl Tile
How to Get Professional Results Installing Luxury Vinyl Tile Flooring
Luxury Vinyl Tile for High Traffic Areas
4 Steps To A Perfect Vinyl Flooring Installation

For more detailed information on vinyl flooring, including installation costs for Luxury Vinyl Flooring, visit our website for our entire line of luxury vinyl planks.
Are you ready to get your DIY project started? First, find the perfect Luxury Vinyl Tile and Luxury Vinyl Plank flooring by reviewing MSI's expansive Luxury Vinyl Flooring Collection, then find and visit an MSI Luxury Vinyl Flooring Dealer in your area