5 Ways Hotel Designers Are Using Modern Quartz To Enhance Their Look
December 24, 2021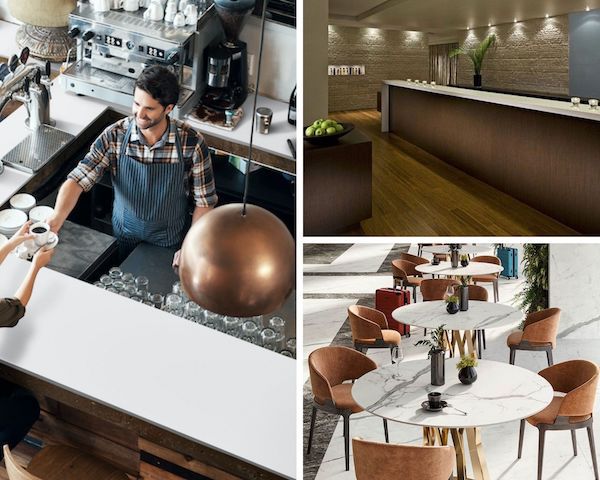 Hotels aren't just providing their guests a comfortable place to spend the night — they are offering an experience. Whether people are arriving for a business trip or a family vacation, you'll want them to appreciate the hotel's elegance as much as its comfort, cleanliness, and service. Modern quartz is key to accomplishing those goals, because its upscale, designer beauty is guaranteed to last. What's more, it's easy to keep clean and hygienic, a quality that is appreciated by guests now more than ever.
Quartz surfaces are incredibly versatile. In a hotel setting, there are so many places to use it, from first impressions at the hotel reception desk to the vanity tops in every hotel room. Surfaces that are durable and easy to clean are a necessity, but with quartz they can be beautiful too, offering the look of granite or marble without the upkeep or worry associated with those natural stones. In this guide, we'll explore five ways designers are creating impressive spaces in hotels using MSI's marble- and granite-look quartz.
MONTCLAIR WHITE QUARTZ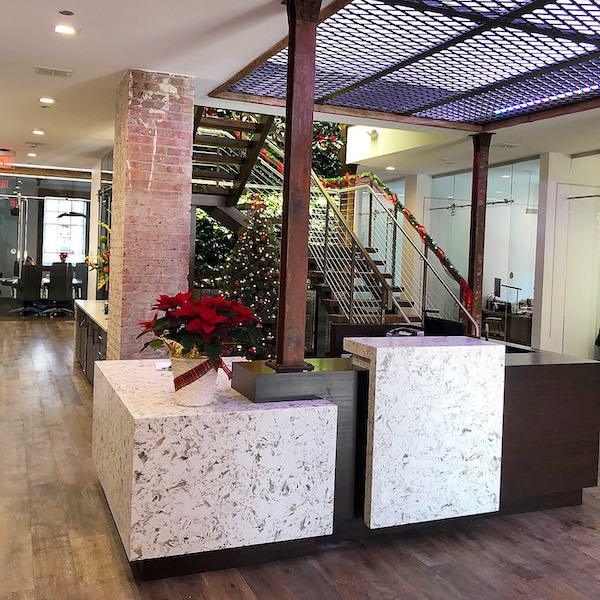 Featuring a dramatic swirl of translucent gray swirls on a creamy white background, this granite-look quartz is sure to impress anywhere it is used. That's why it's an especially good choice for hotel reception areas, where it can have the greatest impact. When deciding between quartz vs. granite, consider how low-maintenance engineered quartz will be – no need to seal or worry about stains and etching.
Use it for the reception desk where your guests are welcomed and assigned a room, or employ it elsewhere in the lobby or lounge area. Montclair quartz with a bright polished finish works equally well in hotels with traditional and contemporary styling, and is especially gorgeous with vertical, waterfall edges.
PREMIUM PLUS WHITE QUARTZ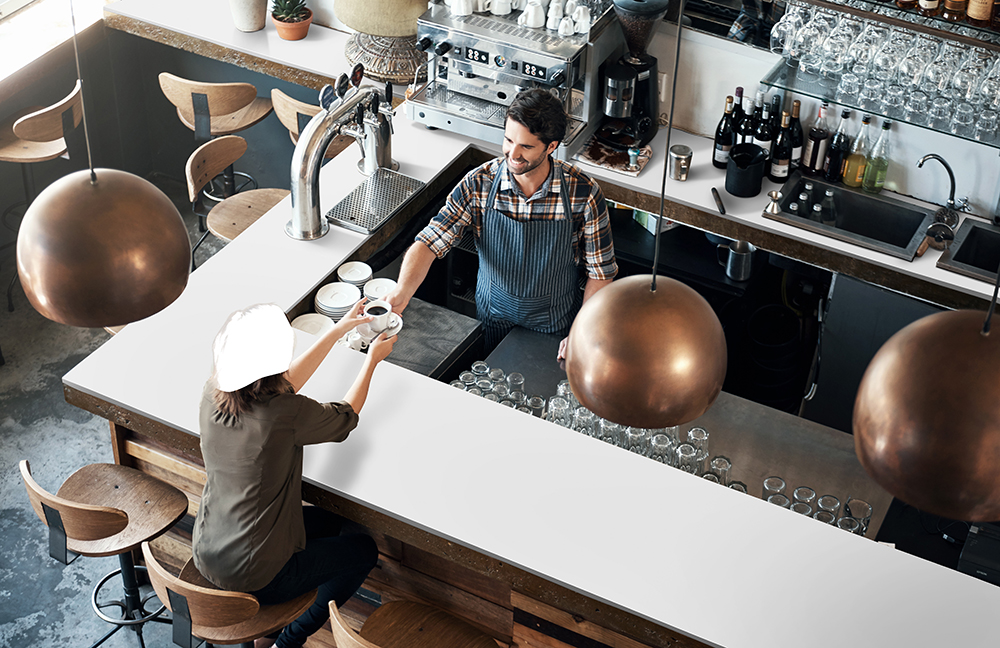 Many hotels have areas where food and beverages are served, such as bars and lounges, coffee shops, restaurants, or breakfast bars. In such areas, pure white countertops can make quite an impact. Not only are they modern and classic, they also project an image of total cleanliness and attention to detail. They are equally important behind the scenes as commercial kitchen countertops.
Pure white countertops in the modern kitchen or serving area can be problematic, though, when food and beverages are involved. Imagine spilling coffee or wine on white marble! With MSI's Premium Plus White Quartz, that will never be an issue. Quartz countertop care and maintenance is easy because it will never need to be sealed to remain completely waterproof and impervious to stains. They also resist scratches and other damage, so your beautiful white counter will stay that way for a long time.
CARRARA IRIS QUARTZ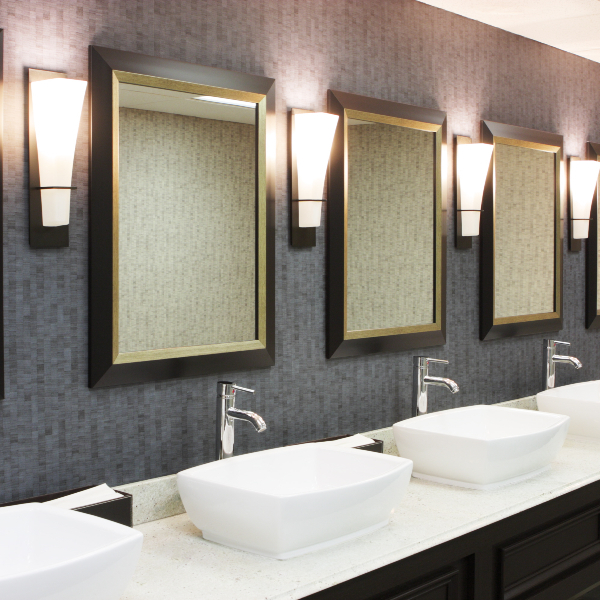 Hotels, restaurants, lounges, and other public places need to provide restroom facilities. These can be much more than a necessary amenity — they can also be yet one more opportunity to wow your customers. With Carrara Iris Quartz, you can offer the look of delicate, upscale Italian marble at a practical price point. Your investment is even better, considering that you won't need to replace these premium surfaces for decades.
Quartz countertops are completely waterproof with no need for sealing or other maintenance. Nowhere is that as important as a public restroom! Quartz doesn't typically need harsh chemicals for maintenance, but in areas where they are needed, quartz holds up much better than many alternatives. For the same reasons, many hotels install MSI's quartz countertops in guest room bathrooms as well. And don't forget the matching backsplash!
STATUARY CLASSIQUE QUARTZ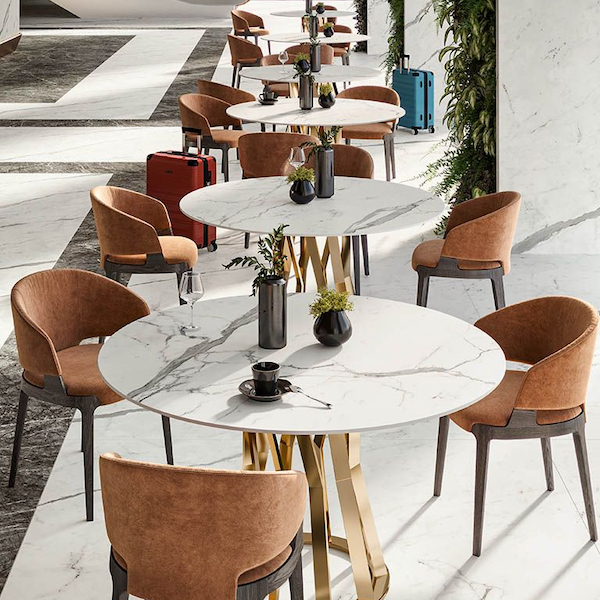 Whether your hotel offers a full-service restaurant, a breakfast service, or just a vending area, guests appreciate a comfortable and attractive place to sit. You have many options when choosing table surfaces, but nothing impresses customers more than beautiful, classic marble. Statuary Classique is a quartz that looks like marble, featuring elegant gray veining on a soft white background.
In nice weather, an outdoor seating area is enjoyable, too. That's another reason to choose quartz tabletops. While quartz isn't recommended for outdoor use, in direct sunshine — for example, on a pool deck — it works great on areas with a bit of shelter. That's because it's 100% waterproof. It won't be damaged by water, etching, or the other potential stains that natural marble is prone to. To keep it clean, all you need is a soft cloth and mild cleanser.
SHELL WHITE QUARTZ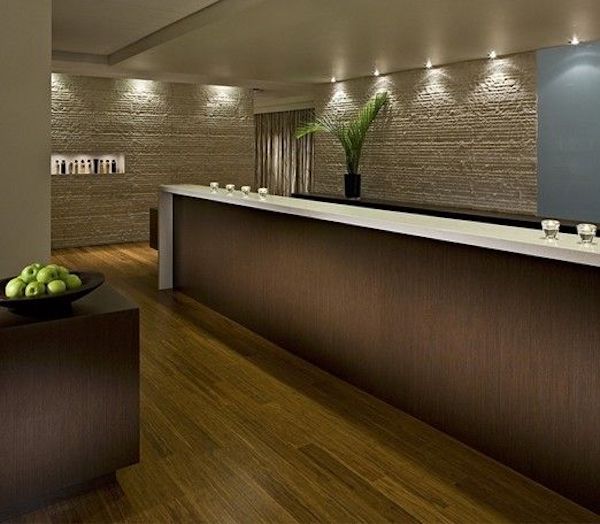 The reception desk in a hotel is one of the busiest surfaces in the entire building. It has two purposes — to provide a practical countertop material that can be kept clean and hygienic, disinfected regularly, and of course, to impress guests with your impeccable taste.
Shell White Quartz is a marble-look engineered surface that ticks both of those boxes neatly. It's a neutral creamy white shade with subtle veining, and it's right at home in traditional, contemporary, rustic, and just about any type of decor you can envision. This versatility makes it an exceptional choice for this important countertop area, because you can renovate the whole lobby and keep the countertop in place, knowing it will fit right into any color scheme.
Choosing the ideal premium quartz surface for your hotel surfaces can be a challenge. We are always here to help, so feel free to contact us with any questions!
Read More About Modern Quartz Countertops
How To Pair Traditional Natural Stone Backsplashes with Modern Quartz Countertops
Top 10 Ways to Master a Bathroom With Modern Quartz Countertops And More!
5 Stunning Modern Quartz Kitchen Islands
READ MORE ABOUT HOTEL AND HOSPITALITY SURFACES:
Check Out Our Hospitality Gallery For Hotel Flooring And Countertop Inspiration
Hotel Flooring And Countertops For the Perfect Hospitality Bar Design
Hotel Flooring: Which Luxury Floors Are the Easiest to Maintain In High Traffic Areas