Affordable White Quartz Countertops That Mimic Carrara Marble
March 31, 2018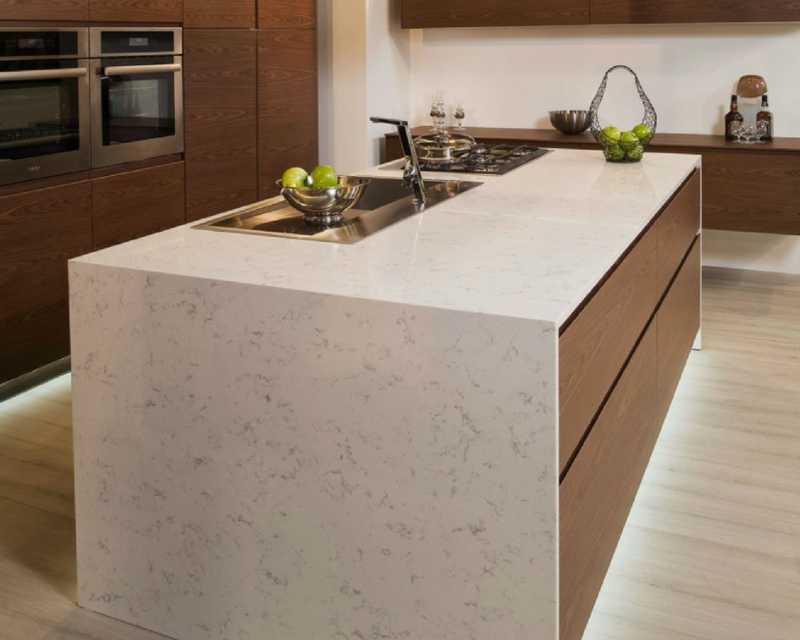 Carrara marble is well-known as a premier building material and is one of the most elegant countertop surfaces available due to it's delicate veining and pure white background. However, marble doesn't come without some drawbacks, namely a high-maintenance care routine that just doesn't fit in with a busy lifestyle.
If you've got your heart set on Carrara marble but aren't looking forward to taking extra precautions when cooking and cleaning, don't despair. Consider opting for white quartz countertops that perfectly mimic the look of marble without costly and inconvenient re-sealing and maintenance.
Carrara Marmi Quartz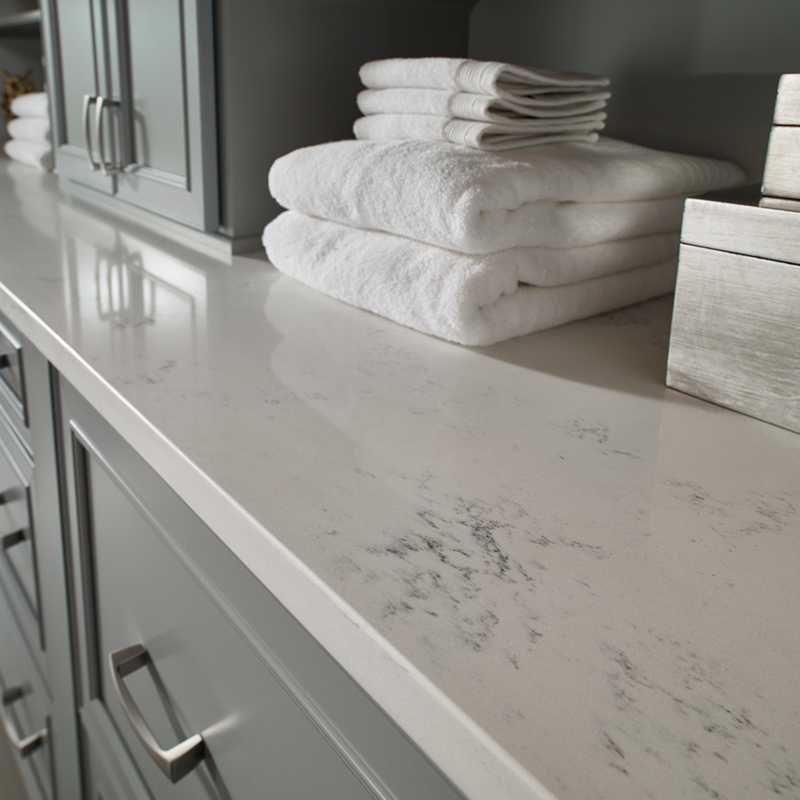 Featured: Carrara Marmi Quartz
Featuring a light grey or white background and a fine grey veining pattern that is soft and striking all at once, Carrara marble has a look that is well-known to discerning homeowners.
Even though marble is widely revered, quartz that looks like marble can fool even the savviest shoppers. In this close-up image of Carrara Marmi white quartz countertops, you can't even tell the difference between marble-look quartz and the real thing.
Cashmere Carrara Quartz
What you will be able to tell a difference in between marble and quartz is the care routine. Marble is as beautiful as it is delicate, and many people aren't willing to invest in a costly countertop that requires so much up-keep. Now, you can have the stunning beauty of Carrara marble in easy to clean, maintenance-free quartz with MSI's Carrara-look quartz countertops.
Man-made modern quartz is non-porous and extremely hard, making it resistant to bacteria, staining, and chipping. Home chefs will love white quartz countertops like the Cashmere Carrara shown in this kitchen because they can now cook gourmet meals without worrying about red wine and tomato sauce stains.
Gray Lagoon Quartz
If you're looking for a twist on traditional Carrara countertops, then Gray Lagoon quartz is just the thing for you. A silvery grey ground and warm gold veining combine to create a quartz countertop that has all the sophistication and glamour of the finest marble without the hassle.
Carrara Caldia Quartz
Carrara Caldia continues along the same color range as Gray Lagoon quartz with delicate golden veins on a creamy grey background. This versatile quartz is equally at home with traditional decor or sleek modern interiors, and despite its good looks Carrara Caldia can handle wear and tear from even the busiest environments.
Carrara Grigio Quartz
Our last quartz countertop feature, Carrara Grigio, may even top the beauty of genuine Carrara marble with it's thick, soft grey veins on a winter white background. The neutral color palette has mass appeal and works well with most styles of decor, while the bold pattern on this slab makes a major impact in any space.
These amazing quartz countertop colors are just the beginning of what MSI has to offer, and with so many options to choose from you're sure to find the perfect quartz countertops for your home or business. So if you love the look of Carrara marble but are wondering how to keep a white kitchen white, look no further than stain-resistant white quartz countertops from MSI.