Types Of Landscape Rock For Hardscaping Projects
September 11, 2020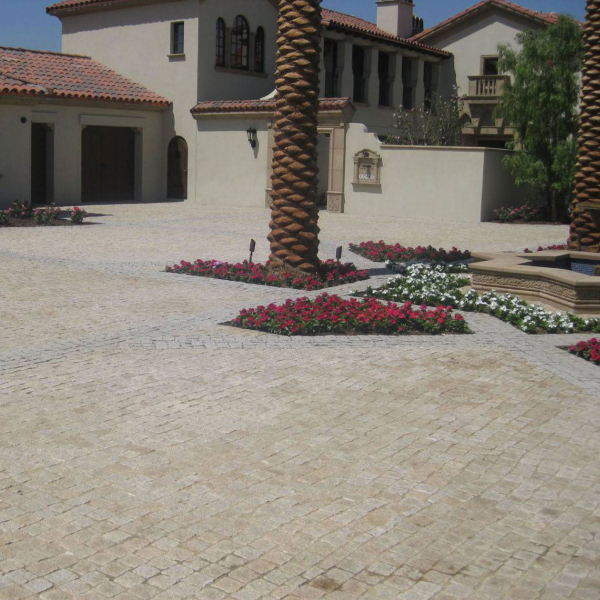 Landscape rocks are the perfect element to take your landscape to the next level. Whether your dream backyard incorporates a single rock type to create a classic look or you want to mix and match various landscape rocks for a one-of-a-kind hardscape, there's something to match everyone's design preferences.
From pebbles to stepping stones, landscape rocks make it easy to add texture and dimension to any space. Apart from looking great, landscape rocks also help with soil erosion and weed growth—a win-win for many homeowners! But with so many types available, it can be hard to narrow down which landscape rocks will make your vision come to life. To help you make a more sound decision, we've outlined the different types of landscape rocks and what they're best used for.
Types of Landscape Rocks
When looking to incorporate landscape rock into your existing outdoor space, it can be overwhelming with the assortment of options. Browse the different types of rocks and determine how you'd like to use them to create a more visually-appealing space.
Pebbles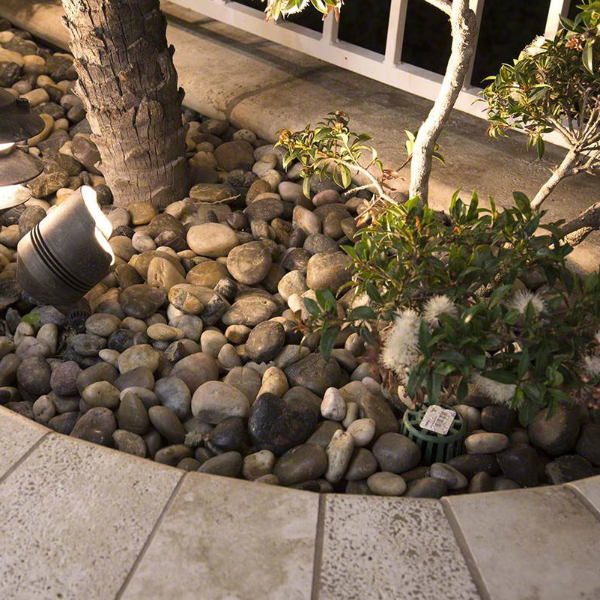 Pebbles are available in a variety of sizes and colors, making it easy for homeowners to create a hardscape that blends with the other elements in their yards. These little rocks are a very versatile choice and can be used as the main element of a pathway or laid between stepping stones or pavers to create a blended look incorporating multiple rock types.
Don't want a pathway made of pebbles? Incorporate these polished pebbles into your landscape as a way to protect the soil from temperature extremes, prevent weed growth, and enhance the natural look of your garden. They can even be added to a focal water feature for additional water filtration!
Pebbles are small and come in beautiful, earthy tones of grays and browns, making them easy to blend into any landscape.
River Rock
Turn your backyard into a luxury oasis by incorporating river rocks into your landscaping design. These small, sleek rocks are smooth to the touch. River rock has no sharp edges because it has been smoothed down from water running over it.
River rocks are ideal for garden water fixtures, garden beds, or walkways. Depending on your landscaping needs, you can even use river rocks as mulch. While river rocks are more expensive than mulch, you won't have to replenish them each year, saving you money and headaches over time.
No matter how you plan to use river rocks in your landscaping, you can find the ideal shape, size, and color to match your preferences. River rocks range from smaller than an inch to more than two inches and are available in grays and browns, making them extremely versatile.
Flagstone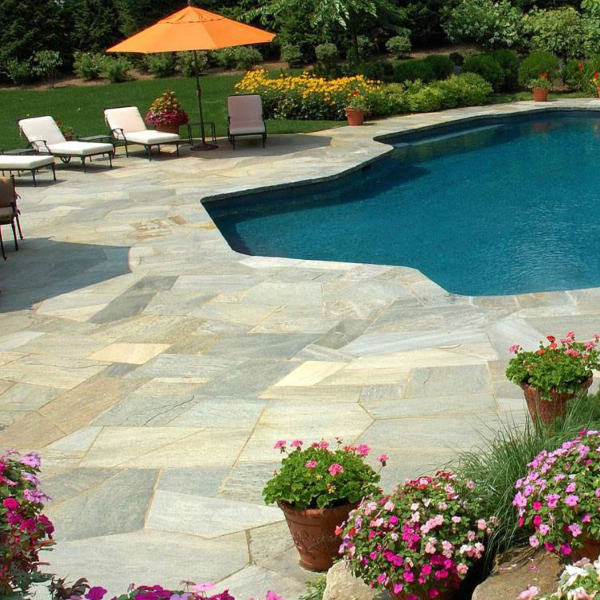 Are you considering adding a walkway or pathway in your backyard? Or maybe you're looking to create a seating area overlooking your garden or water feature? Whatever the case may be, you need to consider beautiful flagstone rock. Flagstone can be used to create beautiful pathways or patio areas that are durable and visually appealing.
The two most popular types of flagstone are patio and select. Patio flagstone typically comes in 12" to 18" tiles that are ideal for stepping stones, patios, and pathways. Select flagstone comes in larger 18" to 36" slabs that come in structures shapes like rectangles and squares, as well as natural, jagged shapes.
Flagstone can be laid in a layer of sand or in concrete for a more permanent hardscape, allowing you to create a pathway that's custom to your design preferences. Durable flagstone can be used in both interior and exterior projects including flooring, landscaping, countertops, and walls, making them extremely versatile for any application of your choosing.
Pavers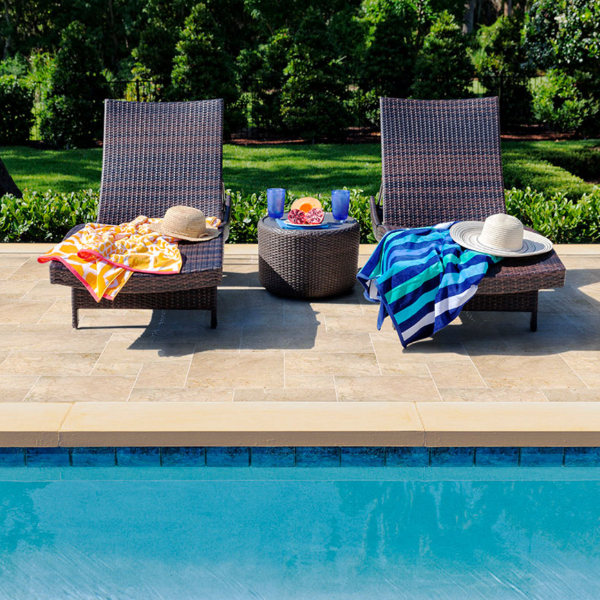 Pavers are an ideal rock to incorporate into your outdoor space because of their appearance and durability. These concrete rocks are molded to resemble stone or brick, making them a visually appealing choice for pathways and patios.
Pavers have increased in popularity because of their longevity. When creating pathways, you need to consider elements that make the walkway susceptible to craving like tree roots, shifting ground, and changing temperatures. Create a pathway with multiple pavers is more durable than poured concrete because each of the pieces can move independently, reducing the chance for cracks in the concrete. The pavers are slightly spaced out, allowing water from rain and snow to runoff and filter through the joints instead of puddling and causing water damage.
Cobbles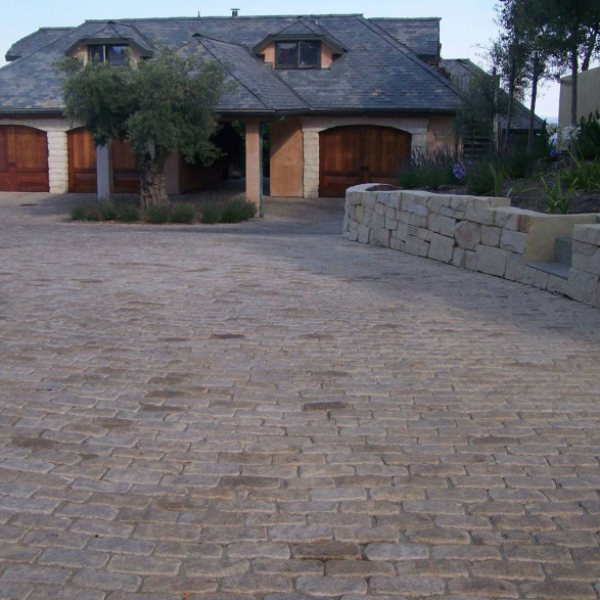 Similar to pavers but with a more rustic appearance, cobbles are medium-sized rounded natural stones used to create pathways, water features, retaining walls, patios, and other hardscapes.
Historically, cobblestones were a very popular choice for hardscapes but stopped being used as much because of the uneven height of the stones. Nowadays, aesthetically-appealing hardscapes can be constructed of cobblestone with a relatively flat surface—providing the beauty you crave without a tripping hazard. Installation is key when it comes to creating a cobblestone pathway.
Cobblestones are great used as accent pieces or as the focal point of your landscape. They can even be blended seamlessly with other rock materials like stepping stones and river rock to create a truly unique patio or walkway.
Stepping Stones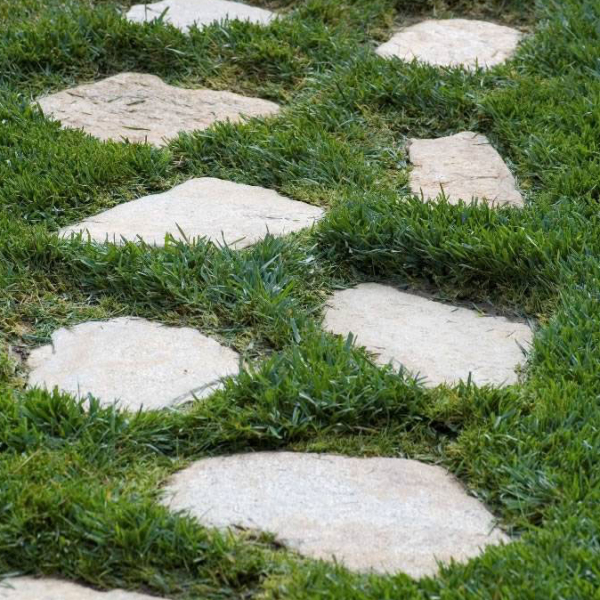 When you want to create a more natural-looking pathway through your yard, look no further than stepping stones. They are the ideal solution for creating an eye-catching area at the end of the path or a conversation piece surrounding your fountain, bench, or water feature. These natural stepping stones can be made of granite, sandstone, slate, and limestone, blending seamlessly into your outdoor space. Their subtle, earthy tones match any aesthetic and make it easy to create a beautiful pathway. Lay your stepping stones out in a unique pattern to:
Direct foot traffic to a certain area in your yard
Draw attention to a focal point like a garden or water feature
Adding texture and color to your landscape
Creating a defining border around a specific area
Create a unique pathway that is designed perfectly to your landscape with natural stepping stones.