Mosaics: Increasing Popularity Of Glass & Stone/Glass Blends
March 06, 2012
Imagine a beautiful surface for your bathroom walls, countertops, backsplash, flooring, fireplaces, and more that is designed to your unique taste and preferences, requires little to no maintenance, is easy to clean and lasts for decades. It's mosaic tile, created from glass, natural stone, or a combination of the two. If you can dream it, glass and stone mosaic tile can make it happen.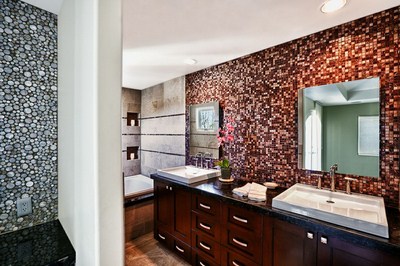 Most people are already familiar with natural stone tiles used for mosaic sheets, medallions, borders, accent pieces and inserts. It's a perfect material for a wide range of design applications, from the rustic to the classic and contemporary. Your choice of natural stone should depend upon the application you have in mind – granite, for example, for kitchen countertops, marble for baths.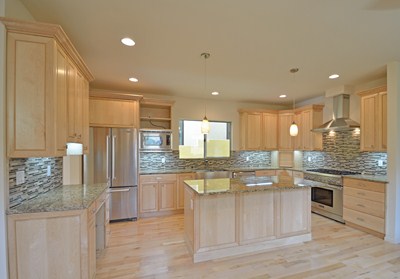 Glass, however, does not have any such design restrictions. From well-designed homes to luxury hotels, it is proving infinitely adaptable, coming to you in a variety of sizes, colors, shapes (including round!), textures, and more. Transparent colored glass, in vivid jewel-toned hues or light and airy pastels can create a shimmery three-dimensional effect. Glass is also opaque, marbled, or iridescent, reminiscent of the 1930s Carnival Glass dishware that is so highly collectible today.Crackled, crystallized, icy, glittery, iridescent, frosted, mirror-smooth, mimicking porcelain ceramics, or matte-textured—these are just a few of your choices with glass tiles. Glass tiles can set a mood that is formal and classic, sleek and contemporary, or light and airy as a beach bungalow. One hot trend for 2012 is the retro look of glass of subway tiles.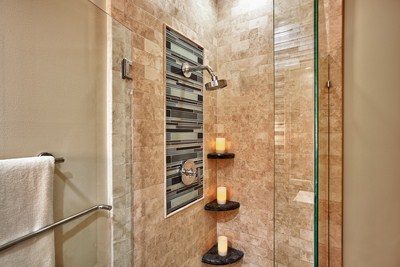 Hotter still: combining
glass mosaic
tiles with natural stone tiles. The combination of the shiny beside the matte, the colorful beside the neutral, the one-tone glass beside the variegated and veined stone can create unique designs and the one-of-a-kind results that everybody wants in their home. The two materials work great together because they have similar care requirements; both are easy to maintain and clean. Mosaic tile manufacturers have milling techniques that can create both glass and tile in uniform squares so they fit well together and co-exist in a complementary way. Pre-designed patterns and shapes make planning a snap and application easy and fast, even for weekend DIY projects. These designs can make installation easier, but it's important to note that you can also create your own custom look with smaller mosaic tile sheets or even individual tiles that you can combine and arrange any way you desire. Tile retailers often provide design boards that offer suggestions and ideas to inspire your own projects, to help you stay on budget and to create an impressive, long-lasting result. It's worth your time and effort to look into these hot new stone/glass mosaic tile blends, because they open up a new world of design options.
Let Mosaics Inspire!