Current Obsessions: Limestone-Looks With Engineered Quartz Countertops
April 01, 2017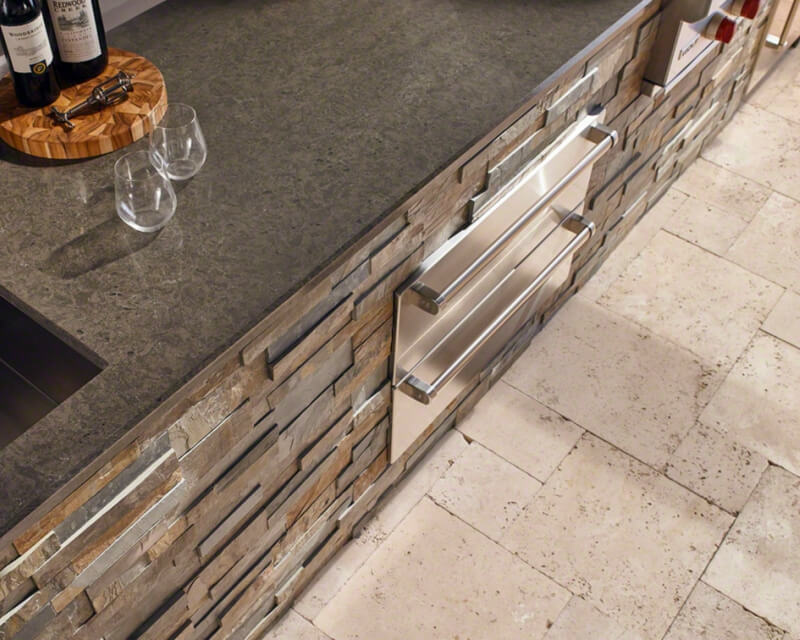 There's a lot to love about limestone countertops – the natural beauty, the rustic allure. But while it is a hardy countertop surface, like all natural stones it has extra maintenance needs. Is it worth the trouble?
Most homeowners say yes! But not everyone has the time to spare on pampering a countertop, no matter how gorgeous. Never fear – MSI has the solution, an equally attractive alternative to natural limestone: Quartz countertops.
Modern quartz countertops are engineered; they blend natural quartz with resins that create an incredibly durable, nonporous, maintenance-free surface. Our Limestone Looks echo the ancient rock form, delivering its timeless, rugged beauty – and it's guaranteed to stay just as beautiful for years to come. Messy cooks? No time for more than a quick wipe-down? No problem.
Solare
Limestone's beauty comes from its earthy charm, and Solare Quartz delivers it in shades of beige dappled with specks and subtle swirls of gold. This low-variation neutral is equally at home in both modern and traditional-style kitchens, and can even be used for your outdoor living spaces.
Sahara Beige
In shades of pale cream, Sahara Beige Quartz has flecks of light brown that give it subtle dimension. This is a versatile material that may be used on the most hard-working kitchen surfaces. This beige quartz lends itself well to minimalistic, modern décor, but with its creamy elegance these quartz countertops would also look great in a cottage-style kitchen – perhaps with a decorative edge treatment.
Sandy Cove
If you think "plain" when you consider limestone, Sandy Cove Quartz will change your mind. It features a more dramatic blend of beige, brown, and cream swirling together with lots of eye-catching movement. With a polished surface, this limestone lookalike can turn your center island into an elegant focal point.
Stellar Gray
Stellar Gray Quartz features a mid-tone gray background dotted with both darker and lighter contrasting flecks. It's low-key, understated, but oh, so easy to blend with your most creative décor ideas. We love the way gray quartz looks paired with stainless steel appliances and bold contrasting accents.
Almond Roca
Featuring subtle "pebbles" of softly contrasting shades against a pale beige background, Almond Roca Quartz is a sophisticated choice that goes along with just about everything, no matter what style you prefer. Like all of MSI's limestone-look quartz, this color is tough enough for commercial use, so you know it'll hold up to your own kitchen adventures!
Mother nature gives us many materials that look great on our countertops – but she doesn't always make them easy to care for. MSI offers many quartz countertop colors that resemble natural stone. So even if you've got more on your mind than maintaining and worrying about your kitchen countertop, you'll never have to give up on that earthy, natural beauty.