Seize The Gray! A Guide To Our Most Popular Gray Quartz Countertops
September 02, 2020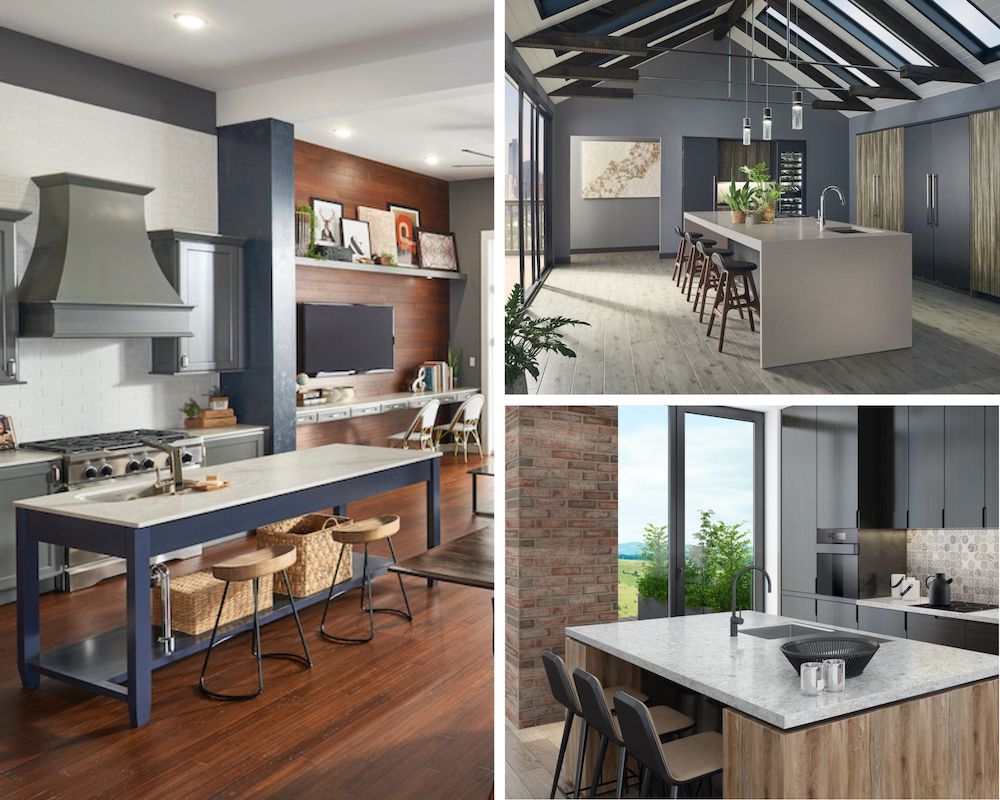 If you've spent countless hours browsing Pinterest or Houzz for kitchen inspiration, you've likely stumbled across hundreds of beautifully designed kitchens that feature gray quartz countertops. When you first think of the color gray, you might picture a drab or bland color scheme—but that's not the case at all! With so many shades and hues to choose from, there's a perfect gray countertop to make your dream kitchen a reality.
We've put together a guide to our most popular gray quartz countertops to help you determine the ideal surface for any space.
7 Shades Gray to Beautifully Tie Together Your Space
Are you considering gray quartz countertops for your kitchen or bathroom? If so, we're completely on board with that decision! With so many shades of gray for you to choose from, it's easy to find quartz countertops color that perfectly complement your desired aesthetic because gray can be paired with any just about anything!
No matter the look and feel you're hoping to achieve in your kitchen or bathroom, we have gray quartz countertops to match your desired style. There's no need to be overwhelmed with the number of options for you to choose from—gray quartz countertops can be incorporated into almost any style from traditional to rustic to modern to industrial. Take a look at our favorite gray quartz countertops and design tips to seamlessly work sleek gray quartz countertops into your brand new kitchen or bathroom.
Vena Carbona
Vena Carbona Quartz
Vena Carbona Quartz is one of our all-time favorite gray quartz countertops because of its versatility and ability to fit seamlessly into any space. The subtle weathering and veins add texture and dimension without taking away from other design elements in your kitchen or bathroom. Depending on your room's color scheme, these beautiful gray quartz countertops offer a subtle contrast to your accent colors. Consider incorporating two-toned cabinets or sleek hardware to really accentuate the dimension within the countertops. Doing so will make the gray in the quartz countertops pop!
Rolling Fog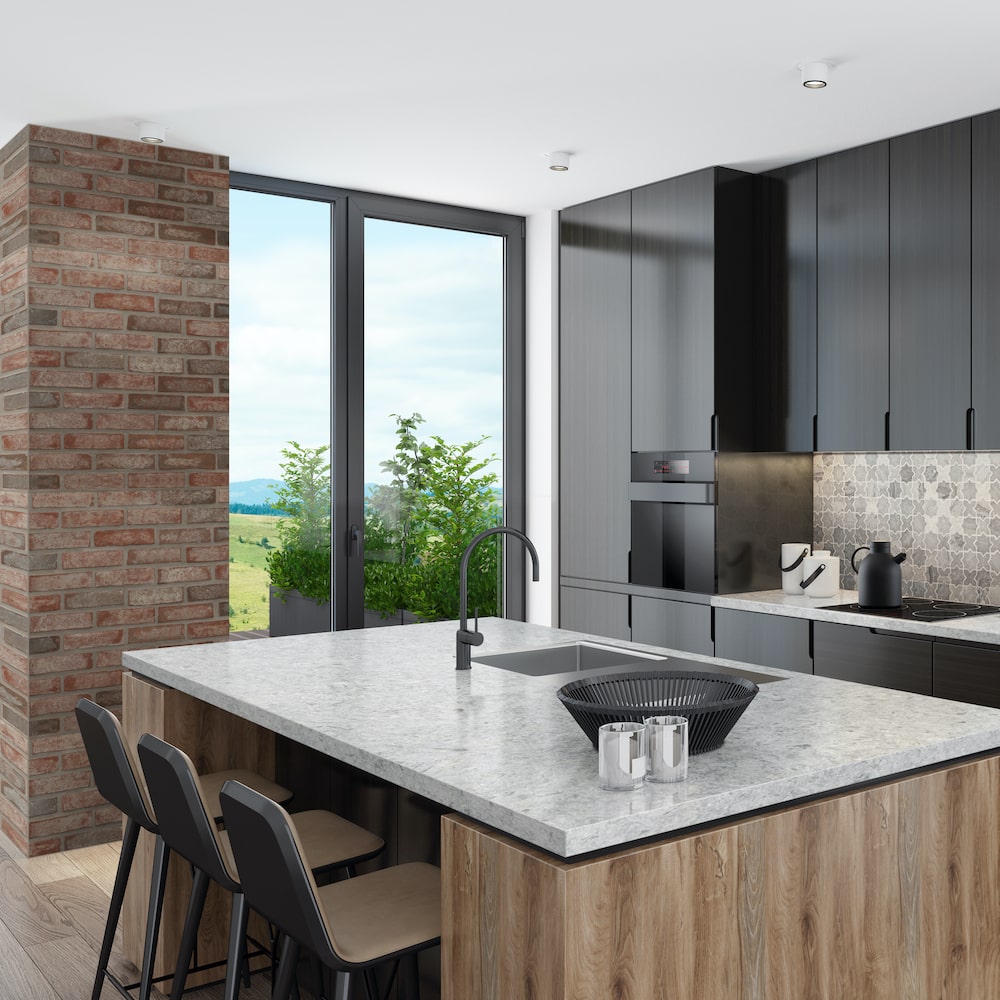 Rolling Fog Quartz
If you're a fan of white countertops but don't want such a stark, clean appearance, then Rolling Fog Quartz countertops are the ideal surface you've been looking for! Not only do gray countertops provide a clean and crisp appearance, but they can easily hide any mess that piles up on a counter! If you choose a white or dark black countertop, crumbs, and other debris become glaringly visible. Any mess on your gray counters will be a little more subtle and hidden within the texture of the veins, giving you a bit more time to clean it up.
Meridian Gray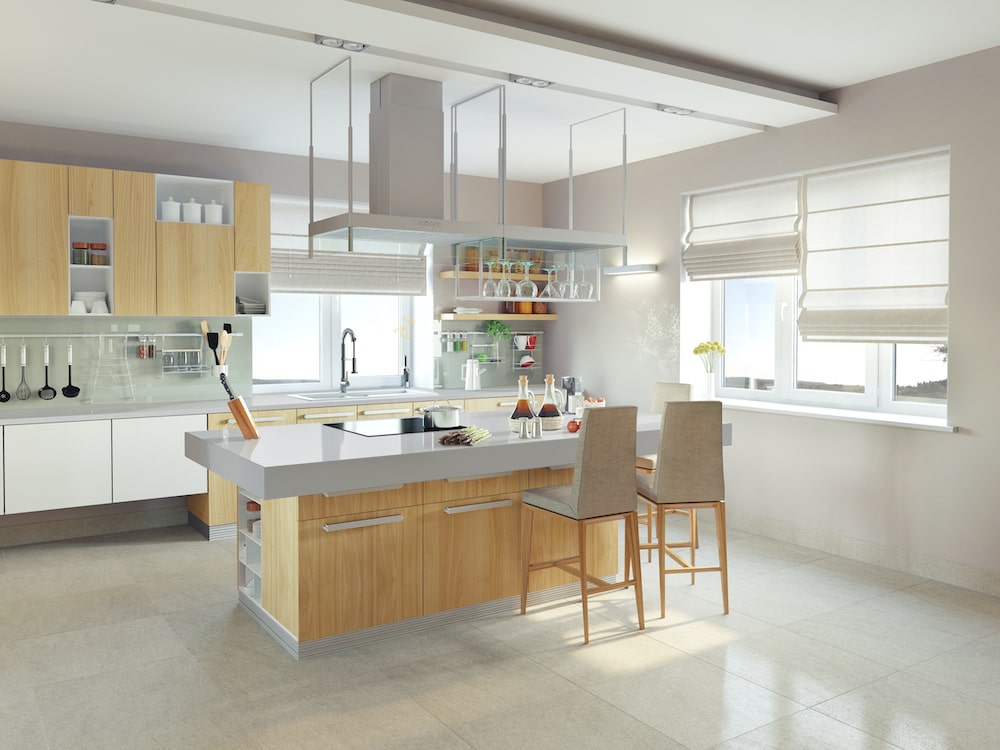 Meridian Gray Quartz
Whether you're a fan of a modern aesthetic, industrial-chic, or rustic charm, Meridian Gray Quartz countertops match a variety of decorating styles. Get quartz countertops that look like concrete, but with a more luxurious shine. This gray countertop features subtle flecks that add interest and depth, without taking away from the stark gray tones. If you're simply replacing countertops and not undergoing a full renovation, Meridian Gray countertops are a great option to match your current style. They will provide a timeless look you can enjoy even if your design style changes over the years.
Iced Gray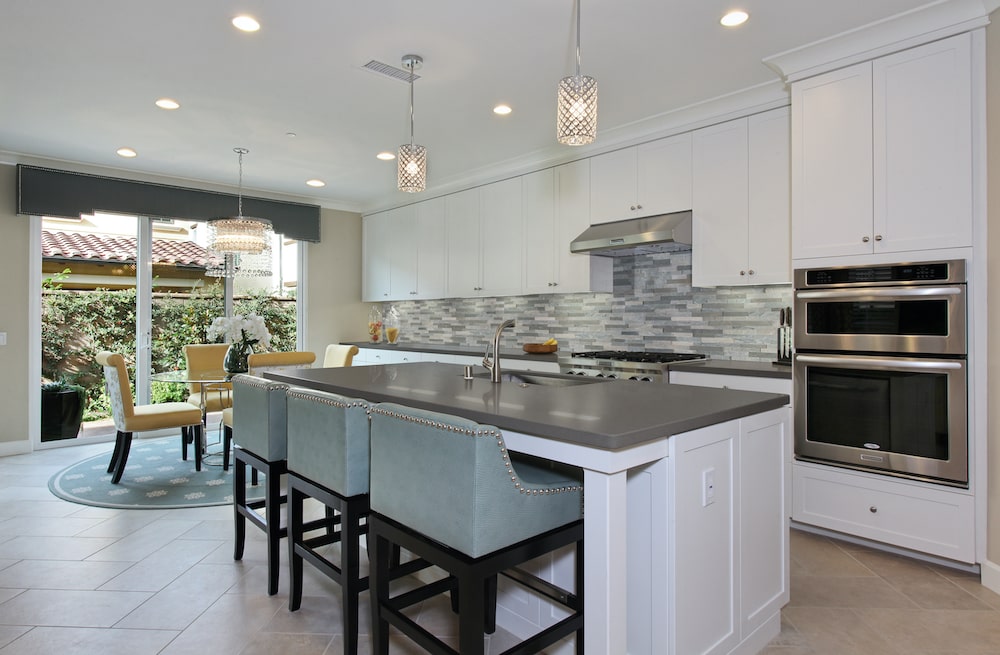 Iced Gray Quartz
Texture, texture, and more texture! If you're not a fan of contrasting color schemes but want add texture to your space, Iced Gray Quartz countertops are a perfect match. While a contrasting color scheme can create a beautiful space, gray quartz countertops with flecks resembling glass create a more uniform, charming, and neutral appearance than white or black countertops could offer. This means you can choose accent cabinets in a funky color or hardware that is industrial-chic to accentuate the monochromatic countertops! This will be sure to get your guest talking about your design chops.
Gray Lagoon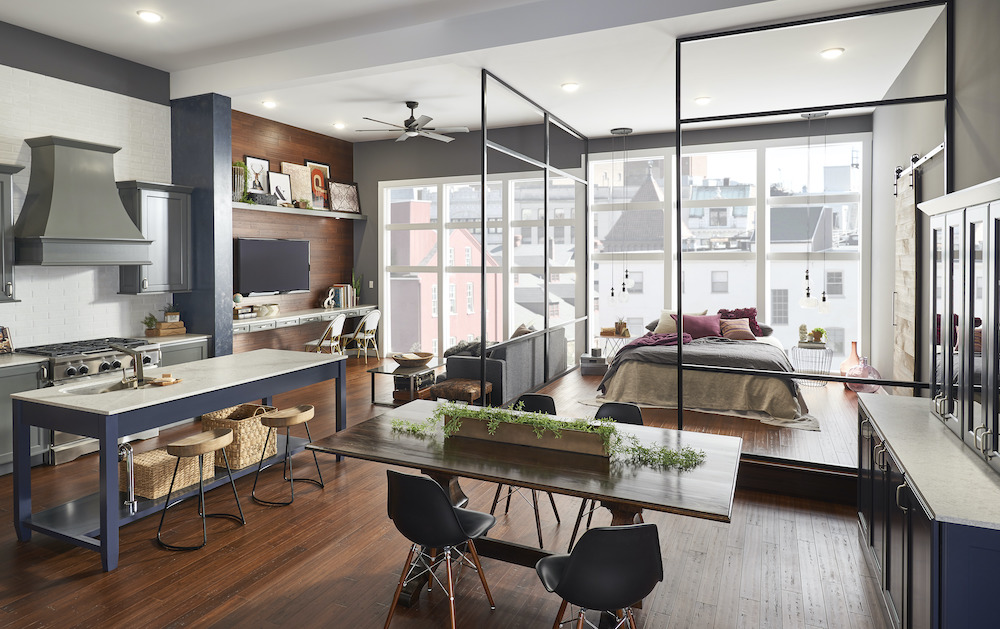 Gray Lagoon Quartz
When choosing your quartz kitchen or bathroom countertops, the options are endless. If you want a show-stopper countertop, look no further than Gray Lagoon Quartz countertops. This beautiful surface features unique veins with both warm and cool tones—meaning it's an optimal choice to match any aesthetic! The tones can tie together any color scheme. Whether you're hoping to warm up your kitchen or cool down the color palette, Gray Lagoon can magically do both of those things!
Stellar Gray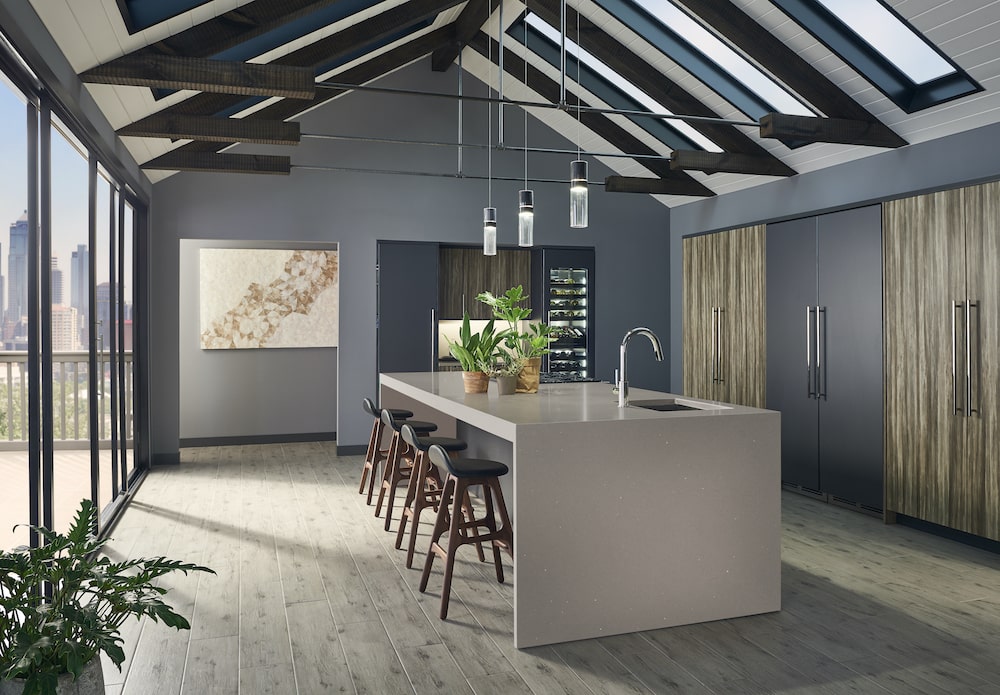 Stellar Gray Quartz
The kitchen is the heart of the home, which means you want it to feel extremely comfortable for your family and guests. Create a sense of comfort in the space by incorporating warmth into your design aesthetic. While you might assume that gray quartz countertops can only make a room feel cool, that's not true! Greige is a beautiful mix of beige and gray, providing a countertop that can warm up any space! Stellar Gray Quartz offers a luxurious mid-tone gray background with beige flecks for added dimension and character that's the perfect way to make your kitchen feel homey.
Smoked Pearl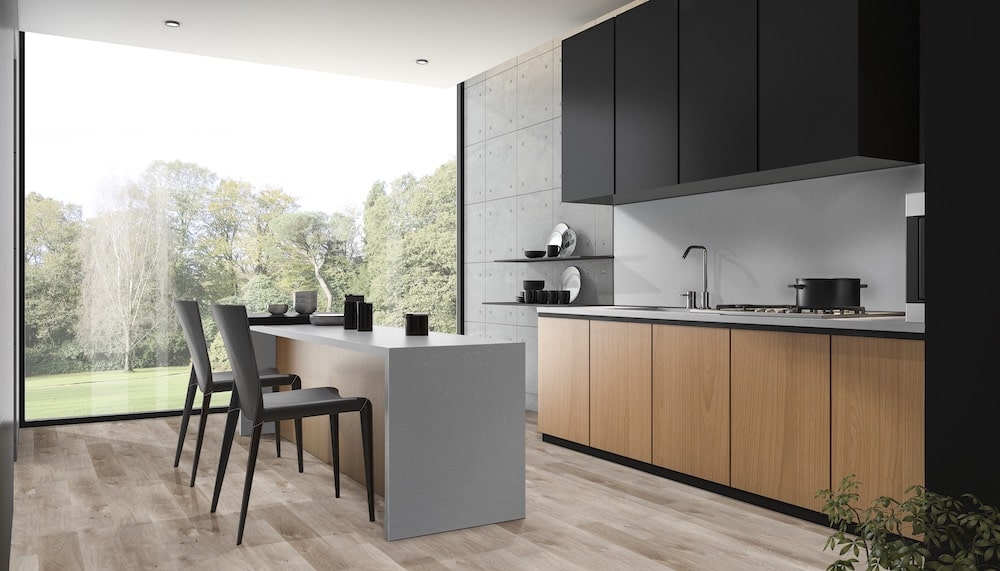 Smoked Pearl Quartz
If your kitchen or bathroom is spacially challenged, you're probably looking for a way to make your room appear larger than it really is. Most designers will guide you to select white countertops in this scenario, but sometimes you might not be a fan of white! The clean vibe isn't everyone's cup of tea. Smoked Pearl Quartz countertops are an optimal choice for small spaces when you don't want a white countertop—like white, light gray countertops can make your room feel more spacious. These countertops offer a similar look of white but create a more subtle aesthetic that isn't quite as stark and contrasting as plain, pearly white.
Find the Perfect Gray Countertop for Your Home
Loving all of the beautiful gray vibes but unsure which is best for your space? From barely-there veins to daring movement showstoppers to matte and polished finishes, we offer a range of light to medium gray quartz to bring you the most practical and on-trend countertops on the market. Browse our inventory of Daydreamy Gray quartz countertops to find your ideal kitchen or bathroom countertop.
Are you ready to choose your favorite grey quartz countertops? We can help! Chat with us online now, contact an MSI authorized retailer, or visit an MSI showroom.
More About Quartz Countertops
Can Quartz Countertops Be Used Outdoors?
How Do You Estimate the Cost of a Quartz Countertop?
Tips from The Trade: Quartz vs. Granite for Countertops
Believe It or Not, These Marble Countertops are Actually Quartz!