How Thick Should My Quartz Countertop Be?
September 27, 2018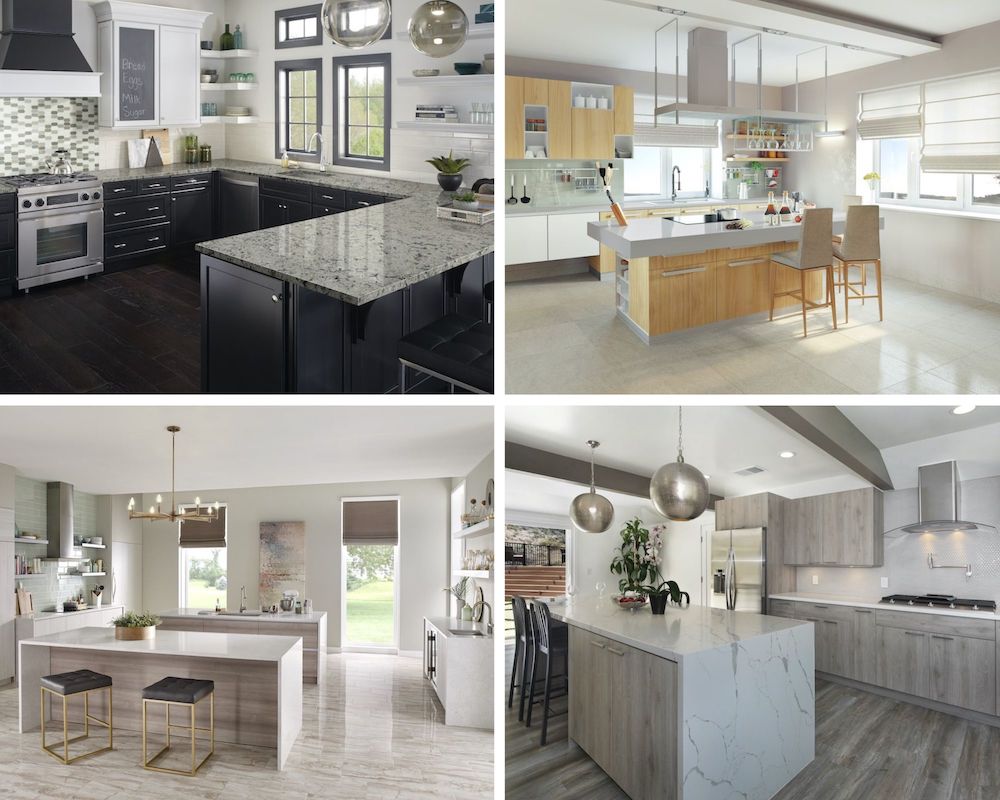 When shopping for a new quartz countertop, you have to deal with a lot of numbers, from the overall cost to the square footage needed to the thickness desired. But what does a 2cm (3/4") versus a 3cm (1 1/4") countertop really mean? And why does it even matter?
All of MSI's quartz countertops come in these two thicknesses, and it affects not only the appearance but also its function. That extra half-inch can make a difference in terms of the durability, heaviness, edging, and price.
A 2cm countertop weighs less and is better suited for vertical applications since it may be more prone to damage. But, when the thinner quartz is used for your kitchen or bathroom counter, it adds a contemporary aesthetic thanks to the slimmer profile. The 3cm countertop withstands heavier weight because of the added thickness, so it's the better choice for spaces that will see heavier traffic and use. However, since this classic countertop choice is heavier, you should check that your cabinets and even flooring and foundation can handle the added weight. This is something you should keep in mind when choosing your kitchen cabinets.
When it comes to edges, many of the simpler choices can be used with either 2cm or 3cm sizes, but some of the more dramatic and ornate options may only be available for the thicker 3cm profiles. For countertops that look extra thick, an additional quartz overhang is installed, but the actual quartz slab is still either 2cm or 3cm thick. Note that you should take extra care with a 2cm countertop with its edges exposed since they withstand less weight.
A lighter material can help save you money since it's not only less product being used, but it should also cost less to transport and install. But, keep in mind that a 2cm countertop might require additional plywood to provide extra support, and that's one more installation added to the process.
Pacific Salt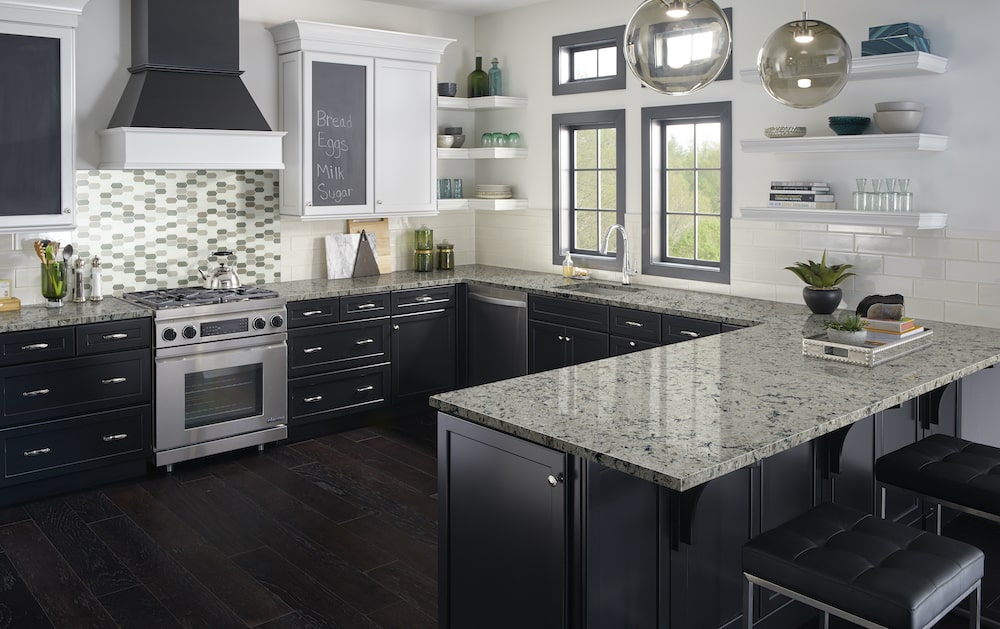 Pacific Salt Quartz
Pacific Salt is a creamy quartz countertop with dark gray and tan veins and swirls similar to that found in a high-movement natural stone. The kitchen blends both modern and traditional styles with the thinner 2cm-profile quartz with a standard edge, the sleek stainless steel appliances and fixtures, and the classic white subway tile backsplash. The thinner countertop is fine for areas that don't see as much traffic, but if you place heavy items on your countertop often or have rambunctious kids, then you might want to take another look at a thicker option for durability and peace of mind.
Arctic White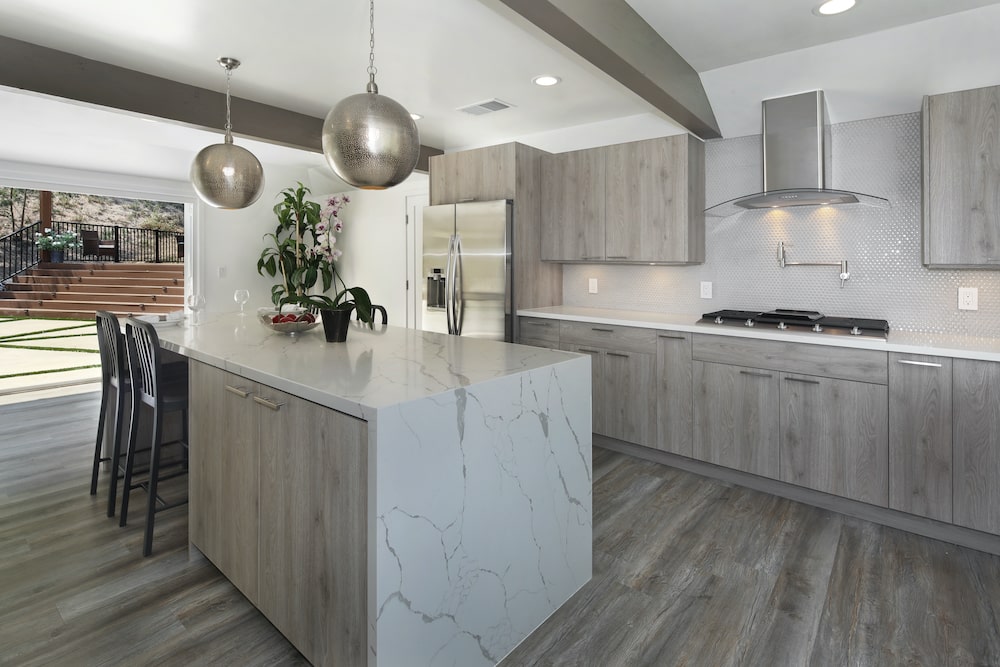 Arctic White Quartz
Arctic White is a white quartz with no pattern or veining, which makes the solid color suitable for any style room. The waterfall edge adds drama to this contemporary master bathroom, and the bright white countertop contrasts beautifully against the dark, rich wood vanity. You can expect more weight from the 3cm-thick counter and extra waterfall edge, but it does help balance out the wider installation of heavy-duty cabinetry. At first glance, you might miss the 3" backsplash along the white wall, but the 2cm is perfect for this type of application so that it doesn't take up too much precious countertop real estate.
Stellar White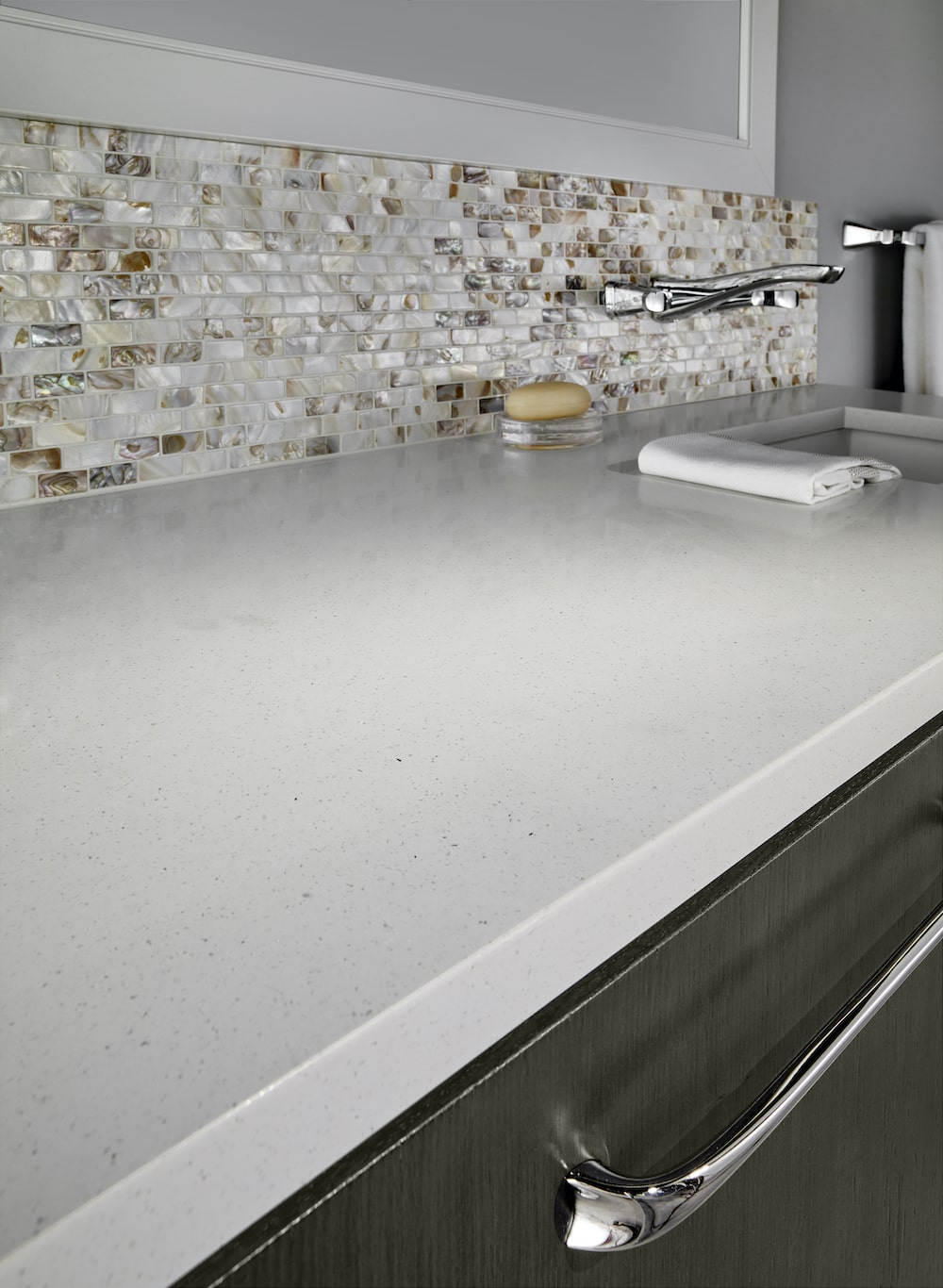 Stellar White Quartz
Stellar White is a soft white quartz with subtle gray flecks that give the countertop character and dimension. It's an ideal surface for sleek, modern designs like this heavenly yet futuristic white and wood-look tile master retreat. To create this extra-thick edge, additional quartz is added to the perimeter of the 2cm countertop. With this popular look, just remember that you'll see the seams. Also, with quartz, the consistent pattern is helpful when lining up the material, which would be more difficult with marble countertops or other natural stone.
Meridian Gray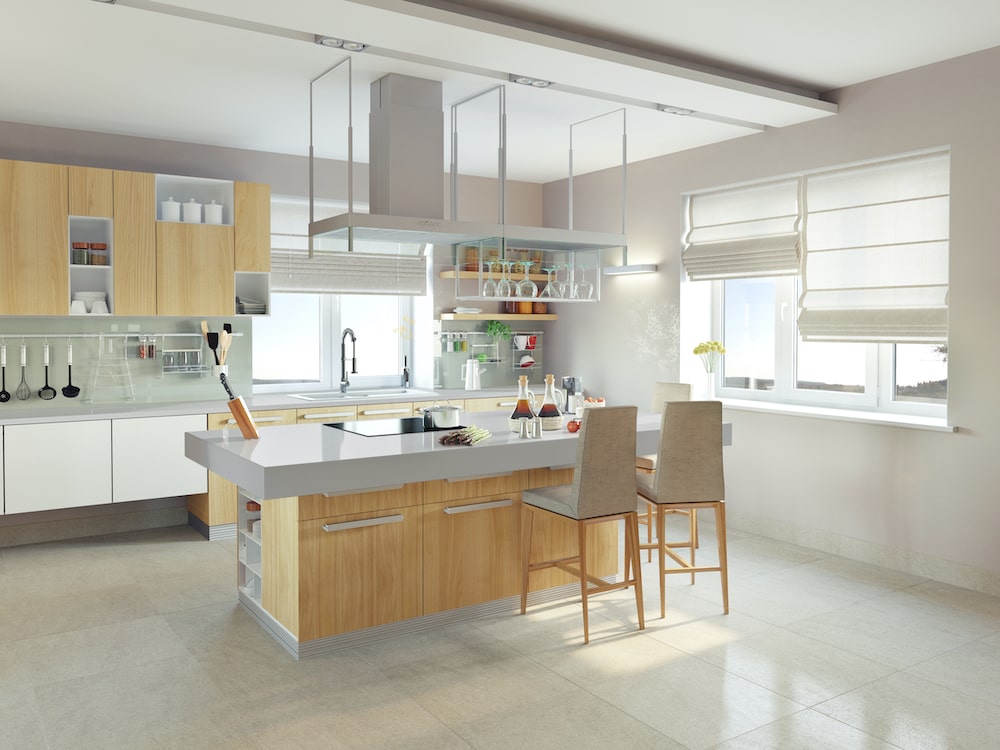 Meridian Gray Quartz
Meridian Gray is a mid-tone gray quartz with subtle flecks for depth and interest. The neutral color goes with a wide range of design styles, and the cool grays make the warm woods pop in this Scandinavian-inspired kitchen. You can do something different and feature a combination of thicknesses. The 2cm countertop along the back wall adds to the streamlined design, while the extra-thick edge helps emphasize the oversized island.
Marbella White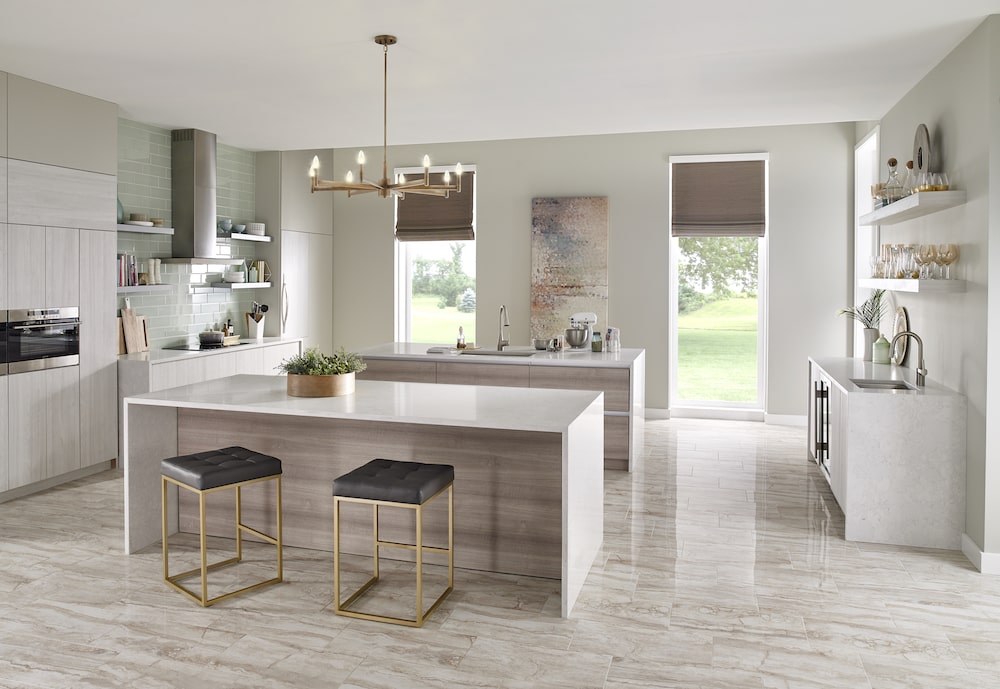 Marbella White Quartz
Marbella White is another soft white quartz with soft touches of tonal veins and specks. Even though from far away it looks like a solid white countertop, the marble look quartz is an elegant choice for this contemporary chic kitchen. The double island features waterfall edges on both pieces, but you'll notice that it's a more minimalistic look thanks to the 2cm profile instead of the chunkier edging you typically see. But, just remember that when you have a thinner countertop with an overhang for bar stools, you may need to reinforce it with plywood or another material.
Now, when you look at your quartz countertop colors, you can shop confidently. You'll be able to not only pick the perfect pattern and color, but you'll also be able to select the right thickness that suits your budget and design aesthetic. Also remember that help is always available to you! Chat with us online, stop by an MSI showroom, or find an MSI authorized dealer in your area to see quartz counters up-close and personal.
Read More About Quartz Countertops Designs and Trends:
How to Pair Natural Stone with Engineered Quartz Countertops
Top 5 Reasons Interior Designers Love Quartz
The Essential Guide to Picking a Quartz Countertop Color
7 Quartz Countertop Kitchens with Casual Elegance
How to Design a Bright Kitchen with Black and Gray Quartz Countertops
Fresh Waterfall Edges for Quartz Countertop Islands
Looking Back: 2018 Quartz Countertops Trends