Outdoor Oasis: Five Hardscape Projects That Will Rock Your World!
January 08, 2017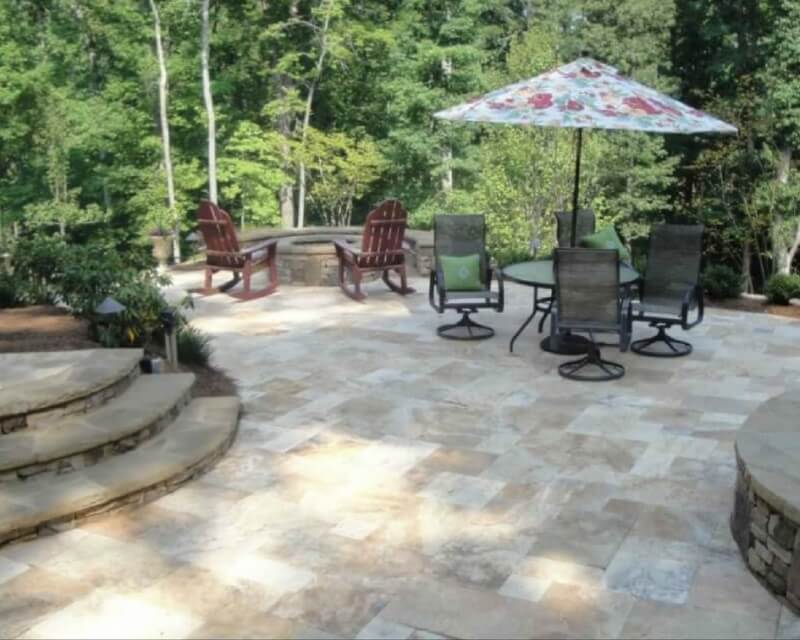 When it comes to constructing the outdoor oasis of your dreams, know that hardscaping is the foundation to any great outdoor design. From stepping stones to flagstone pavers, you can find the perfect material to suit your specific style.
In fact, it's hardscaping that makes it truly easy to completely transform your space into a charming cottage or tranquil retreat. So, when you're ready to make your outdoor space extraordinary, look no further! We've got five fabulous hardscape ideas that will literally rock your landscape.
A Relaxing Pond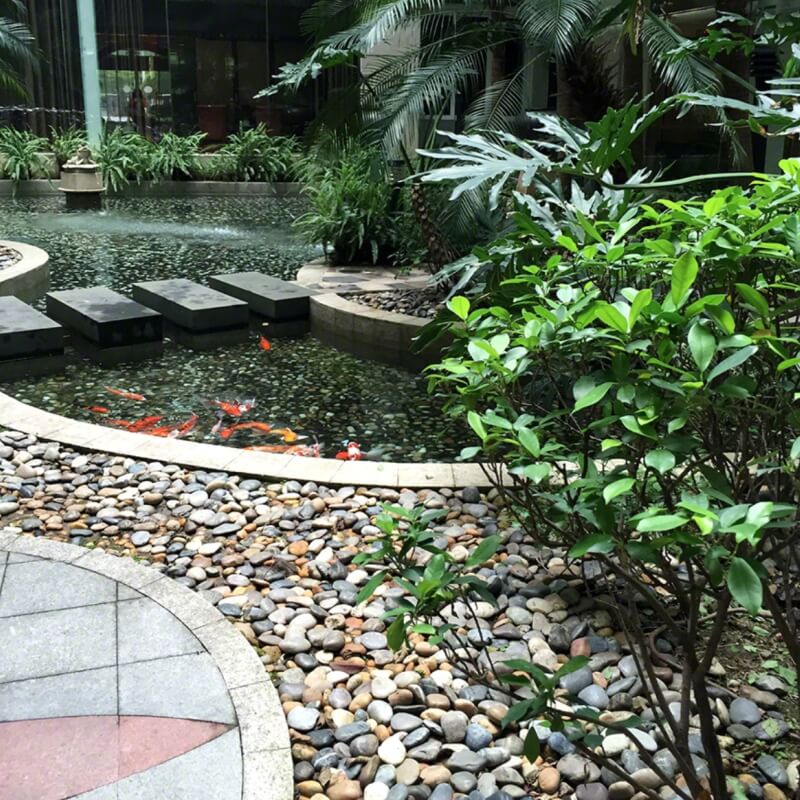 Featured: Mixed Polished Beach Pebbles
You'll feel one with nature with a relaxing outdoor oasis like this tranquil koi pond. The sound of fish stirring the water and foliage rustling, and the soothing look of neutral-toned hardscaping work together to create a peaceful place for you to enjoy.
To balance the lush greenery, Mixed Polished Beach Pebbles add variations of grays, whites, and oranges to the landscape, while the shape of the pebbles mimics the many curved elements in the design. Use them to achieve a Zen-like space you'll never want to leave!
Pattern at Play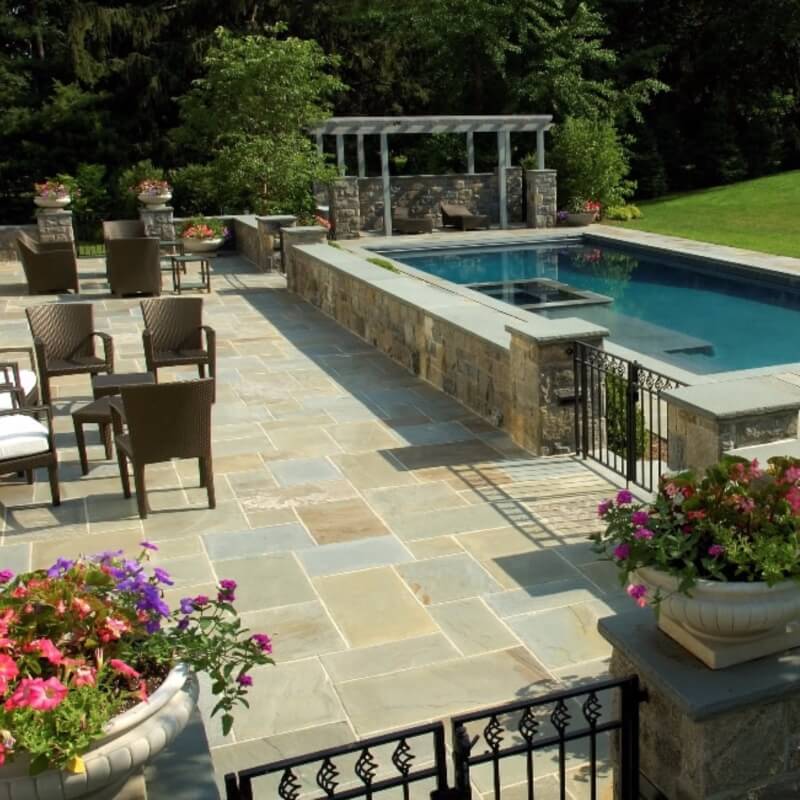 Featured: Pennsylvania Bluestone Pavers
One of the easiest ways to make a large outdoor area pop is with pattern. These Pennsylvania Bluestone Pavers make this pool area a warm and inviting place to hang out all summer long. The pavers come in various sizes, from smaller 12x12 squares to larger 24x36 rectangles, and mix natural blue sandstone with gray and rust tones.
The combination of shapes and colors creates an interesting pattern and movement to draw the eye across the space. It's the perfect foundation for the different designated seating and lounging areas.
Off the Beaten Path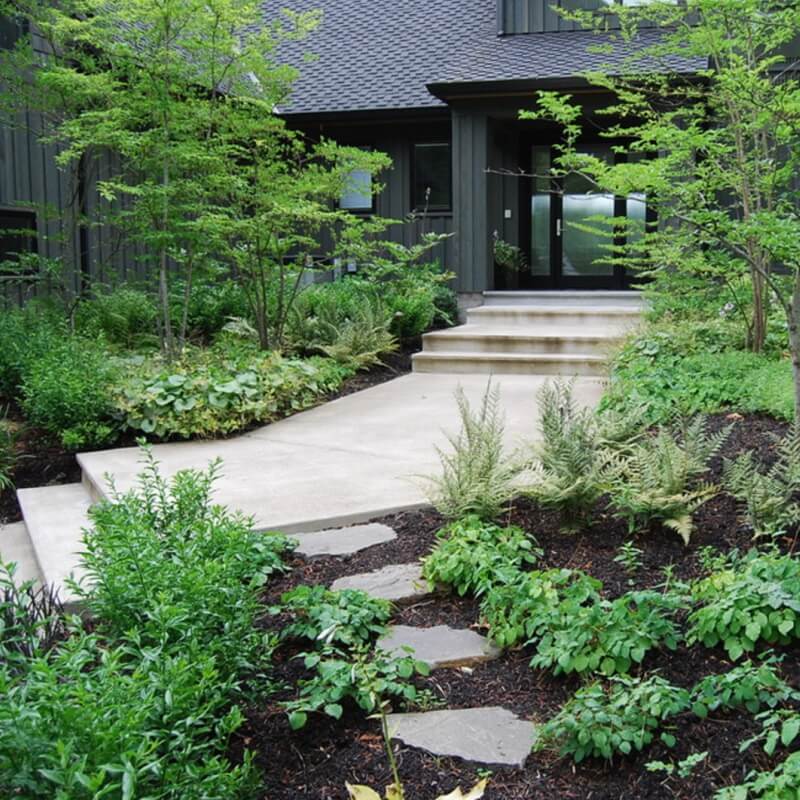 Featured: Venetian Gray Stepping Stone Pavers
A stepping stone layout can take you to a secret hideaway, lead you to a pool, or highlight a water fountain. This front yard invites guests to take a stroll off the beaten path by following the Venetian Gray Stepping Stone Pavers. These hand-cut, 12x18 stepping stones of soft gray sandstone allow you to stroll through your beautifully landscaped property.
What will you find at the end of your pathway?
Storybook Charm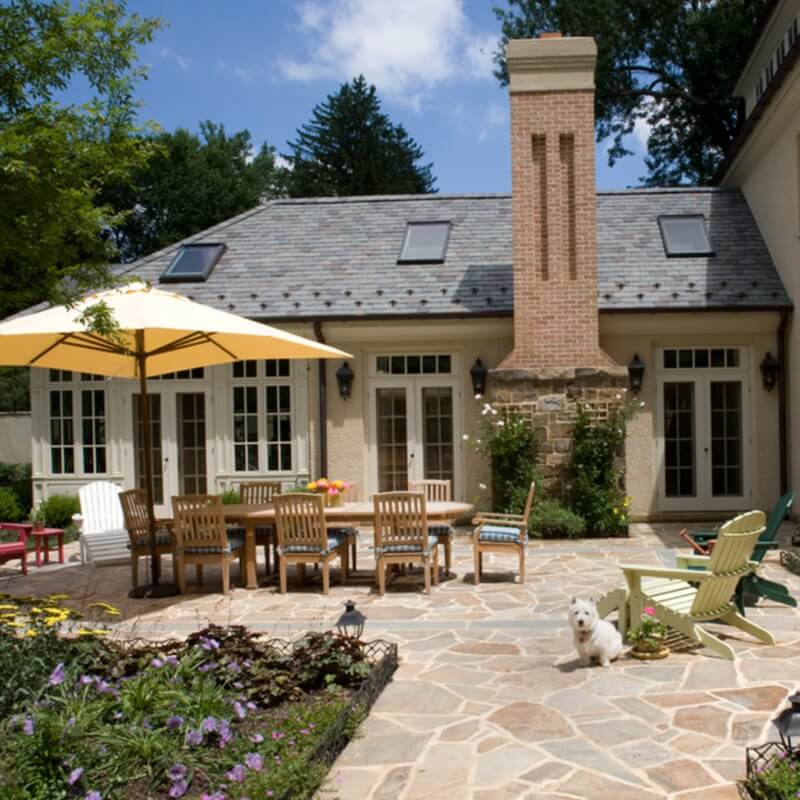 Featured: VKD Quartzite Flagstone
Choosing the right hardscaping elements is key to creating a cottage-like feel full of storybook charm. This patio is the perfect place for hosting tea parties and family feasts! It's also covered in perfectly color-balanced and pre-arranged flagstone flooring.
The rust and gray colors of these VKD Quartzite Flagstone play well with the warm tones of the outdoor wood dining set and the brick fireplace. The creamy grout color ties in to the white window trim and lemon chiffon stucco exterior. It's a yummy color palette you'll want to try!
Alluring Accents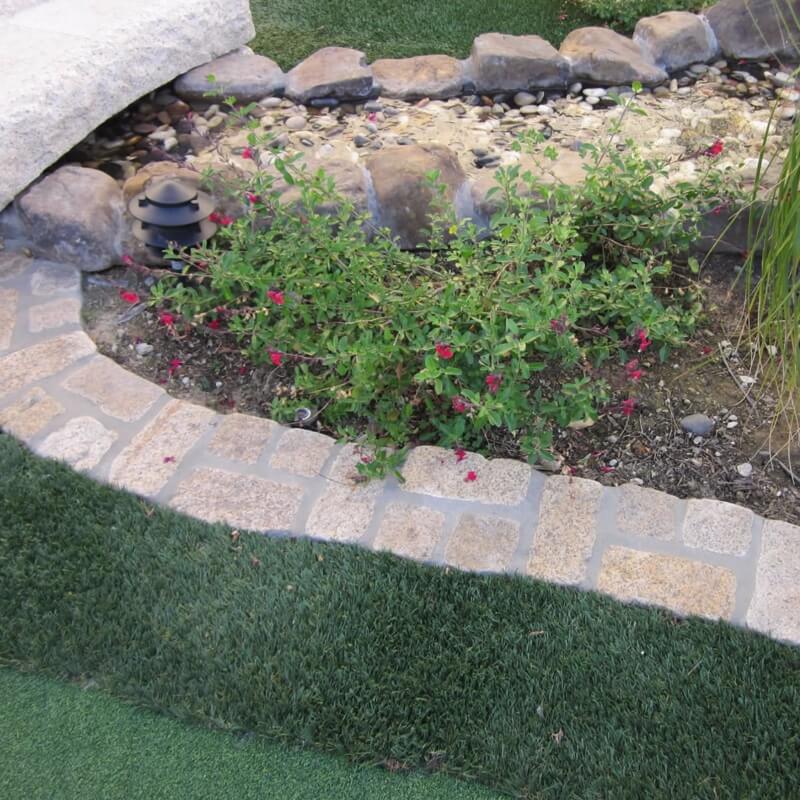 Featured: Giallo Fantasia Granite Tumbled Tiles
Adding edging to your lawn not only helps keep weeds at bay, but also acts like beautiful trim for your yard. Brick pavers may be a popular choice, but you can give your landscape an enchanted look with cobbles.
These Giallo Fantasia Granite Tumbled Tiles blend yellows, grays, and creams with black specks. Use a mixture of 4x4 and 4x8 sizes to give your edging a custom design. They transform any landscape from humdrum to impressive!