The Best Way To Clean Your New Luxury Vinyl Flooring
April 10, 2022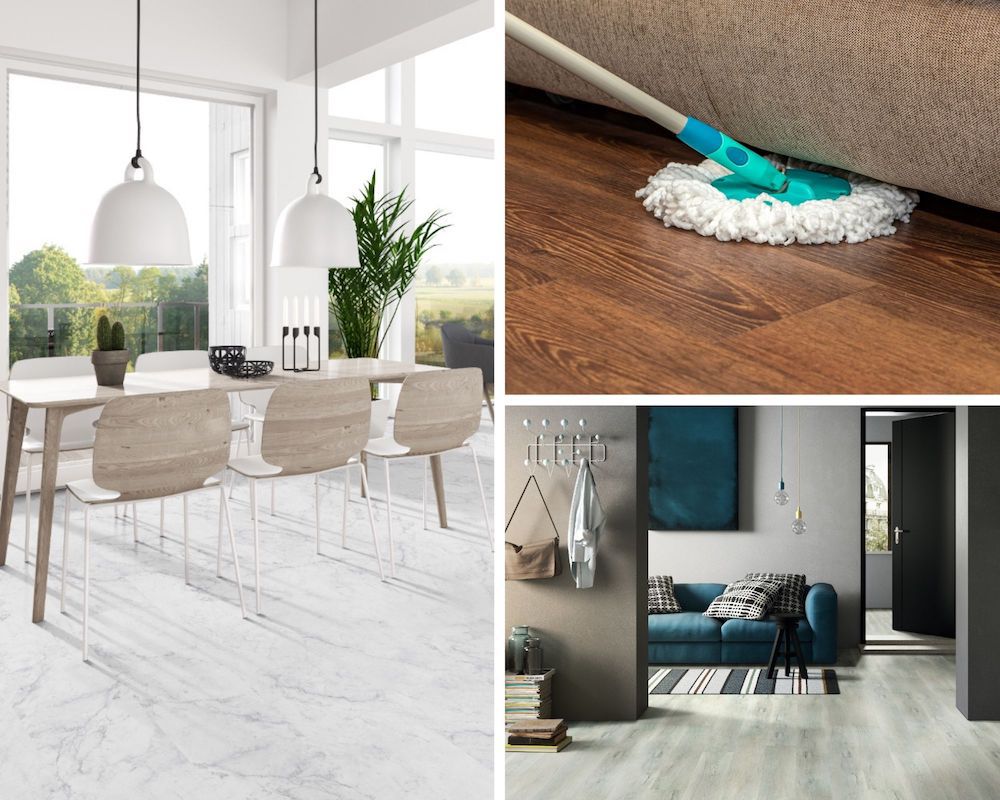 When it comes to luxury vinyl flooring—you aren't at a loss of benefits. There's good reason that homeowners all across the country are so excited about vinyl tiles and planks, as there are advantages that seem to stretch a mile long!
First and foremost, vinyl flooring is waterproof. That's right—unlike many of its alternative choices, waterproof wood flooring is ideal for common areas where there is hustle and bustle. (Not to mention—this makes for great patio and outdoor area flooring, as well!) Whether you're worried about accidental spills, a dog bowl leaking, or spills from rowdy dinner guests—water droplets won't destroy this amazing modern tile.
Second, this type of flooring gives off realistic visuals. Whether you're seeking wood-like vinyl planks that mimic hardwood with great accurately—or mosaic tiles with intricate patterns and colors—you won't run out of options with luxury vinyl. Many homeowners prefer luxury vinyl planks to hardwood because it looks and even feels like hardwood without all the maintenance required!
Third, LVT flooring is very durable, meaning it's scratch and stain resistant. Not only is this an ideal choice for pets with dirty paws running around the house, but also for high traffic areas where wear and tear can occur. The ample variety of LVT flooring is also quite impressive, as you can find options ranging from concrete to decorative tile to even marble. This luxury vinyl tile guide shows you a wide range of possibilities.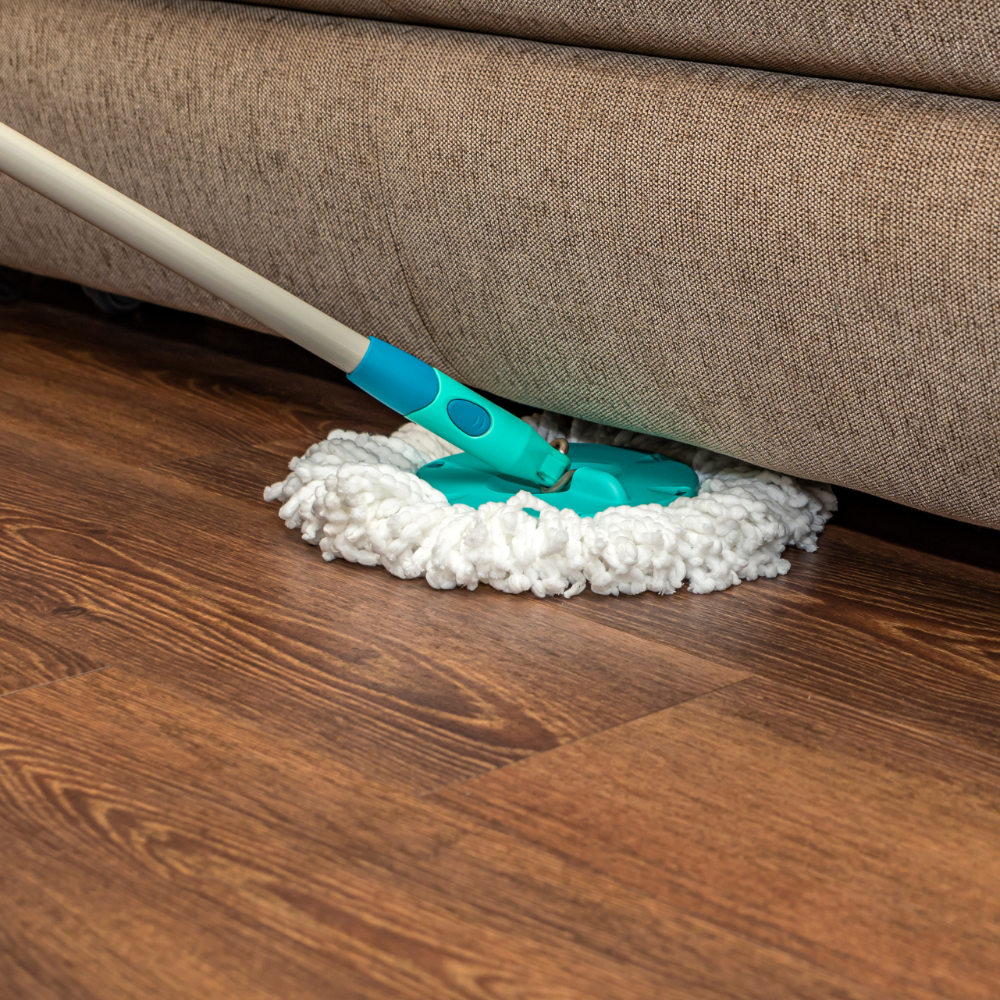 Which leads us to the next question—if it's all so great, what's the 411 with luxury vinyl tile care and maintenance? Let's explore how to take care of these tiles and planks so that they last for years to come. After all, LVT flooring is doing us all such a huge favor by being so amazing—can't we do our part and help maintain their integrity?
Let's first discuss how LVT flooring is different from its counterparts. Hardwood flooring requires certain types of oil to maintain its composition and cleanliness; marble flooring requires hot water and a pH-neutral detergent without acidic or alkaline products. Luxury vinyl is the easiest to clean out of all your flooring varieties because it's the lowest maintenance. And don't we love low maintenance flooring?
When it comes to dry cleanup, which you may want to perform several times a week, it's best to use a vacuum cleaner with an "auto" or "hard floor" setting. This can easily get up all of the dust and dirt from the day so you can resume your home life and schedule. Since LVT is great for pets, you may be asking: Well, what about pet hair?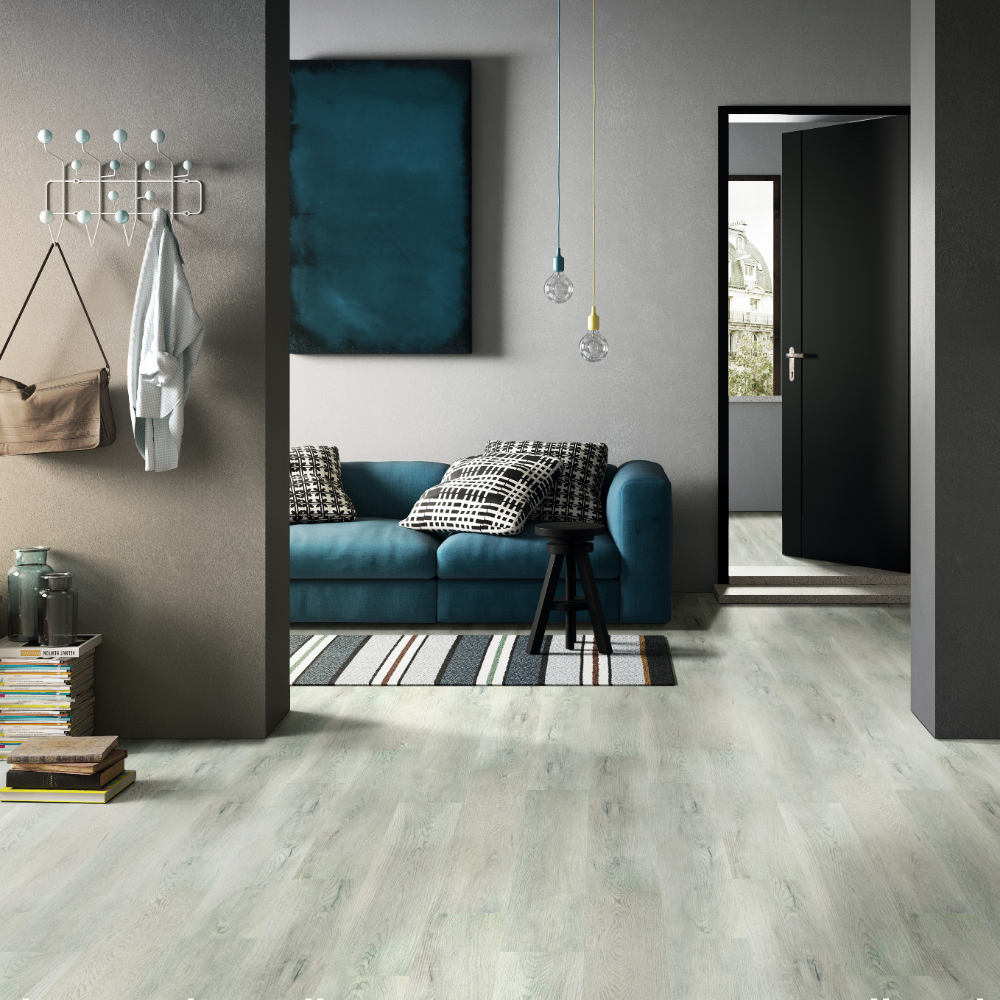 Strong vacuums or even ones that specialize in pet hair are ideal, but you can also clean it up with a rubber broom. These feature short rubber bristles that reach each and every strand so your floors are ready for the week ahead. Additionally, removing debris and pet hair with a dry mop on LVT flooring is a great tip, as well.
Now when it comes to deep cleaning, which some may do more often than others, what is the best method? With vinyl plank and vinyl tile, pick your favorite floor cleaner (or good ol' soap and warm water) and mop the floors. It may help to go over your flooring several times to ensure you get up all the excess dirt and grime. Lukewarm water is often best. Some people even prefer a homemade solution of apple cider vinegar and water. Clearly, the decision is yours depending on your preferences.
Because most LVT is waterproof, it's best to go over the wet flooring with a microfiber cloth afterward. This will ensure your floors stay dry and sparkle in the sunlight.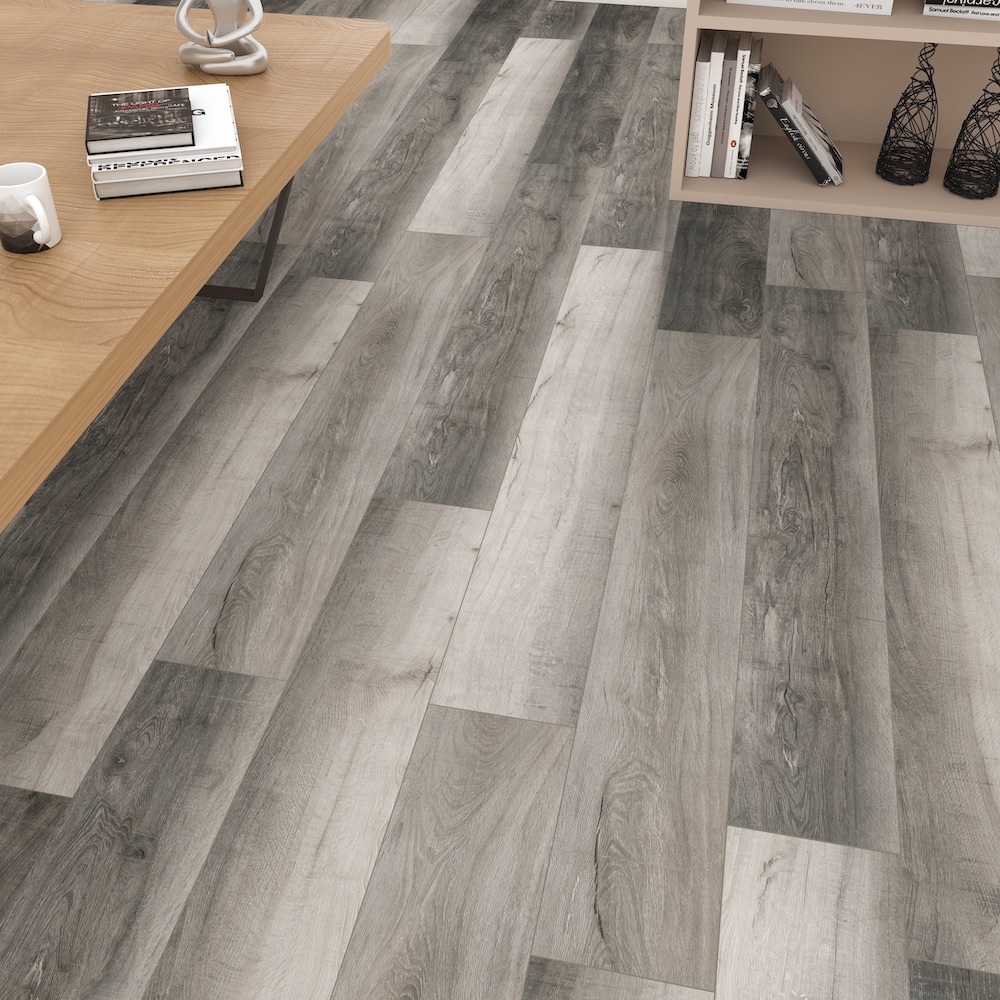 A lot of people prefer to clean their floors biweekly, but others with households of pets and children may opt for more frequent mopping. The good news is LVT flooring does not need waxing like hardwood, which can be costly year after year. In general, luxury vinyl planks and tiles last anywhere from 25-30 years with good cleaning and maintenance procedures.
It's nice to know you're getting your money's worth, particularly since mopping, sweeping, and vacuuming takes up time and energy.
Now when we talk about cleaning, we also want to discuss mistakes to avoid. First, you never want to steam clean your LVT floors. They are water resistant, and steam resistant. Steam has also been known to damage the protective layer since it's such a high temperature.
Second, you want to avoid abrasive scrubbers like steel wool and other rough materials. Stick to a floor mop or soft large sponge if you choose to clean them by hand.
Third, steer clear of ammonia or bleach, as it can also degrade the protective layer of your LVT flooring and even harm the inner layers.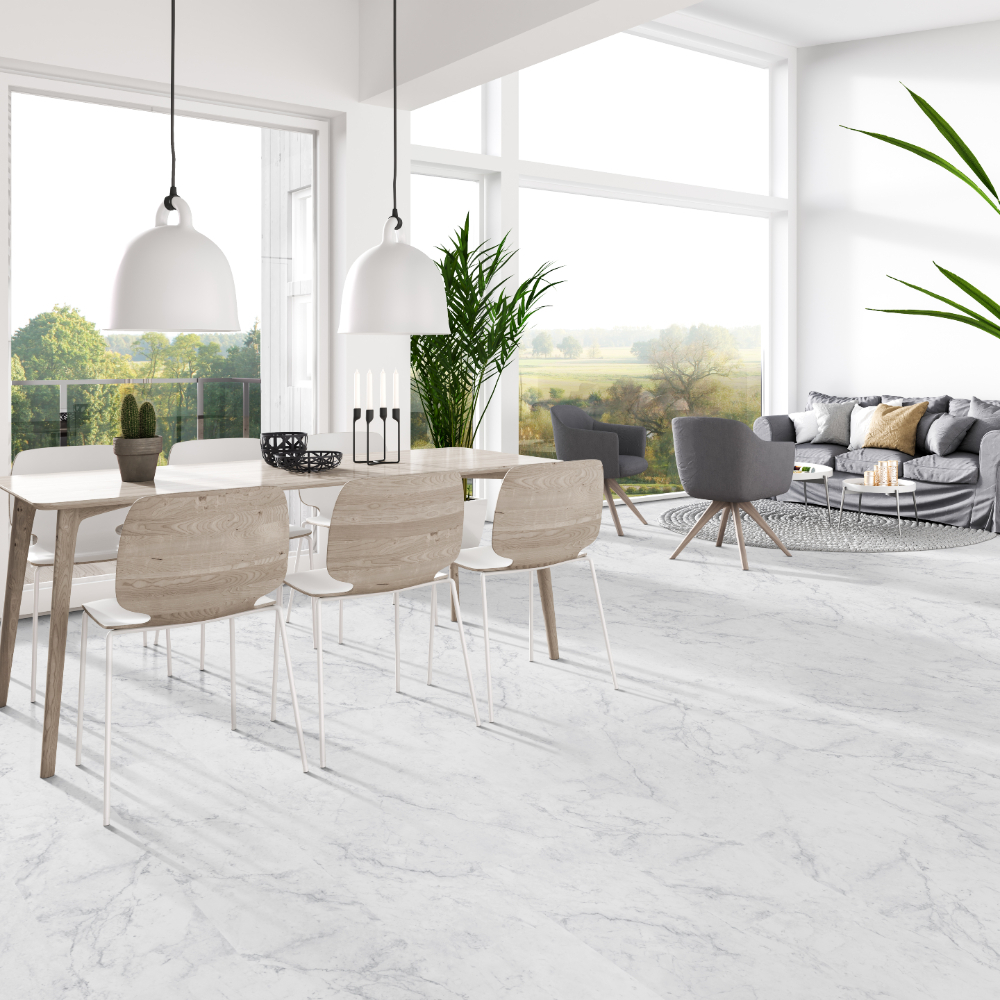 At the end of the day, luxury vinyl tile and plank flooring are great options for your home—not just because of how it looks, but how easy it is to clean. Maintaining an orderly home isn't easy for anyone—whether you're a large family or just one person—so it's nice to know LVT won't have you spending hours and hours ensuring it looks amazing.
For best results, it's advised to sweep once or twice a week and determine a mopping schedule that is realistic and helpful. Your floors are a crucial part of your home—whether it's your bathroom, living room, dining room, bedroom, or home office. So you want to take the proper measures to have them looking just the way you always dreamed.
Thankfully—LVT is a stellar choice that will last over time with the proper care.

Read More About Luxury Vinyl Flooring
Brighten Up Your Home with Natural Wood Tone Luxury Vinyl Planks
Go Big with Large Format Luxury Vinyl Tile
LVT vs. LVP Flooring: What Is the Difference?
Made In the USA With MSI's Domestic Luxury Vinyl Tile Manufacturing Facility
The Benefits of Everlife Luxury Vinyl Flooring