Popular
Mixing Materials - Customize Your Kitchen With Quartz & Natural Stones
July 29, 2014
Good home design should accomplish more than just a pretty look. When we've created something that is as equally pleasing to us aesthetically as it is perfectly functional, we've designed a room that we will enjoy for decades, as much for its beauty as for its usefulness. We may even enjoy it more for giving us everything we want! Thoughtfully combining quartz with natural stones in your kitchen is a great way to customize the space to achieve this goal.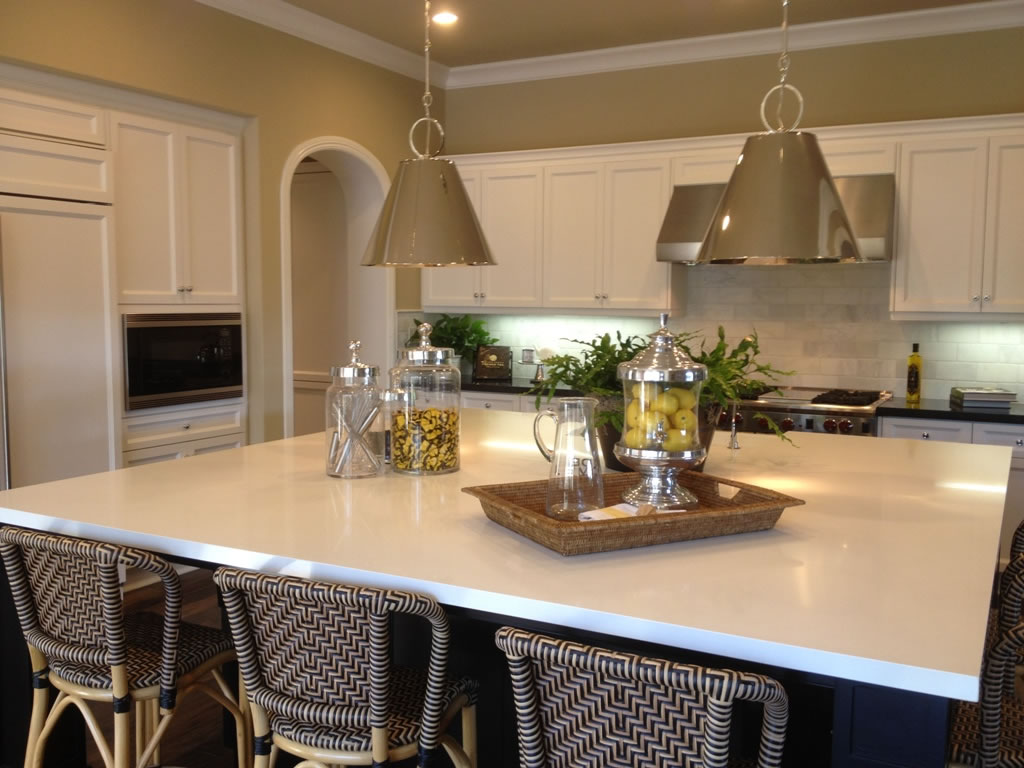 A place for everything and everything is its place doesn't just apply to good organization in the kitchen. It can also apply to careful planning of your surfaces to make sure a space is meeting your demand in every way. If you love to bake and make pastries on a cool surface, you'll love marble. If you love to make complex dishes with lots of chopping, you'll want that chef quality butcher's block. If your kitchen is a busy landing spot for foods of all kinds, you'll want the trustworthiness of quartz. If mixing it up and using different kinds of mosaics and backsplashes, textures and colors excites your senses and makes your kitchen feel like a living piece of art, you'll also appreciate natural stones and stone blends, like granites and porcelain tiles with mixes of metal and glass. The best news of all - you don't have to choose one material. It is on trend to have all of these things in one space. You can have one place to do everything you need.
Each area of the kitchen brings its own obstacles. Around the sink, it is more moist and we are most likely to spill foods that can stain as we rinse dishes and open containers. Near the oven, hot pots and pans typically need a landing spot, and the backsplash behind will experience the greatest amount of greasy buildup. On the most open area of the countertop is where we'll often unload potentially leaky bags of groceries that can contain the acidic foods that may damage some materials' finishes. In the past, we've assessed our kitchens on what we need most and have chosen a material that can keep up best. Quartz is growing in popularity for this reason, as it is resistant to moisture, extreme heat and cold, and is highly durable in a busy kitchen, which means it can meet many of our demands.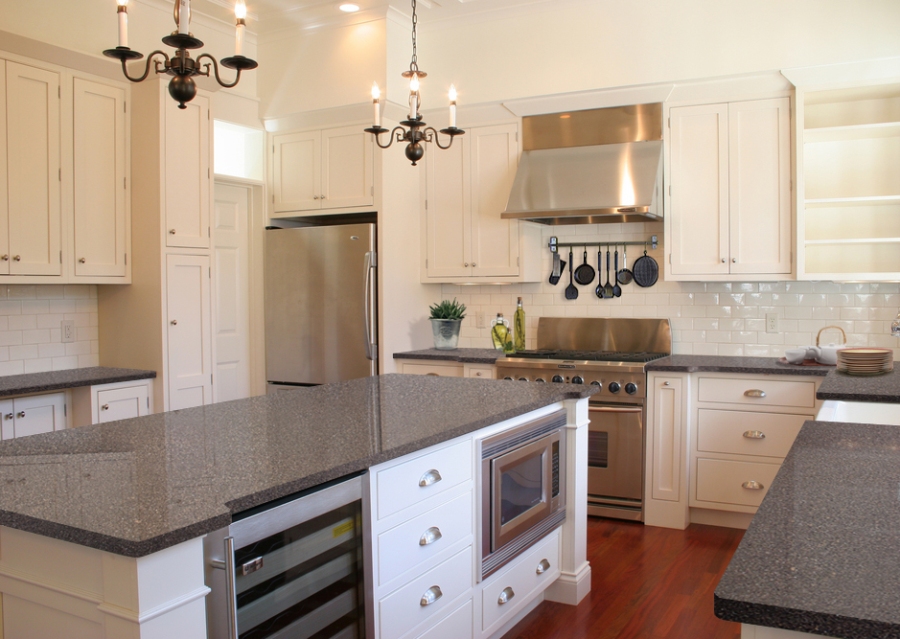 Given its durability and overall beauty, consider quartz as your main material but select other materials to meet your other needs. For example, quartz around the stove and as your main countertop will ensure you've got plenty of dependable landing spots on a surface that is easy to maintain. On the backsplash, porcelain tile is simple to wipe and keep free of grease, and it can handle most deep cleansers. Natural stone blends with metals or glass can also create mosaics throughout that offer beautiful variation in the room while protecting the wall. On your island or another section, add a slab of marble for a cool surface to chill, ideal for working your pastries. Pair that next to a thick butcher's block to give yourself a spot exclusive for your knife skills. You can even do two blocks of different wood colors, one for meats and one for veggies, if you really want to customize and impress. For purely visual appeal, consider pairing a monochromatic quartz with a statement granite, giving a nice contrast of movement. The goal - mix it up to customize your space for both function and unique beauty!
Combining materials accomplishes a few things all at once:
Customizes your work area for better performance.
Offers variation in the design scheme for a more interesting look.
Gives the appearance that you are knowledgeable about cooking and the best surfaces for each job.
Gives you more choices in both appearance and price point.
Today's design aesthetic allows for more variety, and arranging the kitchen space in a way that is perfectly adapted to your needs will never go out of style. MSI offers an online tool for combining materials to imagine the perfect kitchen for you - The Kitchen Visualizer. Use it to select different colors and styles of cabinetry, flooring, countertops, and mosaics. When you've found the right combination, print it out and use it to inspire your new build or renovation! In addition, we have a new tool to play with - The Countertop Edge Visualizer. Use it to try on different edge profiles that will work with the style of your ideal kitchen!