A Comprehensive Guide To Bathroom And Kitchen Backsplash Tile
April 27, 2022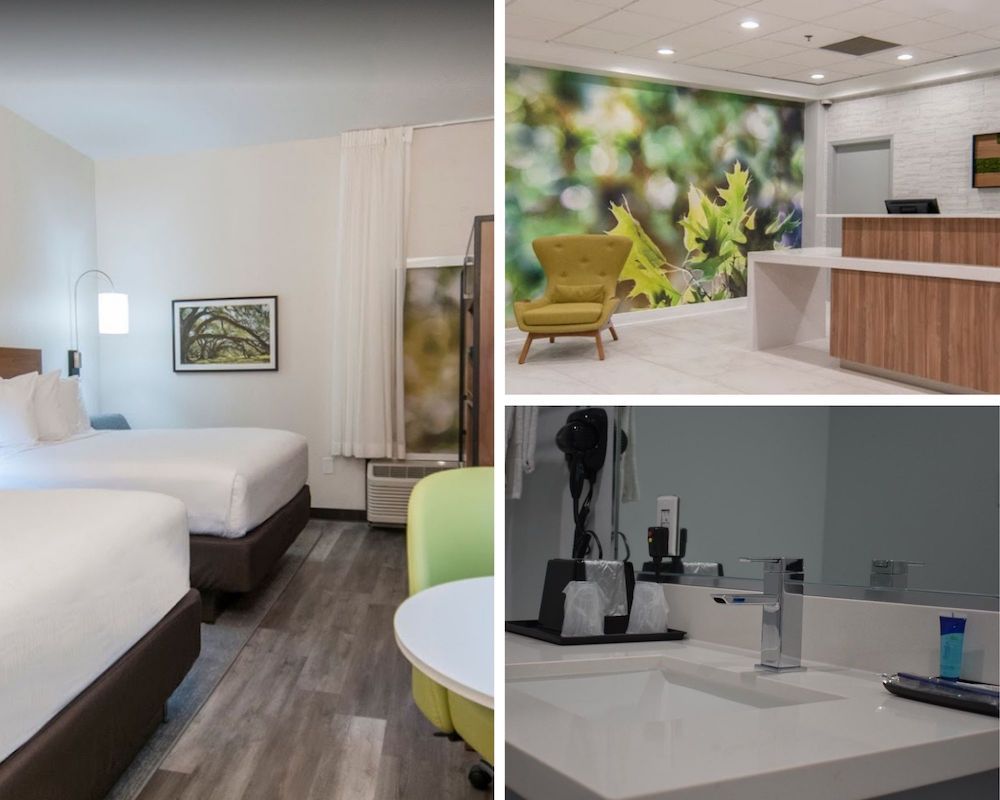 Adding bathroom or kitchen backsplash tile to a room design is the perfect way to upgrade your space. The benefits of kitchen and bathroom porcelain tile backsplashes go far beyond beautifying your home. For instance, they make cleaning easy since scrubbing a durable and stain-resistant porcelain backsplash after a serious cooking session beats cleaning a painted wall any day.

Another benefit is how backsplashes protect your walls from water damage. With so much water splashing around in your kitchen and bathroom, your backsplash serves as a barrier to prevent mold growth and other damage. Backsplashes also increase your home's value by upgrading a room's design. They are easy to install and come in a variety of colors, shapes, and textures.
Keep reading to learn more about kitchen and bathroom backsplash tile and which style best suits your needs.
MOSAIC TILE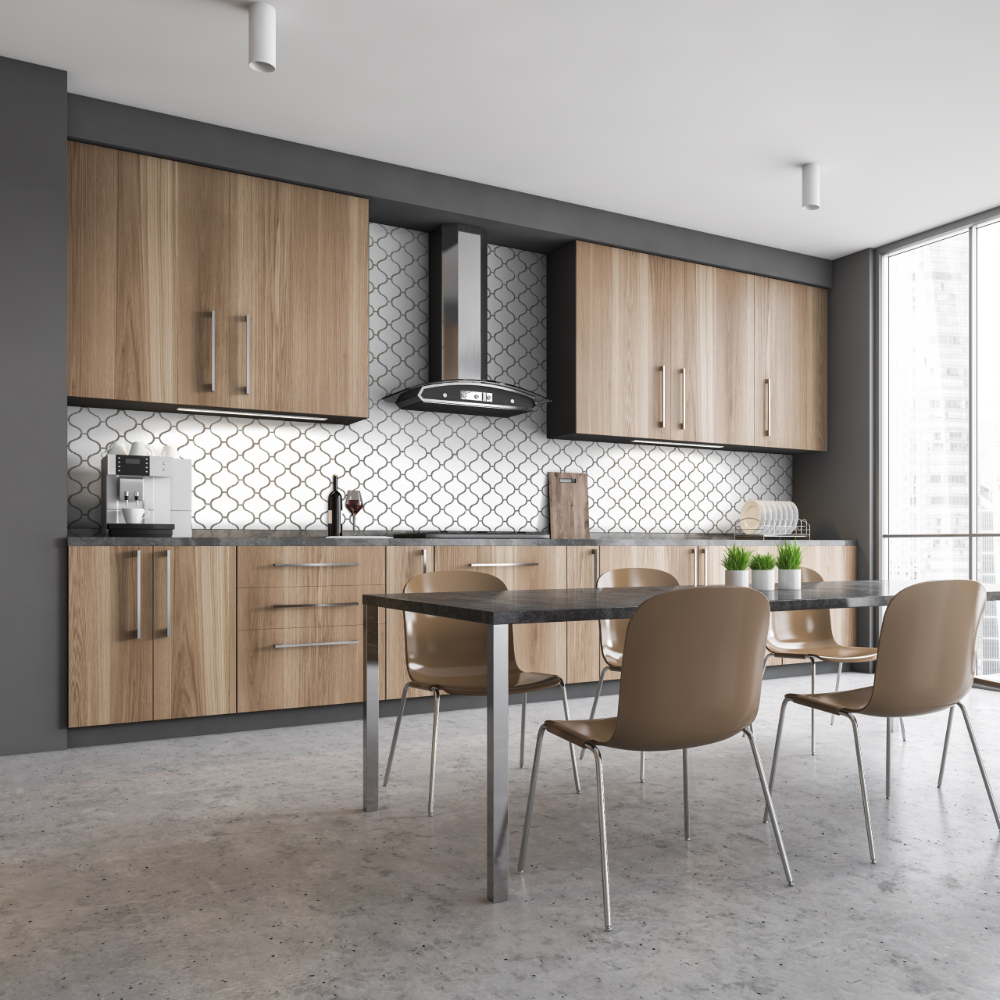 Mosaic tile goes a long way when creating a gorgeous bathroom or kitchen backsplash. Note how this Retro Bianco Arabesque tile from MSI creates the perfect porcelain backsplash in this minimalist kitchen. It forms a welcoming center of attention to which the rest of the room easily plays off. Notice how even the natural light pouring through the window acts as an extension of the tile.

These neutral decorative mosaics work well across a wide range of design styles. Unlike the glossiness of glass arabesque tile, Retro Bianco Arabesque is made of white porcelain with a modern matte finish. Beyond creating hyper elegant backsplashes, this tile works well for wall applications, flooring, and countertops.

The opportunities are many when working with mosaic tiles to create your ideal backsplash. Check out our Mosaic Tile & Wall Tile Collections to learn more.
SUBWAY TILE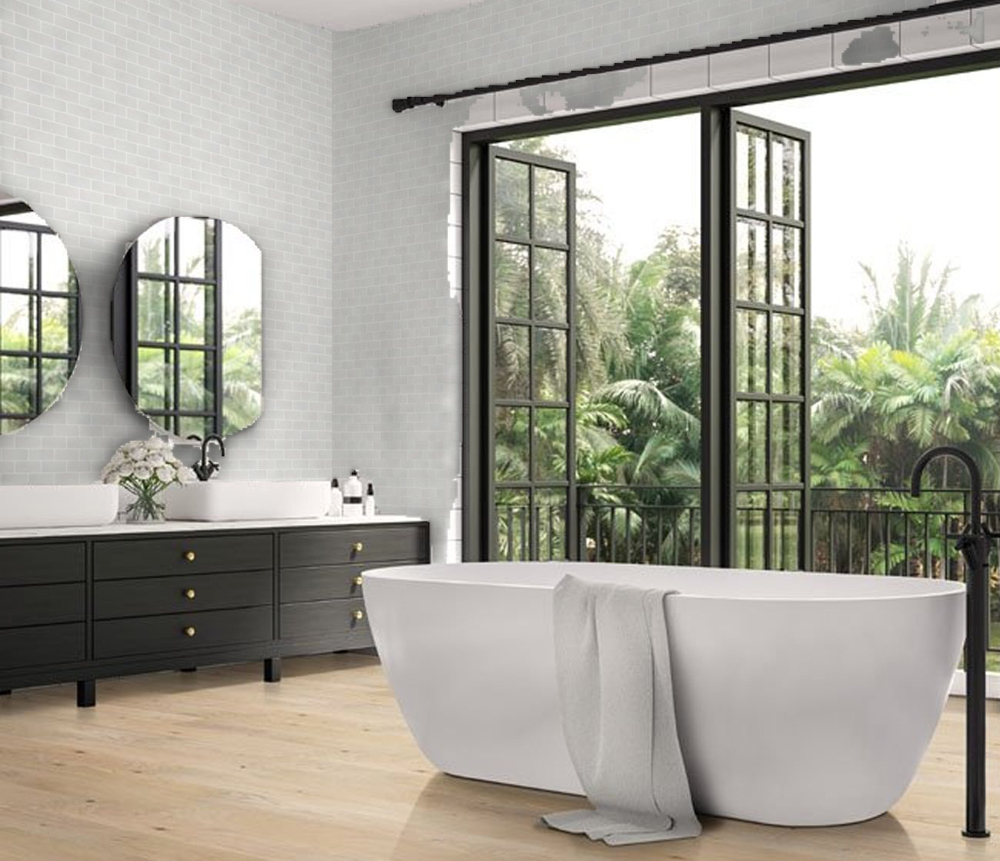 Subway tiles have been all the rage for some time, including kitchen and bathroom backsplashes. Did you know their popularity actually peaked around the 1920s and 1930s? Peak as they did, these tiles never went too far out of style, which is evident by their strong approval today.

All that's needed to understand the long-lasting popularity of subway tile is one look at MSI's Aria Ice Porcelain tile in this awe-inspiring bathroom scene. The elegant porcelain tile forms a full wall backsplash in this breathtaking bathroom, hitting all the right notes, checking all the right boxes. Absolutely stunning.
These 2x4 mosaic porcelain subway tiles boast a polished finish and work well in both residential and commercial settings. Use them to create striking backsplashes, floors, and countertops.

Another great way to use subway tile is to form a herringbone backsplash. This unique arrangement of rectangles will add personality, interest, and style to any kitchen or bathroom.
PATTERNED TILE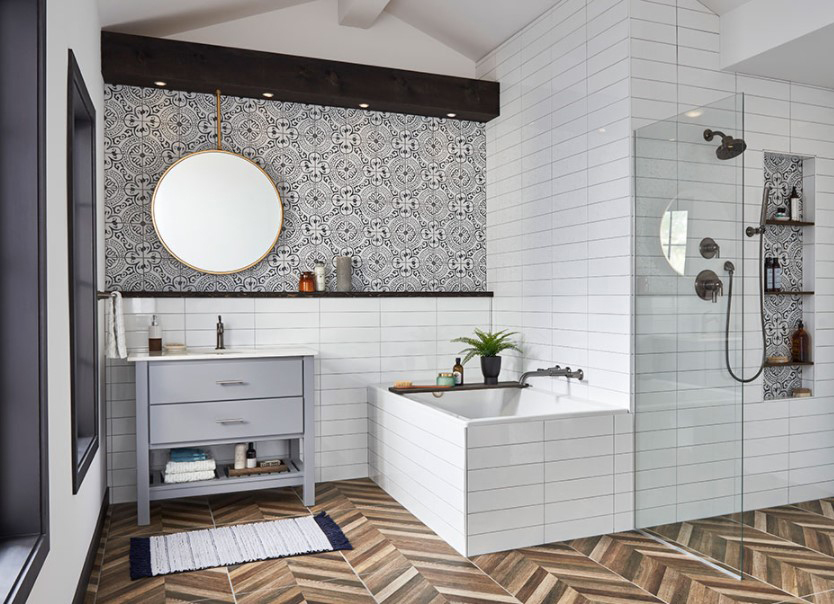 For bathroom or kitchen backsplashes with intriguing tile patterns, look no further than Paloma Encaustic Tile from MSI's Kenzzi Collection. This tile showcases an arresting black and white graphic pattern. Its darker and lighter shades and intentional fading lend the tiles a vintage stamp feel. The designs on these premium tiles are handcrafted to reconstruct the highly detailed sense of hand-painted tiles. These porcelain tile backsplashes are durable, a breeze to clean, and require no ongoing maintenance like sealing.
Pictured here, you can see how effortlessly this bathroom backsplash blends into the scene and stands out simultaneously. It's as if the Paloma Encaustic Tile was made to play with the subway tile wall and the herringbone pattern flooring.
GEOMETRIC TILE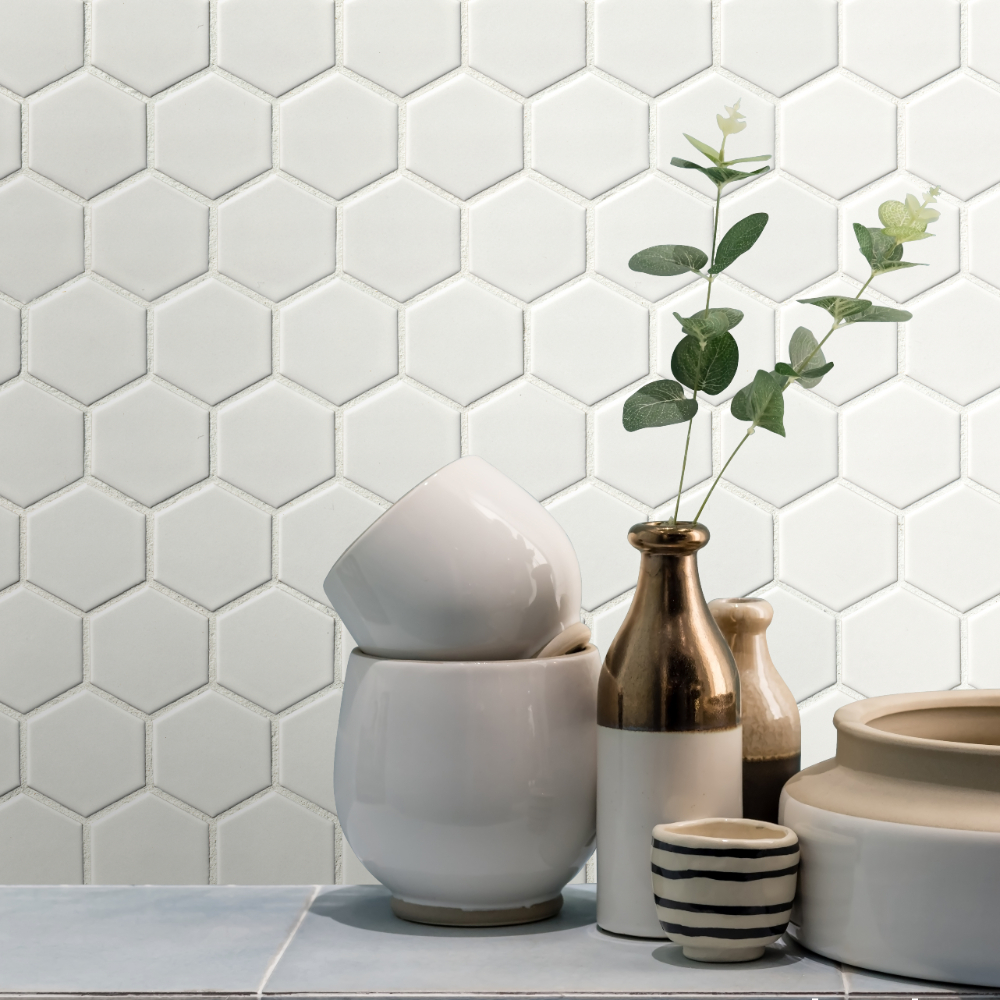 Geometric tiles that feature hexagon shapes have a history of being both chic and timeless. They provide any room with a wonderful honeycomb texture in a well-organized pattern that is extremely pleasing to the gaze. Take, for instance, MSI's White Glossy 2X2 Hexagon Mosaic porcelain tiles. If your room's focal point calls for a graphic pattern, these tiles will certainly do the trick.
In addition to the mesmerizing shape, the tiles boast a sleek finish and cool white color. For an understated backdrop, opt for a grout similar in color. For something more outspoken, choose a contrasting grout to highlight the pattern further.
Note how great the White Glossy 2X2 Hexagon Mosaic porcelain tile kitchen backsplash looks here. It's the perfect backdrop for these minimalist items. The design possibilities with hexagon tiles are indeed vast.
3 DIMENSIONAL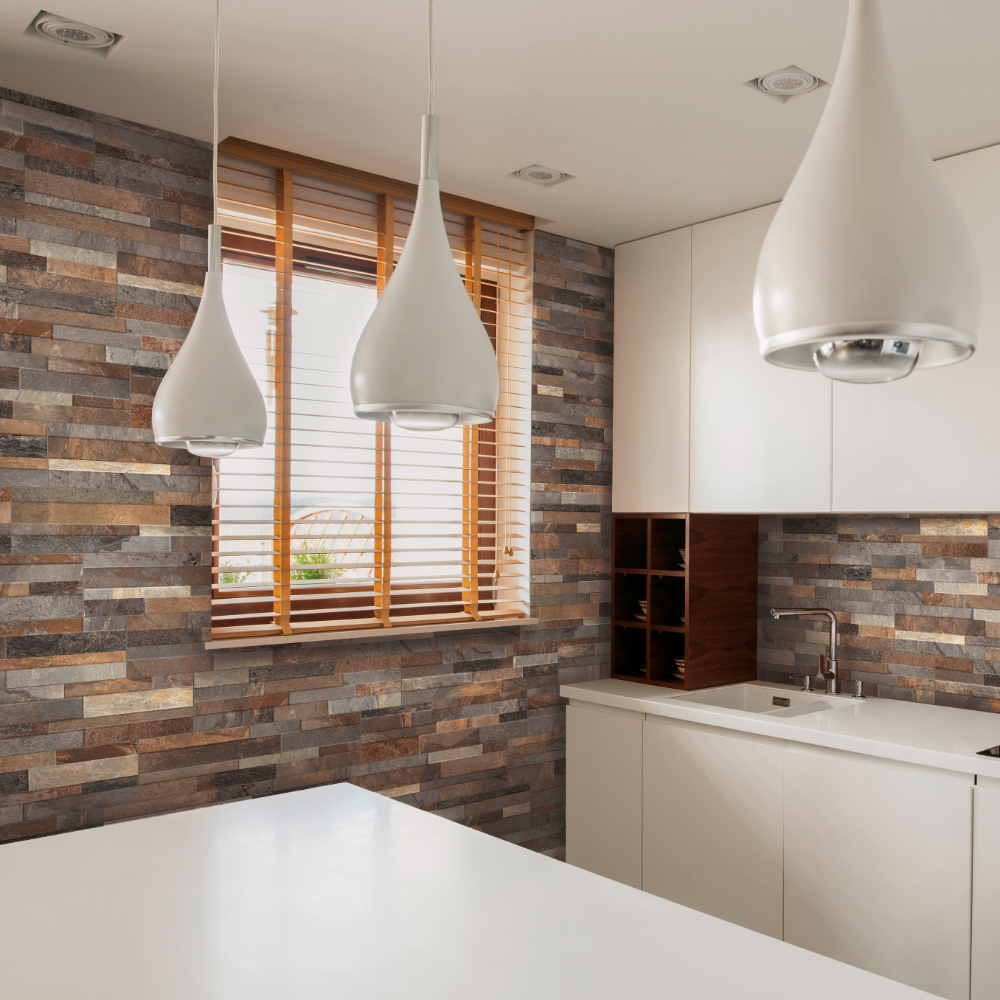 You miss out on a host of design opportunities when you only explore flat tiles. Our 3D wall tiles like the Rocky Gold Porcelain Panels pictured here are excellent for adding texture and dimension to your backsplash design. These alluring porcelain panels crafted in Italy capture the look of real natural stone, though they require zero percent of the required upkeep. These tiles are durable, maintenance-free, and easy to clean. After an easy install, these ledger panels quickly add character to your space.

When you incorporate a backsplash constructed from Rocky Gold Porcelain Panels, you're not only bringing beauty into your design; you are adding a conversation piece that knows no shelf life and will delight your friends and family for decades to come.
SLAB BACKSPLASH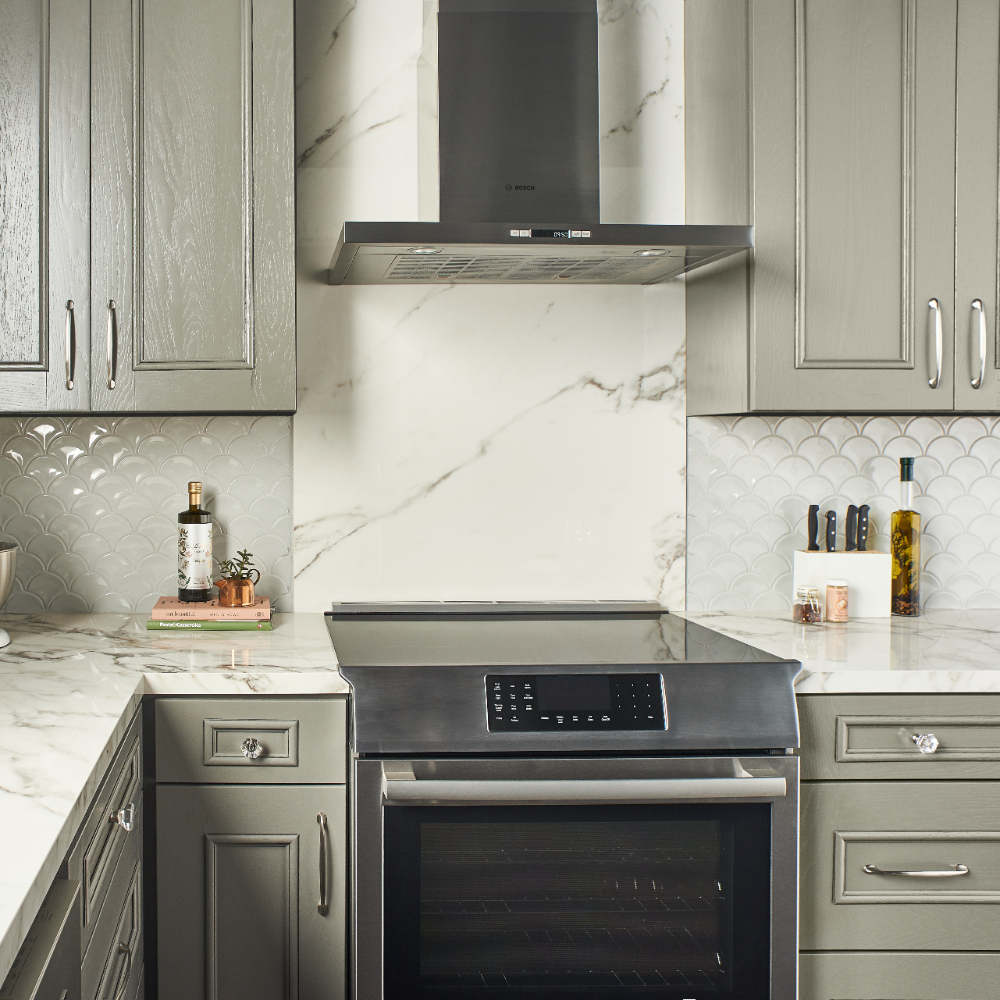 Another design opportunity often missed is slab backsplashes. This is understandable because our minds automatically picture small tiles grouped together when we think of backsplashes. The truth is you can employ a porcelain slab to create a seamless kitchen or bathroom backsplash. Use the Calacatta Lucca Matte pictured here to achieve a continuous, groutless look. The porcelain tile looks precisely like the luxurious marble it mimics.
This enchanting slab with a matte finish is ideal for dramatic wall installs like this one. The slabs are 3x126 and available in both 6mm and 12mm thicknesses. Bring sophistication and timelessness into your kitchen or bathroom with Calacatta Lucca Matte.
Now that you've seen the beauty of porcelain kitchen and bathroom backsplash tile and discovered that it's low maintenance, easy to install, and more durable than the materials it mimics, we'd love to help you choose the perfect style and color(s) for your design needs. Don't hesitate to get in touch with us online or by telephone. We cannot wait to assist as you create the porcelain backsplash of your design dreams.
READ MORE ABOUT MSI BACKSPLASH TILE
5 Must-See Mosaics Offer Bold New Backsplash Options
5 Perfect Quartz Countertop And Backsplash Pairs
5 Stunning Backsplash Designs For Your Kitchen And Beyond
5 Unique Patterns For Your Kitchen Backsplash
Learn More About Backsplash Tile
A Comprehensive Guide To Bathroom And Kitchen Backsplash Tile
Trending And Beautiful Backsplash Tile For 2022
Classic Meets Contemporary With Penny Round Wall Tiles