Visit Our Online Gallery And Discover The Many Looks Of Quartz Countertops
May 19, 2022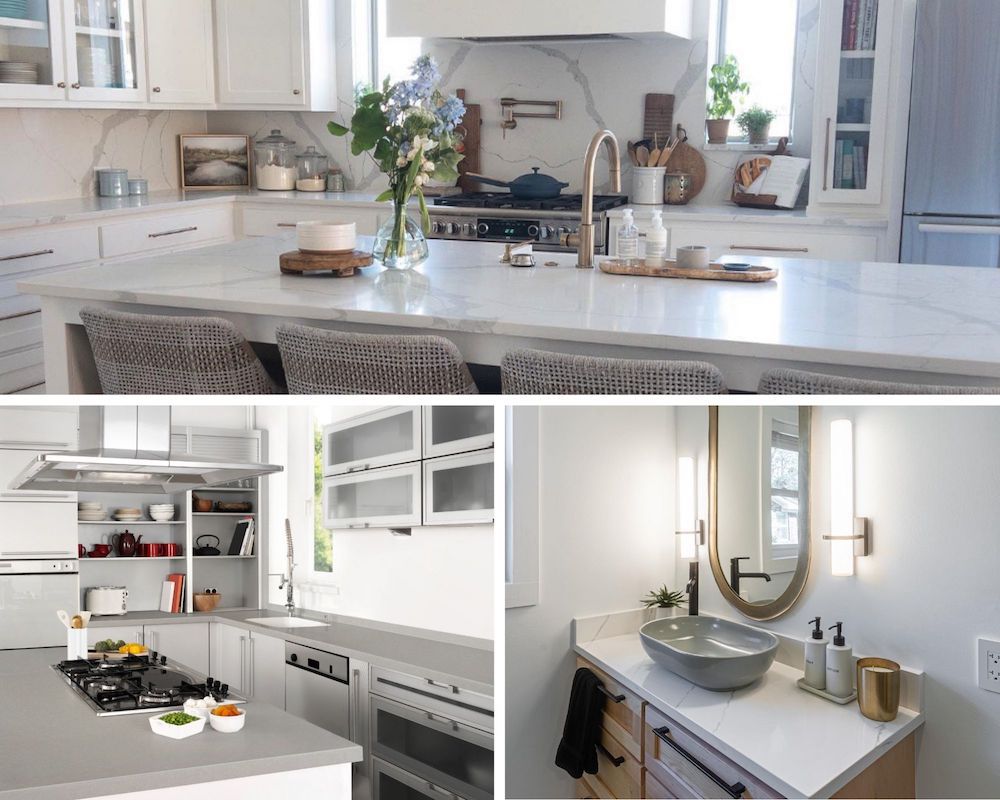 If you're considering natural quartz countertops for your next home upgrade, you're already way ahead of the game. MSI's Q Premium Natural Quartz Countertops set themselves apart by delivering modern sophistication with the ideal mix of manufactured and natural materials, resulting in top-shelf performance and style.

Q Premium Natural Quartz is where enchanting styles meet chic colorways and life-long durability. With the Q collection offering an extensive selection of quartz colors and close to one hundred stain, heat, and scratch-resistant styles, you'll have no trouble finding options that meet your needs and exceed expectations.

Use our Q Gallery to narrow down your selections and find inspiration. There you can unlock the many looks of Q Premium Natural Quartz and how they interact with other MSI products. Use the Q Gallery Viewer to view kitchens, bathrooms, and more, all worthy of a high-glamour design magazine. Zoom in on the details of these premium surfaces in these beautiful room settings. Make sure to have something to take notes with, as the gallery is known to inspire countless design ideas.
CALACATTA SOLESSIO QUARTZ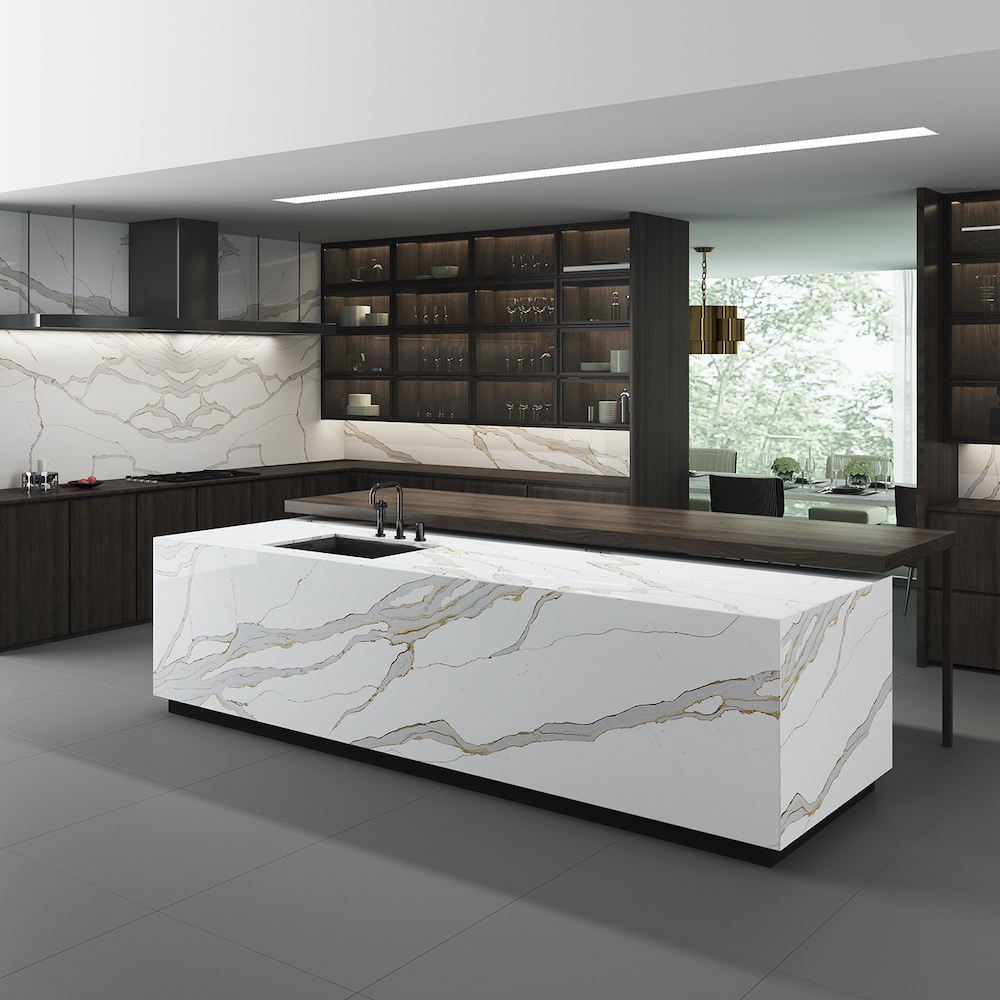 Calacatta Solessio Quartz countertops offer the beauty of luxurious marble at an affordable price. This quartz that looks like marble uses a warm white background and large veins of calming blue-gray within a rust-colored perimeter. If you were to go with authentic marble, not only would it cost more—it would require ongoing maintenance like resealing. Quartz is more durable, germ and stain-resistant, and never needs sealing or resealing. In addition to awe-inspiring countertops, Calacatta Solessio Quartz is ideal for backsplashes, accent walls, and more.

Note how the Calacatta Solessio Quartz on the kitchen island pictured here interacts with the rest of the room. The Calacatta Solessio slabs used as backsplashes and accent walls create a continuous look while working with the room's darker colors to bring everything together. A kitchen like this makes a big statement while somehow remaining understated.
BABYLON GRAY CONCRETE FINISH QUARTZ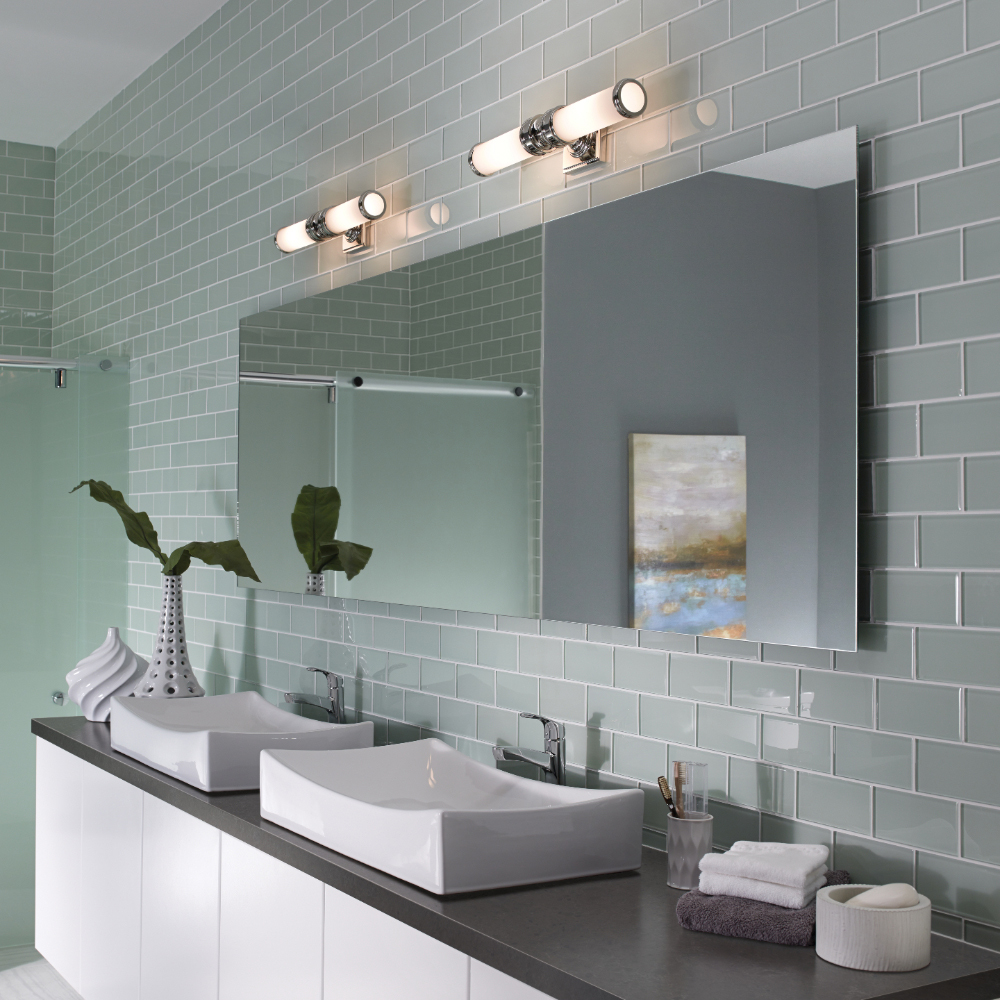 The modern concrete countertop look is here to stay. It provides a sharp, industrial feel without straying from the trendy. Babylon Gray Concrete Finish Quartz countertops boast a smooth, silky texture you can feel and see. Like marble, if you opt for authentic concrete, you'll need to keep up with ongoing maintenance, including sealing and resealing. That's not the case with Babylon Gray Concrete Finish Quartz countertops.
A fine example of quartz countertops that look like concrete, Babylon Gray's surface is 100% non-absorbent, easy to care for, and looks great as a bar top, countertop, backsplash, kitchen island, and more in both residential and commercial settings. It's this non-absorbent nature that makes these great countertops for bathrooms.

Take a look at the Babylon Gray countertop in this bathroom scene. If we didn't already know, it'd be challenging to differentiate these quartz countertops from real concrete. And look how well they play with the white cabinets and vessel sinks. Truly a striking room scene.


SOAPSTONE MIST CONCRETE QUARTZ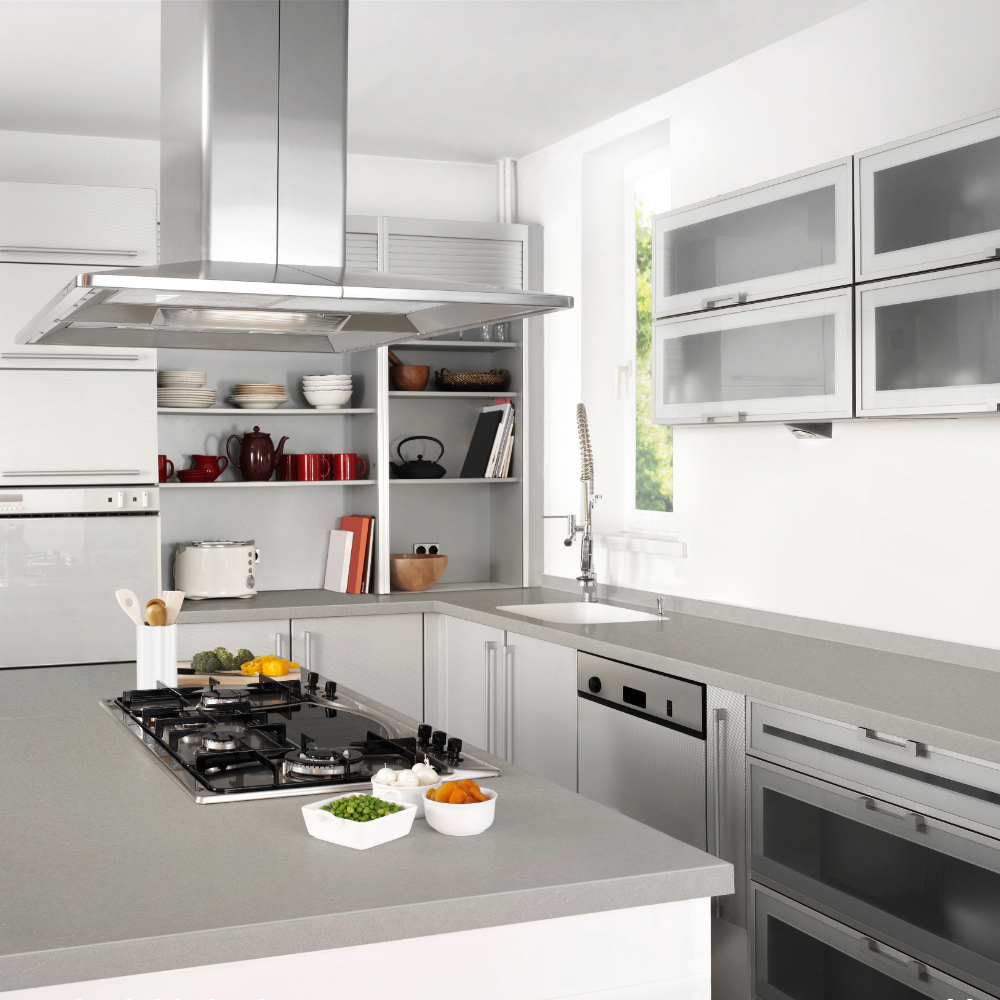 It's likely safe to say that modern design and concrete surfaces are synonymous. At least it certainly seems that way, and for good reason. The right concrete surface provides a captivating look and elevates nearly any space. But why go for real concrete when there's so much work that comes along with it? A quartz countertop like the Soapstone Mist Concrete Quartz pictured in this modern kitchen is the better play every time. It's durable and nonporous, so you never need to worry about sealing or resealing to keep germs out.

Soapstone Mist features thin, long white veins against a dove gray backdrop. It provides the look of soapstone with a concrete finish. This gorgeous surface is a breeze to clean and looks great in any room. Notice how well Soapstone Mist works in this sun-drenched kitchen. It's as if they designed the rest of the space around it, or perhaps the agreeable nature of this premium quartz allowed it to fit in so seamlessly.
STATUARY CLASSIQUE QUARTZ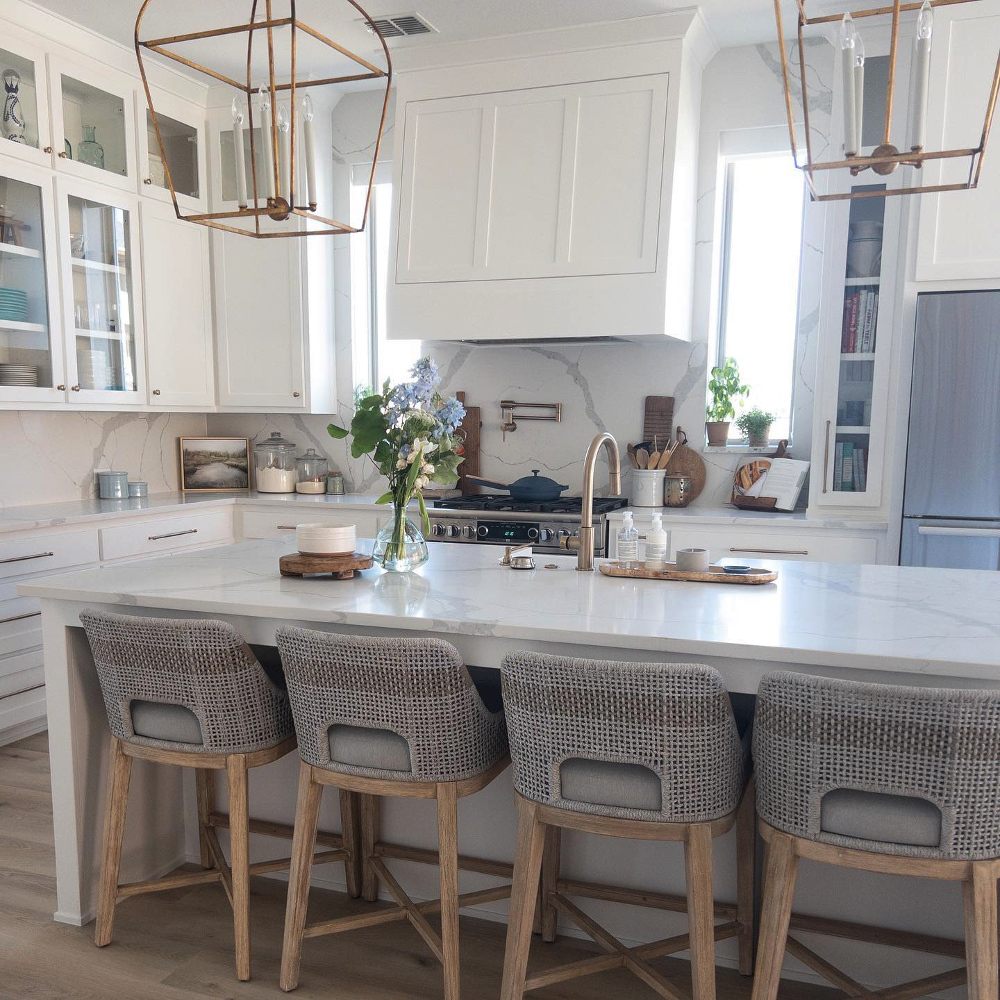 Another MSI premium quartz surface that mimics marble down to the finest detail is Statuary Classique Quartz. This straightforward yet stunning quartz uses a gentle white background and delicate veining to create a marble-look surface perfect for active kitchens and bathrooms and so much more. Use this charming quartz for countertops, floors, showers, waterfall islands, accent walls, and other areas where you know a marble look will take your design to the next level.

Durable, elegant, and easy to maintain, you can't go wrong with Statuary Classique Quartz.

In this stylish kitchen, the Statuary Classique Quartz countertops and backsplash slabs tell you everything you need to know about this homeowner's excellent taste and eye for design. The Statuary Classique elements are the perfect inconspicuous focal points in this luxurious white kitchen. Sometimes the best design statements are the understated ones.
CALACATTA ULTRA QUARTZ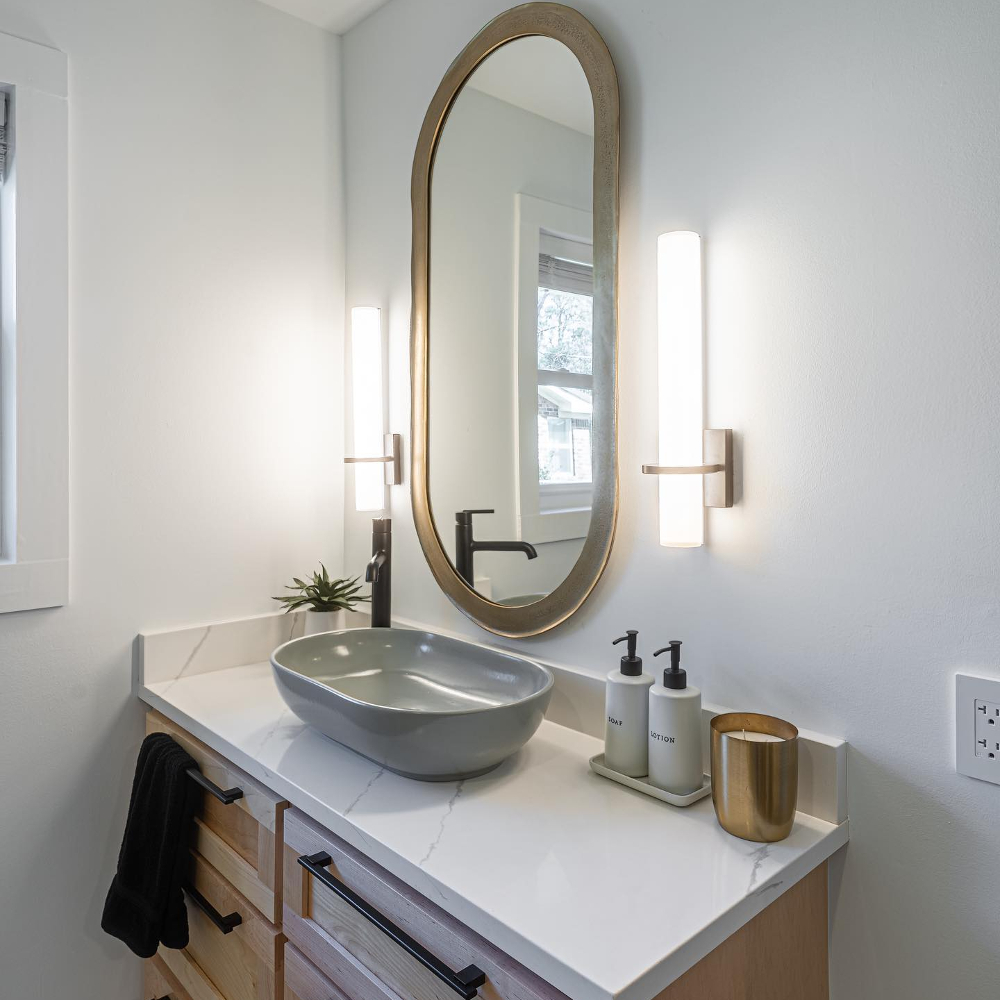 Calacatta Ultra Quartz countertops are ideal if you're looking for an appealing countertop that won't overpower the room. Calacatta Ultra features a cool white background highlighted by delicate linear veins to capture the luxurious look of natural marble. The difference here is with Calacatta Ultra Quartz, you don't need to mark your calendar for ongoing maintenance. Here is a surface that is easy to care for and highly durable.
Calacatta Ultra Quartz stands out without being overdramatic. Note how well it gels with this simplistic bathroom scene. Imagine how much personality would be lost if a veinless surface replaced this counter. The veins here are few but more than enough to elevate the entire feel of this bathroom. Calacatta Ultra Quartz has the ability to take an already showstopping scene to the next level and then some.

For additional inspiration, please take a look at our Q gallery. Once you've narrowed down your selections, don't hesitate to contact us online or by phone. We'd love to help you find the perfect premium quartz surfaces to create your dream space.

Read More About Quartz Countertops
4 New Marble Look Quartz Countertops From MSI
Complement Your Quartz Countertop with A Quartz Backsplash
Love Marble? Consider Marble Look Quartz Countertops
Calculate Your Countertop Cost For 10 Popular Quartz Countertop Colors
The Latest in Lumaluxe Quartz Countertops