4 New Marble Look Quartz Countertops From MSI
April 10, 2022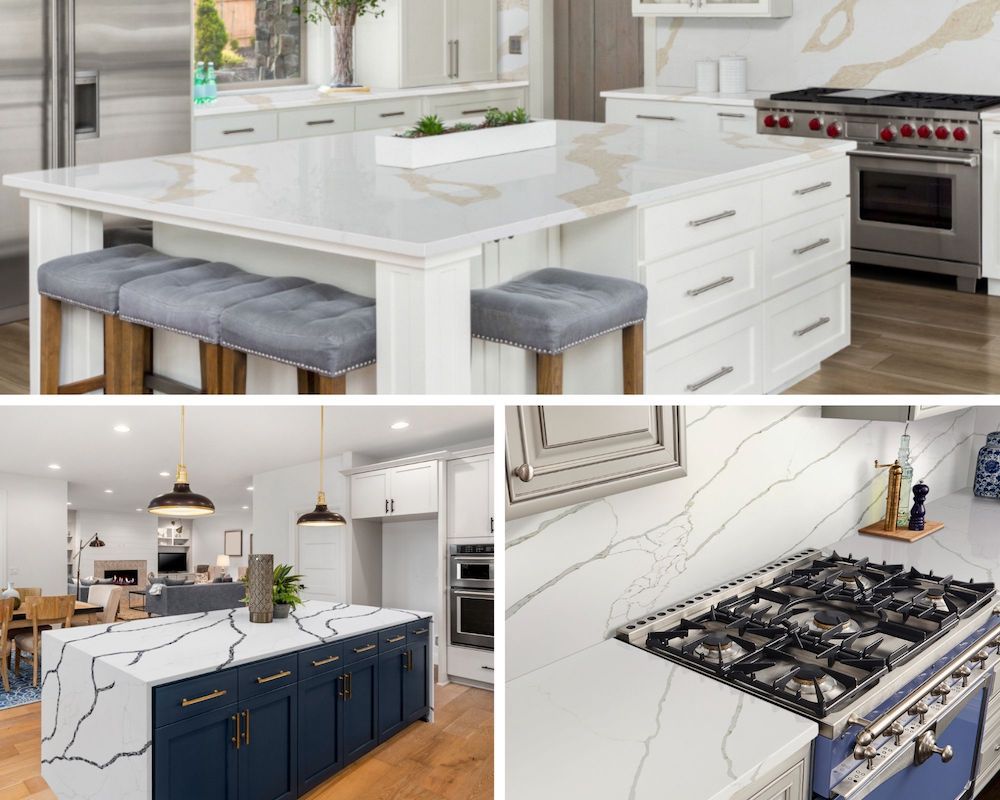 Modern homeowners have a discerning eye for style, and they're prioritizing surfaces and finishes that are modern, elegant, and built to last. Knowing this, it's easy to see why quartz countertops are at the top of their lists.
Available in a wide range of colors and patterns, quartz is sleek, durable, and easy to maintain. While this material can take on a more uniform look if desired, you may prefer the fluidity of a natural stone, such as granite or marble.
With marble look quartz countertops you can get the best of both worlds. These surfaces combine the sturdiness of quartz with the natural beauty of marble, for a one-of-a-kind look that can enhance any kitchen, laundry room, or bathroom.
Today, we're showcasing four of our new favorite marble quartz countertops in our collection. Let's take a look at the "New Q Hues"!
Why Choose Quartz Countertops?
Before we unveil our four newest additions, let's briefly cover why quartz is such a smart choice for today's design-focused homeowner.
At MSI Surfaces, we offer Q Premium Natural Quartz that combines both natural and manufactured materials, delivering the rugged performance you'd expect from quartz with the style and elegance of natural stone.
We put our quartz through nearly 100 tests to ensure that it can successfully resist scratches, heat, and staining. A few of the other benefits you can expect from our Q Premium Natural Quartz countertops include:
Life-long durability
On-trend colorways
Glamorous, refined styles
Solid, non-porous surface
Low-maintenance (no sealing, polishing, or reconditioning)
Impervious to bacteria and other microorganisms
Want to see how a quartz countertop will look in your own home? Use our MSI Countertop Visualizer to preview your preferred slab, even fine-tuning details such as the type of edge you want!
1. Calacatta Leon Gold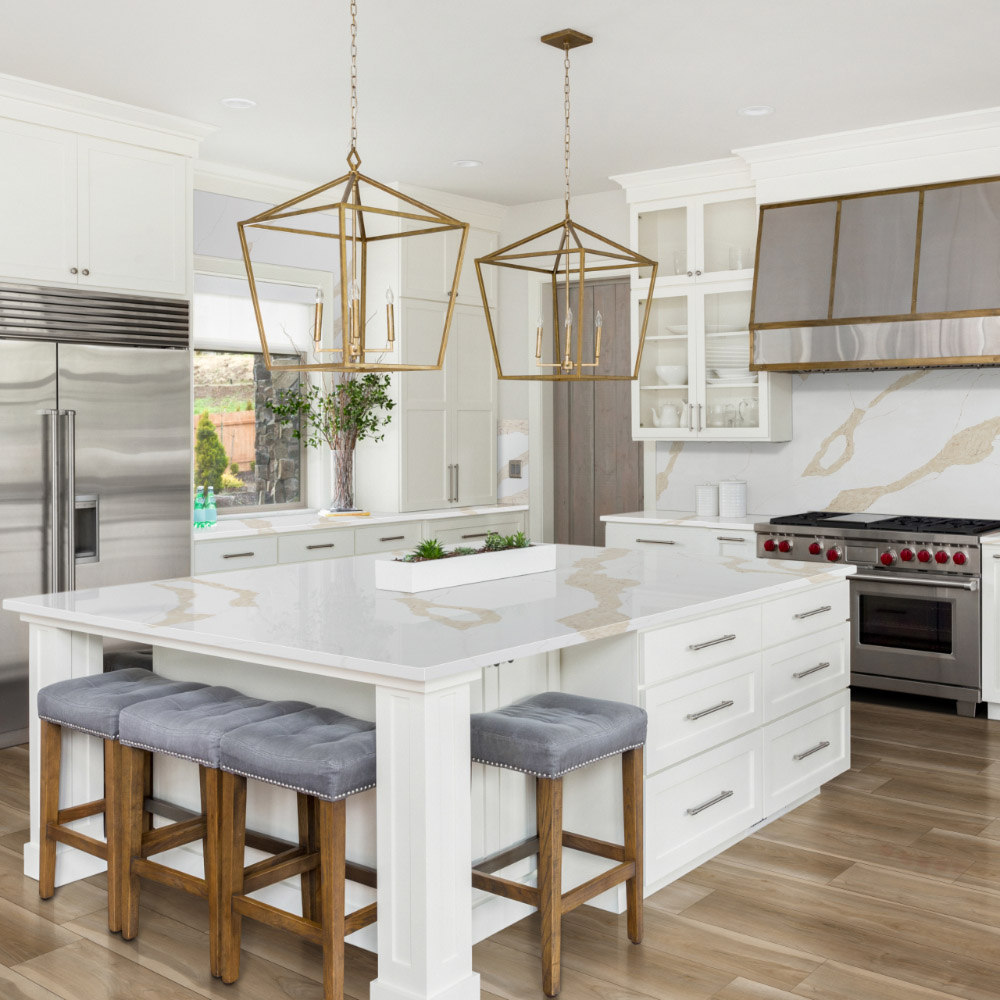 Put simply, Calacatta Leon Gold Quartz is a showstopper. The soft gold veining pops gorgeously against the stark white background, featuring a pattern that moves softly and organically across the surface.
Look closely, and you'll notice that the veining includes subtle tones of light and dark taupe, offset by rust-colored veining that lends the marble a natural and authentic look.
While this might look like the most exquisite and delicate marble, this quartz slab is deceivingly easy to clean, maintain, and upkeep. Calacatta Leon Gold resists stains beautifully and requires virtually no maintenance to look as good as new.
Add it to your kitchen countertops for a clean and classic look. You can even extend it up your backsplash for a seamless, uniform appearance! In the bathroom, this quartz makes a stunning shower surround and is also gorgeous on an accent wall, home bar, and more.
2. Calacatta Laza Gold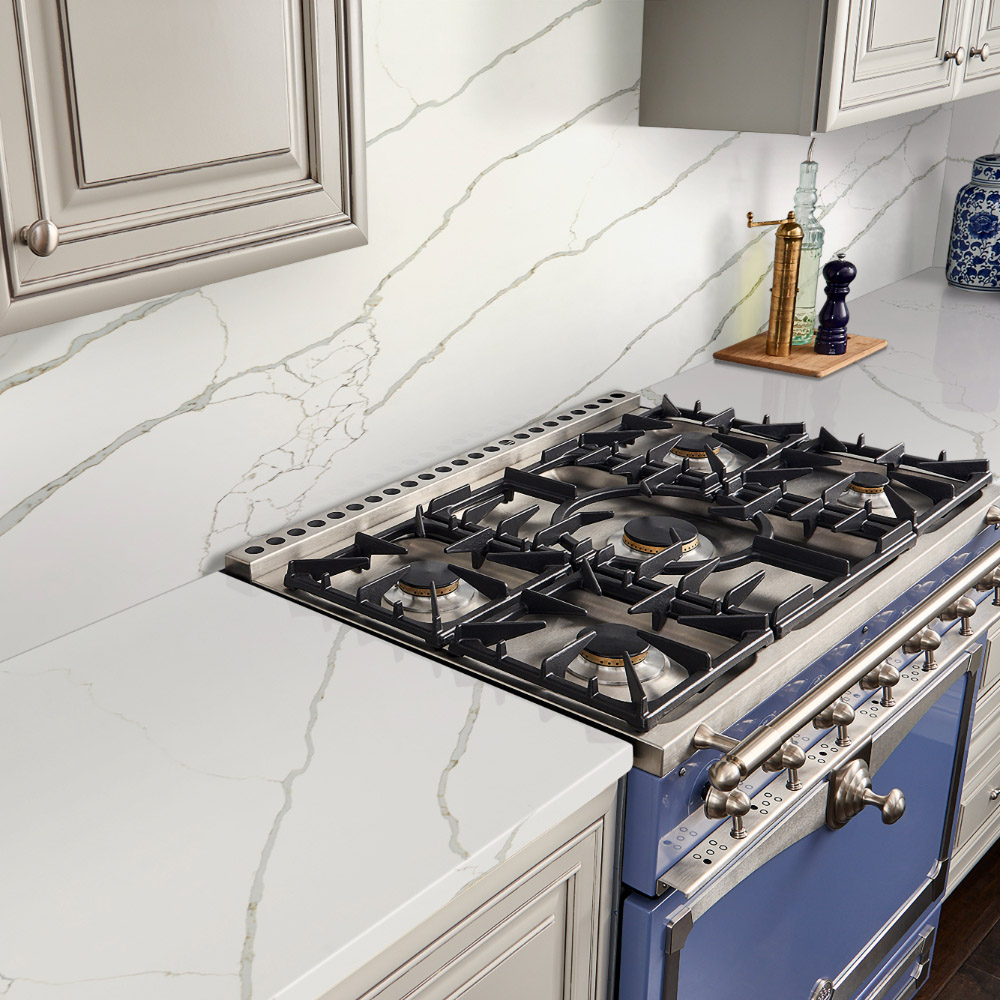 Want to add warmth and elegance to any room in your home? You can't go wrong with Calacatta Laza Gold Quartz.
These slabs feature a combination of deep brown and soft brown veining against a bright white background. Each vein is beautifully highlighted with gold tones around the perimeter, allowing it to stand out and catch the light.
This quartz looks as realistic as genuine marble, but you never have to worry about sealing it and you'll never question its longevity. Refreshingly resistant to stains, scratches, and chips, it's ideal for both residential and commercial applications.
Make Calacatta Laza Gold the star of your kitchen by outfitting your island in this show-stopping quartz. Or, use it in your backsplash to add a sophisticated hint of color and style. This slab also looks great on countertops for bathrooms!
3. Calacatta Laza Night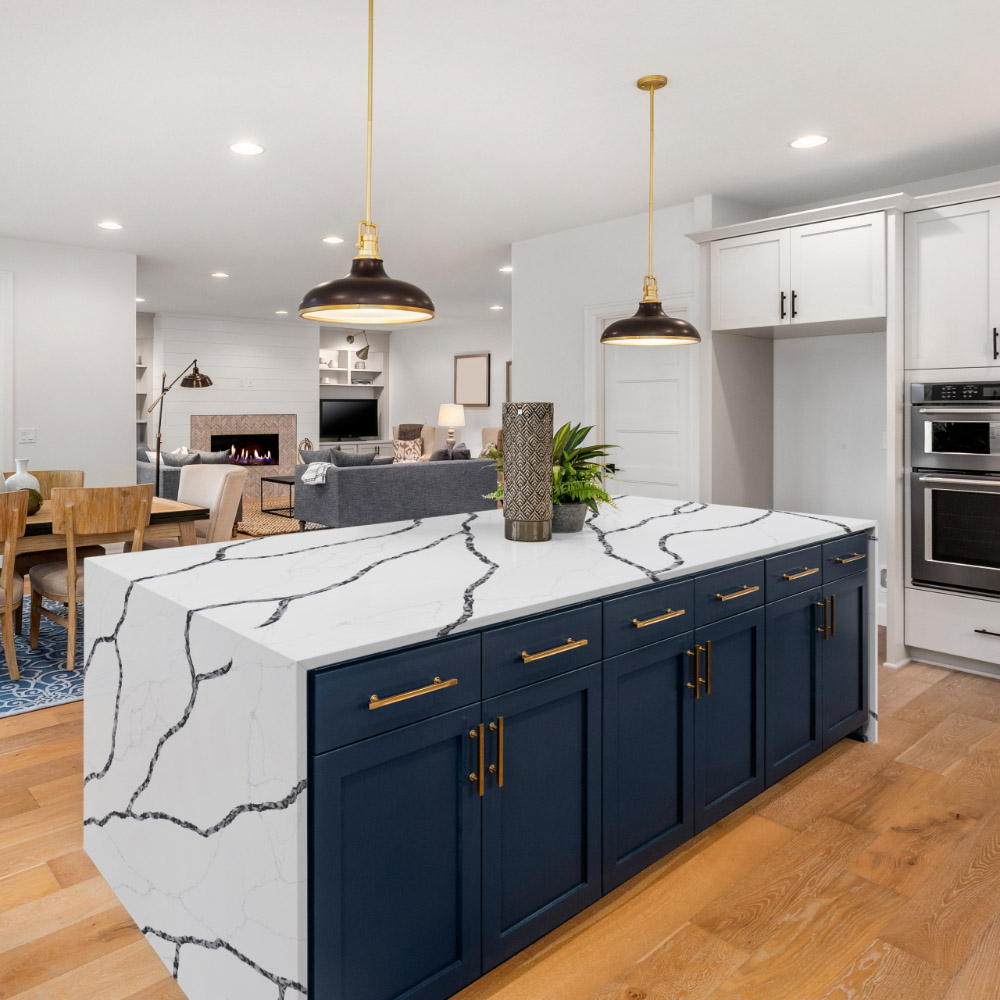 Sometimes, you just need a little drama. Calacatta Laza Night Quartz is bold yet elegant, and sure to catch the eye of everyone in the room.
The highlight of this slab is the deep charcoal veining, which stands out brilliantly against the cool, white background. Add it to your home or business for the powerful impression it makes, and enjoy the everyday durability it provides.
Calacatta Laza Night Quartz will retain its gorgeous appearance without the need for any sealing, polishing, or reconditioning. It's exquisite in a kitchen island, countertop, or backsplash, and equally lovely as an accent wall. You can even use it as flooring for a true one-of-a-kind look that will turn heads for all the right reasons.
4. Carrara Delphi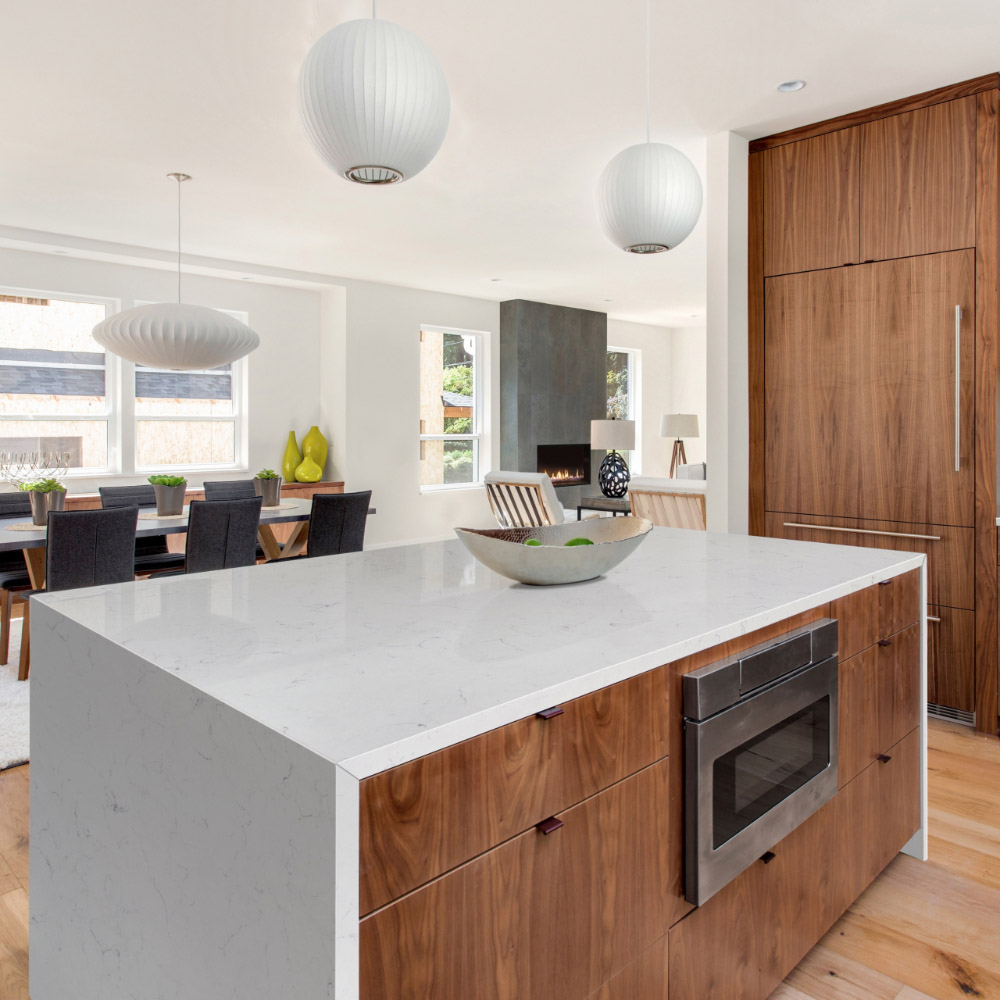 Are you seeking a marble look quartz that's subtly stunning and looks great in every room? If so, then check out Carrara Delphi.
Compared to some of the cooler backgrounds on the list, this slab features a warmer white tone that contrasts elegantly with the light gray veining. This marble look quartz was designed to replicate the look of timeless Carrara marble and incorporates a naturalistic vein pattern that's equally beautiful and modern.
Use this quartz to turn a waterfall kitchen island into a true accent piece. Or, install it on your kitchen or bath countertops and enjoy how easy they are to maintain. This slab also works perfectly as a shower surround, accent wall, or floor.
Browse Our Full Collection of Quartz Countertops
There's a reason why quartz countertops have remained an enduring trend. This material is designed to last for life, with minimal upkeep required. Plus, they're available in virtually any design, color, or pattern you choose.
If you love the look of marble but don't want to worry about chips, stains, or scratches, then marble look quartz is the way to go. While we've highlighted four of our favorites here, you can find plenty more in our Q Premium Natural Quartz Collection.
Shop all of our quartz countertop colors and patterns online, and reach out to our team if you have any questions!

Read More About Quartz Countertops
Complement Your Quartz Countertop with A Quartz Backsplash
Love Marble? Consider Marble Look Quartz Countertops
Calculate Your Countertop Cost For 10 Popular Quartz Countertop Colors
The Latest in Lumaluxe Quartz Countertops
Visit Our Online Gallery and Discover the Many Looks Of Quartz Countertops