Is Sealing Granite Countertops Really Necessary?
May 03, 2018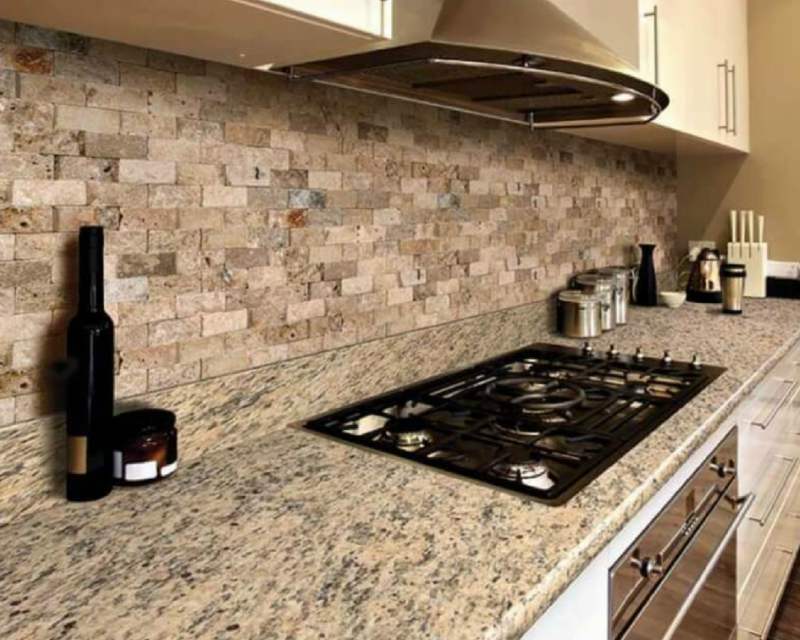 Granite is one of the hardest surfaces on the planet, and one of the most beautiful. It is durable, naturally heat resistant and resistant to chipping, making granite countertops the perfect choice for active kitchens and bathrooms. Even so, granite is somewhat porous, and that means that if not sealed properly, it can stain.
If you are on the fence considering whether you'd prefer caring for granite versus caring for quartz, try to keep in mind that each surface has its benefits. Granite colors and patterns reveal Mother Nature's finest and most unique brush strokes, whereas quartz features perfect consistency of design and pattern. Granite requires some ongoing maintenance, while quartz is practically maintenance free. On the other hand, quartz counters aren't as heat resistant as granite.
The bottom line? There are good reasons why homeowners choose one over the other; however, those reasons tend to be personal, based on individual preference and lifestyle. Just remember, any natural stone you select for countertops will need to be sealed. But not to worry, because sealing granite counters is not difficult or even time consuming.
The quickest way to determine if your granite countertops are due for a sealing is to conduct the water droplet test. Wipe down your granite countertop and then sprinkle some water over the top. If it beads up and remains on the surface, there's no need to seal your countertops yet. However, if the countertop absorbs the water, it is time to seal. And don't panic, the water will evaporate (just don't do this test with oil!)
If it's time to seal, know that a number of effective granite countertop sealers are available on the market. Before you begin, the key is to make sure that your countertop is clean and dry. Apply the sealant as directed by the manufacturer. Most will recommend allowing it to cure for 24 hours before use.
Once complete, do the water test again, and you'll see that your granite countertops are now sealed to perfection against stains. Time to crack out the pots and pans and get your busy kitchen back to work!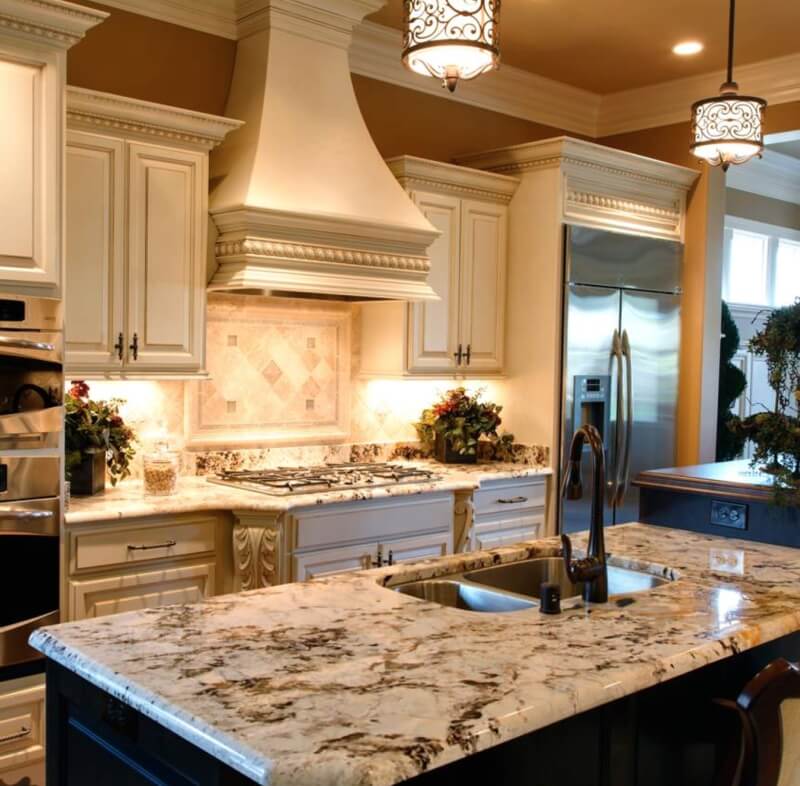 Get this look with MSI's Delicatus Granite (Photo Credit: Houzz)
Kitchen islands are workhorses on which science fair projects are completed, food is prepped, and drinks are spilled. That makes islands ideal for granite countertops. Here, our gorgeous Delicatus Granite is a perfect choice to unify the light, cream-colored cabinetry and the dark coffee-hued wood of the island.
White granite, particularly on an island or near the stove, may require more frequent sealing than other areas of the kitchen. Do the water test a couple of times a year and seal as needed.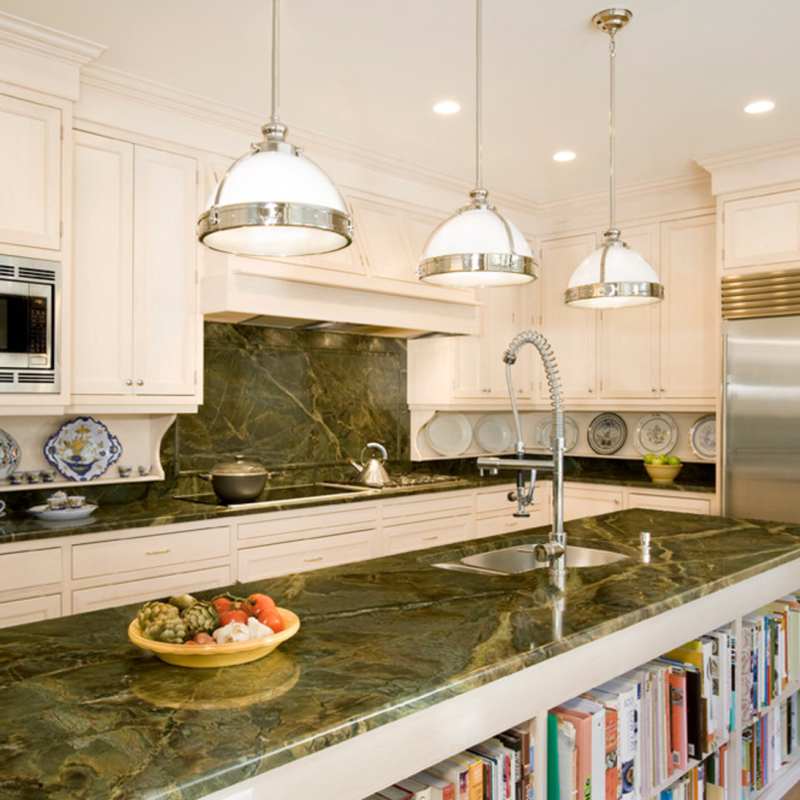 Recreate this look with MSI's Golden Lightning Granite (Photo Credit: Houzz)
Granite colors range from subtle to dramatic, and our Golden Lightning Granite definitely falls into the latter category. In this transitional kitchen, richly green-hued and veined granite is featured, not only on the island and surrounding countertops, but also as the backsplash behind the cooktop.
This striking granite offers a one-of-a-kind look with a visual impact like no other. If you are tired to scrubbing grout lines, running the granite up the wall is a great choice. Since you can't really do the water test on a vertical granite installation, clean and seal the granite backsplash a couple of times a year, just to be safe.
White kitchens are always in style, and this light and airy kitchen is a great example of why.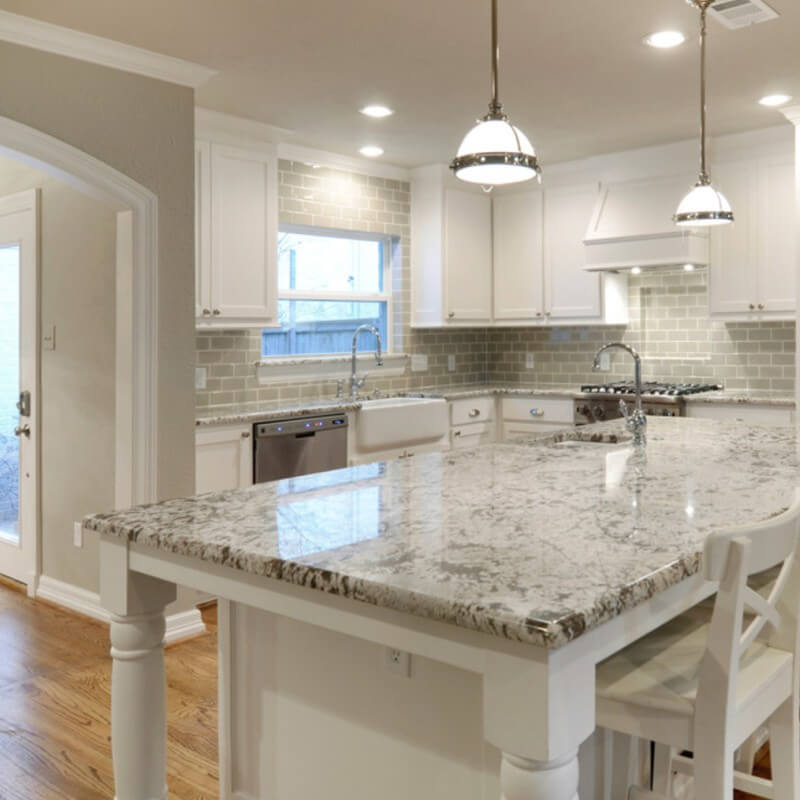 Create this look with MSI's Bianco Antico Granite (Photo Credit: Houzz)
Bianco Antico Granite adds texture and dimension to this well-appointed space, pulling in warm tones to offset the cool tones of the walls and cabinetry. Making pies or cookies? This island is the perfect size for rolling and cutting, and a granite countertop is the perfect surface to do it. Just make sure to clean it thoroughly afterwards to remove any residual food.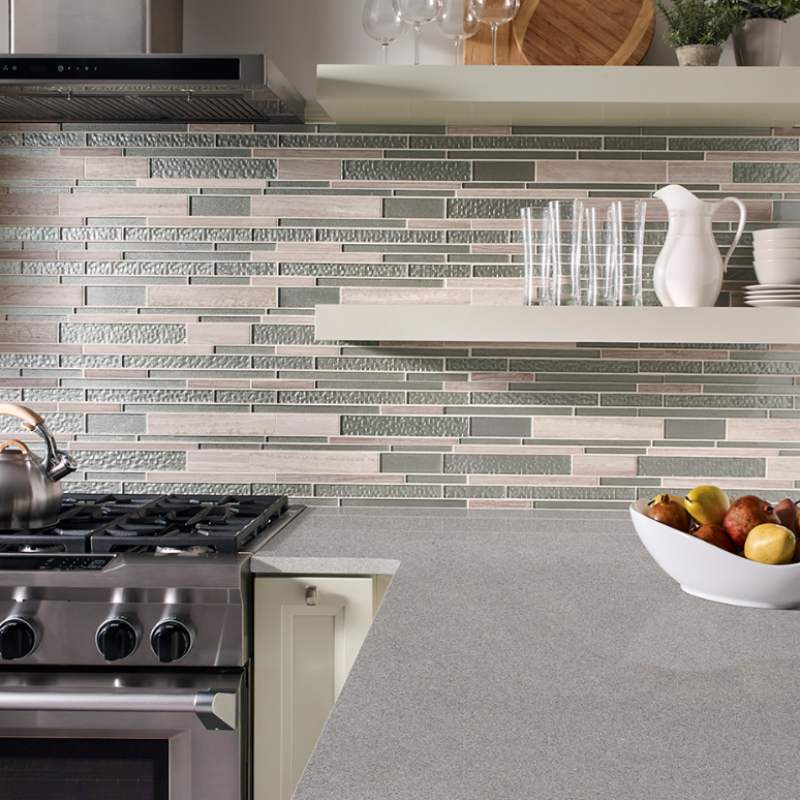 Featured: Silvestre Gray Granite
The low variation pattern and on-trend gray hues give our Silvestre Gray Granite its clean and contemporary look. This granite color's subtle beauty allows the other elements in the space to take center stage. The gorgeous glass-stone blend backsplash and open shelving are the perfect complement to this contemporary granite countertop.
Take care to wipe down the countertops—particularly around the stove—after you cook, and do the water test often to make sure your countertop is properly protected. This will ensure your granite lasts a lifetime.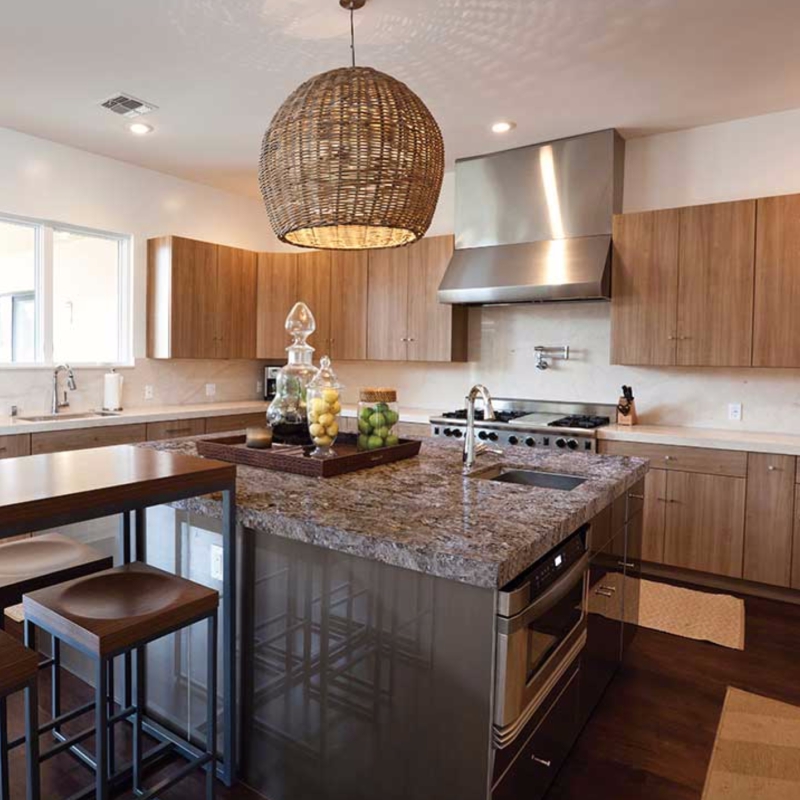 Featured: Nilo River Granite
Statement islands are a fabulous way to bring color and texture to your kitchen. Here, the exquisite and extra thick-cut Nilo River Granite complements this modern kitchen perfectly with its rich gold, umber and deep Bordeaux tones. The clean lines of the flat-paneled cabinetry, paired with light countertops and backsplash, make the island the star of the room. Pull up a stool! This island is perfect for entertaining friends and family, or just catching up at the end of the day.
In the final analysis, granite countertops are simply one of the most durable surfaces you can put to work into your home. Just remember that like all natural stones, granite needs to be sealed to protect it from staining. It's important to keep your countertops clean and dry, and to seal as necessary following the directions provided by the sealant's manufacturer.
However, most homeowners would agree that this small investment in maintaining a granite countertop is well worth the beauty you get to enjoy for decades to come.
READ MORE ABOUT GRANITE COUNTERTOPS
Most Popular Granite Colors From 2016
Neutral But Not Boring Countertops