Arterra Porcelain Pavers With Zero-Slip Technology
October 20, 2021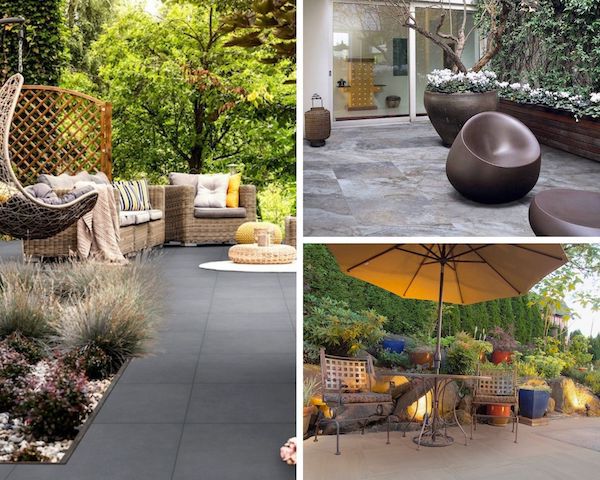 Your backyard is an extension of your home, and your home is an extension of your family. So shouldn't your outdoor sanctuary be a place of luxury, comfort, and, most importantly—safety? Designing your ideal outdoor retreat with residential lifetime warranty products like Arterra Porcelain Pavers with ZeroSlip™ technology gives you the peace of mind necessary to spend more time relaxing and enjoying your outdoor space and less time fretting over it. The benefits of choosing these porcelain pavers for your outdoor patio tile are both numerous and exciting. Let's jump right in and explore them together.
Benefits of Arterra Porcelain Pavers
When it comes to creating a modern outdoor oasis that is durable, comfortable, easy to maintain, and safe, Arterra Porcelain Pavers deliver. Sure, there are endless outdoor flooring options, but how many engineered their surfaces with technology? For example, throughout the wide selection of Arterra Porcelain Pavers, every product delivers the safety your family needs through MSI's ZeroSlip™ technology.
Your outdoor space is where friends and family come together. It's where your children laugh and play in and out of the pool. Whether dry or wet, an outdoor tile floor consisting of Arterra Porcelain Pavers provides exceptional slip-resistance.
Now you can have the high-glamour look of natural stone in a porcelain paver that ensures a dynamic coefficient of friction value (a measurement that determines how much friction is on wet, level floors when walked upon) that is not only at least 50% greater than the industry standard—it also exceeds that of many of the most popular pavers available today. You can rest easy knowing these slip-resistant porcelain pavers are where safety and beauty meet.
When deciding between porcelain tile and stone, it's important to consider the non-porous nature of porcelain. Non-porous porcelain surfaces help keep these pavers 100% UV, stain, mold, and mildew resistant, and they won't discolor or fade over time as they face the elements, foot traffic, and heavy impact. Even spilt red wine won't find a permanent residence on your tile. Using the same features and installation methods of natural stone, our porcelain pavers are more than capable of withstanding freeze-thaw cycles.
These gorgeous pavers are family-friendly and ultra-durable. Take a look at this video to learn more and determine if Arterra Porcelain Pavers are the best choice for you.
These worry-free porcelain surfaces never require re-sealing or ongoing maintenance. To top it all off, they come with a lifetime residential warranty and 10-year commercial warranty. With Arterra Porcelain Pavers, that peace of mind keeps getting better.
Pedra Azul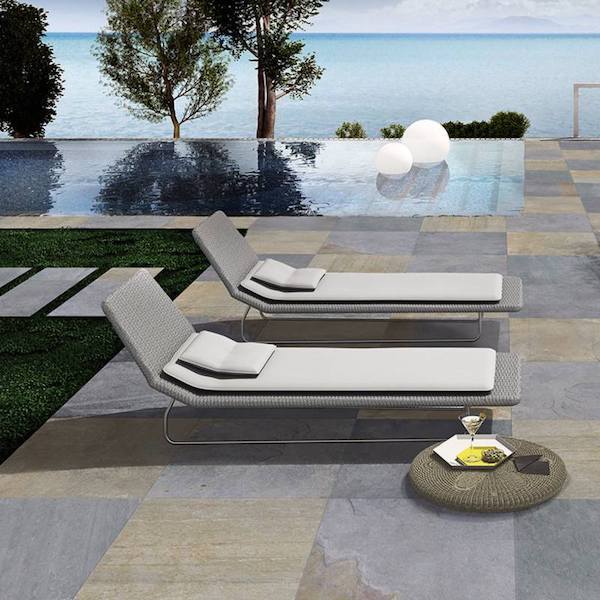 Perfect to use throughout your property, inside and outdoors, Pedra Azul pavers feature a matte finish perfect for drawing out the welcoming brown and beige tones and veins. This modern tile in a large porcelain paver format is ideal for any high traffic area in your home, especially outdoors around the pool, where the chance of slipping increases significantly. No need to worry, though, as these porcelain pavers feature MSI's ZeroSlip™ technology.
Here we see the brown and beige tones of the Pedra Azul pavers simulate a beach vibe as our eyes continue to the infinity pool and the vast water beyond. It's a scene that craves bare feet, which is great due to the ZeroSlip™ technology. Additionally, in climates with a higher temperature, these pavers keep things comfortable for bare feet.
True Bluestone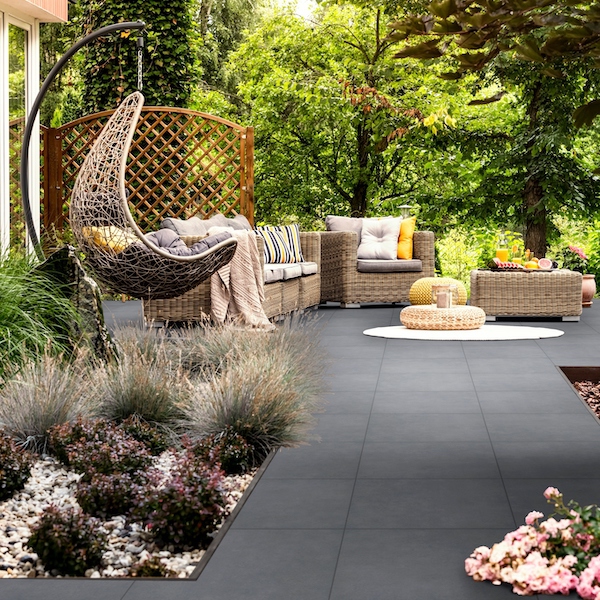 Among the dozens of Arterra Porcelain Paver tile patterns to choose from, True Bluestone porcelain pavers deliver a relaxed, sophisticated style with a blue-gray shade and understated elegance. These colors combined with the matte finish and large format are reminiscent of a flat natural rock surface deep in the forest. This relaxing spa patio with the True Bluestone porcelain pavers brings the scene of a remote meditation resort to life, proving that you don't need to stray far from home to be mindful of the beautiful, tranquil setting in your backyard.
Like a true spa retreat, take off your shoes, meditate, practice yoga, and enjoy the moment, all the while resting assured that your Arterra Porcelain Pavers are slip-resistant to keep you safe from falling, in addition to being easy to clean non-porous surfaces to keep you safe from germs.
Argento Travertino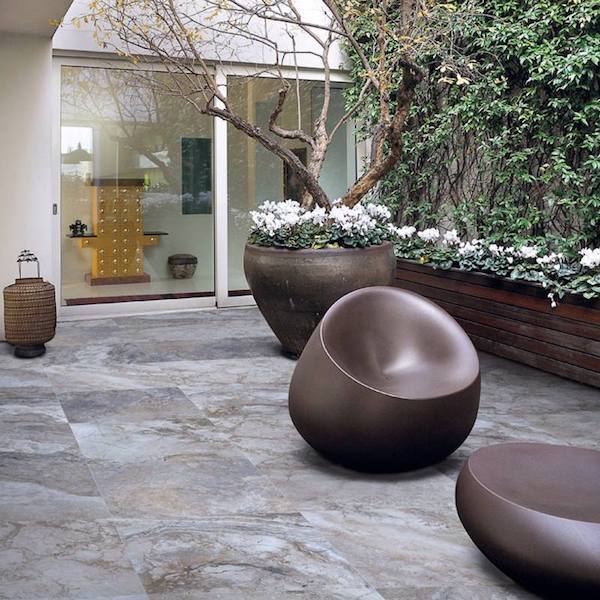 Make a show-stopping statement by incorporating Argento Travertino porcelain pavers into your outdoor design plan. These glazed tiles feature creams, soft grays, taupes, and whites that twirl together in a harmonious dance that will surely catch the eyes of any guest. From traditional to contemporary, these 24x24 matte-finished pavers complement a wide range of design styles.
Here we see the creams and whites of the pavers draw the eye up to the white flowerbed and back again as the brown tree and stone lounge chairs act as intermediaries. Who needs to travel to a distant resort when you have such a lovely courtyard mere steps away?
Palmwood Gris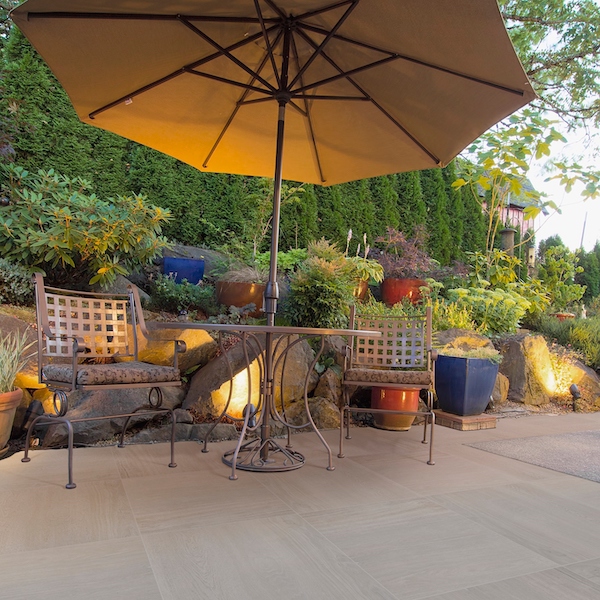 With an understated wood grain within a soft matte gray finish, Palmwood Gris porcelain pavers will take your outdoor patio to new heights of luxury. Perfect for adding visual texture to patios and decks, these large-format pavers can be set on grass, sand, or concrete to add new life to your outdoor space. One of the benefits of using such large format pavers is fewer grout lines, resulting in less cleaning and making the area feel more spacious.
The simplicity and large size of these Palmwood Gris pavers serve as a stunning backdrop for the more busy elements of this patio scene, which pull the eyes up to take in the splendor of the wide variety of flora, accent lighting, and the wonderful umbrella over the seating area.
Which Porcelain Paver Is Right for You?
With MSI's ZeroSlip™ technology, durability, ease of care, lifetime warranty, 100% UV, stain, mold, and mildew resistant surfaces that won't fade or discolor over time, it's challenging to make the wrong decision when choosing any of these Arterra Porcelain Pavers. If you need help selecting the perfect surface for your outdoor upgrade, we'd love to help. Please contact us to learn more.
READ MORE ABOUT CREATING OUTDOOR SPACES with PORCELAIN PAVERS
Build the Perfect Patio with Porcelain Pavers
Get the Look of Travertine with the Legions Porcelain Pavers Collection
Porcelain Pavers That Perfectly Mimic Travertine Tile