Tips From The Trade: Can You Use Ceramic Tile For Floor Tile?
May 03, 2017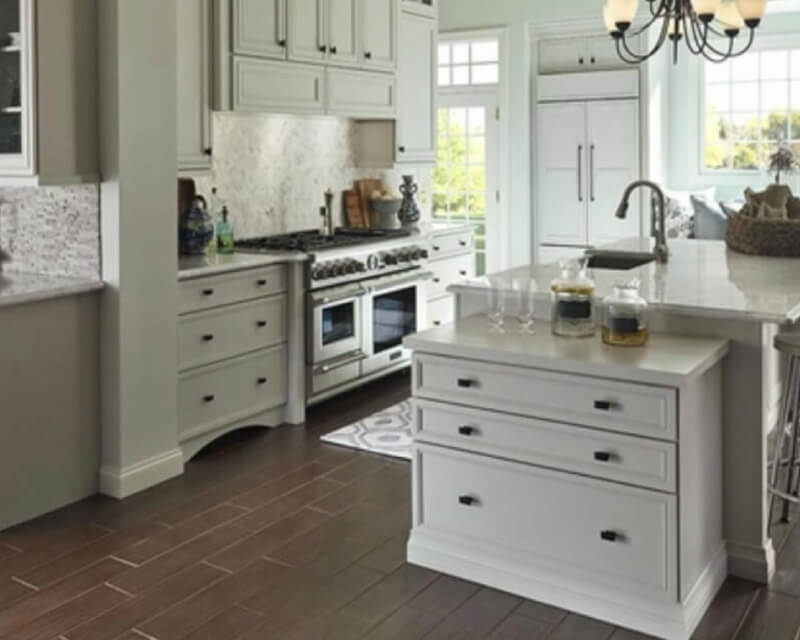 Ceramic tile is still around after all these years, and for a very good reason: It still works! Thousands of years have passed since ceramic tile made its debut as a practical, decorative surface in both residential and commercial spaces. Trends and fashions may come and go, but unlike shag carpet or linoleum, ceramic tile continues to be a beloved option for flooring.
Even so, some homeowners are reluctant to embrace ceramic tile for their floors, because they think it's not a durable option. Perhaps they've heard that ceramic tiles are only appropriate for walls and other vertical surfaces, that it can't stand up to everyday foot traffic, spills and stains – that it's prone to cracking and chipping.
While it's true that other materials such as porcelain tiles are denser, ceramic tile that is manufactured for flooring installations has a Porcelain Enamel Institute (PEI) rating that indicates its hardness and durability, assuring you that it's perfect for all residential use. When you explore some of the popular options for ceramic flooring, you'll be amazed.
Beige Carolina Timber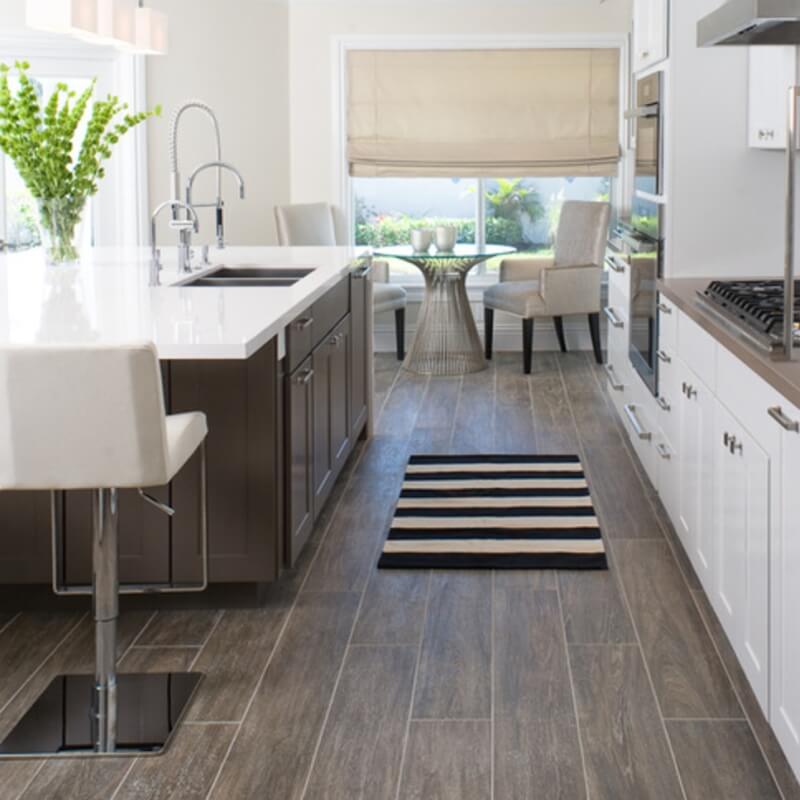 Get this look with MSI's Beige Carolina Timber Ceramic Tile (Photo Credit: Houzz)
Hardwood plank floors are gorgeous, but rather limited in usage – forget about installing them in a kitchen or bath because wet spills and humid moisture are not a wood floor's friend. Beige Carolina Timber Ceramic Tile is a ceramic wood tile that brings you that warmth and character you crave from a wood floor, with zero worry, and just about zero maintenance as well. It's available in 6" x 24" planks for realistic, easy installation.
Gray Carolina Timber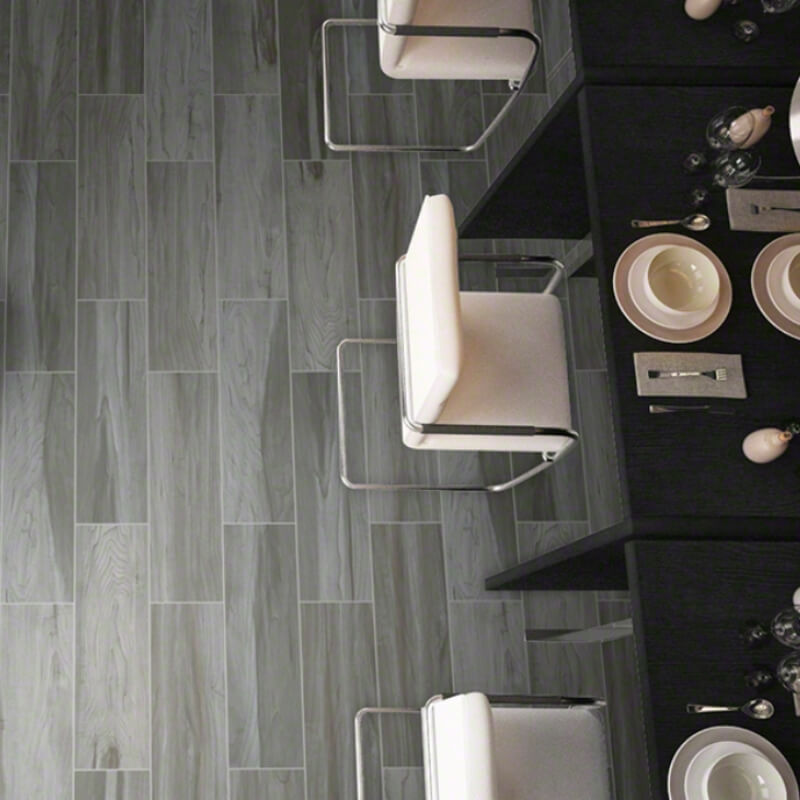 Featured: Grey Carolina Timber Ceramic Tile
Like its beige cousin, Grey Carolina Timber Ceramic Tile is a ceramic floor tile with the incredibly realistic look of soothing gray hardwood planks. Install them in the kitchen, and be assured they'll stand up to spilled milk. In the bathroom, they're water- and mildew- resistant. No worries about pets' claws or stiletto heels scratching them up – and no splinters in your bare feet.
Sand Mojave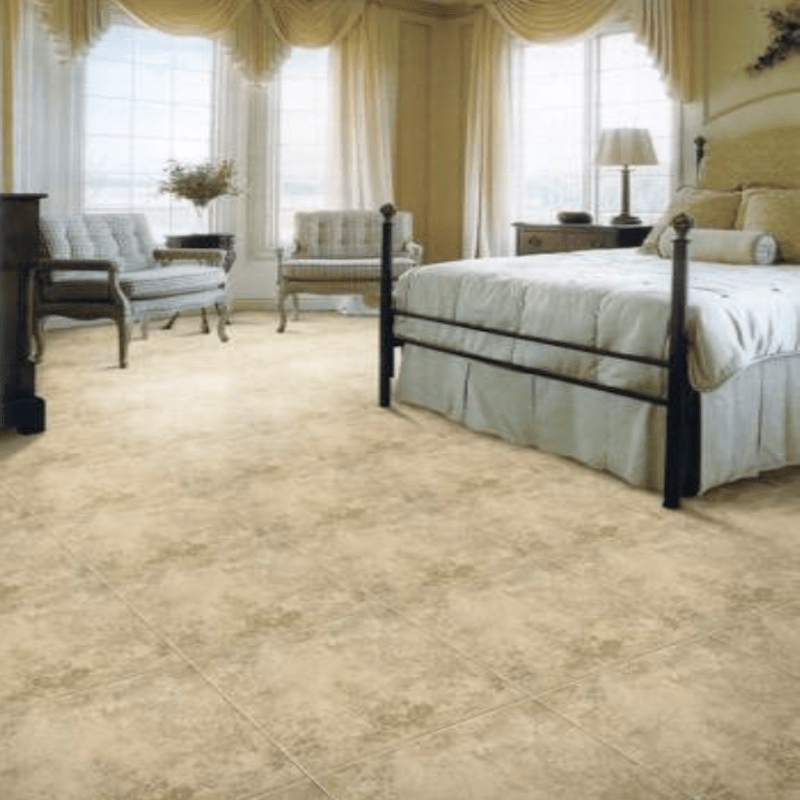 Featured: Sand Mojave Ceramic Tile
Boasting shades of soft beige and cream with subtle variation, Sand Mojave Ceramic Tile is an elegant choice for any room in your house. In the bedroom, as shown here, it has significant advantages over carpet.
It's easier to clean, for one thing, and it's an ideal choice for anyone who suffers allergies from dust mites or even pet dander. Concerned about cold tiles on bare feet? Consider pairing tile flooring with an under-floor radiant heating system. You can't do that with carpet!
White Vena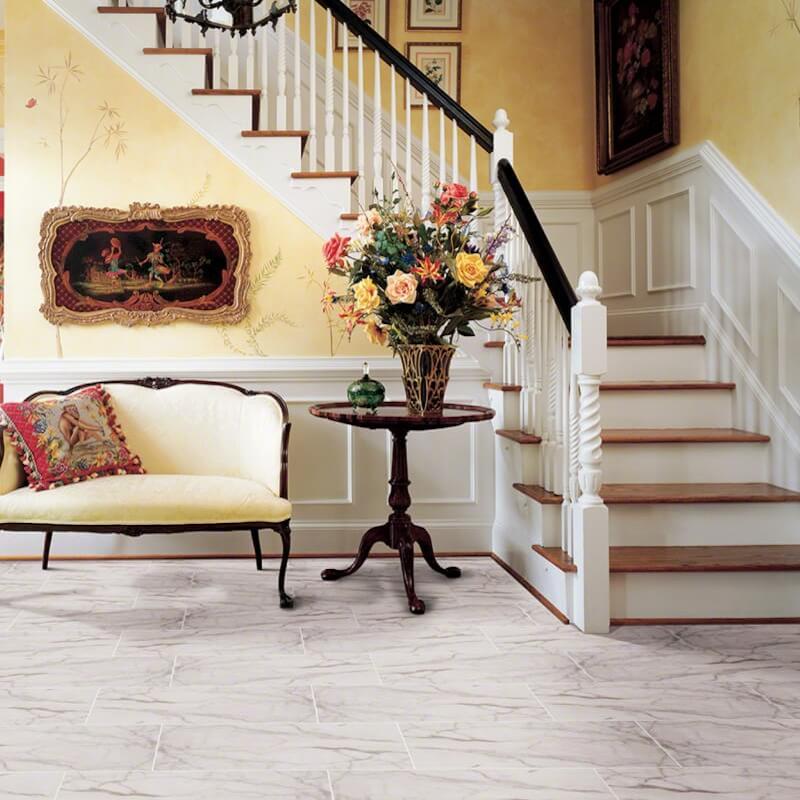 Featured: White Vena Ceramic Tile
If your budget doesn't allow for Italian marble flooring in your foyer or entryway, you don't need to give up on adding that timeless, elegant touch. White Vena Ceramic Tile features pale gray veins against a pure white background. Along with the price, this ceramic tile has significant advantages over true marble – it's maintenance-free. No need to seal or worry about spilled wine. Go ahead and live large!
Aliso Gris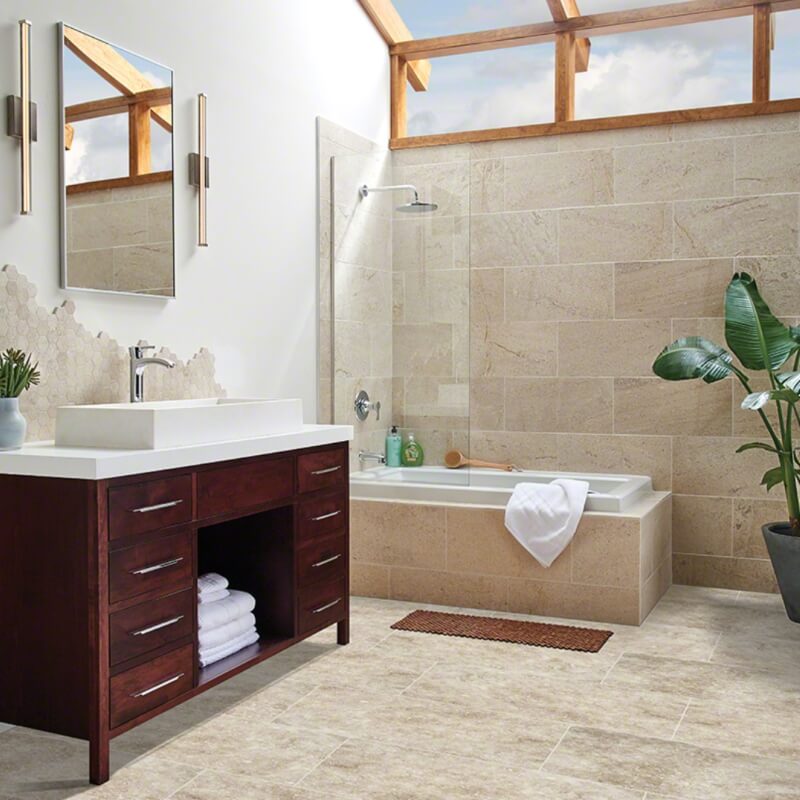 Featured: Aliso Gris Ceramic Tile
Your bathroom is much more than a practical place to get cleaned up and style your hair – it should also be a relaxing haven. Aliso Gris Ceramic Tile lends itself well to that spa-like ambiance, featuring shades of neutral beige with splotches and veins of creamy-white. This realistic lookalike limestone tile is ideal for bathrooms thanks to its impervious glaze and low maintenance. Warm up your toes with an under-floor radiant heating system – ah, pure luxury!
While some ceramic tiles are delicate and thin, intended for decorative use on walls and other vertical surfaces, ceramic floor tile is intended for life underfoot. Its density, waterproof glaze, and slip-resistant texture make it the perfect flooring option. Even better, thanks to today's technology, modern ceramic tile can be made to emulate other popular materials such as wood, sandstone, marble, and more. Visit MSI's Gallery to see all of the beautiful ceramic tiles we offer.