Can You Use Porcelain Floor Tile On The Wall?
August 18, 2018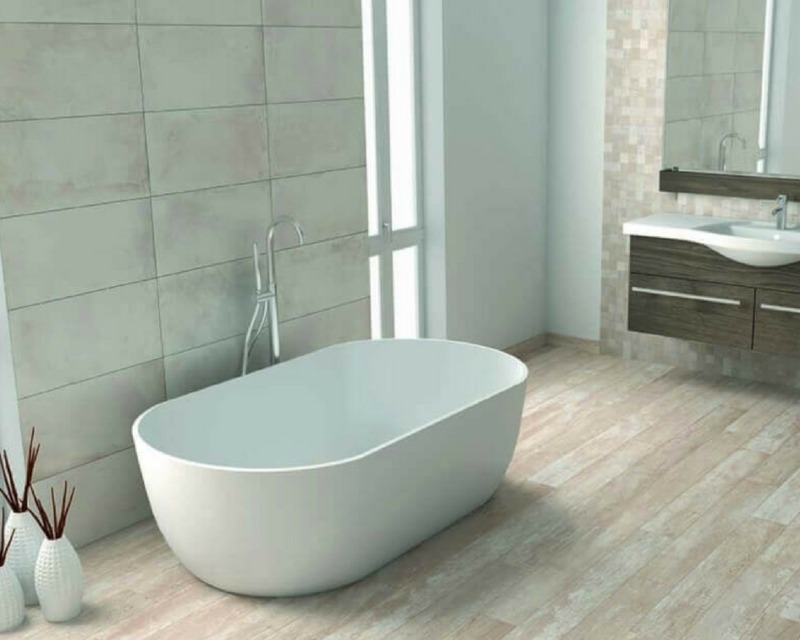 Many homeowners are ditching simple wall treatments and choosing porcelain floor tile for their walls instead. While you may be worrisome about putting something you walk on onto your walls, you'll actually love that it's a more durable option than a lick of paint or fussy wallpaper. It actually provides the same decorative element and similar thickness as wall tile, so you won't have to worry about it being too heavy or too thick for your walls. This budget-friendly material is also easy to maintain and comes in a wide range of designs, colors, and sizes. If you're ready for a style statement that will last, then check out these stunning wall installs with porcelain tile.
Jupiter Iron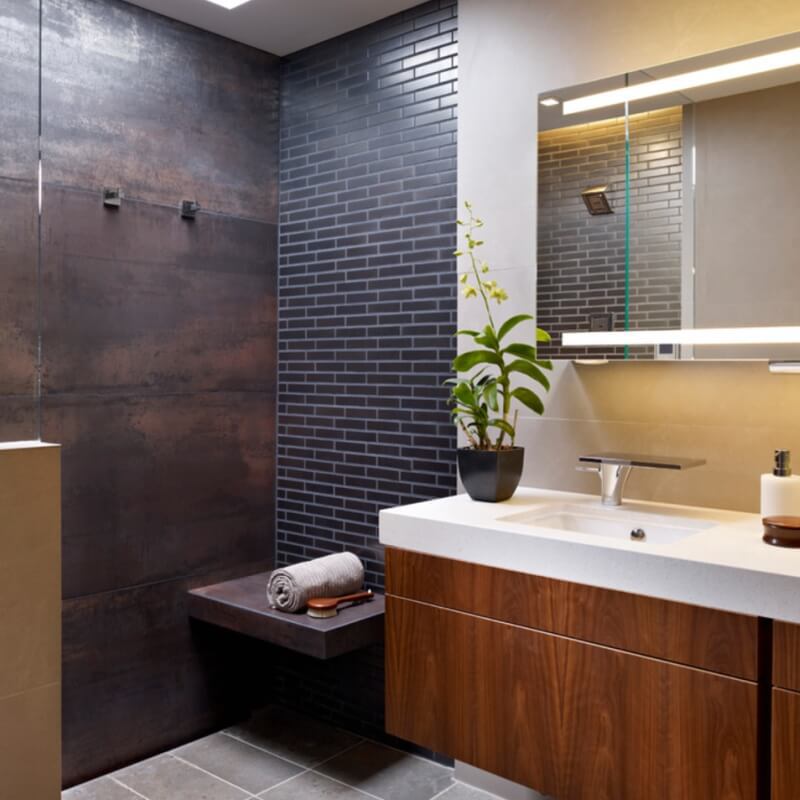 Create this look with MSI's Antares Jupiter Iron Porcelain Tile (Photo Credit: Houzz)
Using oversized tiles on the wall is becoming more popular, especially for shower installs. This contemporary bathroom features Jupiter Iron, a copper glazed porcelain tile in the elongated 16x24 size. You get the modern look of metal without worrying about the obvious, rust. And with porcelain, it's possible to include it in a wet area like a bathroom because it resists moisture, bacteria growth, and staining.
Aspenwood Café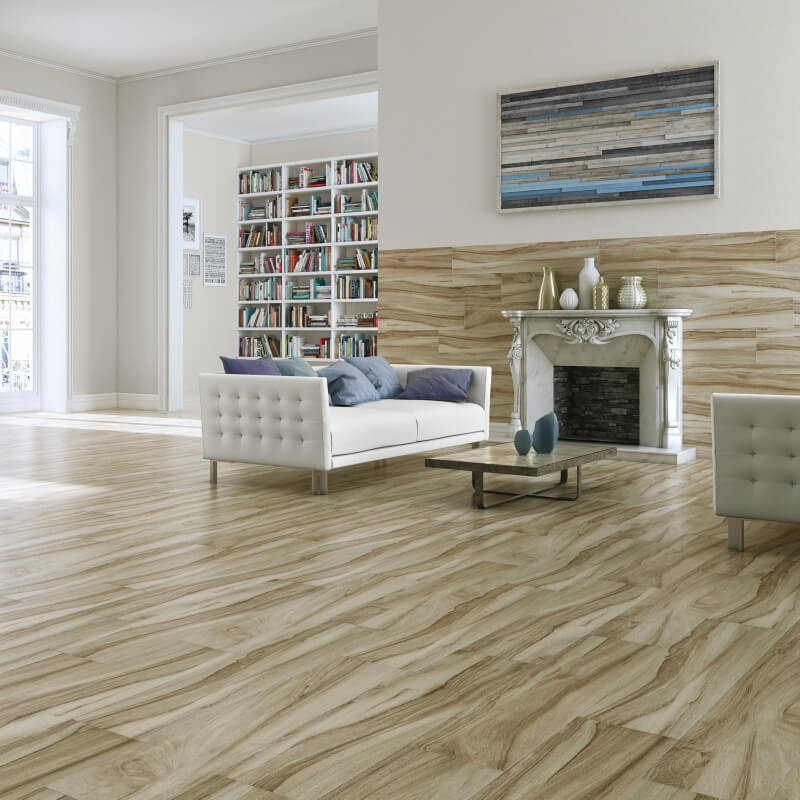 Featured: Aspenwood Café Wood Look Tile
Wood-look tile still remains as one of the hottest home décor trends, and porcelain tile can expertly mimic the appearance of hardwood. In this simple yet modern living room, the floor-to-wall tiling of Aspenwood Café gives the space the luxurious look of hardwood without the heavy price tag. The extension of the 9x48 tiles with its beige tones and darker streaks that mimic hardwood's knots and grains become the focal point in the room. It serves as a beautiful backdrop to the ornate fireplace juxtaposed by the abstract artwork above.
Upscape Bruno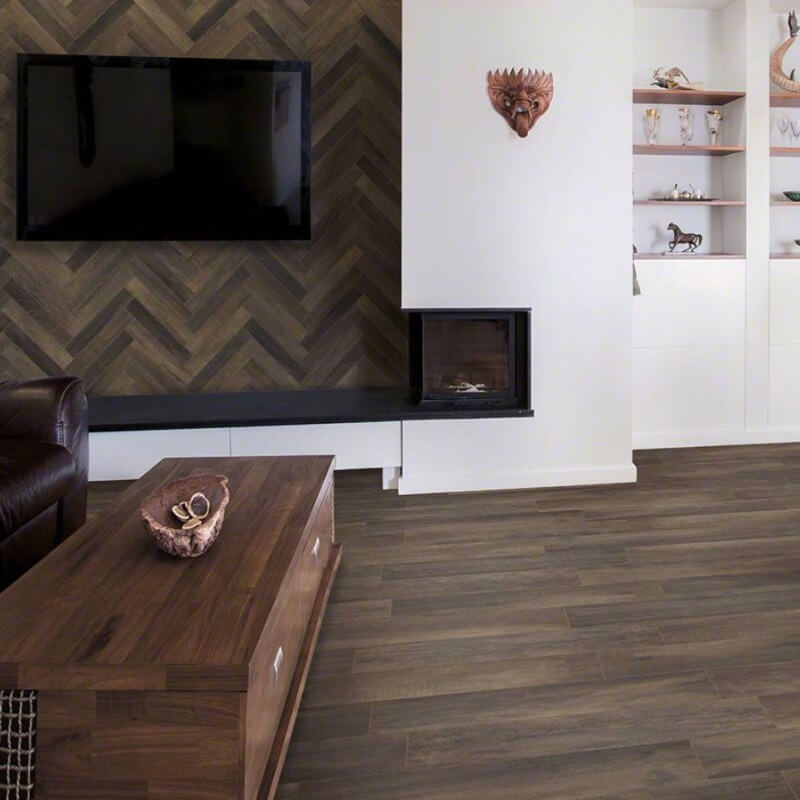 Featured: Upscape Bruno Wood Look Tile
From smaller mosaics to lengthier wall tile, porcelain is available in a wide variety of shapes and sizes. So what you use on the floor might vary from what you're able to use on the wall, like in this richly textured living room. Upscape Bruno offers dark brown tones in a wood-look, matte finish. While the floor features the 6x40 planks, the wall installation features the smaller 3x18 size in a herringbone pattern. The white walls make the room feel bright and break up all of the deep tones and dark leather.
Eramosa Beige

Featured: Eramosa Beige Porcelain Tile
Backsplash tile in the bathroom can protect your walls from splashes and spills, and porcelain is a simple solution that's also very low maintenance. This elegant bathroom features Eramosa Beige, a porcelain tile inspired by the Canadian stone itself. The beige and cream colors add warmth to the design, while the linear pattern of the 12x24 tiles give the room a more modern appeal. Plus, you don't need any special cleaners when it comes to porcelain tiled walls for a cleaner bathroom.
Pietra Calacatta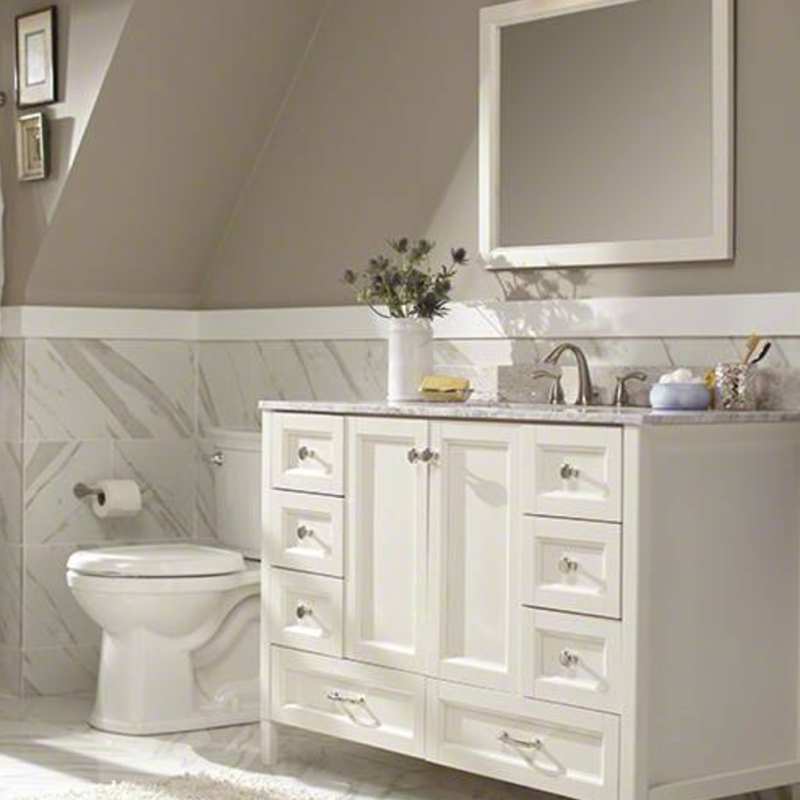 Featured: Pietra Calacatta Porcelain Tile
Porcelain offers the luxurious look of natural stone like marble but without the need to ever seal or finish your stone-like look. The Pietra Calacatta tile that wraps around this classic bathroom serves as a stylish statement and a built-in backsplash behind the sink. The sweeping white and cream colors flow well with the white vanity and toilet, while the gray and brown veining match the taupe wall color above the molding. The 12x24 tile also comes in a number of other sizes for any desired wall installation.
As you can see, flooring tile most certainly can be used on the wall, and it's an easy choice with a low-maintenance, budget-friendly option like porcelain. Get the designer look you've always wanted with one of MSI's porcelain floor tiles.
READ MORE ABOUT THE BENEFITS OF PORCELAIN TILE
A Nod At Mod with Fabric Porcelain Tile
Avoid These Porcelain Tile Installation Mistakes
Best Examples Of Polished Cement In Porcelain Tile