Shhh, It'S Not Brick – It'S Porcelain Tile!
May 08, 2018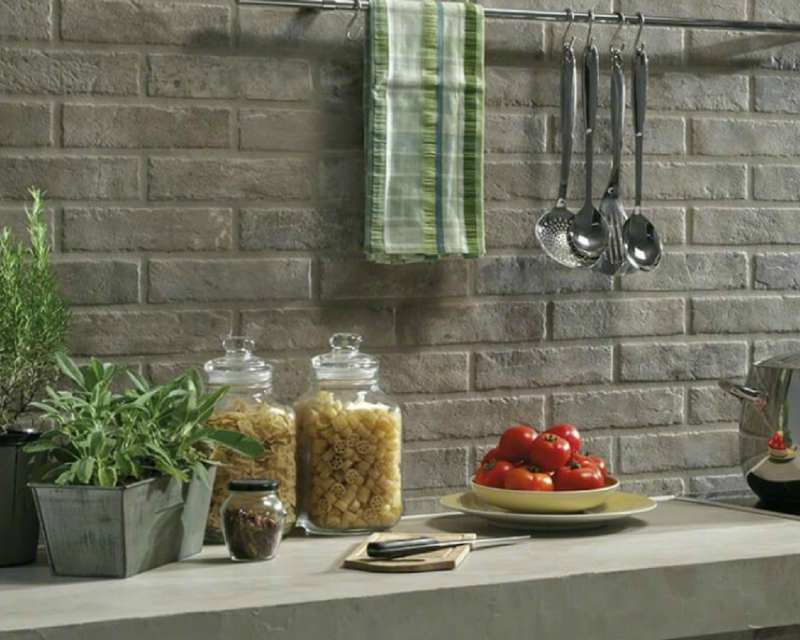 Nothing adds pure charm and character to a home like the look of lived-in vintage brick. Whether it's pale gray or taupe, terracotta or deep burgundy, it can transform a room into a shabby-chic cottage or a fashionable urban, industrial loft. But if you're not fortunate enough to own a home with exposed brick, you're out of luck — or are you?
All of the character of worn, weathered vintage or whitewashed brick is captured with porcelain tile in MSI's Brickstone Porcelain Tile Collection. This incredibly realistic porcelain tile faithfully replicates the look of brick, down to the divots, grout, and color variations.
Use brick tile for a New York loft look, and it will appear that the brick has been there for decades. Even better, Brickstone is pore-less porcelain tile, which means you can install it anywhere you'd normally install tile, no brick masonry skills needed. Create a backsplash, shower surround, or accent wall anywhere without fear of exposing it to moisture or stains. Porcelain tile can handle it all.
Taupe Brickstone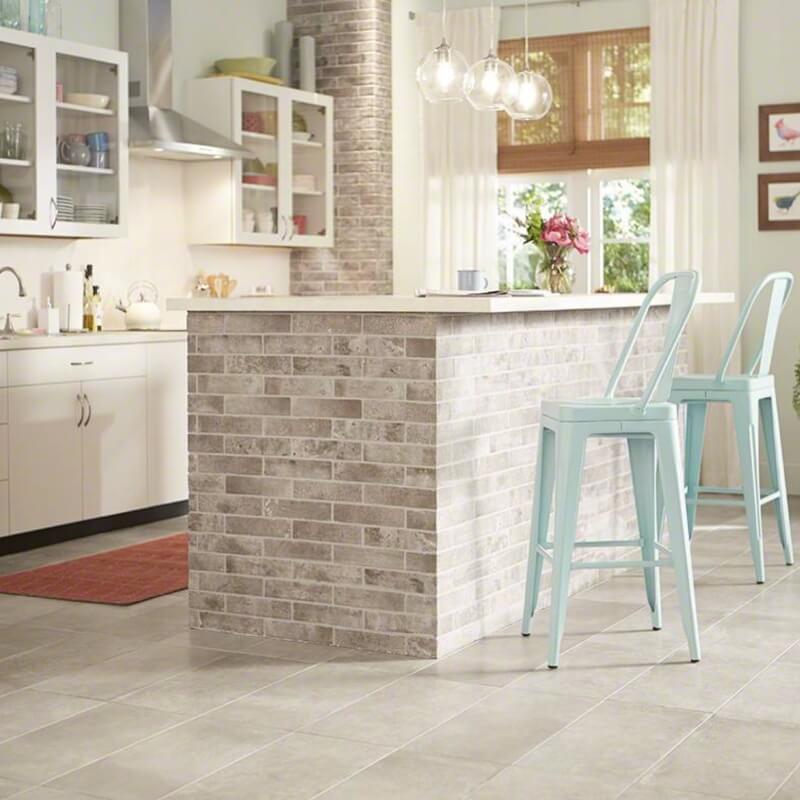 Featured: Taupe Brickstone Porcelain
Brick installations create a feeling of solidity, balancing other design elements. Taupe Brickstone Porcelain in a 2" x 10" size is ideal for home accents such as this kitchen island, which will likely be subjected to spills, bumps, and inadvertent kicks.
No worries; porcelain that looks like brick resists damage and stains. Match it with an accent wall that gives just a hint of the architecture beneath, whether it exists or not. Nobody needs to know how easy it was to install.
Red Brickstone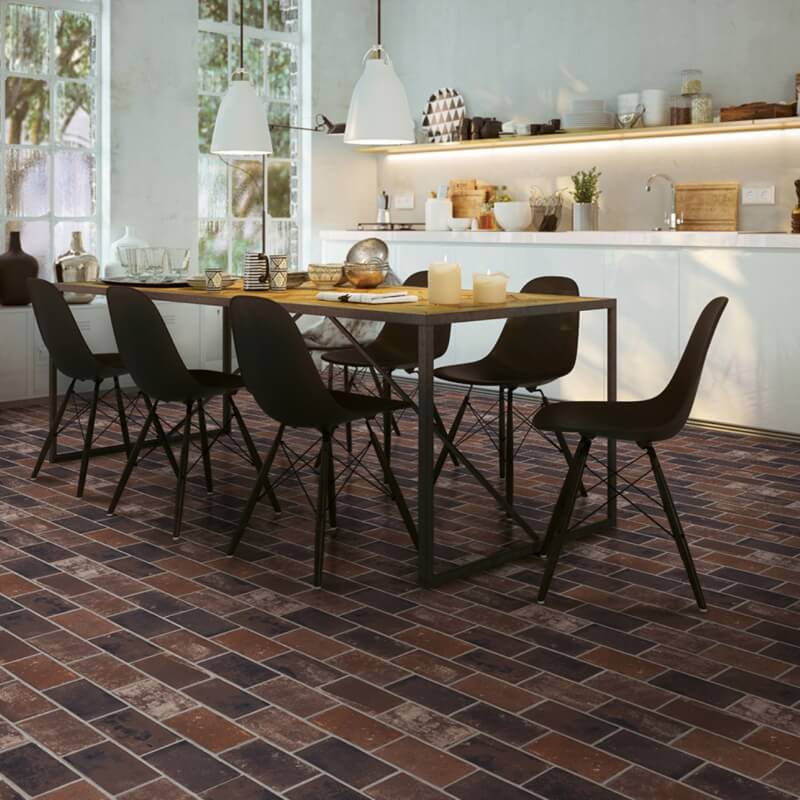 Featured: Red Brickstone Porcelain
Ordinary brick floors may be gorgeous, but they are problematic. Real brick is soft, and risks damage from foot traffic and chair legs. It's also hard to keep clean, requiring frequent sealing and scrubbing. Red Brickstone Porcelain tile from MSI solves that dilemma, allowing you to create the classic, cozy look of a brick floor without the worry or the work.
Taupe Brickstone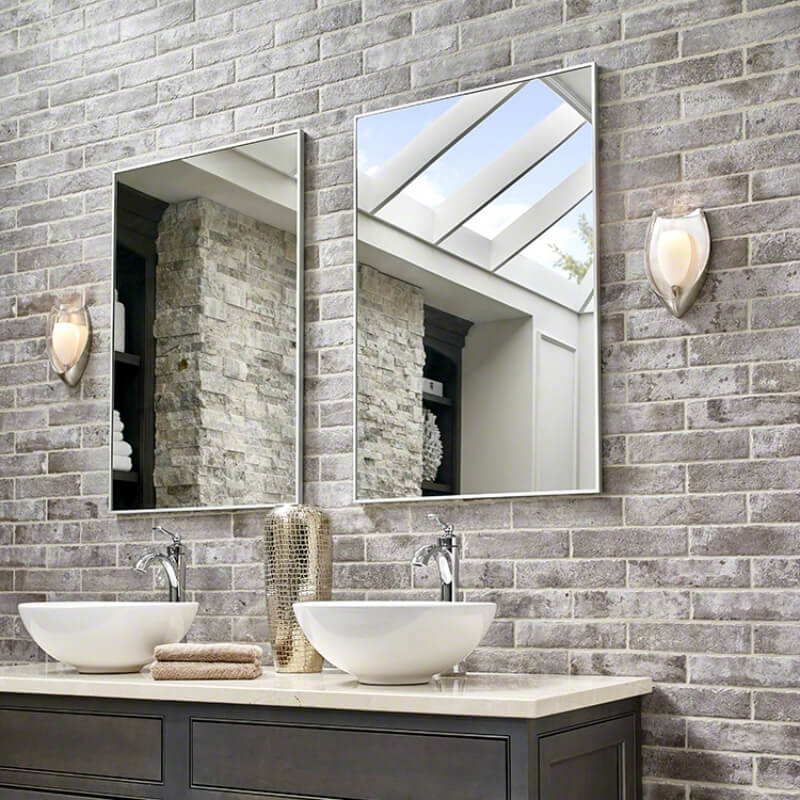 Featured: Taupe Brickstone Porcelain
If you have real brick in a bathroom, you'll always worry about the porous, rough texture absorbing moisture and harboring mold and mildew. Leave those worries behind with waterproof Taupe Brickstone Porcelain tile, which delivers all of the classic charm needed to make that bathroom into a spa-like haven.
White Brickstone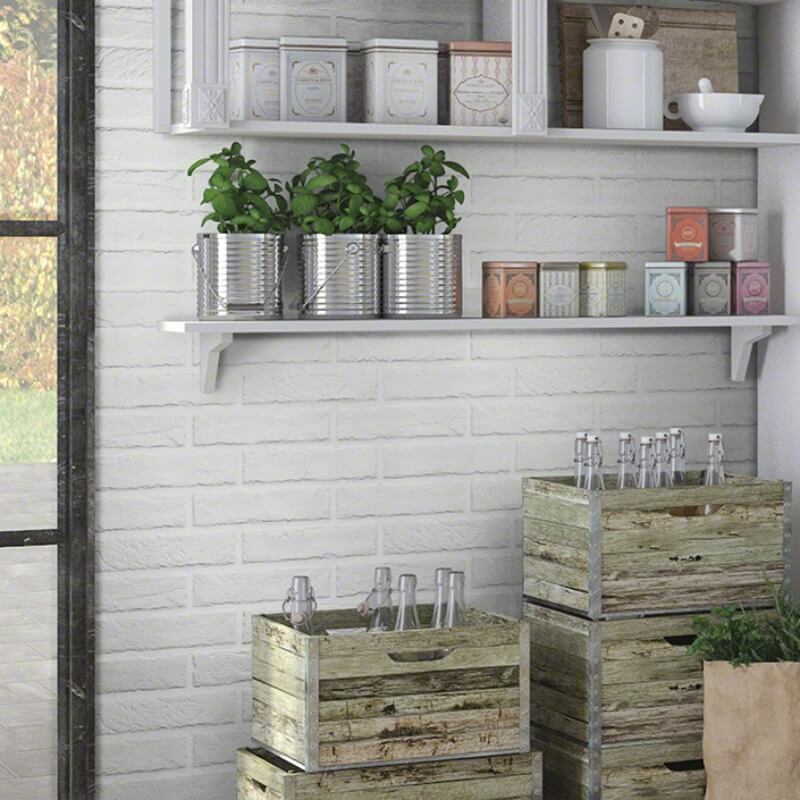 Featured: White Brickstone Porcelain
White-painted brick is a classic look found in old-fashioned farmhouses, and much desired in today's popular minimalist décor. If you have fallen in love with it but your home doesn't have it, White Brickstone Porcelain is a 2" x 10" porcelain tile that looks like brick makes it easy to add the look wherever you like. Best of all, it never needs to be re-painted to keep it white and fresh.
Ivory Brickstone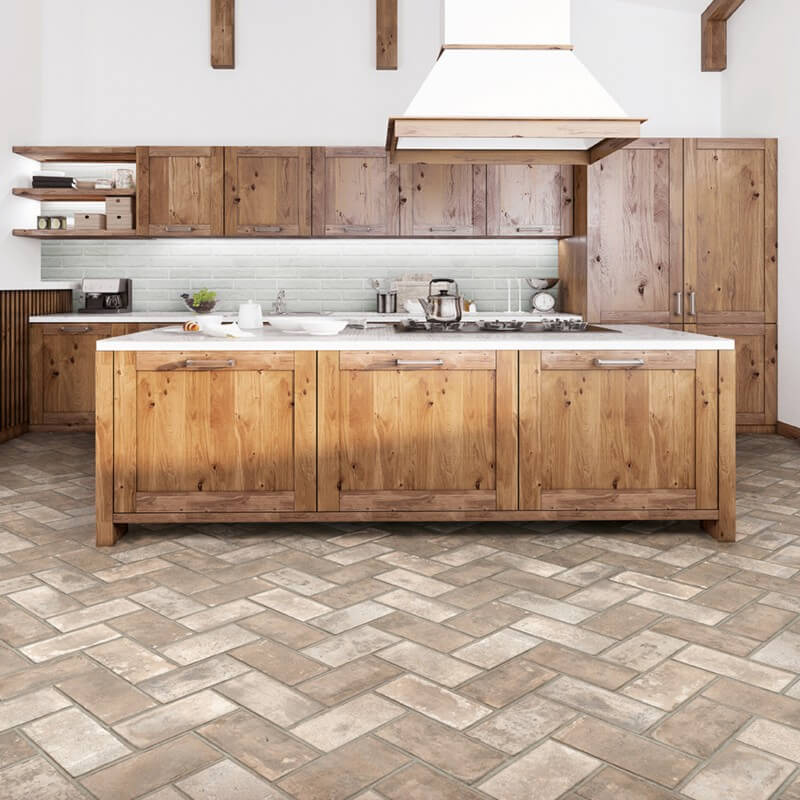 Featured: Ivory Brickstone Porcelain (backsplash)
Rustic kitchens have a variety of options for flooring — namely wood, stone, or brick. Ivory Brickstone Porcelain can be installed in a straight-run brick pattern, or arranged in a herringbone design for added visual interest. The tiles vary in color and shading, creating a finished product that's visually exciting and realistic. With porcelain flooring there's no need to worry about spills or stains; just mop with a mild cleaning solution.
MSI has even more gorgeous, realistic brick look porcelain tile options than we've shown here, so be sure to visit our Inspiration Gallery to see them all. If you've ever admired the look of exposed brick but didn't think it was possible due to the labor and expense, here's your chance to have exactly what you've been dreaming about, and even better!
READ MORE ABOUT CREATING BRICK LOOK FLOORS OR WALLS with PORCELAIN TILE
4 New Brick-Inspired Porcelain Tile Colors Create Endless Possibilities
Create an Urban Loft Look with Brick Porcelain Tile
Get the Look of Reclaimed Brick with Porcelain Tile
Style Statement: Porcelain Brick Tile
The Brickstone Porcelain Tile Collection: Bring Warmth and Richness to Your Space