Popular
Two Great Tools To Design Your Kitchen: Countertop Edge Visualizer And Kitchen Visualizer
September 22, 2014
Imagination is a wonderful thing, but it can only take you so far! When you look at samples of countertops, tiles, flooring and other options in a dealer's showroom or on a website it's not always easy to envision how those products are going to look when actually installed in the home. That's where these two great tools come in: The Countertop Edge Visualizer and Kitchen Visualizer.
The Countertop Edge Visualizer is a handy online tool for choosing the perfect edge for your new granite countertops. It includes two of our most popular stone selections: the gray/white Calacatta, and Netuno Bordeaux, a blend of brown hues. Choose one, and select between 12 of the most popular edge profiles. Want to see how a Double Ogee edge looks in a real kitchen setting? Just click.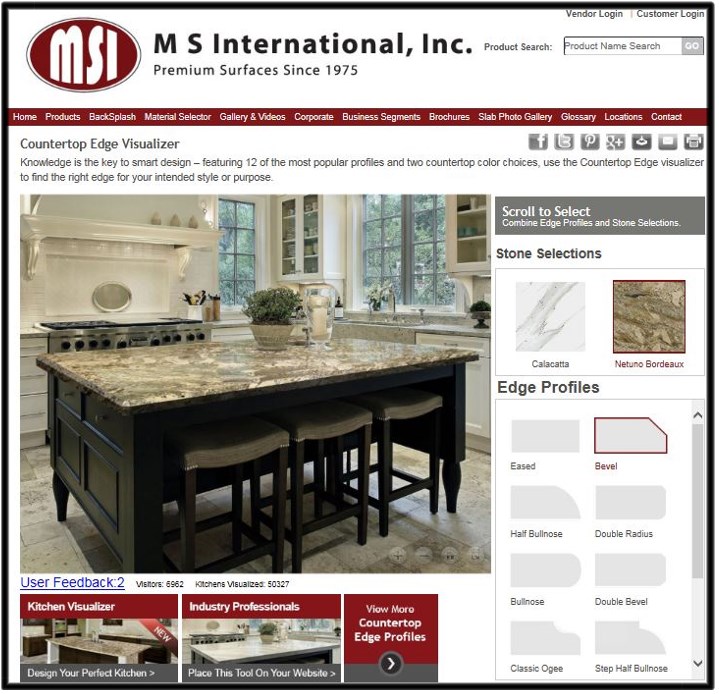 Other edging options include Eased, Bevel, Half Bullnose, Bullnose, Double Radius, Double Bevel, Classic Ogee, Step Half Bullnose, Bevel Bullnose, Triple Pencil and Dupont Bullnose. These are only a few of the overall edging options available for countertops, however. A link on the Visualizer takes you to the full list, for countertops in sizes from 1 1/4" to 2 1/2" thickness. Although these are not all displayed on the Visualizer, you can easily compare plain, rounded options to the more ornate Ogee edge styles. After all, your choice of edge style makes just as much difference to the final look as the countertop material itself.
It's not just homeowners who can benefit from this handy visualization tool. Fabricators and distributors can view the end result of their natural stone products in a home setting, and retailers have a new way to display their premium surfaces to customers. This tool can be embedded on retailers' websites and can be a vital part of the design and sales process. What better way to serve your customers than to show them exactly how the end result will look?
The Countertop Edge Visualizer is the perfect companion to another tool that recently launched: the Kitchen Visualizer. This tool, which can also be embedded directly into retailers' websites, allows you to see the entire kitchen with a variety of countertops, including granite countertops; backsplash designs, cabinet colors and natural stone flooring.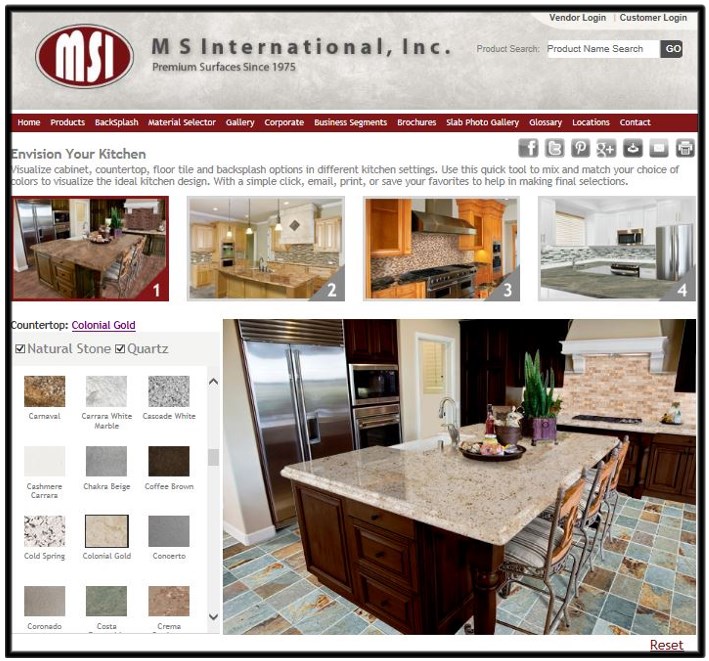 With just a few clicks you can transform the sample kitchen into an endless variety of combinations. Try Espresso cabinets with Colonial Gold granite countertops, Honey Onyx subway tile backsplash (or just use the countertops for the backsplash) and California Gold slate tile flooring — and know instantly which choices clash in pattern and color, and which are just perfect. It's also a lot of fun to use!
These tools are easy to add to your own website. Instructions to do so are right on the Visualizer tools' pages; it's a simple registration process. Upon approval, you will receive an email with complete implementation instructions.
The Countertop Edge Visualizer and Kitchen Visualizer do more than just eliminate the guesswork in kitchen design. Once customers see how beautiful their new kitchens can look, they will want to get started on the installation process right away. And everyone will be confident that the end result will be exactly what they had in mind — a well designed and beautiful kitchen.