10 Fresh Ideas For Your Kitchen Backsplash
May 18, 2019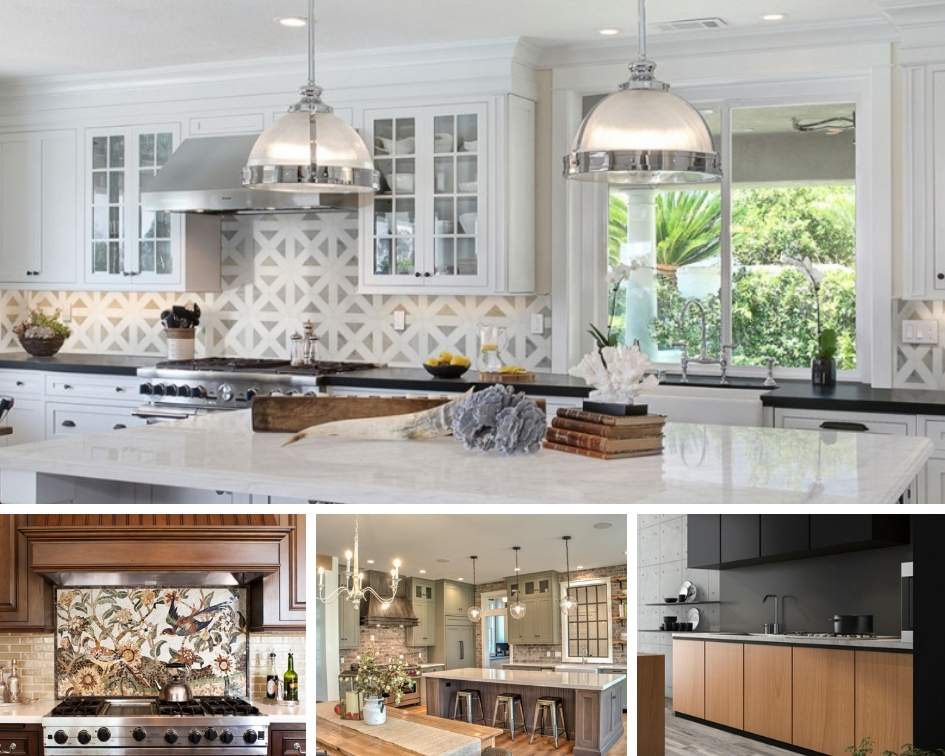 In recent years, backsplashes have been making a huge comeback, and with so many options easily accessible, we can see why! Homeowners like you are discovering fresh new ways to incorporate the perfect kitchen backsplash so that their kitchen portrays yet another personalized touch. With countless approaches to celebrating your style, utilize different materials, colors, textures, or sizes. But, know that this extra installation also serves a function in addition to its attentive design.
Made to combat everything from food spills to oil splashes, the backsplash protects your walls from those busy areas where messes are bound to happen on the daily. Instead of scrubbing the paint off your walls or doing more major water damage, you can keep this kitchen surface clean and stylish for years to come with a beautiful backsplash.
While there are endless selections available, we think you will want to refresh your cooking space with one of these 10 wall tile ideas!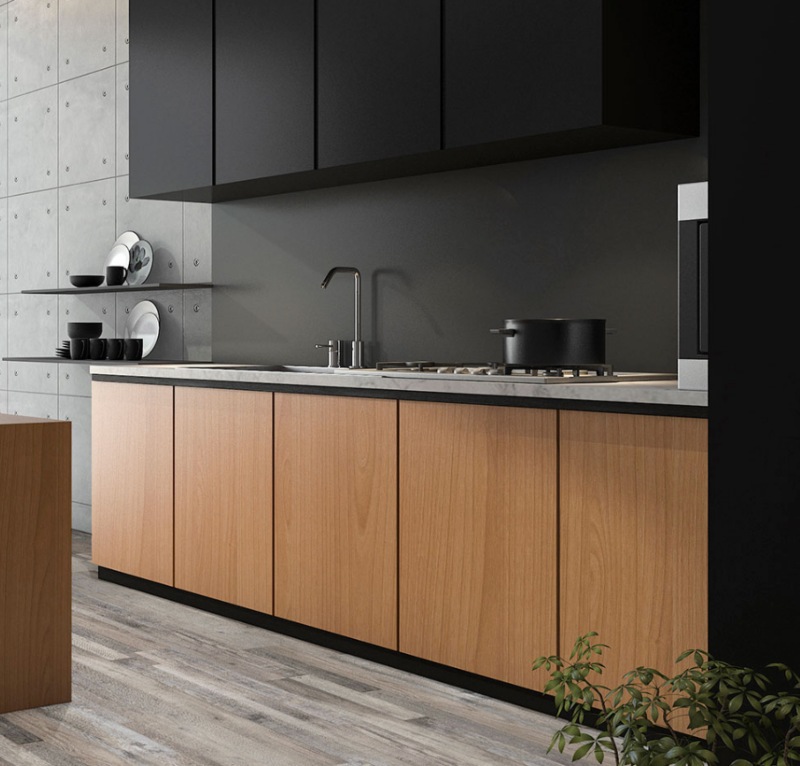 Photo Credit: Houzz
Black Beauty
One of the hottest trends for 2019 is matte black, and kitchens are seeing more and more of the modern, dark, and dramatic hue. There is no need to feel like a backsplash has to be full of small tile pieces. Instead, you can keep things simple with a solid backsplash installation in matte black because it works well with a black-and-white scheme or contrasting cabinetry.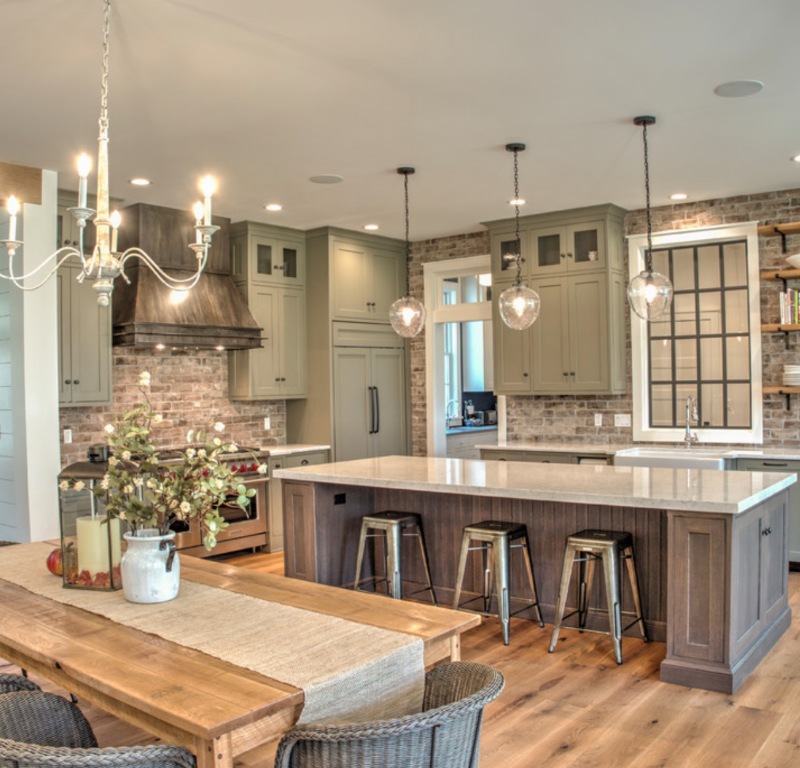 Recreate this look with Taupe Brickstone (Photo Credit: Houzz)
Brilliant Brickstone
Brick stands as a timeless building material used for many centuries, and for good reason. The clay rectangular brickwork accommodates diverse designs, including contemporary city to elegant farmhouse, and gives a new perspective on subway tiles. When used as a backsplash, it brings the outdoors in and gives off a warm, homey feel, but the coloration of the brick is what makes for a subtle or bold look.
Canny Cork
If your mantra is rose all day, then put a cork in this bark backsplash! A collection of cork tops makes for a clever and unconventional installation, and various colored cork creates a very organic and varied pattern. It will definitely be a conversation piece at your next cocktail party. Because wine not?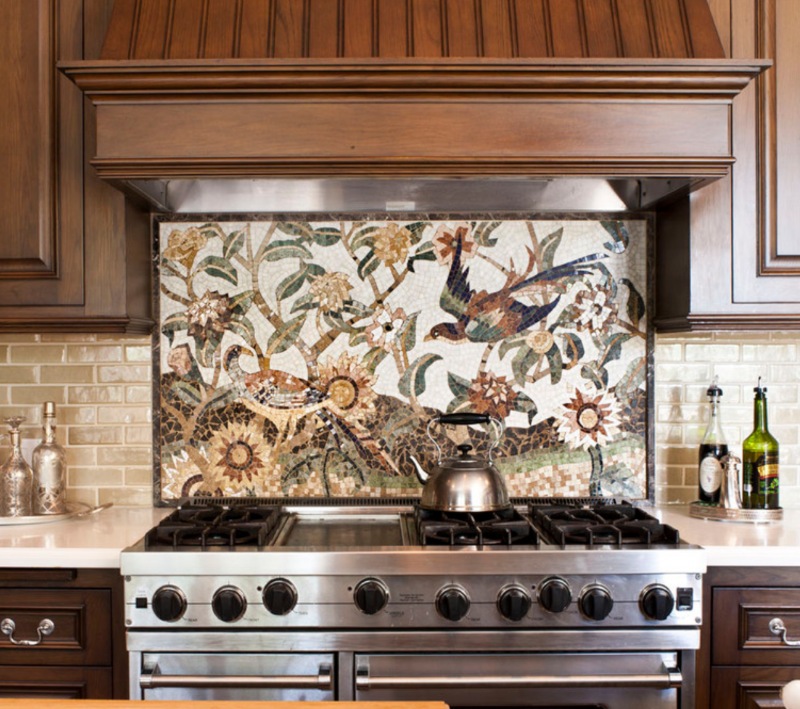 Photo Credit: Houzz
Custom Creations
Even if you already have a gorgeous range, you can turn your appliance into the focal point of the space with a custom picture frame backsplash. And, what better way to create a masterpiece than with a one-of-a-kind mural mosaic. Instead of sticking with a pattern, install a piece of art that features your favorite scene, whether it is a landscape, nature, or something abstract.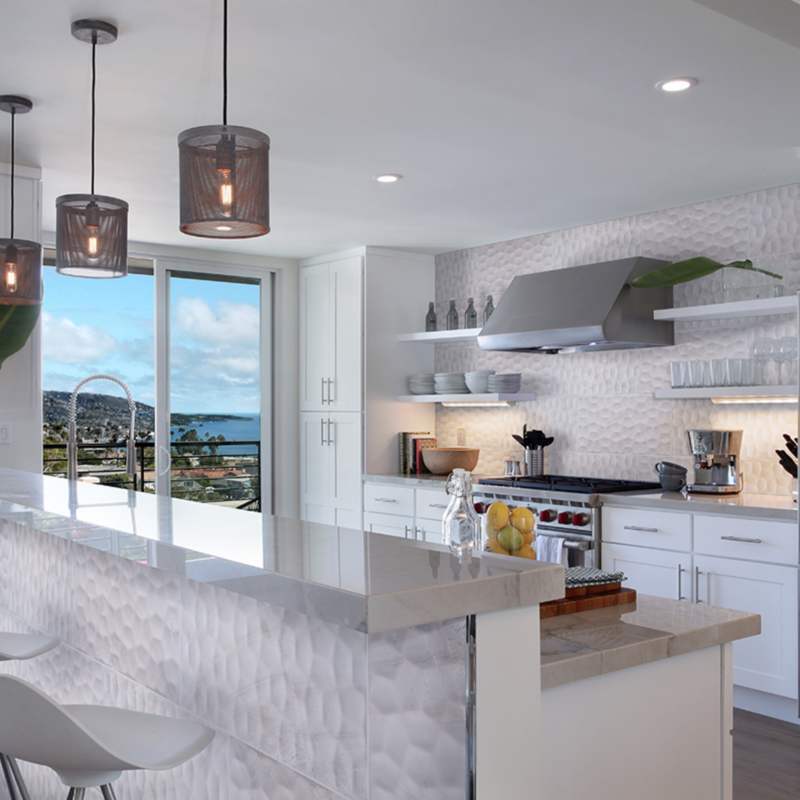 Featured: Adello Viso Gris
Daringly Dimensional
One of the best ways to bring life to a mostly white or monochromatic kitchen is to play with texture. A backsplash made from 3D wall tiles brings the drama, especially with a counter to ceiling installation. You can let your contemporary tile take center stage when marrying it with the modern look of floating shelves instead of upper cabinets.
Glamorous Geometry
Marble is a highly sought-after, high-end material, but you can incorporate it in more contemporary ways that still bring elegance and glamour to the table. A geometric design with a pretty pattern in timeless two-tone marble is simply a stunning combination for a backsplash. It easily transforms with whatever style you envision, whether it may be traditional, transitional, or modern.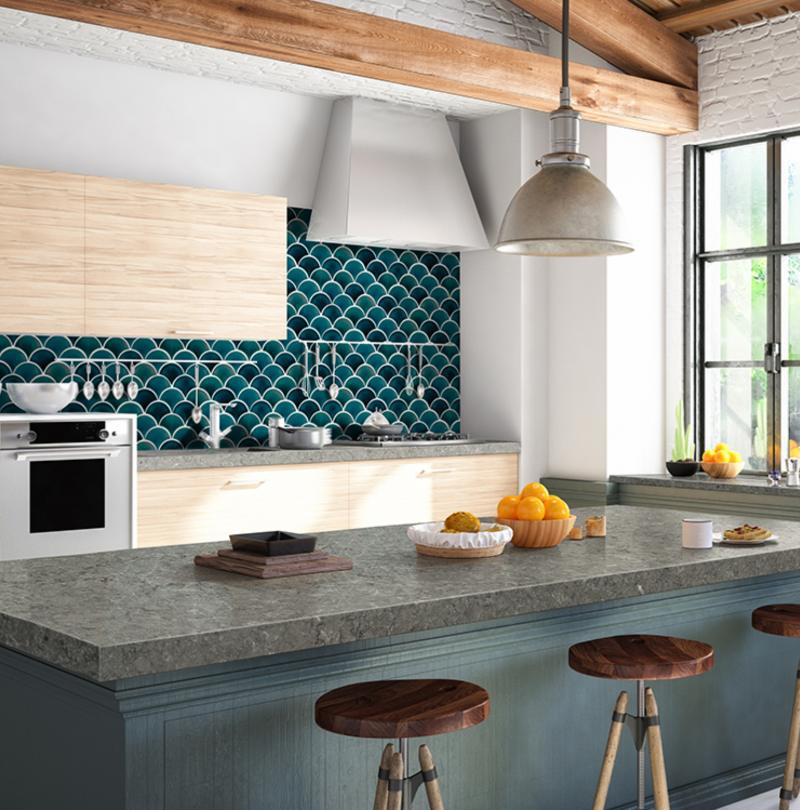 Featured: Azul Scallop
Mosaic Madness
Mosaic tiles come in a wide range of styles and colors, and they are a great way to create subtle style or a bold statement. Glass mosaic tile or glazed ceramic are great backsplash options, and the curvature of a scalloped pattern paired with a strong color creates instant impact no matter what style kitchen you have.
Retro Reflections
Having mirrors in a room opens up the space visually and beautifully bounces around light, but when you have a wall full of them, you have to be careful not to summon mirroring from the 1980s. Adding an antiqued mirror glass backsplash to a transitional space with modern-day touches brings balance and elegance. Large sheets of mirror are given an aged appearance by treating it with an acid wash. You can show off the sophisticated style even more by trading in the upper cabinets for some open shelves.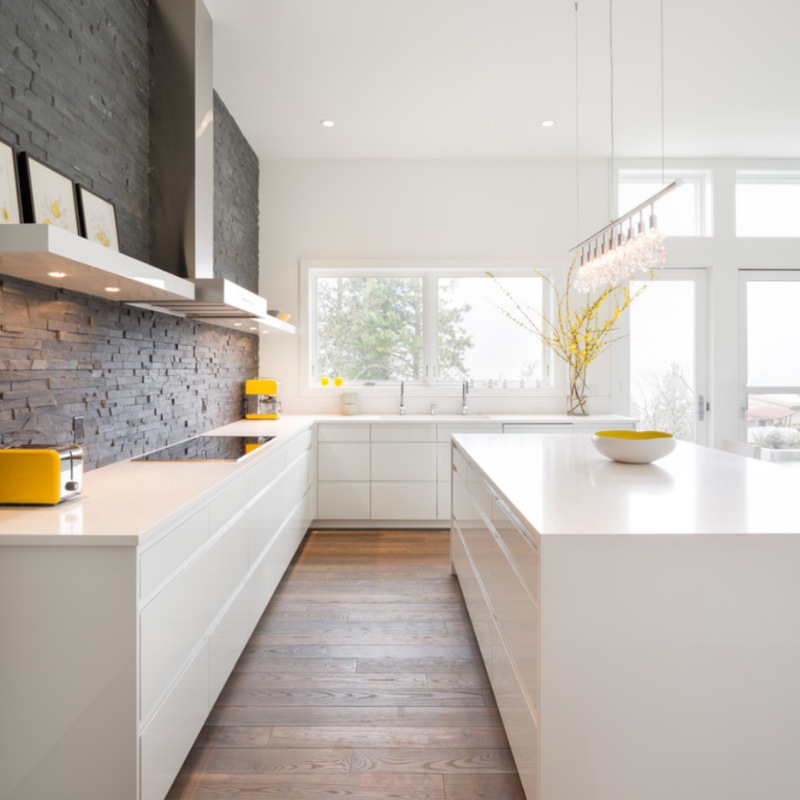 Create a similar look with MSI's Coal Canyon (Photo Credit: Houzz)
Striking Stacked Stone
Stacked stone is typically used for outdoor applications, but it certainly creates a stunning backsplash indoors, too. The unexpected material may be more commonly used in rustic construction with a warm color palette and wood look wall tile, but the raw texture and skinny stacked structure help ground a very modern space by bringing in those earthen elements. Give the kitchen a cool vibe by choosing a gray tone instead of tans or browns.
Stunning Steel
If you love metallic, then consider bringing metal into the kitchen beyond appliances and fixtures. The shiny backsplash is anything but sterile when designed just right. A single stainless steel panel is perfection in an ultra industrial-designed kitchen when clean lines and simplicity are desired, while metal mosaic tiles, depending on the shape, can create a cool feel for a contemporary kitchen or a glitzy vibe for a glamorous cooking space.
How Will You Makeover Your Kitchen?
Remember that backsplash designs can become a subtle accent or the primary focal point to your fabulous new kitchen, but most importantly, you should choose something that brings you joy and works with your lifestyle. Materials like metal, tile, and glass are all very durable and require little upkeep, while natural stone does demand higher maintenance to keep it from staining. Depending on your budget and the extent of your kitchen renovation, you may be cost conscious or willing to splurge, but remember that a backsplash should add value to your home.
Still, one of the best ways to compare options before buying is to test out your favorite new backsplash look using MSI's backsplash visualizer. The state-of-the-art tool includes a wide range of possibilities that pair well with various cabinets, countertops, and floors. This allows you to turn your inspiration into your personal taste by seeing backsplash ideas with your desired color combination.
READ MORE ABOUT MSI BACKSPLASH TILE
2015 Hot Kitchen Trends – Part 2: Backsplashes & Flooring
5 Blue Backsplashes That (Really) Make A Splash
5 Daring Tile Backsplash Ideas For Your Kitchen