Popular
The Golden Hour: A Warming Trend For All
June 12, 2023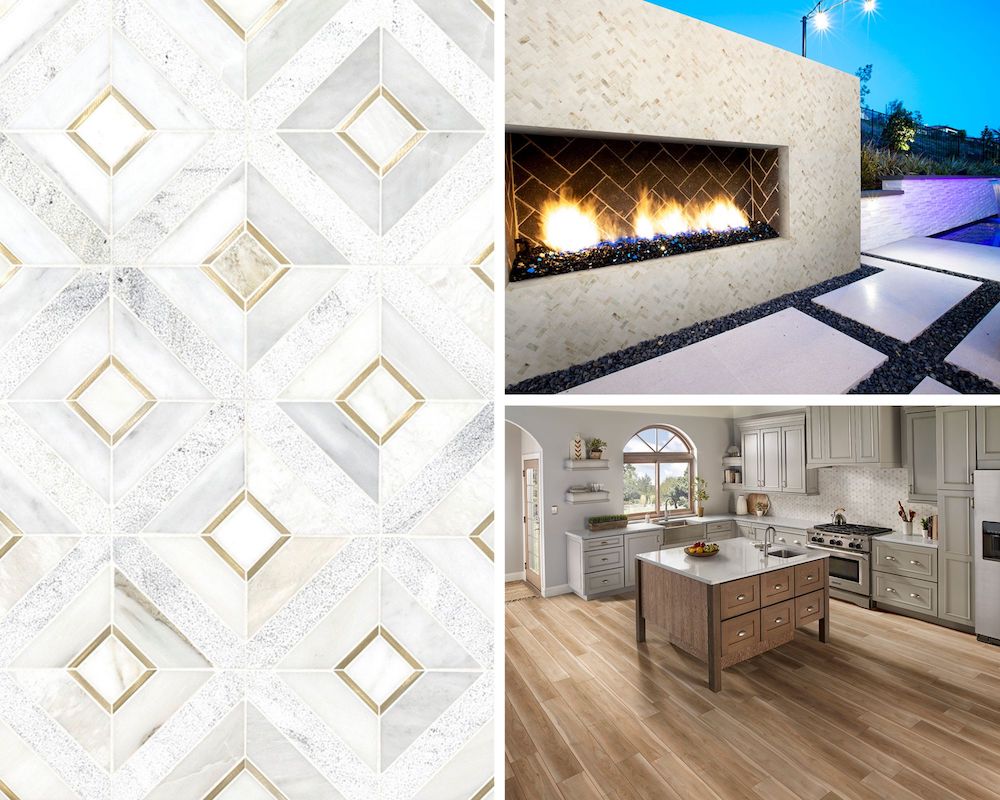 Get inspired with gold! Bring The Golden Hour trend into your spaces where a touch of warmth and flair is welcome. This stylish design comes to light by adding dazzling golds, rich browns, and a beautiful combination of blonde and honey hues. Perfect for summer vibes, transform your haven by incorporating these earthy tones with marble-look quartz countertops, walls inspired by natural stone, and floors resembling authentic wood. To create timeless elegance, use bright whites and gold accents to add refinement by applying Verona Gold Pattern Tile (above left) to backsplashes and feature walls.
Create warm surfaces using the materials below:
Backsplash & Walls: Verona Gold Pattern Tile, Arabescato Venato White Herringbone Tile
Flooring: Bayhill Blonde® Luxury Vinyl Planks
THE PLAYBOOK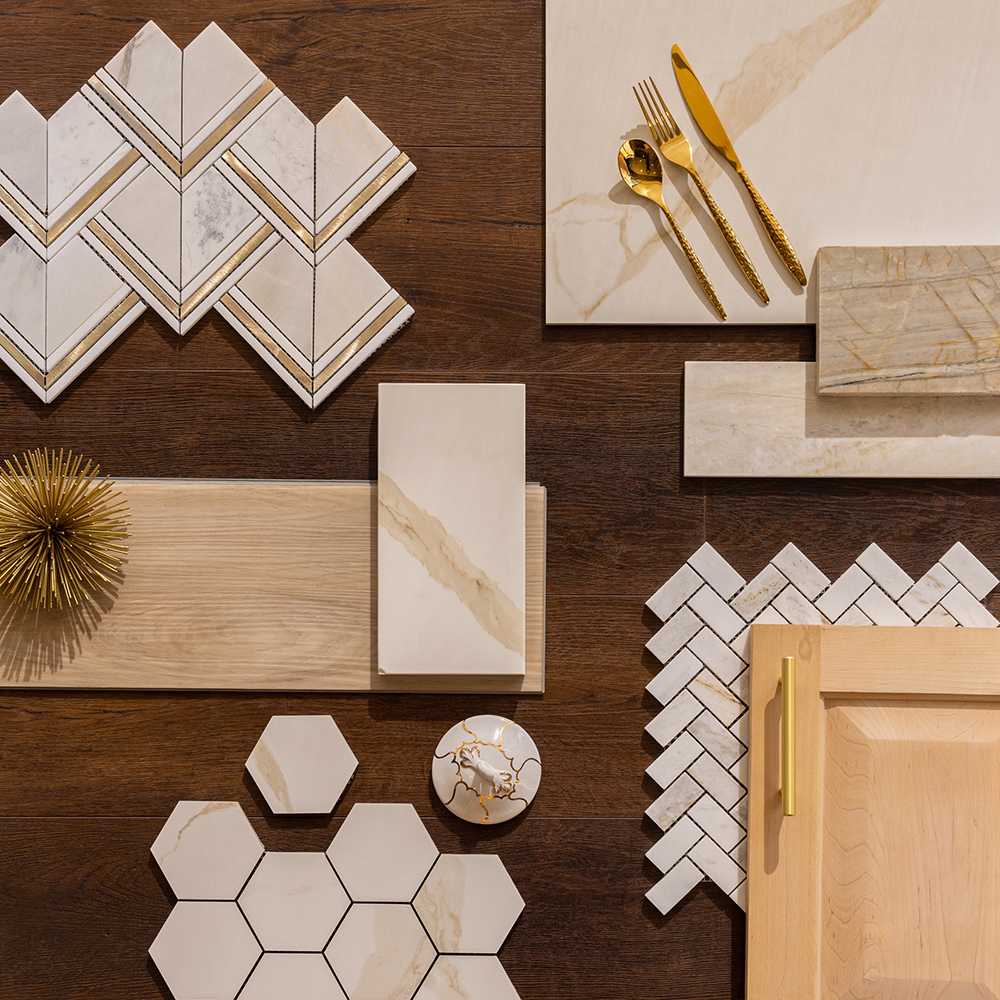 1. With the perfect combination of natural stone and brilliant metallic accents, Luxor Kona Gold Pattern has the uniqueness you'll want for your next construction or remodeling project. Boasting an intricate geometric pattern with striking gold features, this stone tile is the perfect statement piece. Apply to kitchen backsplashes, bathroom walls or anywhere else refinement is appreciated.

2. Create a timeless appeal with Calacatta Porcelain Tile from the Eden Collection. With a variety of shapes and sizes available, this marble-look porcelain tile features rich gold veins on top of a creamy white background. From small hexagons to large format tiles, this highly sought after wall and flooring material is great for kitchens, bathrooms and other areas where warmth is admired. Use its harmonious appearance to reflect your unique style by pairing it with honey wood-look cabinets, gold trivets and contrasting greenery.

3. Nothing says desert vibes like Onyx Bamboo Quartzite countertops and slabs. Like much of the rock found in the desert, quartzite metamorphic rock originates from sandstone that transformed into an incredibly robust and long-lasting natural stone through high heat and pressurization. Heating causes the individual quartz pieces to recrystallize, resulting in a stunning and ornamental sparkling pattern. Given its durability and strength, it's the perfect option for countertops, backsplashes and other similar surfaces.

4. From an indoor kitchen backsplash to an outdoor fireplace surround, Arabescato Venato White Herringbone Tile offers a neutral and inviting feeling of comfort in any environment. This marble features a warm white background with various understated gray, copper and brown shades with a honed finish. These small 1" x 2" tiles are not only in a herringbone pattern, but they also feature a mesh backing for easy installation when incorporating them into differing spaces, big or small. Pair any one of the tiles from the Arabescato Venato White Marble Collection with a variety of brown, blonde and gold fixtures to fully achieve The Golden Hour trend.
LAND THE LOOK: ONE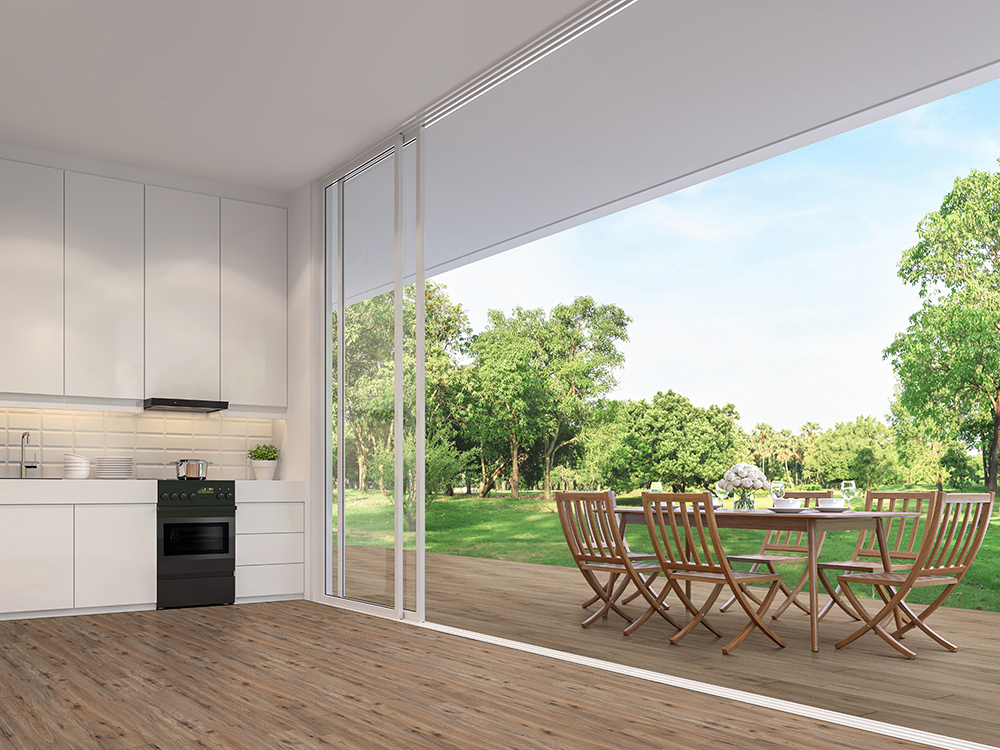 Embrace The Golden Hour inside and out with Fauna luxury vinyl planks and matching pavers. With a variety of size and protection layer options from the Everlife® Luxury Vinyl Flooring Series, Fauna features a warming combination of rich brown tones with darker grains and knots. Seamlessly transition this look outdoors with Fauna Porcelain Pavers from the Arterra® Collection. Whether you're looking to match your floors from an indoor kitchen to an outdoor dining area or atrium, use this duo to add depth to welcoming environments. Once your new flooring is installed, pair this look with striking gold, blonde and brown hues found in marble-look kitchen islands, natural or painted cabinets and other decorative features.
Create warm surfaces using the materials below:
Flooring: Cyrus® Fauna, XL Cyrus® Fauna, Cyrus® 2.0™ Fauna, Prescott® Fauna, XL Prescott® Fauna
Hardscaping: Fauna Arterra® Pavers
LAND THE LOOK: TWO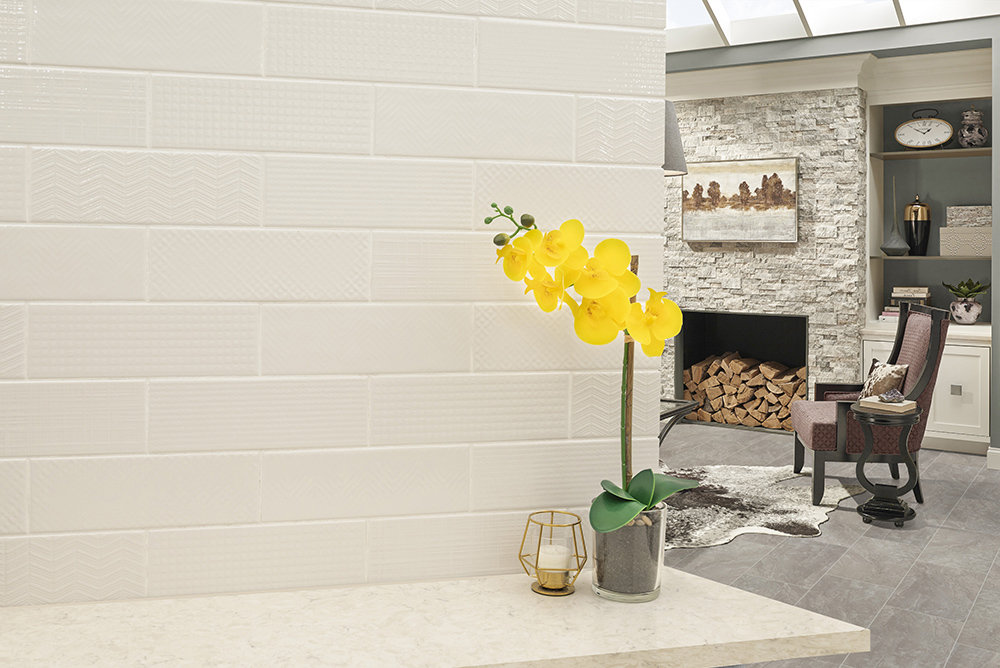 Urbano Crema 3D Tile is a true classic with a twist! With a creamy white background and varied, yet subtle 3D designs, this traditional subway tile is the perfect complement to the bolder colors and accents found in The Golden Hour. Whether you're going for a more contemporary look or full-on boho-chic, incorporating this ceramic tile can create a merriment of joy and warmth. With its neutral tone, spice it up by adding flashy gold trinkets, honey-blonde wood textures, matching or contrasting natural stone and an extravagant painting or two.
Create warm surfaces using the material below:
Backsplash & Wall Tile: Urbano Crema 3D Tile
LAND THE LOOK: THREE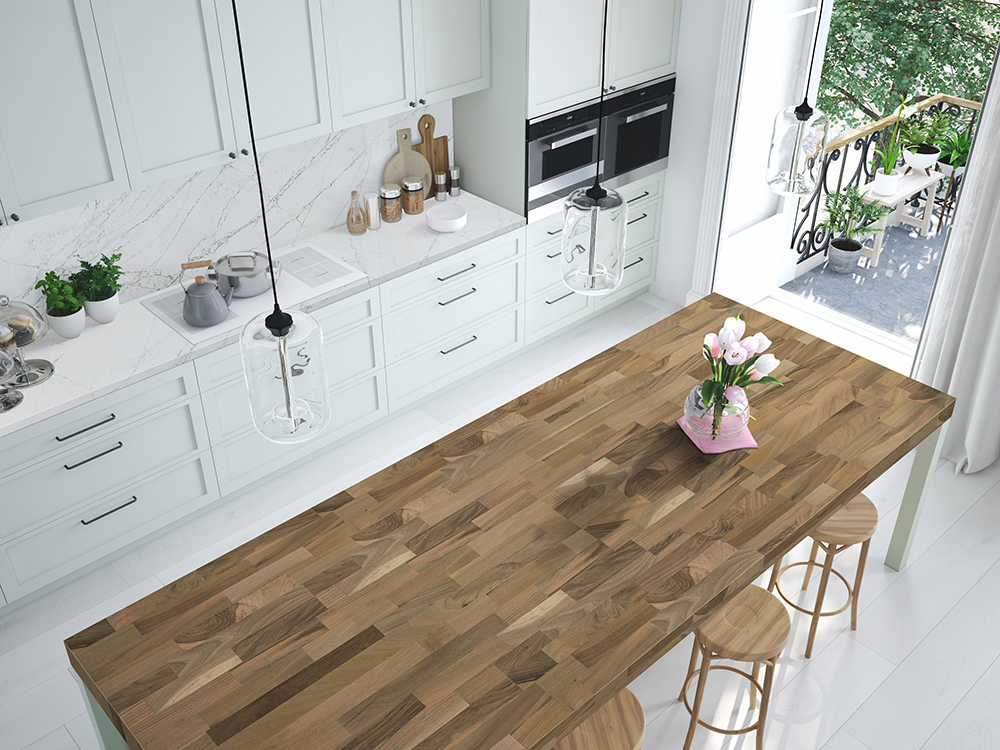 Whether you're rounding up your friends and loved ones for a cocktail or inviting your coworkers for a Friday night get-together, bring The Golden Hour to Happy Hour. You can set the right tone by incorporating a stylish countertop or waterfall island in your kitchen with Calacatta Viraldi. This highly sought-after marble-look surface material from our Q Premium Natural™ Quartz Collection boasts a striking combination of copper and green veins on a warm white background. Complete the look by adding a honey-hued wooden table and matching barstools, so everyone can gather around for some enlightening conversations. Enhance the atmosphere with a striking centerpiece along with bold appliances and fixtures to fully embrace the golden trend.
Create warm surfaces using the material below:
Countertops: Calacatta Viraldi™
LAND THE LOOK: FOUR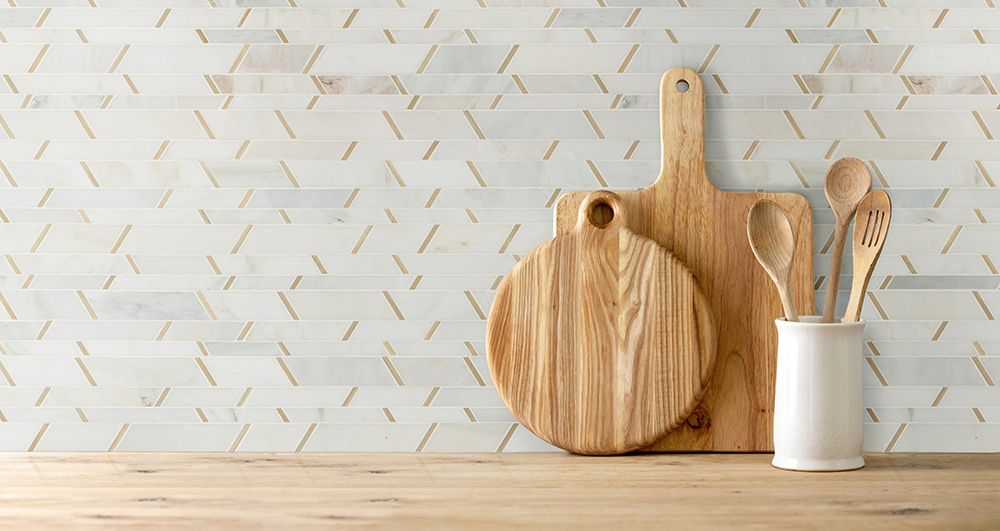 With brilliant golden accents against a warm white background and subtle hints of gray and brown hues, Metro Gold Pattern Tile represents The Golden Hour at its finest. Featuring various sized rows of parallelograms that are stacked in alternating directions, this natural stone tile can add depth and dimension to any vertical space. Warm up the room by adding this fashion-forward tile to backsplashes and feature walls throughout kitchens, bathrooms and other living areas. Be spontaneous by incorporating gold appliances, faucets and fixtures along with mahogany and blonde wood accents. Complete the look with warm-colored natural stone and other marble-look surfaces.
Create warm surfaces using the material below:
Backsplash & Wall Tile: Metro Gold Pattern Tile
A TREND TO IGNITE YOUR PASSION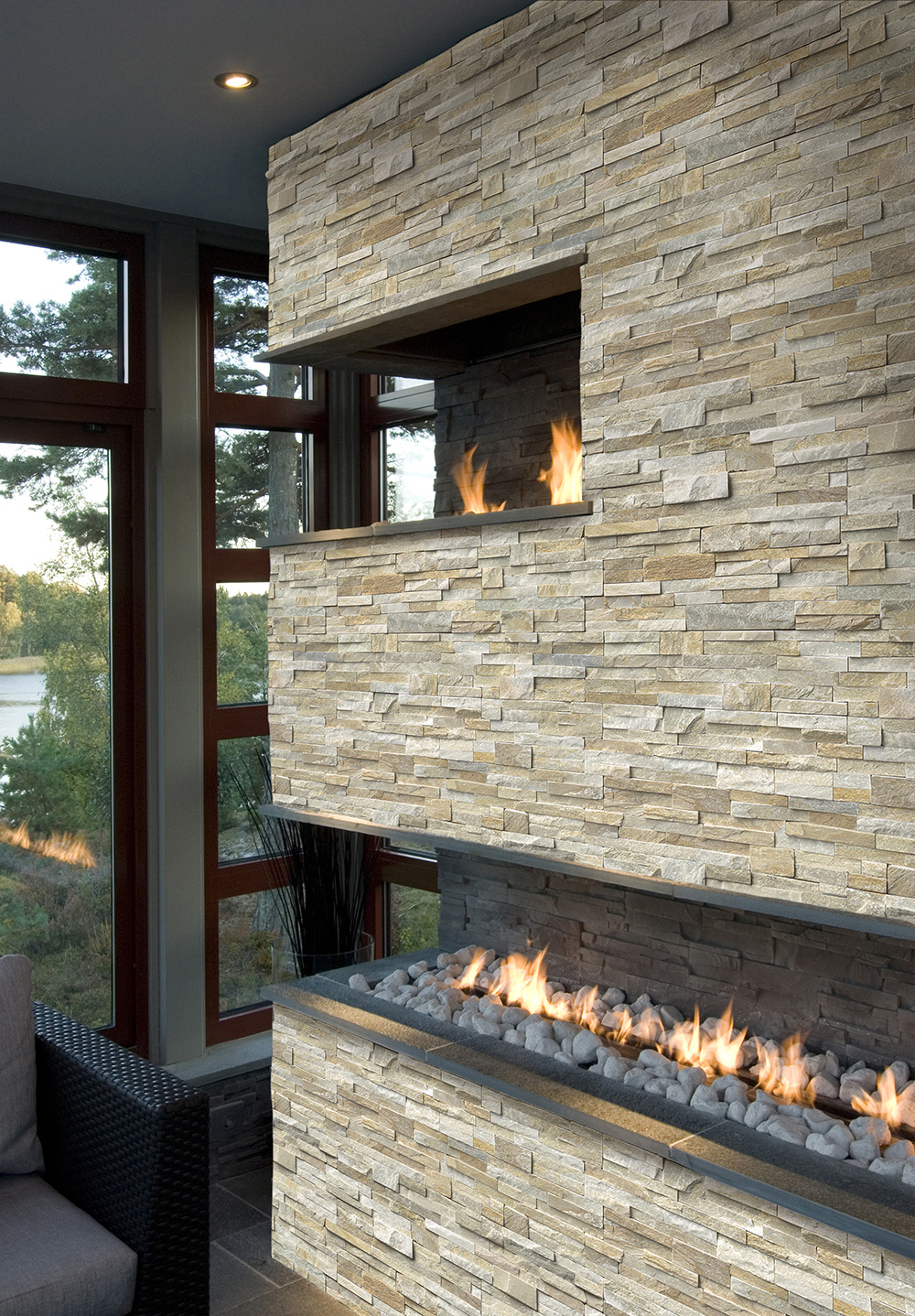 Summer months are filled with life, love and a lot of laughs. Gather around the fireplace with neighbors, friends and family for an entertaining night under the stars. Whether it's an outdoor or indoor fireplace, you'll need a fireplace surround that can withstand the heat. Golden Honey Stacked Stone from the Rockmount™ Collection is the perfect solution to get things fired up. With a stunning combination of warm whites, golds and grays, this quartzite allows you to incorporate The Golden Hour in various areas throughout your home. Not only is this natural stone perfect for a warming fireplace facade, it's also an excellent choice for BBQ surrounds, shower walls, hallway accents and many other vertical surfaces. Experience the essence of The Golden Hour today!
Create warm surfaces using the material below:
Hardscaping: Golden Honey Stacked Stone

To see this trend come to life, watch the video below. If you're inspired by The Golden Hour trend, use it in your next construction or remodeling project. Make sure you capture the greatness and tag us on Instagram - #msisurfaces.
Watch the trend come to life!

Thank you for being a source of inspiration and we look forward to seeing your designs when they show up on our feed. Best wishes! ~ Team MSI