Take Your Space To A Whole New Level With Decorative Mosaics
February 28, 2020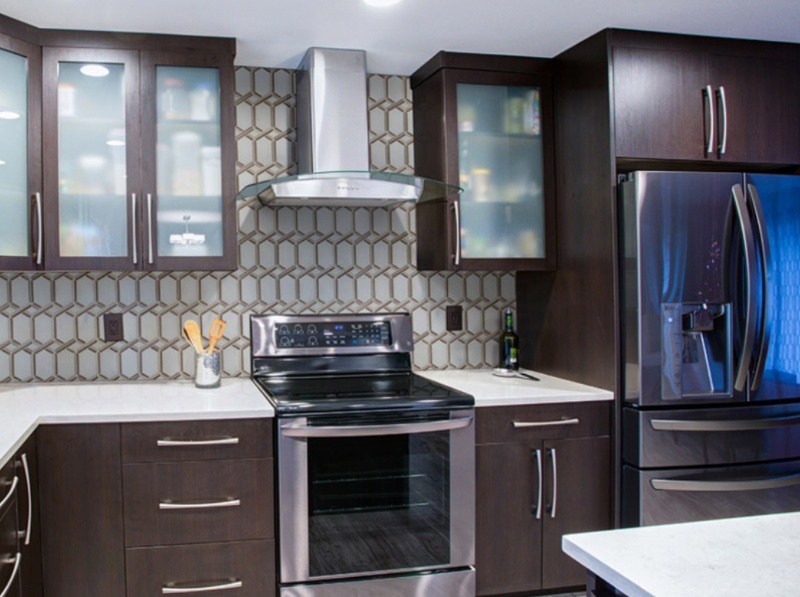 Kitchens are splish-splash havens. The walls over ranges can host splattered bits of grease and foods, while the wall over the sink can host bacteria from washing foods and hands. Backsplash tile was once thought only to be a utilitarian-type feature, designed to make walls easier to clean. Today's new decorative mosaic tiles transform walls into show-stopping design features worthy of any décor magazine.
True artisans design our mosaics tiles. And it shows. The materials used, colors, shapes, and textures transform boring tiled walls into extraordinary statements. Designers today are choosing modern tiles to create high-style kitchens marrying tiles with complementary cabinetry and countertops. If you are seeking to make a one-of-a-kind design statement in your kitchen, it is time to consider creating an accent wall out of new tile available from MSI.
What's more glamourous than a white kitchen with natural marble surfaces? In this stunning transitional kitchen, the designer chooses to compliment the white cabinetry with a swirling natural stone countertop and our beautiful Bianco Quatrefoil marble tile. This wall tile's color palette exquisitely pulls colors from the countertop, cabinetry, and accessories to create a sophisticated and welcoming design. Over the sink, the mosaic tile will clean up easily with warm soapy water and a soft sponge.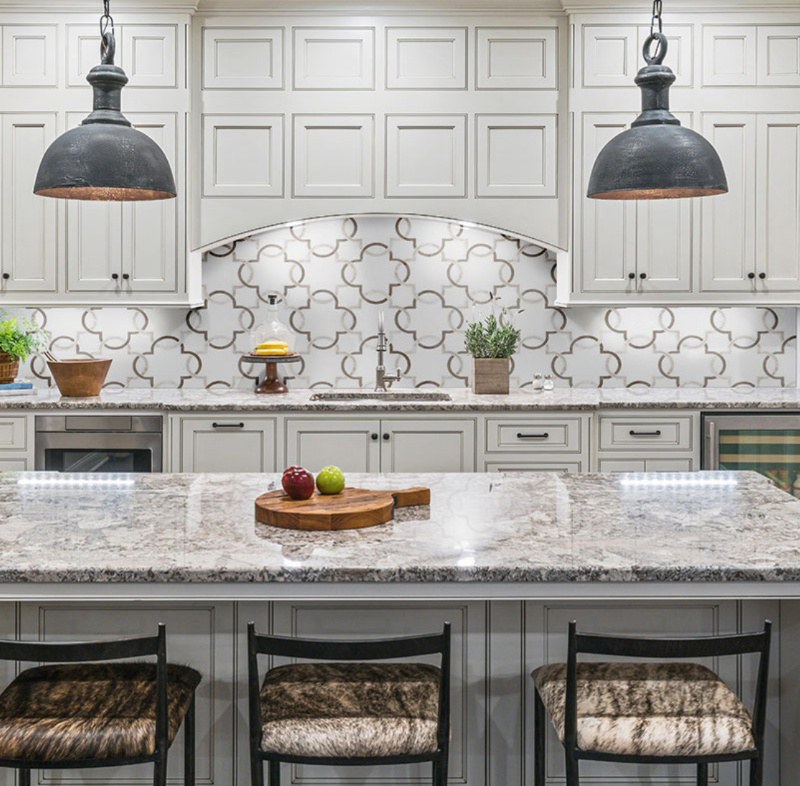 Bianco Quatrefoil
Love a more modern look? Don't worry, we've got tiles suited to your aesthetic too. Here, our Moderno Blanco interlocking mosaic tile features a stunning combination of glass, marble, and textured metal tiles. The mixture is simply inspired. Choosing a white sink and white countertop allows the backsplash to be the focal point of the bathroom. If your space has lower ceilings, remember you can create an illusion of height by running interlocking tiles vertically.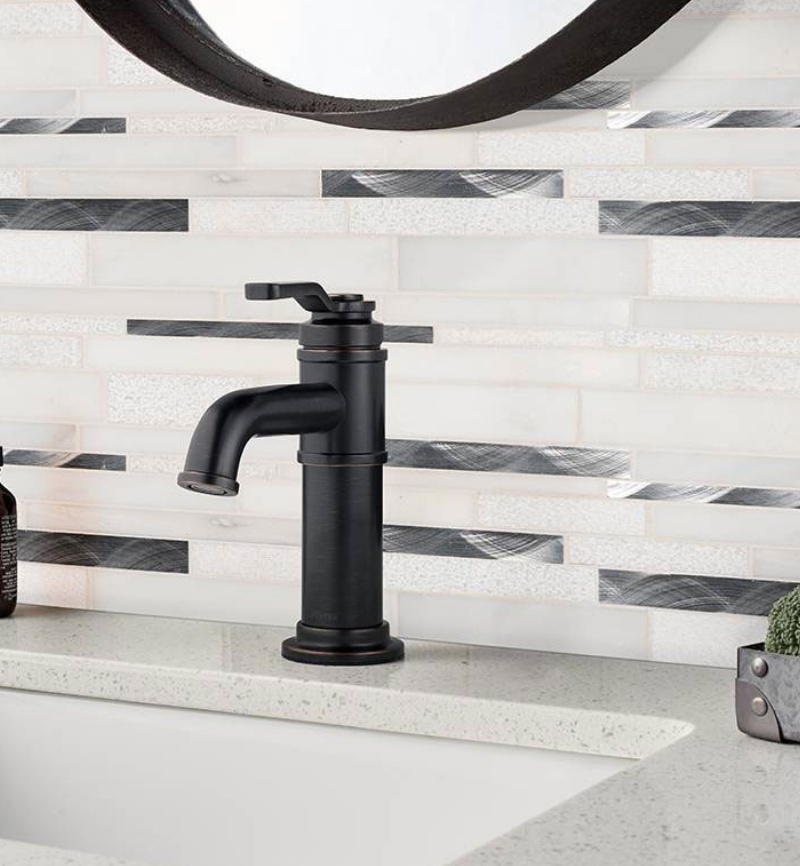 Moderno Blanco
If your style falls between traditional and contemporary, you aren't alone. Good design is all about blending your style and taste to create spaces that reflect your personality. In this eat-in kitchen, the designer chooses our classically-inspired Bianco Starlite marble tile to partner with more contemporary styled cabinets and accessories. This look works because the tile pulls the iconic gray and white marble together in an updated and fresh pattern to create an accent wall and backsplash that will stand the test of time.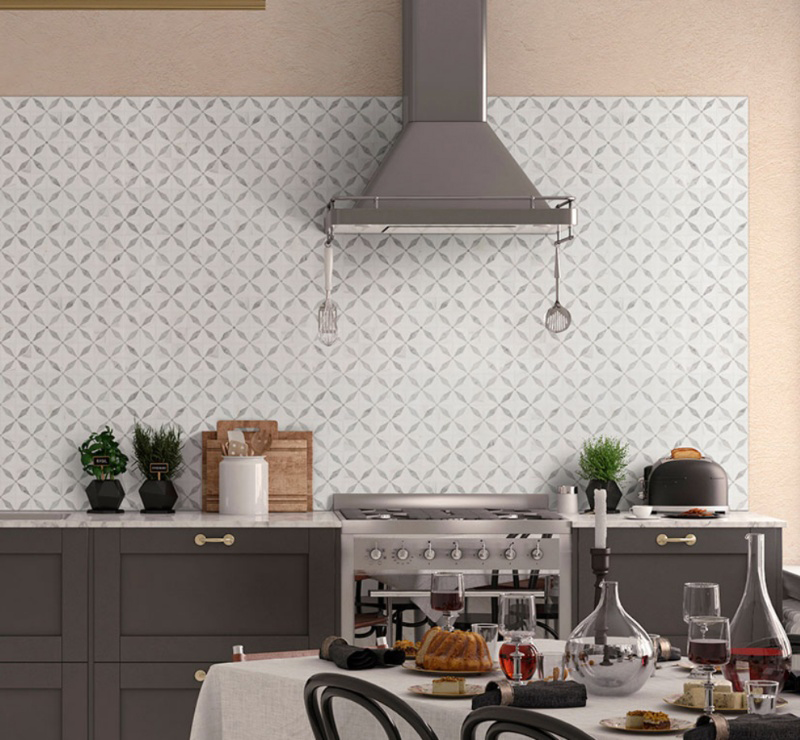 Bianco Starlite
Sleek modern cabinetry and clean lines need a pattern to take the design to the next level. In this modern kitchen, the peek-a-boo cabinets and solid-colored countertops yearn for a bit of visual interest. The perfect way to add a pattern is with mosaics tiles. Our Carrara White Ellipsis tile successfully gives this kitchen a boost of style with its subtle white and gray tones. Without this chic pattern, this kitchen's style may have read too stark and sterile. Don't be afraid to use patterns in modern design—it is all about choosing a tile that artfully unifies the colors and textures of the space.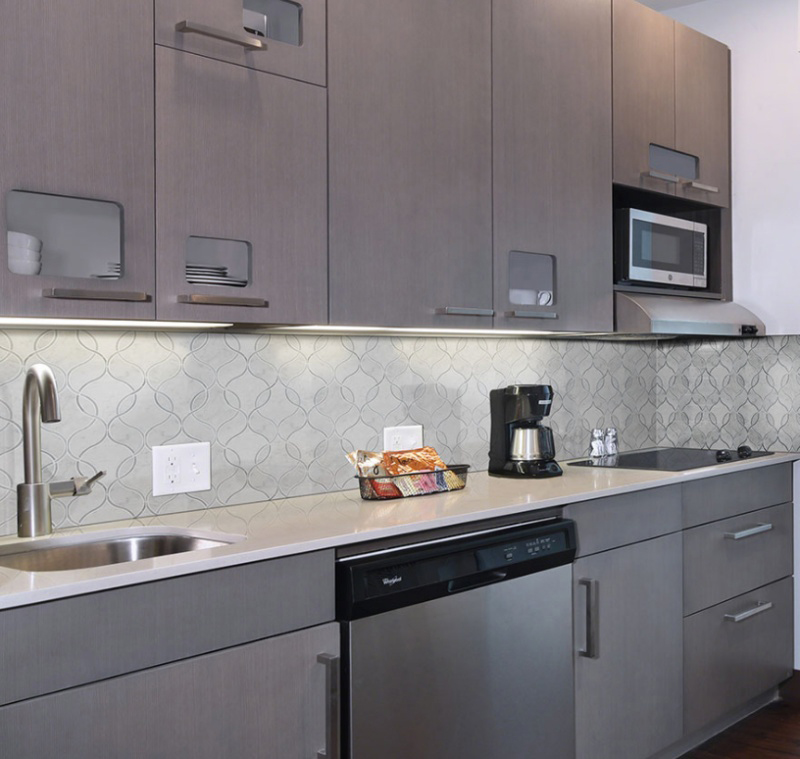 Carrara White Ellipsis
Photo Credit: Houzz
Mosaic tiles are fantastic for traditional and transitional design too. In this dreamy kitchen, our Watercolor Grigio Chevron tile marries the stainless steel appliances, creamy white cabinets, and the golden floors and accessories together beautifully. For a design to truly be awe-inspiring, it must consider every element in the space. If you love warm colors and stainless steel appliances, find a tile that incorporates both tones to create a cohesive design.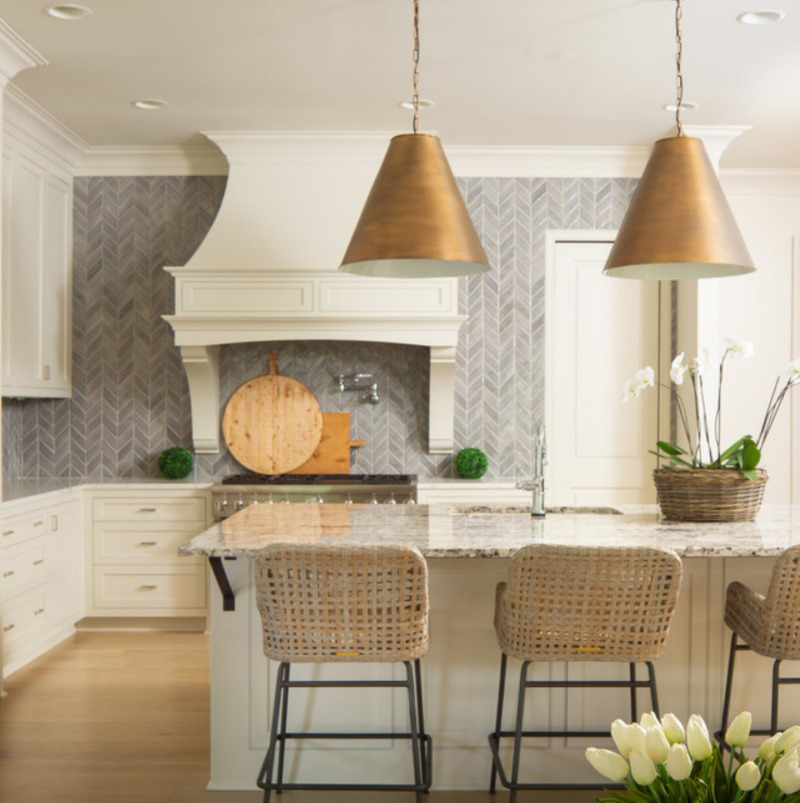 Watercolor Grigio Chevron
Photo Credit: Houzz
We've highlighted just a few of our favorite mosaics tile looks here. Please explore our inventory of wall tiles to find the one that will transform any wall in your kitchen or bathroom into the focal point of your design. Use our Virtual Kitchen Designer to "try on" different colors of cabinets, countertops, and backsplash tiles to create a look you love that can hold up to every day splish-splash events.