The Popularity Of White Quartz Countertops: 5 Ways To Look At White Quartz From The Design Perspective
May 09, 2013
White quartz is popular, and popularity is often determined by buyer demand. Today's modern home buyers are looking for the fresh, clean look of white quartz countertops, so it's no wonder that builders are now meeting this need in spades. Aside from buyer demand, why is white quartz for countertops very popular from the design perspective?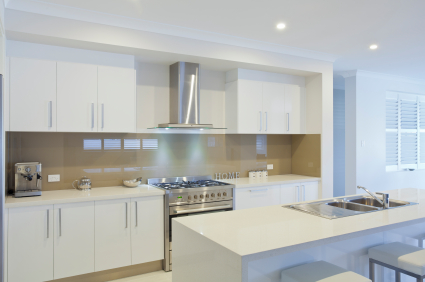 Achieves a High-end Look- The sleek appearance of solid white quartz has a singularly modern appeal as it is the cleanest looking example of kitchen countertop products. This isn't just attributable to the fact that a solid white quartz slab like Artic White is a brilliant shade of the color but also to the fact that it is uninterrupted by flecks of any other colors within. With white quartz, we can create long, clean lines, a pure look that's tantamount to high-end.
Creates True Contrast- White quartz provides contrast with cabinetry and floors unrivaled by granite or other materials. A white selection of granite will have color variation in its veins, specks, and swirls. It is more adaptable to blending with its environment, as those variations in color will be picked up in surrounding woods. White quartz, on the other hand, creates bolder contrast, as it is less likely to complement and more likely to pop.
It's Perfectly Formulaic- In traditional design, the winning formula is two dominant colors and one contrast or accent. This formula is more challenging to follow with granite or other natural stones that inherently have their own dominant colors and contrasts in the materials themselves. In the case of solid white quartz, it can be a true dominant color. When paired with a second dominant contrast like dark wood cabinetry, it makes for a great trend that is here to stay, because the combination is easy to accent with mosaics to achieve perfect balance.
White quartz is "unnatural"- Though much of today's design favors natural themes, white quartz stands alone as a stone that does not attempt to mimic nature. Walking down a woodland trail, one generally will not encounter a striking stone like white quartz. In the kitchen, however, a white quartz countertop is not about recalling nature; instead, its goal is to look cool, calm, and collected.
Calms the Movement- In design, sometimes you want to create movement and sometimes you need to calm it. This is certainly true in the quartz kitchens where there are competing elements in cabinets, floors, wall tile, furniture, and appliances. At some point, the goal becomes to set a fixture, a stable base, around which you can create and enhance movement. White quartz countertops realize this goal by offering a surface that does not compete for attention but is beautiful in simplicity.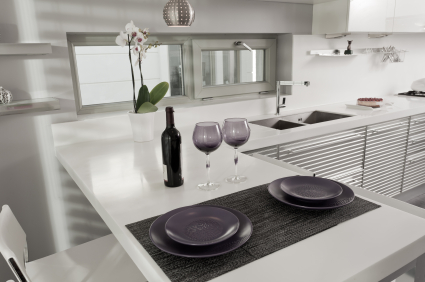 If you want the very modern, clean look, quartz is the material to achieve it. Though granite countertops are available in white, they generally have the natural grains, texture, movement, and pattern that, while beautiful in their own right, are contrary to the benefits described above.
For a distinctive, pure white stone, consider an Arctic White or Snow White quartz countertop for a look sure to be popular in your modern home design.
Read our updated post on this topic - Why Interior Designers Choose White Quartz Countertops