Outdoor Oasis: Experts Advice On Outdoor Stacked Stone Installations
June 14, 2018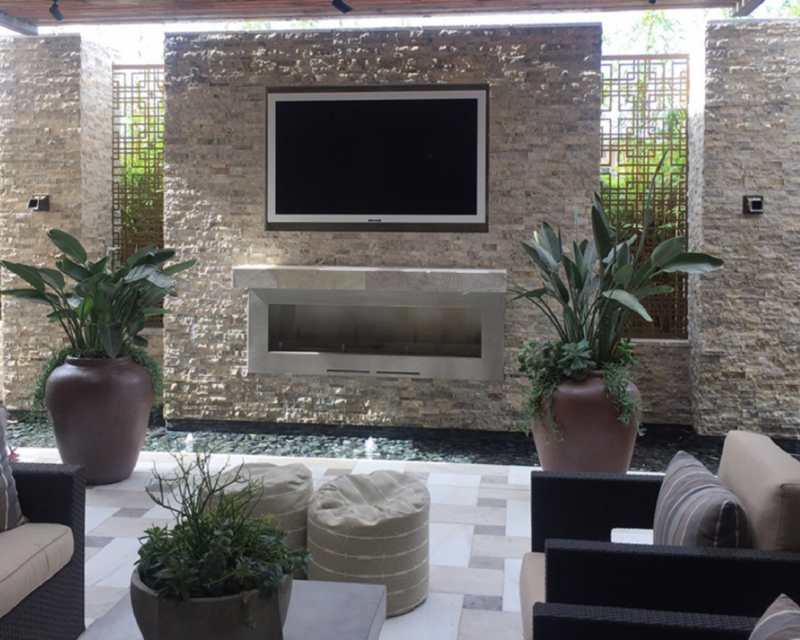 Incorporating stacked stone in your home's hardscaping is one of the most effective ways to upgrade your home's exterior and outdoor living areas. Not only is it extremely popular, attractive, and timeless — it's also easy and low-maintenance, thanks to MSI's stacked stone ledger panels.
However, if you've considered using stacked stone panels, you may have received incorrect or misleading information that could lead you to dismiss the idea as being impractical or low-quality, or prohibitively expensive. We're here to tell you the truth: MSI's stacked stone ledger is crafted from real natural stone, and although it's top-quality, it's also an extraordinary value.
Check out these gorgeous landscaping design ideas with natural stone, and prepare to be inspired!
Golden White

Create a similar look with MSI's Golden White Stacked Stone (Photo Credit: Houzz)
If you've been turned off by the disappointing look of some stacked stone installations, it's possible you've encountered a phony. Budget-conscious property owners sometimes choose the lowest-priced option but end up paying the price by having to live with low-quality results.
Choose the best! MSI uses real stone in its panels, not a look-alike. Also, unlike low-end ledger panels, MSI's panels are not restricted to straight lines. Shown here, Golden White — natural split-face quartzite hugs curves to create any number of hardscaping accents.
Silver Travertine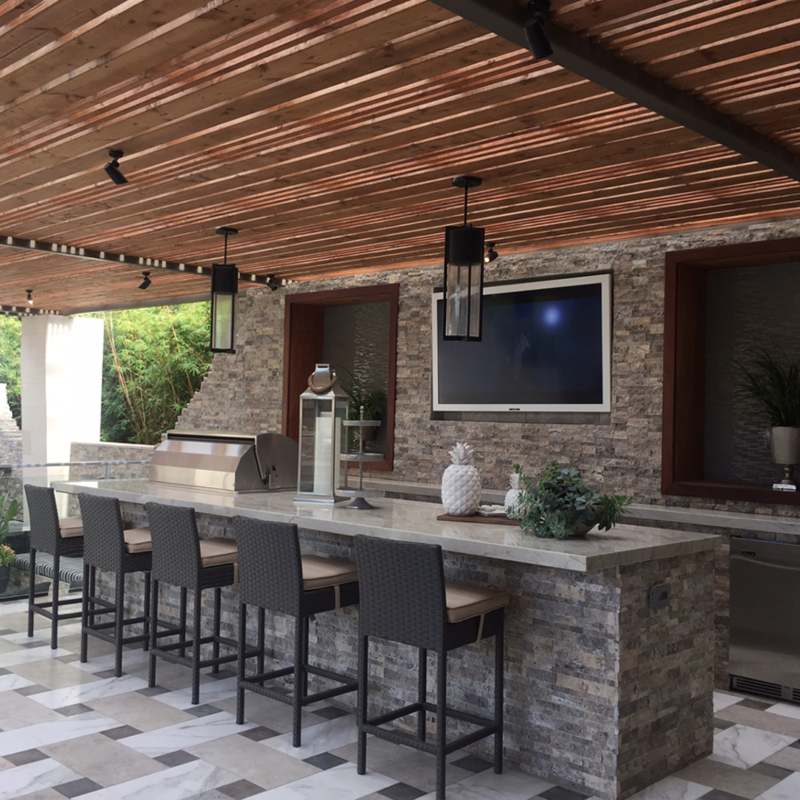 Featured: Silver Travertine Stacked Stone
Fake stacked stone ledger panels are sometimes passed off as the real thing — but, in reality, they are made from a stone and concrete mixture that is painted to resemble natural stone. Before making this important investment, ask questions and do your research to make sure you are getting true natural stone!
You can't beat the look of real stone to create spectacular outdoor living spaces, like this shaded outdoor kitchen and bar crafted with Silver Travertine. MSI's ledger panels are easy to cut to size so you can create any number of inset areas or unique shapes.
Fossil Rustic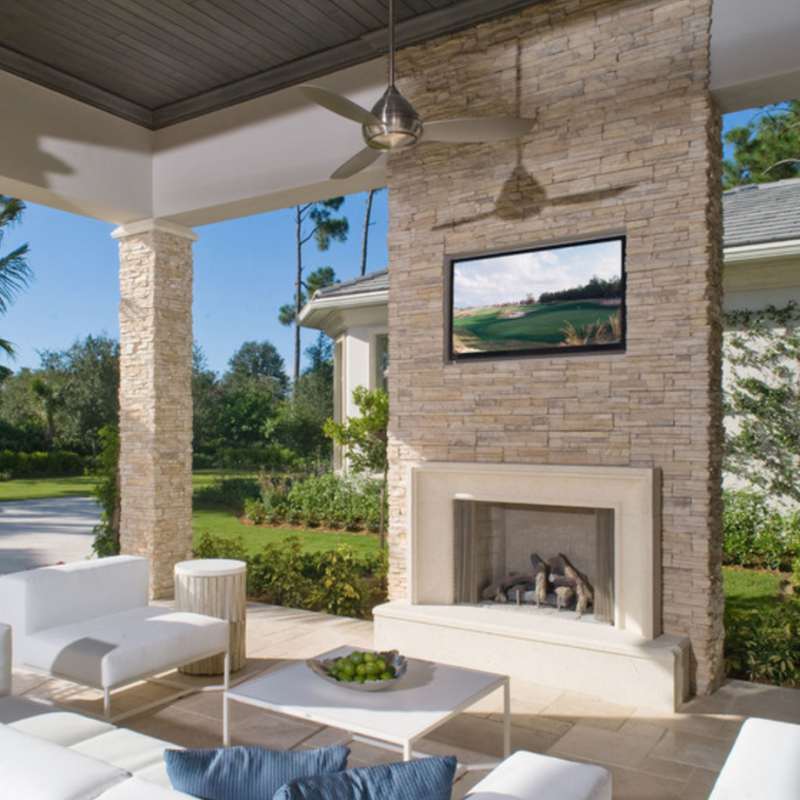 Recreate this look with Fossil Rustic Stacked Stone (Photo Credit: Houzz)
One of the best qualities of MSI's ledger panels is the availability of matching corner pieces. These are not offered by every manufacturer, so be sure you're getting the best! Without matching corners, the installer must carefully miter the edges, which adds to the labor cost of the project and may not look as good. Some may just overlap the edges, which gives an amateur appearance.
This scene featuring Fossil Rustic sandstone ledger panels uses many corner pieces, demonstrating how well our panels lend themselves to covering columns and narrow free-standing hardscape elements such as this hearth and accent wall.
Casa Blend 3D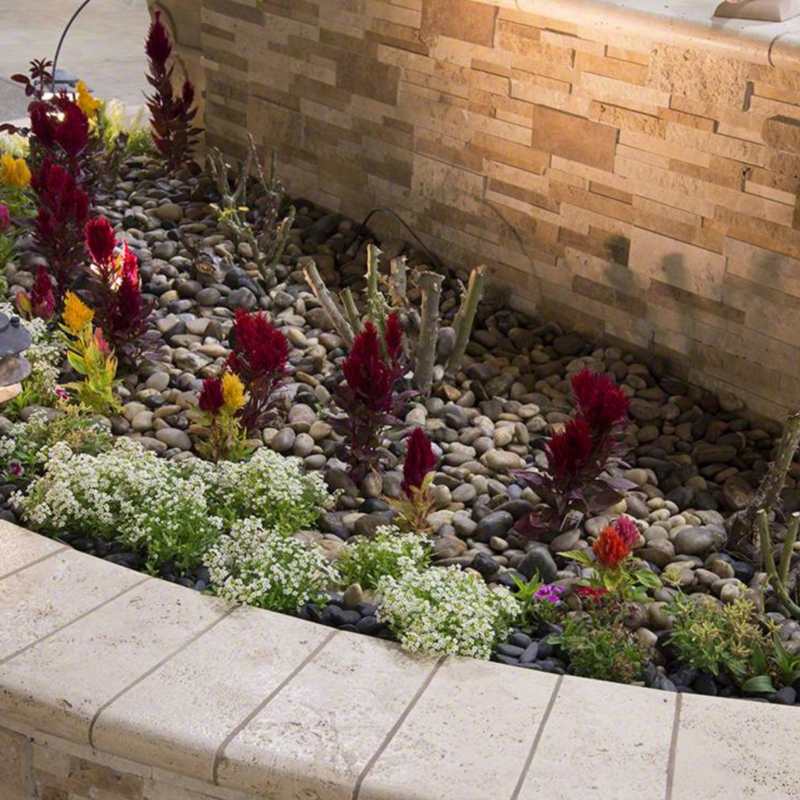 Featured: Casa Blend 3D Stacked Stone
Stacked stone panels are ideal for large, dramatic installations — but you can't overdo them in your hardscape plans, so there's no reason to use anything else for those smaller features. Use ledger panels to face flower beds, stacked stone walls, bench seating, fence columns, and any other minor element where you want a major impact.
Casa Blend 3D, a combination of split-face and honed-finish travertine, features warm beige and cream tones that blend in well with any landscape. Like our other ledger panels, they can be used to create graceful curves, and include corner pieces to fit in the narrowest of spaces.
Rustic Gold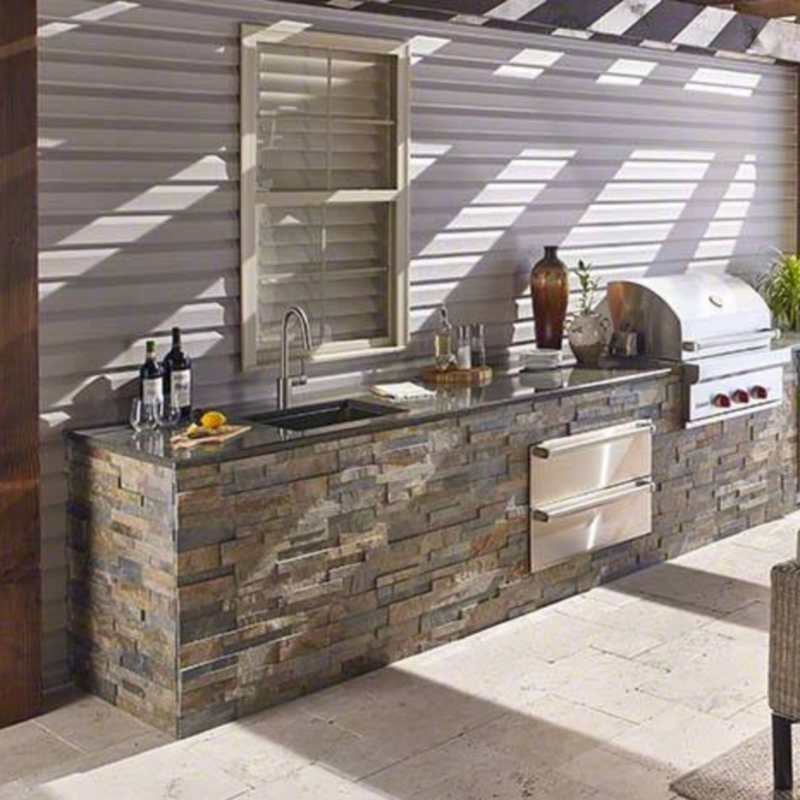 Featured: Rustic Gold Stacked Stone
Although you will see stacked stone ledger panels used in sheltered spaces like the outdoor kitchen shown here, or even on the home's exterior, be assured it's durable enough to use anywhere. MSI's stacked stone stands up to the harshest elements — from bright, hot sun to freezing winters.
Rustic Gold slate ledger panels, shown here, benefit from a yearly application of sealer to look their best. You can choose a penetrating sealer which won't alter the look of the stones or a sealer with an enhancer to bring out the beauty of colorful stones like this one.
Why not take a few moments to visit MSI's web gallery and see all of the beautiful stacked stone ledger panels we offer, from subtle to dramatic, with a variety of natural stone pieces, colors, finishes, and patterns. You'll find out why MSI's ledger panels are a superior value!