Popular
White Done Right: A Simple Guide
February 03, 2018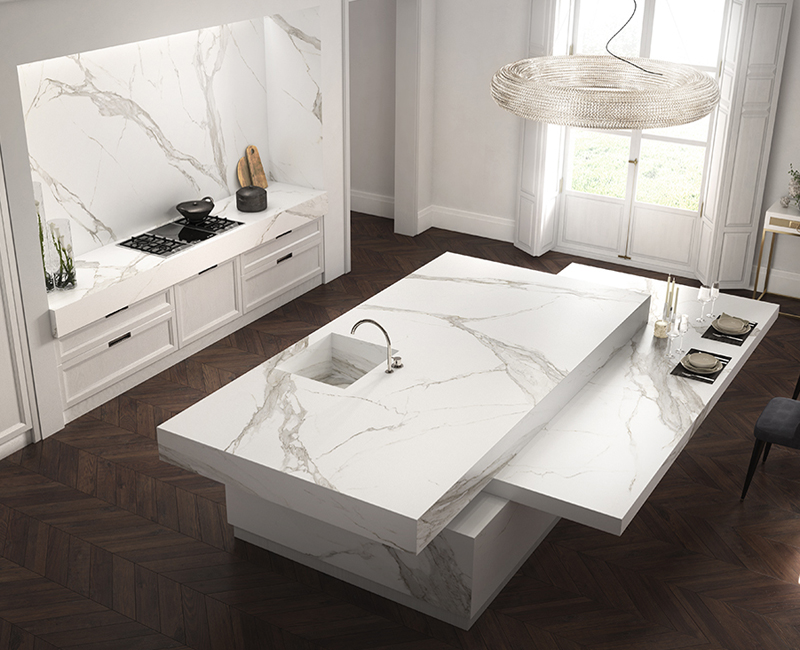 There's a reason why people around the world begin and end their days surrounded by white bed linens. Throughout the ages, we've gone all out to capture the fresh and youthful glow of this fair shade classic. Its pure-as-the-driven-snow quality is like no other – and it has a way of elevating everyday things. Switch out your Lily-white linens for another color, and you'll never doubt its staying power again.
Bright. Clean. Crisp. When designers pair light-filled rooms with the palette's heavenly aesthetics, it creates storybook backdrops. And with a new generation of homeowners flocking to the lightest shade in the swatch book, we're feeling the love. (Have you seen all the dreamy white kitchens on Instagram, Pinterest, and Houzz recently?)
One look at our lineup, and the collections bearing its name, and you'll notice that we've got a thing for the 50-shade staple as well. From white marble looks Q countertops to Whisper White Subway Tile to STILE thin porcelain, the trend has never been more inspired.
If you're considering a whiteout remodel, worry not. Our design team's top tips for doing white right is easy breezy.
#1. Add Layers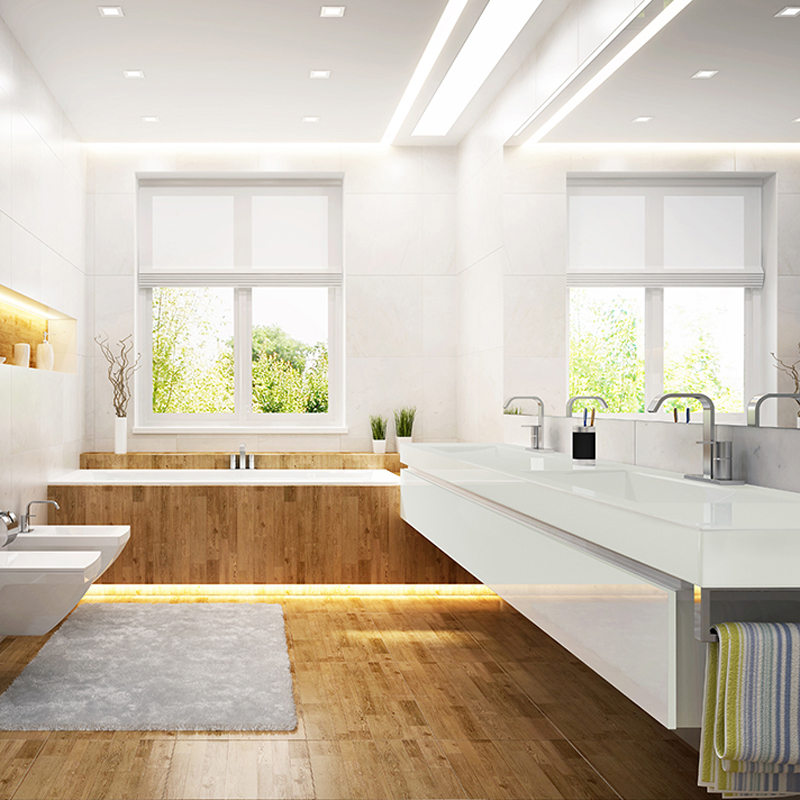 Stellar White Quartz takes on an otherworldly cast in this mostly-white master bath.
The bleached-out sterile look works in a clinic, but at home, not so much. The good news is that it's easily avoidable (Scandinavians prove this on the regular): just add texture, dimension, and natural elements. (A variety of white shades help, too.) For surfaces, mix wood look floor tile with a tactile-rich backsplash. Layer in baskets and organic driftwood accessories to dial up the warmth. Like artwork, plants are striking against a white wall. If you have space, a Ficus or Norfolk Island Pine will also create visual interest.
#2. Glam It Up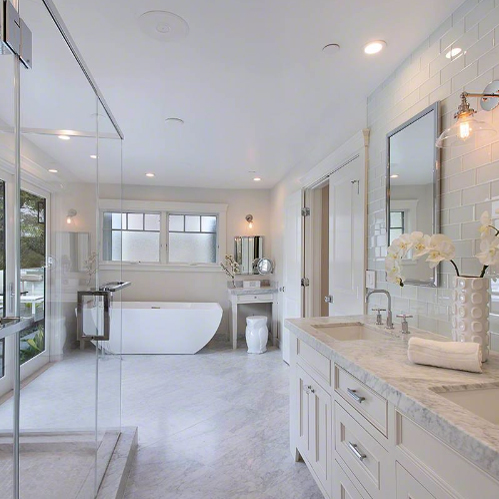 Carrara White marble floors look custom made for this halo-hued bath.
When it comes to glamour, white is in a constellation of its own. Because nothing says gracious living like a home decked in white, we adore it when the sleek look extends to the kitchen and bath. Achieve an elegant trifecta with Calacatta Marble on the floors, chic hardware, and shimmering subway tile.
#3. Mix & Mingle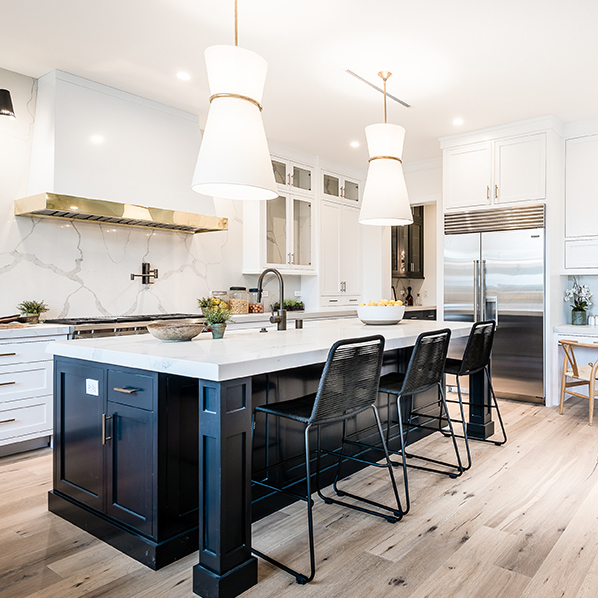 An iconic white marble look, Calacatta Verona Quartz never disappoints.
If you want to break up the ethereal all-white vibe, consider introducing black or navy. It'll lend a bit of gravitas and help ground the space. In a mostly-white room, deep-hued cabinets on a kitchen island make a stellar focal point. Prefer all white cabinetry? Try a jewel-toned perimeter countertop with movement – something unexpected like Azul Treasure Quartzite.
#4. Create the Illusion of Space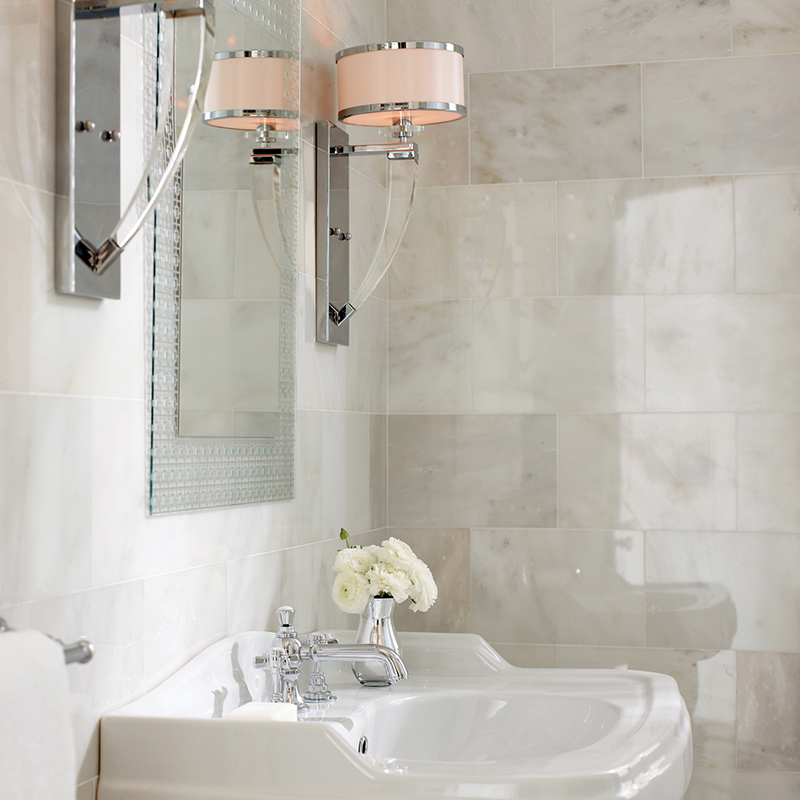 On the walls in a tiny powder room, Grecian White Subway Tile is polished to perfection.
Eclipsing other color wheel faves in the space-enhancing department, floor to ceiling white rooms appear taller, wider, and longer - there's nothing to distract the eye. To make cozy quarters feel airy, we also like mirrored surfaces and large-format tiles. Fewer grout lines mean there's one less thing to break up the flow. Live in an older home? A fresh coat of white paint plays down unsightly pipes and radiators.
#5. Introduce Pattern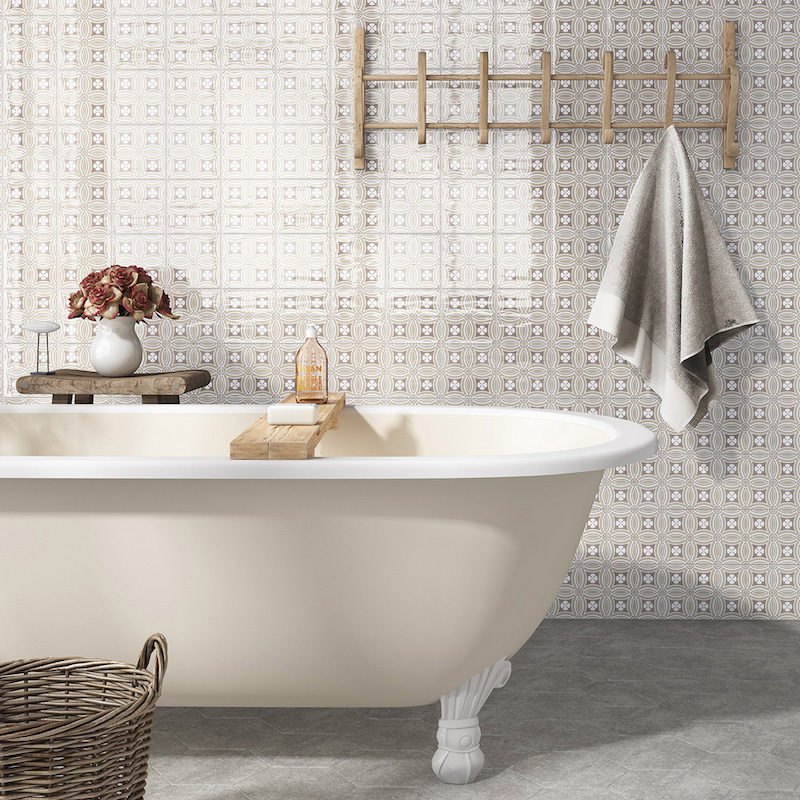 Dekora from the Kenzzi collection is a subtle way to add a punch of pattern.
Whether it's a graphic print on a dish towel, an encaustic tile floor, or a wall with decorative mosaics, we can't imagine designing a room on the vanilla spectrum without at least a hint of pattern. Beyond the fact that it's just plain fun, it sets an inviting tone for the space. Take a peek at the timeless prints in our Kenzzi Collection. It features no-fuss porcelain floor tiles with complementing ceramic wall tile.
#6. Something Old. Something New.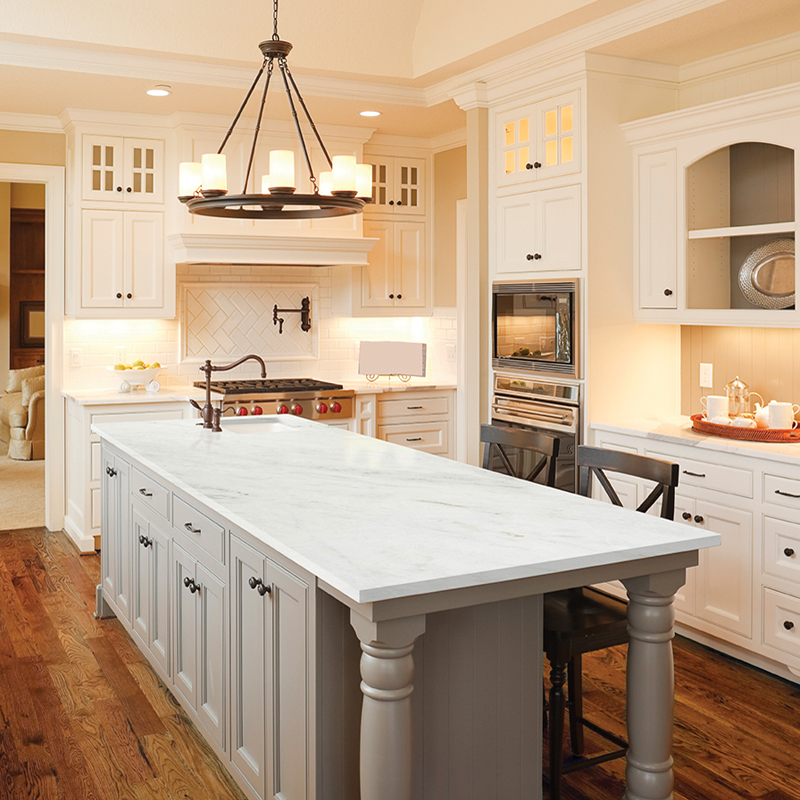 Calacatta Marble countertops and Whisper White Subway Tile make a sublime pairing with antique wood floors.
One of our favorite ways to add dramatic contrast to a white kitchen is to marry modern looks with surfaces that appear aged. Pair marble countertops—the height of chic right now—with rustic-looking porcelain plank floors and white cabinets. Prefer natural stone underfoot? Try Travertine tile with a polished natural quartz countertop from the Q Line.