Outdoor Oasis: 5 Gorgeous Outdoor Areas Featuring Stacked Stone
October 07, 2017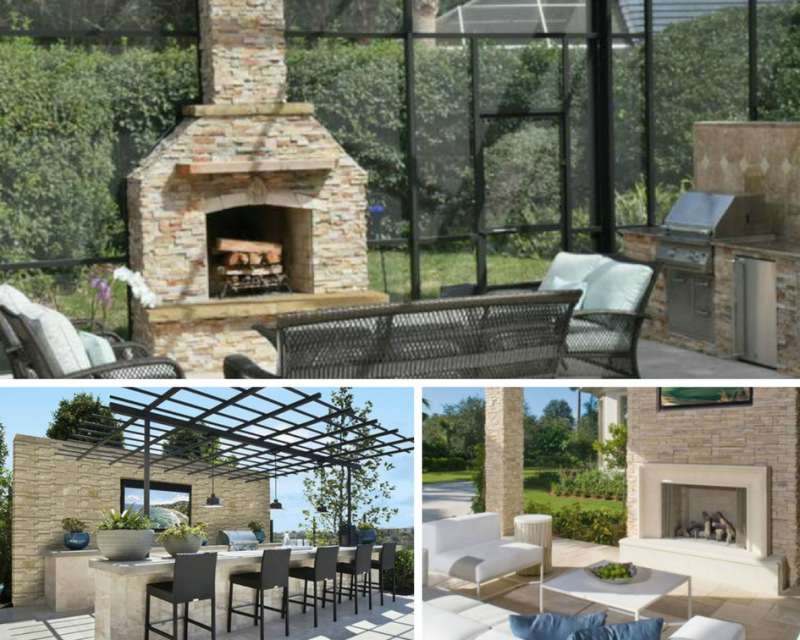 What makes an outdoor living space extraordinary? It needs plenty of seating for family and guests, a convenient place to set chilled drinks (or cozy hot cocoa).
Your backyard patio escape should have the perfect combination of shade during sunny days and festive lighting for late-night gatherings. There's one more important element you can't neglect, though – hardscaping, to pull it all together.
Hardscaping refers to all the permanent, man-made elements of your landscaping design, such as the pavers, the stepping stones, walls, built-in fire features, and more. Stacked stone ledger panels are an important part of your hardscaping mix, because it's unmatched in its ability to create a gorgeous, luxurious outdoor living area.
Choosing the right stacked stone is just as important as choosing your color scheme and furniture, so here are a few options from MSI to get you started.
Durango Cream 3D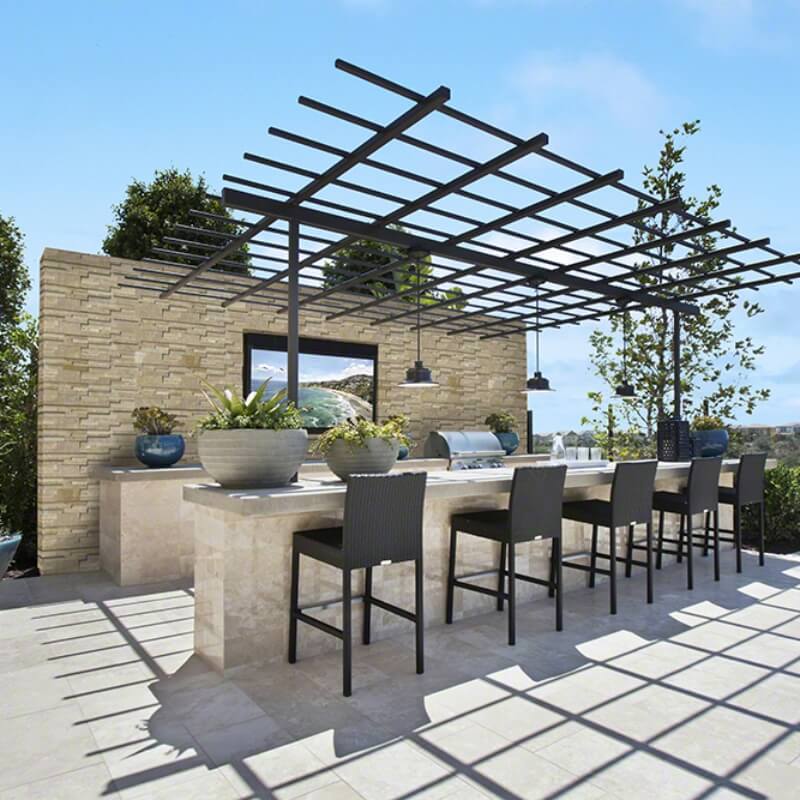 Featured: Durango Cream 3D Honed Stacked Stone
An outdoor kitchen with a bar-style dining area is a great way to entice guests to gather al fresco – even more so when they can watch the game on a large, flat-screen TV.
Create the perfect backdrop with a large, free-standing accent wall covered with Durango Cream 3D Honed Stacked Stone. The smooth, honed travertine stones are set at varying depths, a rustic yet refined look that is ideal for contemporary designs.
Here, simple pendulum lights hang from a pergola, which offers just a subtle hint of shade and enclosure.
White Oak 3D Honed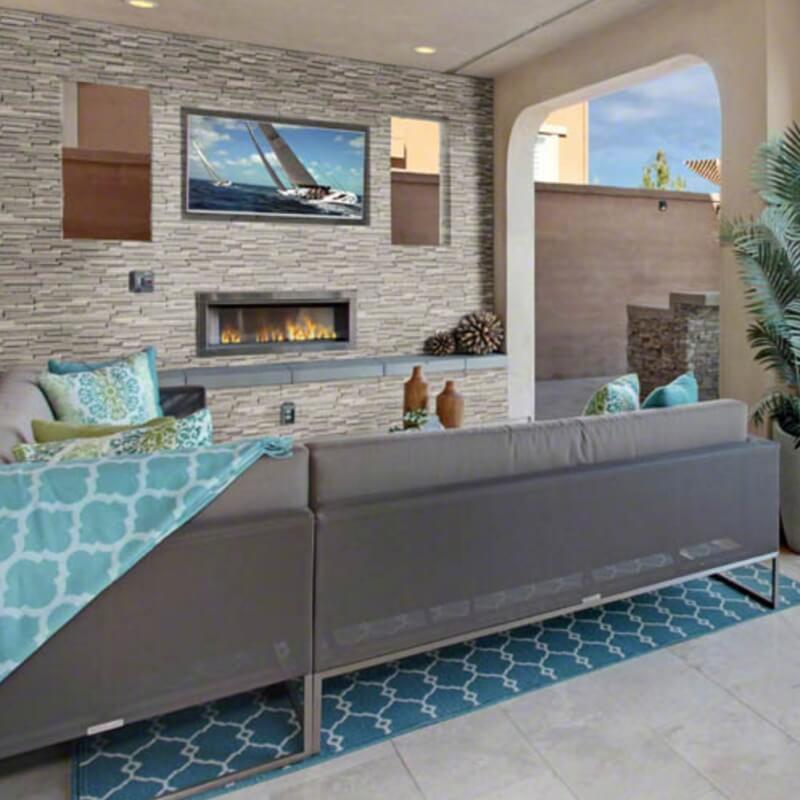 Create this look with MSI's White Oak 3D Honed Stacked Stone (Photo Credit: Houzz)
A transitional space like this sheltered alcove is an ideal family room for areas with plenty of mild, comfortable weather. White Oak 3D Honed Stacked Stone ties together the indoor and outdoor elements, and makes it easy to incorporate comforts such as an inset television and a fireplace, along with a bumped-out shelf along the hearth. All that's needed here is a cup of tea and a good book to read.
Casa Blend 3D Honed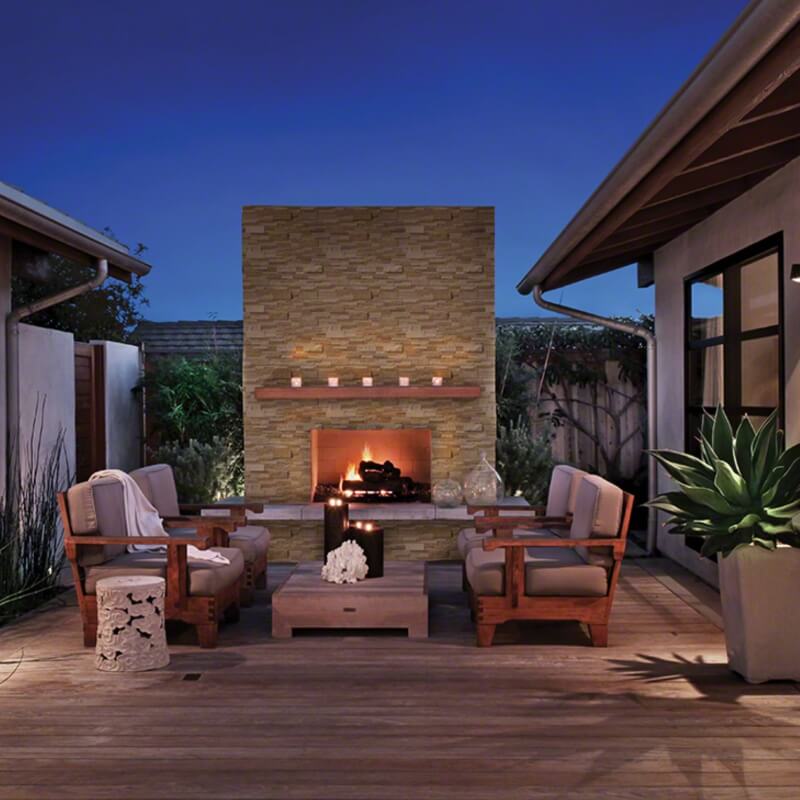 Featured: Casa Blend 3D Honed Stacked Stone
A cozy outdoor fireplace extends the outdoor entertaining season. This free-standing wall, covered with Casa Blend 3D Honed Stacked Stone, is dramatic and elegant – especially at night, when the varying depths of travertine stones catch the light and shadows of the candles and the flickering flames. You'll love sitting out under the stars, so be sure to add plenty of seating so your family and guests can enjoy it too.
Golden Honey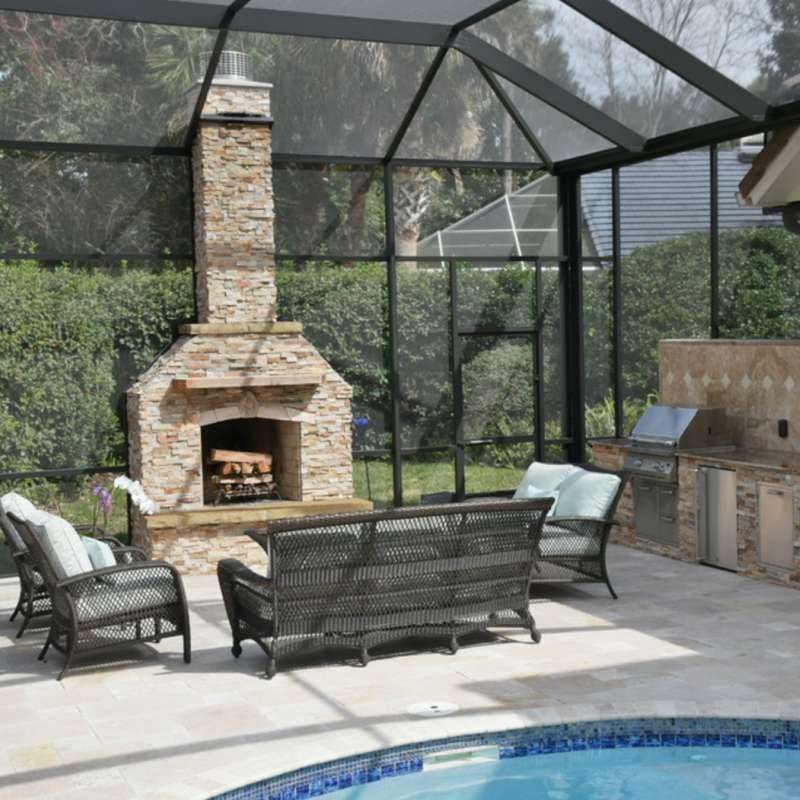 Get this look with MSI's Golden Honey Stacked Stone (Photo Credit: Houzz)
In some parts of the country, screen surrounds are popular around patios and swimming pools – they keep out bugs, and provide some shade and privacy.
In the blissful absence of mosquitoes, you'll love spending evenings by this outdoor hearth, faced with Golden Honey Stacked Stone. If the screen separates you a bit from the great outdoors, this rustic, split-face quartzite brings back the bit of nature you crave.
Fossil Rustic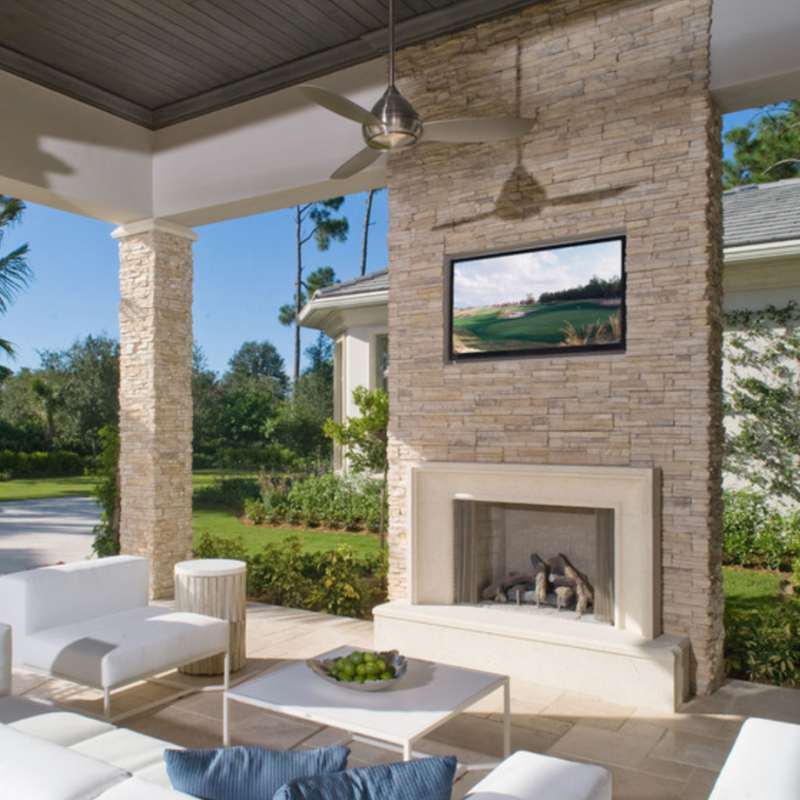 Recreate this look with MSI's Fossil Rustic Stacked Stone (Photo Credit: Houzz)
One of the best reasons to use stacked stone veneer panels is their versatility, and ease of installation around corners. Fossil Rustic Stacked Stone panels fit beautifully on this narrow fireplace surround, the inset alcove for the television, and the support columns as well. Matching corner pieces are the secret to ensuring a perfect installation every time.
Say goodbye to plain walls! Now that you know about MSI's stacked stone ledger panels, you can come up with your own creative ways to design an outside living space. The easygoing, neutral shades are easy to match with other hardscaping elements, too. Visit MSI's entire collection of stacked stone options, and let your imagination roam as free as the great outdoors.