Tips From The Trade: Common Myths About Quartz Countertops
October 17, 2017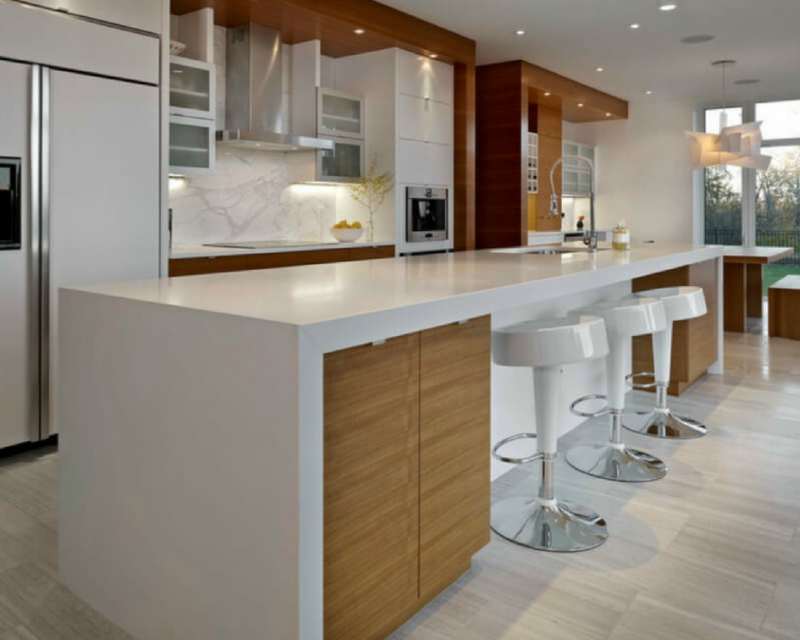 When you're planning a kitchen or bath remodeling project, you will probably consider a variety of countertop materials — and there are a lot to choose from. A lot of misinformation is spread about quartz countertops, however. Perhaps the idea of a quartz countertop sounds too good to be true!
Let's bust some common myths about quartz so you can make an educated decision.
MYTH #1: Quartz slabs are mined and made from a solid piece of quartz
Quartz is not mined — it is a manufactured material, made by combining natural quartz crystals with pigments and resins. Not only does this provide an incredibly durable material in a stunning array of colors and patterns, quartz countertop cost is lower, and it's easier on the environment too.
MYTH #2: Quartz and quartzite are the same
Quartz, as explained above, is a manufactured material. Quartzite, however, is a natural stone that is mined, like marble, travertine, and slate. Some manufacturers and dealers refer to quartzite as "quartz" for simplification purposes, but they are very different materials. In fact, you can also choose quartz that looks like marble and other natural stones; it's incredibly versatile.
MYTH #3: Quartz is sensitive to warping from heat
Quartz countertops are extremely durable and resistant to heat damage, though it can discolor if exposed to intense heat. However, any natural stone surface is also prone to discoloration and cracking when exposed to hot pots and pans, and should be protected from direct heat by using hot pads or trivets.
MYTH #4: Quartz stains and chips easily
Quartz's resistance to stains, chips, and scratches is one of the reasons it's become so popular! It's not indestructible, but can stand up to heavy use by busy families and messy cooks. Some inks, cleaners, and chemical solvents may stain or damage the surface — this is true of any countertop.
MYTH #5: Quartz requires sealing to maintain shine
One of the best parts of owning quartz vs. granite or other stone countertops is the super-low maintenance. Quartz never needs to be sealed to stay shiny and water-resistant. The opposite is true of natural stone slabs, which need sealing at least once a year.
MYTH #6: Quartz only comes in a polished finish
The first quartz slabs were made with polished finishes. Today, however, quartz is available with a brushed, matte finish as well. This opens up a world of new design ideas!
MYTH #7: Quartz cannot be used in a bathroom
For a bathroom installation such as countertops or shower surrounds, you need a material that is water-resistant, easy to clean, and resistant to damage by cosmetics or hot curling irons. Quartz may not be the only material that can do all this, but it's one of the best.
Now that you've learned more about quartz countertops, you can make a more informed decision for your own home. We invite you to browse our web gallery and take a look at the Top 5 Design Trends of 2017 to inspire you with your next project!